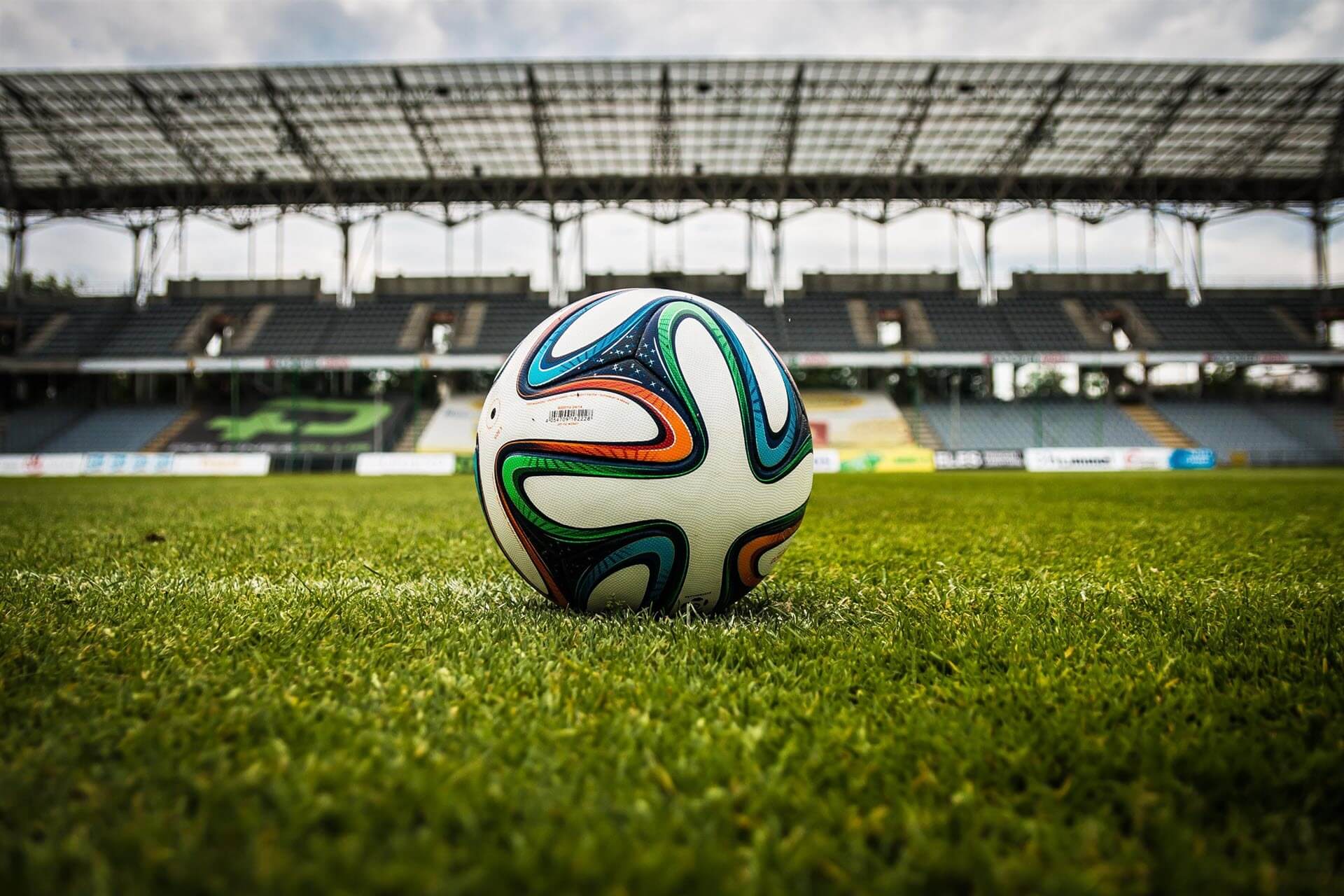 Americans Poised to Bet Big on World Cup
The U.S. sports betting landscape has transformed since the last FIFA World Cup in 2018. That year's tournament kicked off in June, just one month after PASPA was repealed by the Supreme Court and the country's betting landscape was dominated by unregulated bookmakers and a handful of upstarts in New Jersey. Even back then, most bettors were not yet wagering on soccer, as the sport had yet to have a watershed moment in the country and hit the mainstream. Four years later, the 2022 World Cup may permanently change the narrative, cementing soccer's status as a sporting mainstay in the U.S.
Repeal of PASPA
The Professional and Amateur Sports Protection Act was enacted into law by the Senate in 1992, after the Judiciary Subcommittee on Patents, Copyrights, and Trademarks found that "sports gambling is a national problem."1 Furthermore, it found that gambling's harms were felt "beyond the borders of those States that sanction it," giving Congress justification to invoke the Commerce Clause and ban sports gambling nationally. However, a grandfather provision allowed the sports lotteries conducted in Delaware, Montana, and Oregon, as well as Nevada's licensed sports pools, to continue operating.2 This effectively gave Nevada a monopoly on sports wagering through the many casino-operated sportsbooks in gambling hubs like Las Vegas and Reno.
Starting in 2009, states began to challenge the legality of PASPA, first with Delaware's attempt to expand sports wagering opportunities within its borders.3 This was struck down by the Third Circuit Court of Appeals months later. In 2012, New Jersey took the baton when its state legislature passed the Sports Wagering Law, which was fought by major professional leagues. The Third Circuit sided with these leagues and ultimately upheld PASPA. However, New Jersey continued its fight, and the case ultimately made its way to the Supreme Court, which ruled in the state's favor in 2018.
Rise of MLS
Soccer has come a long way in the United States over the last few decades. Major League Soccer (MLS), which represents the nation's highest level of play, was founded in 1993 as part of the country's bid to host the 1994 World Cup. The league suffered from low attendance and financial losses during its first few years, but saw a resurgence after the U.S. made the quarterfinals of the 2002 World Cup. Since then, MLS has expanded from 10 teams to 29 teams for the 2023 season (including 3 in Canada), while one-third of all the current MLS teams joined the league in 2015 or later. Expansion fees have also grown from $100 million for New York City FC in 2013 to $325 million for the eventual 30th team.4
2022 was a record year for MLS, which saw total attendance of over 10 million, exceeding 2019's previous record by at least 1.4 million.5 The league also has the youngest fan base among major sports, with an average age of 39.6 years. This momentum is set to continue as the U.S. will be one of the three North American hosts of the 2026 FIFA World Cup, hosting 60 of the 80 scheduled matches. This will come with a new tournament format as well, featuring an expanded field of 48 teams, which will increase the number of games and viewership figures. Soccer has surpassed hockey to become the fourth most popular sport in the U.S., behind football, basketball, and baseball.6
Sports Betting in 2018 vs Today
Three days prior to the 2018 World Cup, which began on June 14th, New Jersey Governor Phil Murphy signed legislation allowing sports betting at the state's casinos and racetracks.7 This made New Jersey the second state to allow betting outside Nevada. According to Legal Sports Report, the state generated $16.4 million in handle that June and $40.7 million in July, a far cry from the $1.06 billion wagered in the state in October 2022.8 Nevada's $286.5 million handle in June 2018 and $244.6 million in July 2018 was more respectable, but in August, a month after the World Cup had ended, the state's handle was higher than July. This indicates that not many Americans were yet betting legally on the World Cup.
As of November 2022, sports betting is legal in 31 states and the District of Columbia.9 Sportsbooks operating in these areas have cumulatively generated $167.2 billion in handle from PASPA's repeal through October 2022. This handle is expected to see a material bump in November and December as a result of the World Cup. According to the American Gaming Association (AGA), 20.5 million Americans plan on betting a total of $1.8 billion on the 2022 FIFA World Cup.10 48% of these plan to bet online, either on their computer or smartphone, using a sportsbook such as DraftKings, FanDuel, or BetMGM. 29% of American adults who watch the World Cup also plan on placing bets. This is a continuation of sports enthusiasts' desire to have their experience be interactive through betting.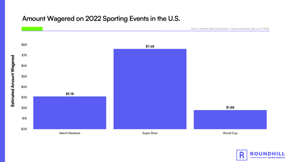 Furthermore, 24% of those surveyed would place a hypothetical $50 bet on the United States to win the whole tournament, higher than prevailing favorite Brazil, which garnered 19%. As of this writing, the United States has beaten Iran to advance to the Round of 16, a development likely to increase wagered handle even further in legal states, as long as the U.S. remains in the tournament. At the same time, given the disproportionate betting on Team USA versus other teams, sportsbooks have significant liability every time the national team wins. According to Caesars, in the match versus Iran, "USA has racked up a whopping 81.4% of the tickets and 93.0% of the handle among all 90 minutes wagers."11
Potential Opportunity
AGA's projection of $1.8 billion wagered in the U.S. is just a fraction of the total anticipated betting on this year's World Cup. According to Barclays analysts, $35 billion will be wagered globally – a 65% increase over the last World Cup's handle.12 This also means the U.S. represents just 5% of the estimated worldwide handle.
On a revenue basis, U.S. sportsbooks tend to generate hold percentages of 6 to 8 percent on the total amount wagered. Based on this range, the expected $1.8 billion in regulated U.S. wagers may translate to more than $100 million in gross gaming revenues for U.S. sportsbooks. Meanwhile, if we apply a similar hold percentage assumption to non-U.S. betting, sportsbooks outside of the U.S. may stand to generate billions of dollars in revenues from this year's World Cup alone. Moreover, they have benefitted from the numerous draws thus far, as bettors tend to wager on a decisive outcome.
For example, Barclays cites Entain, the parent of Ladbrokes, as one of the primary beneficiaries of this betting spike. Entain's extensive operations in Europe and Latin America may boost the company's profits next quarter. According to the company's 2021 annual report, it held the number one market share spot for online betting in Brazil and Italy, and was second in the UK, U.S., and Germany. Entain operates in the United States through BetMGM, its joint venture with MGM Resorts.
Roundhill Sports Betting & iGaming Index
As of 11/30/2022, Entain held the top position in the Roundhill Sports Betting & iGaming Index (BETZ Index), with a 5.50% weight. Other names with a weight exceeding 5% include Kindred Group (KINDSDB SS), Penn Entertainment (PENN), Tabcorp Holdings (TAH AU), Flutter Entertainment (FLTR LN), and DraftKings (DKNG). The Index's largest region is Europe, with a 45.26% weight among 14 countries led by Malta, the UK, and Ireland. The United States is the largest single country in the BETZ Index with a 35.50% weighting. Given that single sports betting operators may be subject to issues such as customer loyalty and wagering liabilities which affect their performance, a diversified index such as the BETZ Index may limit idiosyncratic risks.
As excitement continues to ramp up around soccer in the United States, sportsbooks may draw in fans through marketing and betting promotions. The 2026 FIFA World Cup may represent the culmination of these efforts, especially given the United States' position is secured in the tournament as they automatically qualify as hosts.
---
1http://www.gambling-law-us.com/Federal-Laws/sports-protection.htm/
2https://www.cbsnews.com/news/nj-gov-chris-christie-let-them-try-to-stop-us-from-sports-betting/
3https://blog.jipel.law.nyu.edu/2019/01/murphy-v-ncaa-the-fall-of-paspa-and-the-rise-of-sports-gambling/
4https://www.forbes.com/sites/christinasettimi/2020/07/17/mls-expansion-has-to-wait-another-year-in-charlotte-sacramento-and-st-louis/
5https://www.forbes.com/sites/michaellore/2022/10/13/major-league-soccer-scores-record-breaking-season/?sh=1bb3409360aa
6https://share.america.gov/soccer-soars-united-states/
7https://www.njoag.gov/programs/sports-wagering/
8https://www.legalsportsreport.com/sports-betting/revenue/
9https://www.americangaming.org/research/state-gaming-map/
10https://www.americangaming.org/new/20-5-million-americans-to-wager-1-8b-on-2022-fifa-world-cup/
11https://www.caesars.com/sportsblog/2022-world-cup-usa-iran-betting-report
12https://www.bloomberg.com/news/articles/2022-11-28/world-cup-provides-a-35-billion-betting-boon-for-bookmakers
The information contained in this newsletter is for informational purposes only and does not constitute financial, investment, tax or legal advice. The information expressed herein reflects the opinion of Roundhill Investments ("Roundhill") on the date of production and are subject to change at any time without notice due to various factors, including changing market conditions. Where data is presented that is prepared by third parties, such information will be cited, and these sources have been deemed to be reliable. Roundhill is separate and unaffiliated from any third parties listed herein and is not responsible for their products, services, policies or their content. All investments are subject to varying degrees of risk, including the risk of the loss of capital, and there can be no assurance that the future performance of any specific company, strategy or product referenced directly or indirectly in this newsletter will be profitable, perform equally to any corresponding indicated historical performance level(s), or be suitable for your portfolio. Past performance is not an indicator of future results.