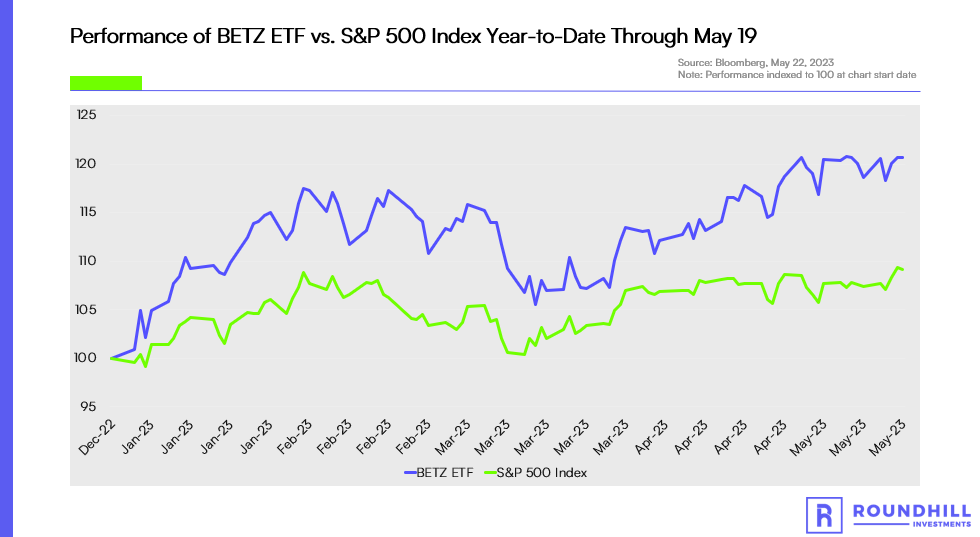 As Online Sportsbooks Outperform, Place Your Bet on BETZ

The Roundhill Sports Betting & iGaming ETF (NYSE Arca ticker BETZ) rallied 20.7% from the start of 2023 through May 19, fueled by improving profitability and continued secular tailwinds. Over that timeframe, BETZ has outperformed the S&P 500 by 10.8%.
But after the recent run, can the sector's strong performance continue?
In one word, yes. We believe that the fundamental tailwinds remain in place, which can support continued bullish sentiment for the group. Here's why: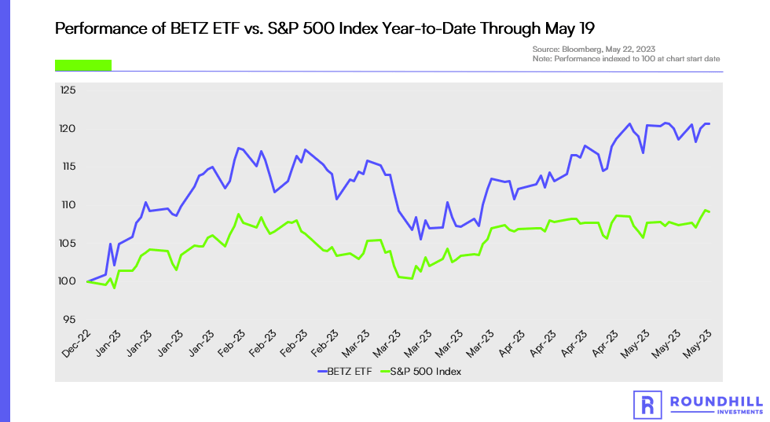 Source: Bloomberg, May 22, 2023
The performance data quoted represents past performance. Past performance does not guarantee future results. Current performance may be lower or higher than the performance data quoted. The investment return and principal value of an investment will fluctuate so that an investor's shares, when sold or redeemed, may be worth more or less than their original cost. Returns less than one year are not annualized. For the most recent month-end performance, please call (855) 561-5728. You cannot invest directly in an index.

---
Secular Tailwinds, Improving Profitability, Beating Earnings
We believe that a few fundamental factors are driving the recent performance of BETZ:
Secular Tailwinds: Secular tailwinds from the rapid expansion of U.S. online sports betting — U.S. sports betting handle rose 13.2% year-over-year in the first quarter to $29.7 billion, according to our analysis of state regulator reports.

Today, roughly 47% of the U.S. population has access to legal online sports betting with visibility to that increasing to 53% over the next several months as North Carolina, Minnesota, Vermont and Kentucky are close to legalization and launching services, according to DraftKings.

Improving Profitability: Improving sector profitability as operators shift from a focus on "growth at any cost" model to more-profitable expansion. BETZ holdings are forecast to grow sales on average 16.2% this year while their EBITDA margins expand 192 basis points, according to Bloomberg.

EBITDA is earnings before interest, taxes, depreciation and amortization and measures a company's operating cash flow.

Earnings Upside: As of May 19, fund constituents that have reported first quarter results beat analyst estimates for earnings per share by an average 50.5%, according to Bloomberg.

There's a body of academic evidence including this report

that points to positive correlations between earnings estimate revisions and share price performance. As companies beat estimates, analysts tend to upwardly revise their views.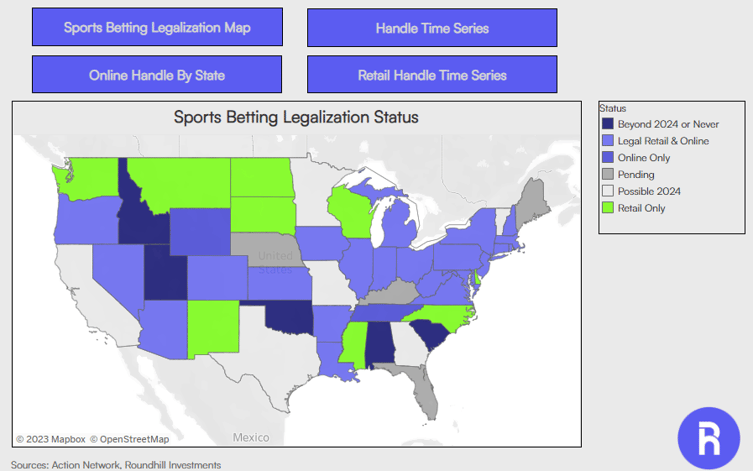 Sources: Action Network, Roundhill Investments
Place Your Bet With BETZ
BETZ is the only ETF designed to give investors specific exposure to leaders in online sports betting and iGaming by tracking the Roundhill Sports Betting & iGaming Index. The top holdings in the fund include DraftKings, Entain, Flutter Entertainment, Tabcorp and Penn Entertainment.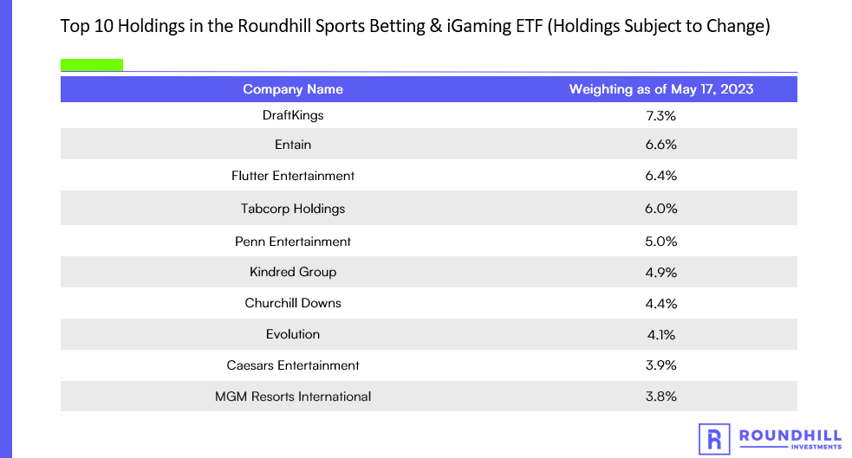 Source: Roundhill Investments, May 22, 2023
The holdings are geographically diverse, with 37.1% of assets invested in companies based in the U.S., followed by Australia (15.3%), the United Kingdom (10.1%), Malta (7.2%) and Ireland (6.4%), according to Bloomberg.
To learn more about the fund, including access to current holdings, a full prospectus and information on how to invest, visit our website at https://www.roundhillinvestments.com/etf/betz/ .
Investors should consider the investment objectives, risk, charges and expenses carefully before investing. For a prospectus or summary prospectus with this and other information about Roundhill ETFs please call 1-855-561-5728 or visit the website at www.roundhillinvestments.com/etf/. Read the prospectus or summary prospectus carefully before investing.
Investing involves risk, including possible loss of principal. Risks include those related to investments in the highly-competitive sports betting industry, including from illegal or unregulated companies. Expansion of sports betting (both regulated and unregulated), including the award of additional licenses or expansion or relocation of existing sports betting companies, and competition from other leisure and entertainment activities, could impact these companies' finances. Small and mid capitalization companies may be more volatile and less liquid due to limited resources or product lines and more sensitive to economic factors.
Fund investments are concentrated in an industry or group of industries, and the value of Fund shares may rise and fall more than more diversified funds. Investments in foreign securities involve social and political instability, market illiquidity, exchange-rate fluctuation, high volatility and limited regulation risks. Depositary Receipts involve risks similar to those associated with investments in foreign securities, but may not provide a return that corresponds precisely with that of the underlying shares. Please see the prospectus for details of these and other risks. Roundhill Financial Inc. serves as the investment advisor.
The Funds are distributed by Foreside Fund Services, LLC which is not affiliated with Roundhill Financial Inc., U.S. Bank, or any of their affiliates.