Everything You Need to Know in 2021
This updated section is authored by Brian Lichtor
As the capabilities of online gaming have grown throughout the years, arguably no game mode is more popular currently than battle royale. Battle royale games incorporate survival, exploration, and scavenging into a competitive game mode, where the objective is for you (and your team if playing with others) to be the last alive. Although variations of battle royales have been around for several years, the genre began to see a significant increase in players in 2017 thanks to two titles - PlayerUnknown's Battlegrounds (PUBG) and the extremely popular Fortnite Battle Royale. With the rise of these games came success for some of their most prominent players on Twitch (and similar streaming platforms), perhaps most notably Ninja, who had over 600,000 people watch him and rapper Drake play Fortnite together in 2018.
Gaming companies have taken notice of the rapid growth of Fortnite and specifically the Battle Royale game mode, and we have seen a significant shift in online gaming from the likes of Call of Duty, who release their annual game, but now have Warzone, a free-to-play battle royale mode similar to Fortnite with looting, moving zones, and so on. As the dynamic shift towards battle royales continues, these games may provide an attractive investment opportunity within the growing gaming space. In section one of this piece, we will take a look at the best battle royale games currently (based on viewership). From there, as gaming developers and publishers look to make more battle royales, we will analyze how to invest in battle royal games.
Best Battle Royale Games in 2021
#1 - Fortnite

Image Source: Epic Games
Though some might say Fortnite's peak popularity was from 2017-19 (before they changed the map), according to Stream Hatchet, Fortnite was still the most viewed battle royale game (as of February 2021) with 127 million hours watched, the vast majority of which came on Twitch.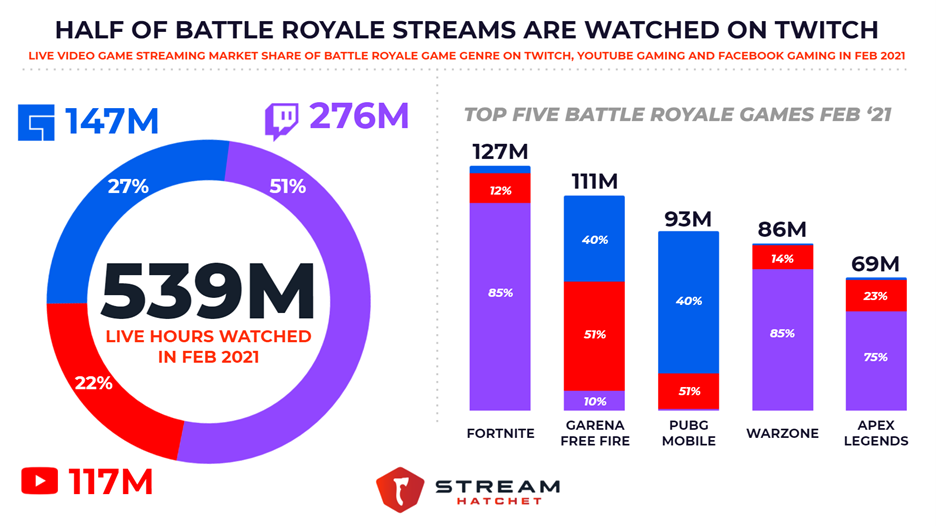 Image Source: Stream Hatchet
Since its original release in September of 2017, Fortnite has dominated the battle royale scene, and is one of the reasons why Twitch has had strong growth over the past several years. The game has experienced significant player growth since launch, with over 350 million registered players around the world. Fortnite is created by Epic Games, a U.S. gaming developer and publisher majority-owned by founder and CEO Tim Sweeney. Chinese tech conglomerate Tencent also holds a 40% stake in the company. Epic Games also creates the engine that Fortnite runs on, Unreal Engine 4.
Beyond the gameplay and camaraderie with friends, Fortnite has had numerous in-game, live events that altered the map, allowed players to vote what weapon they want in the game, and more. Additionally, Fortnite has held concerts in-game, beginning with American DJ Marshmello in 2019 that garnered 10.7 million players attending the concert, to then be topped in 2020 by rapper Travis Scott whose performance had 12.3 million gamers attend. These types of events, with their creativity and unmatched production level, in large part helped separate Fortnite from its competitors. In conjunction with the concerts, Fortnite released detailed skins in the item shop that allowed gamers to play as Marshmello or Travis Scott. Skins, dances, and accessories found in the item shop are another way Fortnite has differentiated itself within the battle royale space and generates significant revenue.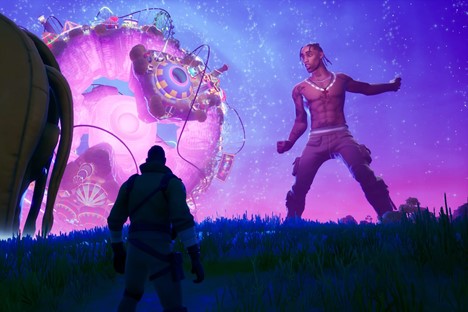 Travis Scott concert in Fortnite. Image Source: Rolling Stone
Available Platforms: Microsoft Windows, macOS, Playstation 4, Playstation 5, Xbox One, Xbox Series X/S, iOS, Nintendo Switch, Android
#2 - Garena Free Fire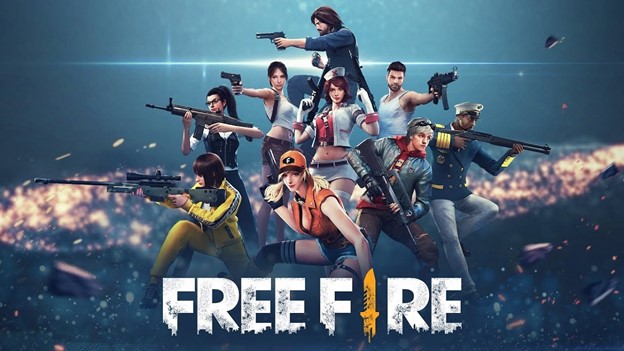 From Singapore based publisher Garena (the gaming division within Sea Limited), Garena Free Fire (Free Fire) is a battle royale game exclusive to mobile devices. With 111 million hours watched in February 2021, it is the second most-watched battle royale game. Due to the fact that the game is exclusively played on mobile devices, Twitch viewership only makes up 10% of hours watched, unlike Fortnite which gets a massive 85% of its viewership on Twitch. Also, because it is mobile, it is more popular in Latin America, India, and Southeast Asia.
Awarded Google Play's "Best Popular Vote Game" in their 2019 "Best Apps of the Year", Free Fire is similar to Fortnite in the sense that you choose where you deploy by flying to a destination where you loot and look to be the last player alive. Whereas Fortnite has up to 100 players in a lobby, Free Fire lobbies are capped at 50. Free Fire utilizes the Unity engine, whose stock went public in a 2020 IPO.
Initially released in September of 2017 in beta, Free Fire had an impressive 80 million daily players in May of 2020. With such an expansive audience comes the opportunity for esports and tournaments, and Free Fire is set to hold a World Series in May of this year with a prize pool of $2 million.
Available Platforms: Android, iOS
#3 - PUBG Mobile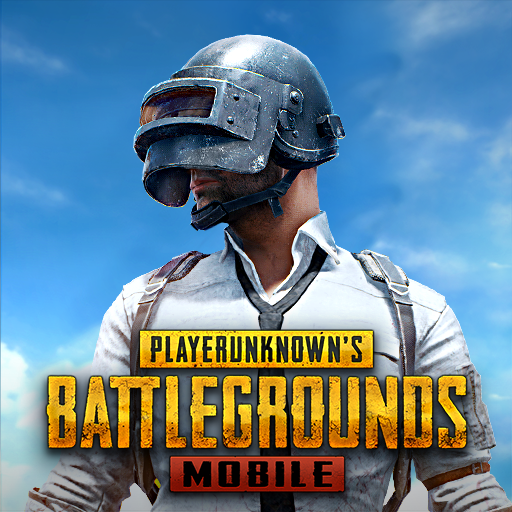 Image Source: Google Play
Popularized in part by famous content creator and current YouTube streamer Dr. Disrespect, PUBG is one of the most popular battle royale games ever created. The mobile version of the game, released globally in March of 2018, had 93 million hours viewed in February 2021. Similar to Free Fire, for PUBG Mobile, the vast majority of viewership comes from Facebook Gaming and YouTube Gaming.
Claiming to be the original battle royale on its website, PUBG Mobile stands out from other mobile battle royale games with its impressive graphics (running on Unreal Engine 4 from Epic Games) and stellar customization abilities. PUBG Mobile also provides a unique experience in that there are multiple maps players can choose from, versus Fortnite and Warzone which each have one map that sees changes over time.
PUBG Mobile utilizes special events similar to Fortnite, including its recent "3rd Anniversary" event. As many popular battle royale games do, PUBG Mobile employs a season pass (called Royale Pass) that allows players to rank up when they play and unlock collectables and more. PUBG Mobile has accumulated a massive user base since 2018, surpassing over 1 billion downloads as of March 2021.
Available Platforms: Android, iOS
#4 - Call of Duty: Warzone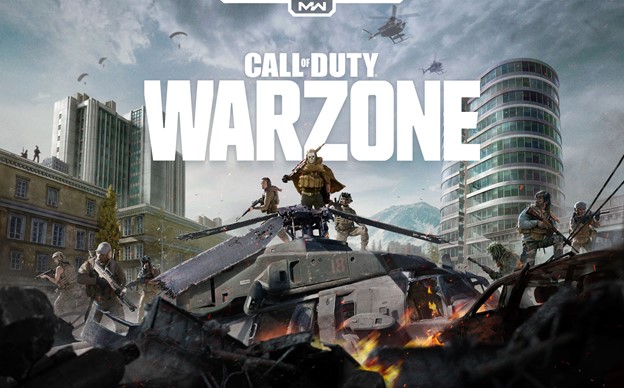 Image Source: Activision
For the casual Twitch viewer, arguably no game is more prominent right now than Call of Duty: Warzone. Warzone had 86 million hours watched in February of 2021, with 85% of that coming from Twitch. Warzone is quite popular in the United States, as it is played daily by big time streamers, including Nickmercs and TimTheTatMan, among many others. During a recent two-day event that changed the map by going back in time, Nickmercs had 375,000 concurrent viewers, a very impressive number.
One aspect of Warzone (and the broader Call of Duty franchise) that sets itself apart is how realistic it is. From the characters to the weapons and the scenery of the map, it truly looks as though you are in combat. The game begins with 150 players (in game modes of solos, duos, trios, or squads) jumping out of a helicopter and flying to their preferred destination in Verdansk, a fictional city featured in Call of Duty: Modern Warfare that is based on the city of Donetsk in Ukraine. The objective, like all battle royale games, is to be the last one alive, eliminating your opponents and scavenging the map in the process.
There are a few unique things about Warzone that make the game so special. For one thing, you are able to use a pistol the second you deploy from the helicopter and can attempt to shoot an opponent out of the sky. In Fortnite, you cannot eliminate anyone until you have landed. Additionally, if the players have the option enabled and have a microphone, when Player A eliminates Player B, Player A can hear Player B's reaction for about a second, which often makes for hilarious content.
Warzone, like its peers in the battle royale space, while free-to-play, earns money from season passes and an item shop. Warzone partners with professional gaming teams/organizations to sell custom weapon skins, exemplified below with a Faze skin from a Nickmercs stream, who is a member and equity owner of Faze Clan. Battle royales thrive in large part due to the content creators that play their games, and with this, games like Fornite and Warzone allow creators to have codes their fans can use in the store when purchasing items.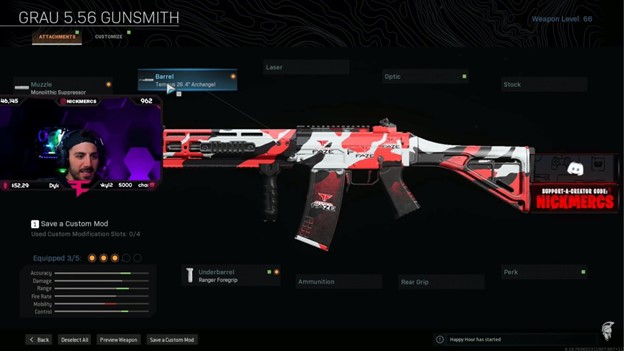 Image Source: Nickmercs on Twitch
Warzone celebrated its one-year anniversary in March of 2021 and recently passed 100 million players. What is notable about Warzone is that the content is connected to the story and multiplayer mode from Call of Duty's annual releases. Weapons currently can be used from both Call of Duty: Modern Warfare (2019) and Call of Duty: Black Ops - Cold War. It will be interesting to see how Call of Duty continues to adapt Warzone to its annual releases, as this connection is different from other battle royale games. In Call of Duty's 2018 release Black Ops 4, there was a similar game mode to Warzone called Blackout, but certain complexities held the game back from the popularity Warzone has amassed.
Warzone is published by Activision and comes from longtime developers of the franchise Infinity Ward and Raven Software. The game runs on the IW 8.0 engine, which is developed by Infinity Ward and Treyarch.
Available Platforms: Microsoft Windows, Playstation 4, Playstation 5, Xbox One, Xbox Series X/S
#5 - Apex Legends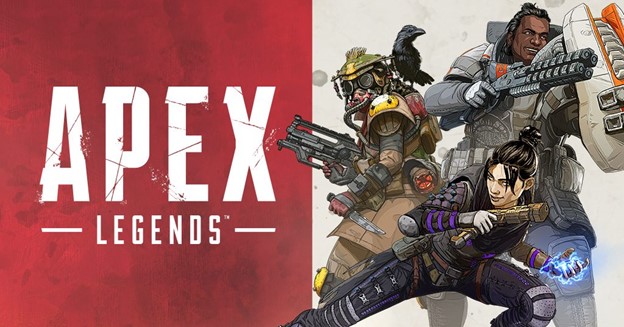 Image Source: Electronic Arts
From developer Respawn Entertainment and publisher Electronic Arts, Apex Legends (Apex) was first released in February 2019. Unlike Fortnite and Warzone, where a player's skin or operator has no effect on their performance or abilities, Apex uses heroes or "Legends" that have unique abilities and is one way the game separates itself.
Shortly after its two-year anniversary, Apex announced in April of this year it had surpassed 100 million players and expects to generate revenues of more than $500 million during 2021. Apex saw fairly quick adoption in 2019 after its release, flying to 50 million users in just a month. This growth obviously slowed significantly the following two years, but Apex still has a sizable core base with 69 million hours watched in February. It was thought that Apex could be the "Fortnite killer", but as the numbers show, Fortnite still reigns above all.
Available Platforms: Microsoft Windows, Playstation 4, Xbox One, Nintendo Switch, iOS, Android
Bonus - Fall Guys: Ultimate Knockout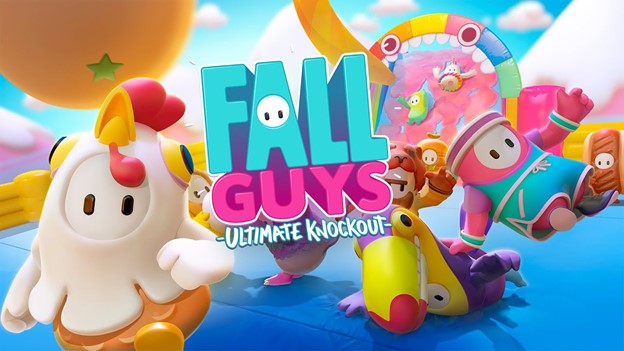 Image Source: YouTube
Fall Guys: Ultimate Knockout is, for a lack of a better term, a cute battle royale geared toward a younger audience that allows individuals to compete in fun mini-games against opponents until the final match where they must win to receive a crown. Rounds consist of individual and team-based obstacle courses and challenges. Characters make funny noises when they jump and fall down, and are in the shapes of beans. The character skins are unique in that players can unlock and/or purchase skins such as a hamburger, dinosaur, and many more. Twitch streamer Ninja even has a skin in the game, similar to his Fortnite skin.
Fall Guys saw massive success after its release in August of 2020 as gamers were at home playing during the pandemic. With this, the aforementioned TimTheTatMan was featured on ESPN when he could not seem to win a crown. It became a multi-day phenomenon - has Tim won? The saga culminated on August 20, 2020 when he finally won a crown.
The game has eye-popping graphics and colors, running on Unity's engine. Tonic Games Group, the makers of Fall Guys, became a part of Epic Games in March of 2021.
Available Platforms: Microsoft Windows, Playstation 4, Android, iOS, Nintendo Switch, Xbox One, Xbox One X/S
How To Invest In Battle Royale Games
With 539 million live hours watched in February of just the top five battle royale games alone, the genre is at the forefront of gaming for years to come. As such, they provide a unique investment opportunity, and investors may seek to gain exposure to the companies that develop and publish them. Below is a breakdown of the investable names behind the most popular battle royale titles.
Tencent (Epic Games)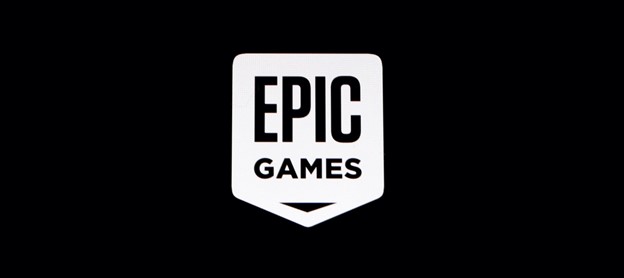 Image Source: Reuters
Epic Games became a household name with the rapid rise of Fortnite, and after recently raising $1 billion in what is thought to be their final raise before an IPO, the company is now valued at $29 billion. Chinese tech holding company Tencent holds a 40% stake in Epic Games, and trades on the Hong Kong stock exchange and is ADR listed in the United States.
In addition to developing Fortnite, the Unreal Engine from Epic Games is used for PUBG. As mentioned above, Epic Game acquired Fall Guys maker Tonic Games Group earlier this year. The company is notably high on the concept of the metaverse, consistent with the Fortnite section above where gamers attend in-game concerts and events, partaking in a virtual world of sorts.
Activision Blizzard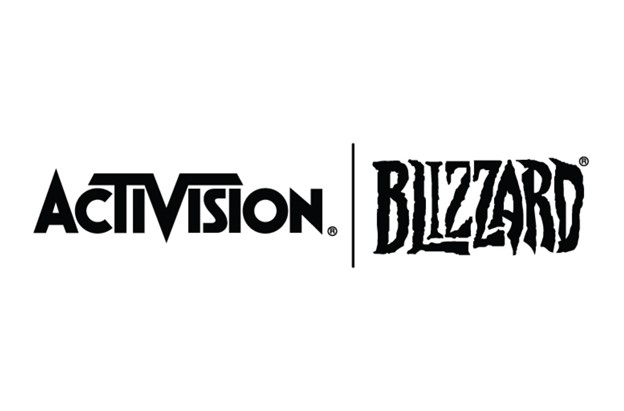 Image Source: The Verge
Activision, part of Activision Blizzard, is the publisher behind the highly successful battle royale Warzone. Activision is best known for the Call of Duty franchise, but it is also behind the Spyro Reignited Trilogy, Crash Bandicoot Trilogy, and Tony Hawk's Pro Skater 5. Blizzard is most famous for its online role-playing game World of Warcraft, alongside the Diablo franchise, Overwatch, and Starcraft, among others.
Activision first began trading on the Nasdaq in 1993 and went on to acquire Vivendi Games (who owned Blizzard Entertainment) in 2008, forming today's Activision Blizzard. The stock has a market capitalization of over $70 billion.
Electronic Arts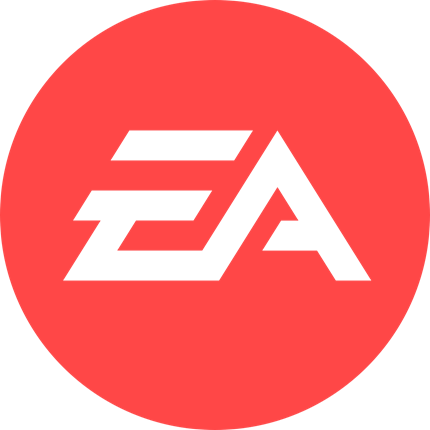 Image Source: Electronic Arts
Electronic Arts (EA), publisher of battle royale game Apex Legends, is arguably most known for its sports video games from publisher EA Sports, including: FIFA, Madden NFL, NHL, UFC, and PGA Tour. In fact, many gamers will remember the iconic phrase when loading up an EA Sports game - "EA Sports - it's in the game!" The gaming company is the developer and publisher of the Battlefield franchise, which is seen as a competitor to Activision's popular Call of Duty.
EA went public in 1989 and has a market capitalization of over $40 billion. It is second by market cap among gaming companies in America only to Activision Blizzard, and ahead of Grand Theft Auto maker Take-Two Interactive.
Sea Limited (Garena)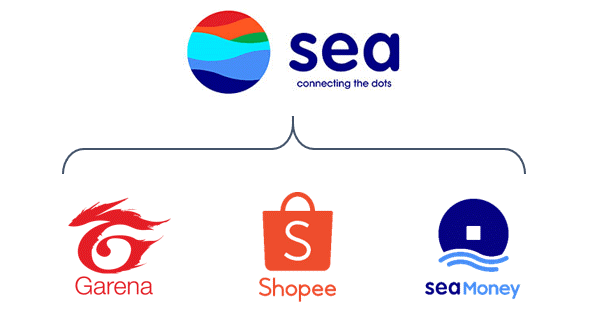 Image Source: Seeking Alpha
Two years after releasing its battle royale game Free Fire, online gaming developer and publisher Garena became a subsidiary of Sea Limited in 2019, a consumer internet company headquartered in Singapore. Garena is a publisher of League of Legend, a highly successful battle arena game launched in 2009. They also publish Call of Duty: Mobile for certain regions.
In addition to Garena, Sea operates Shopee, an e-commerce company, and SeaMoney, a digital payments and financial services provider in Southeast Asia. Sea IPO'd in the U.S. on the NYSE in October 2017 and has a market capitalization of over $130 billion. Founded in 2009, though it is largely focused on Southeast Asia, Sea has been ramping up efforts in Brazil with Shopee as it looks at expansion in the emerging market of Latin America.
Unity
Unity is the engine used for Garena's Free Fire and Tonic Games Group's (Epic Games) Fall Guys. Per their website, Unity is the "leading platform for creating interactive, real-time content." Their product offering stretches far beyond the world of gaming, with solutions for architecture, automotive, film, and more.
Unity recently IPO'd in the U.S. on the NYSE in September of 2020. The software development company has a market capitalization of over $28 billion.
---
Answer: They're the future, but the future might be a series of fads.
Battle royale games—those games where players battle to survive a last-player-standing elimination match in an ever-shrinking field of play—are going to be a major part of the games landscape for years to come. The question of whether they will be a major part of the esports landscape is still uncertain. No less than the design director of Call of Duty, David Vonderhaar, recently told fans that the series' own battle royale mode, Blackout, "is not competitive multiplayer". He said this in spite of the fact that Black Ops 4 and the Blackout mode have both been very well-received, with Black Ops 4 topping the 2018 sales charts (via NPD) and charting a sharp uptick in PC sales (according to Activision-Blizzard COO Coddy Johnson on the Feb 12 earnings call for Q4 2018 results).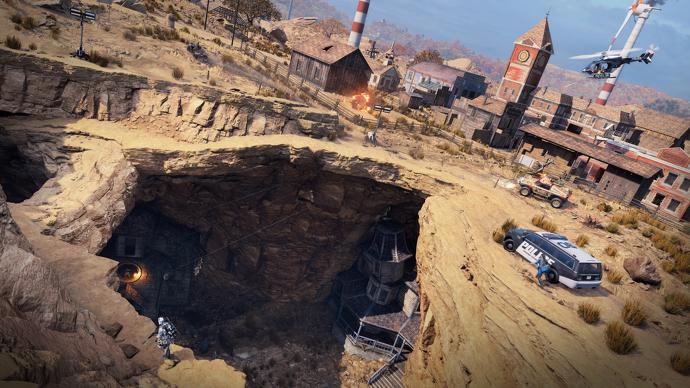 But is Vonderhaar just being a cautious skeptic here? Consider two other significant developments within the battle royale space that happened in the days following his statement. First, Electronic Arts released—with almost no fanfare or advanced marketing—twitApex Legends, a battle royale game set in the Titanfall universe, an IP which has never enjoyed anything like the blockbuster success of Call of Duty. Yet Apex Legends was an instant hit. Within a week, developer Respawn Entertainment was touting a player base of over 25 million players and 2 million concurrently-playing users over its first weekend.
Then another bolt-from-the-blue struck when Nintendo announced and immediately released the free-to-play Tetris 99, which somehow combines the last-player standing tension of the battle royale genre with, well, Tetris, the falling-block puzzle game people have been playing for thirty years. While Nintendo has not released figures for the game's performance thus far, it bears all the earmarks of a major success: busy servers, full games, and tons of media coverage. Just as important, it marks a new approach by Nintendo at enticing players to sign-up for Nintendo Switch Online, it's $4 per month premium program.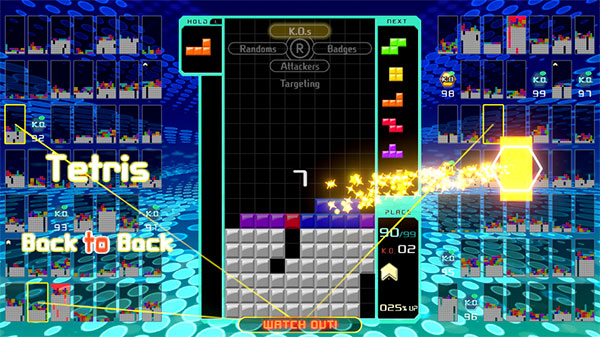 On the one hand, all of this is a clear sign of the dynamism of the battle royale. In just a couple weeks in February, the genre was turned on its head and two of the most exciting games were ones that nobody had even heard of a few weeks earlier. On the other hand, this wild February also underlines the faddishness that typifies the genre. The traditional, competitive modes of Call of Duty have endured for a decade and helped the series maintain its position at the top of the industry. By virtue of that longevity, they've also formed a stable basis for Call of Duty esports. Can anyone have the same confidence about any of the current leaders of the battle royale genre?
It's also worth noting that some of what Fortnite maker Epic Games has done to promote their game and keep the experience novel and exciting for its audience has run directly against what are considered "best practices" for a competitive game.
Consider the incident that marked the finale of competitive Fortnite in 2018: During the North American Fortnite Winter Royale, theoretically one of Fortnite's capstone esports events, an update for the game introduced a magical sword called the Infinity Blade. It was so incredibly powerful that it immediately upended Fortnite's design and balance. In the middle of a major tournament, the game's best and most dedicated players found themselves playing a game that bore little resemblance to the one they had trained and prepared for. Without too much exaggeration, it was like allowing a football team to use a bulldozer during the Super Bowl. Days later, Epic announced they would be removing the weapon from the game.
It was not the first time that Epic had upset players by radically changing Fortnite, and it is likely not the last. While better communication might mitigate some of the issues caused by the Infinity Blade's unceremonious introduction, that won't resolve the tension between Fortnite as a competitive experience and Fortnite as a recreational experience. Fortnite thrives on novelty and change that keeps players coming back to see how the experience is evolving, while also being a fun, low-pressure way to play a game with and against friends. Some of that might irritate more competitively-minded players, but it's also contributed a title that remains the most-streamed game on Twitch and one that still, even in the face of a new challenge from Apex Legends, enjoys an average of 137k viewers even in the absence of major competitive play (via TwitchTracker). The financial success is harder to assess, given that Epic does not release information about Fortnite revenue, but Nielsen research firm SuperData put it at $2.4 billion. It was a bright spot in a challenging year for Epic's biggest investor, the Chinese giant Tencent, which has not yet been able to bring Fortnite to the Chinese market.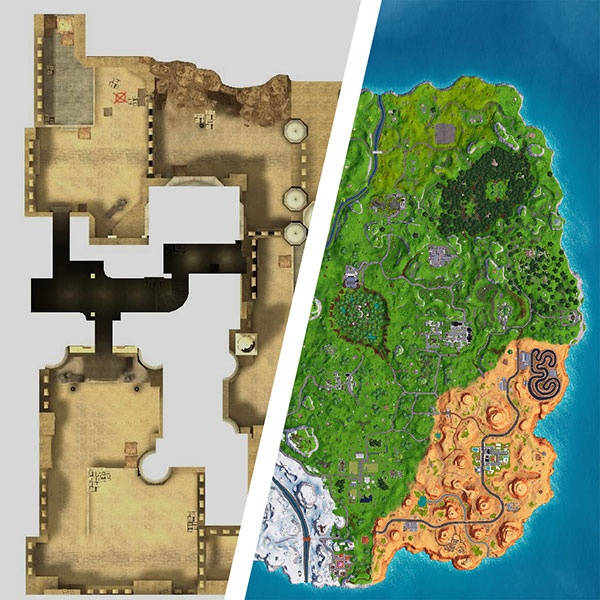 Traditionally, the biggest esports have centered on a few popular, stable games that new generations of players embrace, and reinvent via their own growing skill and insights, as we have seen with traditional sports. That's certainly the Counter-Strike model: the game being played on stages around the world today is still recognizable as the one people were playing at small LAN centers and convention halls in the early 2000s. Those excited about the rapid explosion of battle royale games should not look down their nose at this older model: Counter-Strike remains one of the most widely-streamed and watched games on Twitch almost seven years into its life cycle, with an average viewership of around 55k (via Twitchtracker). These are not games that change a great deal from month to month, yet they have become an enduring pastime for their players.
Battle royale games don't have that history yet. In many ways, the entire genre has formed in large measure as an alternative to the kinds of traditional competitive shooters that have dominated the space for decades. They are lower-intensity and more cooperative than a lot of popular competitive games. For now at least, a lot of this audience is about chasing the "new thing" at the expense of the old, with Player Unknown's Battlegrounds now having fallen far behind Fortnite and Apex Legends in terms of Twitch viewership, despite a relatively recent content expansion. Even here, however, this is only a very relative failure: PUBG's numbers dwarf those of Call of Duty or the surging competitive shooter Rainbow Six: Siege—both of which present themselves more like a traditional competitive game in the vein of CS:GO.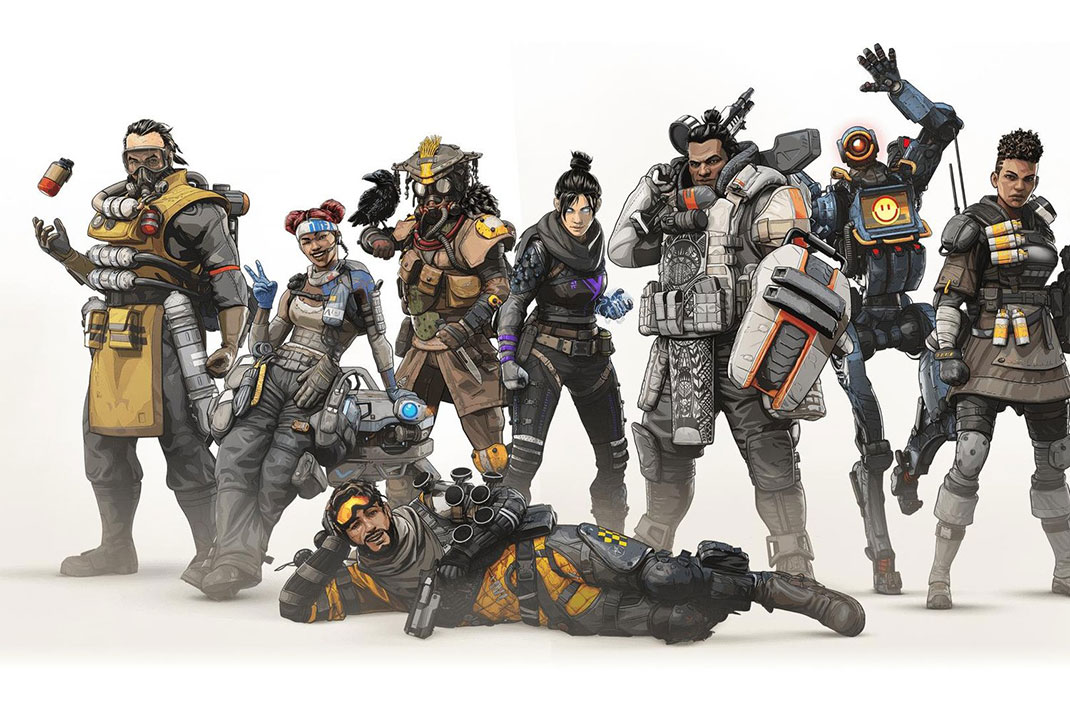 Right now, the battle royale genre is too young to have developed a mature competitive scene. Part of what makes for a strong esport is the idea that, within a roughly fixed set of rules, great players push beyond our expectations of what is possible. Will battle royale games "grow up" and form stable competitive modes that evolve slightly and slowly over time? Or will competitive battle royale games look like the market we've seen so far: "Living games" that radically reinvent themselves from year-to-year and sometimes month-to-month?
The good news is that the future of the battle royale is very bright and we have yet to see the limits of creativity that are possible within the genre. But it also means that the future of battle royale games as competitive platforms is more complicated, because so far it's a genre that won't stand still long enough to become a sport.