The contents of this article are not intended as a recommendation to buy or sell any securities.
About The Author
Jacob Shrader is a longtime gamer focused on applying his understanding of games to other industries and the economic implications that follow. He currently works as the General Manager of Esports at ZenSports, the mobile, crypto-focused, sports betting platform, operating as both a traditional sportsbook and a peer-to-peer marketplace.
ZenSports also serves as a full-service esports tournament hosting solution, full of fun and engaging features, such as Twitch API integration and the ability for fans to bet on matches live. The team recently closed a Series A round of funding which will be used primarily for their entrance into the Nevada gaming market.
Huya and Douyu To Merge: Implications For Western Platforms
This past October, the most popular livestreaming platforms in China, Douyu and Huya, announced their intent to merge. If the deal is approved, the resulting entity will likely own 85% or more of the livestreaming market in China. This industry consolidation is telling, as traditionally Western media trends have mimicked those in China. Examples include Douji, China's preceding version of TikTok, and the shift to instant digital messaging and payments (QR codes).
The deal was initiated by Tencent, the majority shareholder in Douyu and owner of more than 30% of Huya shares. Tencent plans to integrate their own esports-focused livestreaming platform, Penguin Esports, into the new entity. Tencent owns (in entirety or partially) the majority of all internet companies in China and has a significant stake in the U.S. gaming market. Tencent will own 67.5% of the new entity.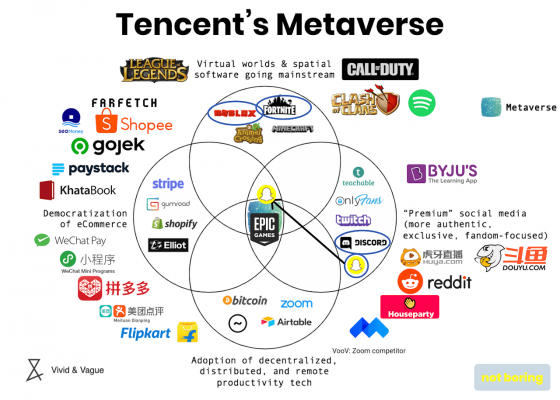 An overview of the Tencent Portfolio
Both Douyu and Huya broadcast many more options than traditional Western livestreaming sites – television shows, art and music, festivals and more – the only requirement is that the content is live. With an accepted understanding that trends in the United States often follow those in China, we can allude to what the merger means for the near future of the U.S. streaming market.
Livestreaming: Why is it Special?
In 2016, the livestream industry erupted around the world. In the U.S., this eruption was catalyzed by gamers. In the East, the first livestreamers were comedians, singers, and foodies. Livestreaming differs from traditional programming as it focuses on an individual rather than a full cast of characters or plot. This focus on individualism and the ability for viewers to interact with anchors live via chat and donations provides a truly unique connection between fans and streamers.
From an economic view, competition between streamers creates a capitalistic market much like traditional media industries, except that in this case, the streamers are the primary beneficiaries, not corporations. In essence, livestreaming platforms are special because they offer a more decentralized industry than the traditional corporate publishing world. Streamers promote their own brand from the start. I do not believe it is a coincidence that cryptocurrencies and livestreaming platforms are gaining adoption around the same time.
Livestreaming and E-commerce in China
In China, livestreaming has progressed further into mainstream culture due to ties to e-commerce. Chinese cities may have established retailers, but most surrounding areas do not. This lack of purchasing power efficiency creates a disconnect between urban and rural citizens.
Livestreaming solves this problem naturally, as a viewer's location has no effect on their experience during a stream. Realizing the opportunity at hand, Eastern content creators and streamers began to monetize and grow their brands via branded e-commerce offerings.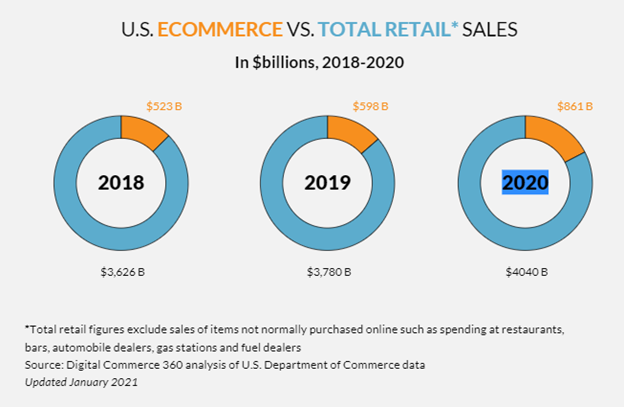 U.S E-commerce 2018-2020.
This economy, referred to as the Wanghong economy, caters directly to the needs of Chinese consumers - even more so during the pandemic. In China in 2020, 25% of spending occurred online, compared to 21.3% in the United States.
Today, most Western established content creators have followed suit and developed their own clothing lines or personalized products. Mr. Beast, a popular YouTuber in the United States, even has his own fast-food chain, which is only available via popular food delivery apps.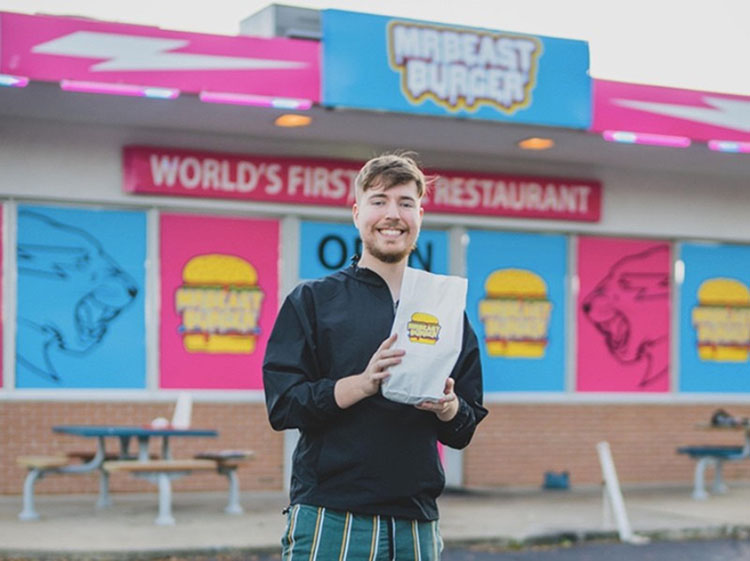 Mr. Beast at Mr. Beast Burger
Eastern Consumer Media Trends
Huya and Douyu are the most popular platforms in China, but many other streaming sites provide value to consumers by catering to niche e-commerce ecosystems. TMall allows users to shop easily (especially for luxury items) while watching streams, while Inke focuses on family-friendly livestreaming and classrooms. Huajiao Live features homemade shows and the first 3D virtual reality streaming service. Huya controls around 40% of market share and three of the five most popular categories are IRL, or in-real-life – Watch Together, Outdoor, and Star Show.
Watch Together is similar to Just Chatting on Twitch, and Star Show appears to be a continuous reality show culminating in an annual Star Show Festival, livestreamed on Huya exclusively. Douyu controls a comparable market share and features similarly diverse content, including live shows, entertainment, and games. Douyu also offers "blind date" and other especially-interactive features.
It seems that the most popular platforms in China are the most diverse ones; Huya and Douyu may primarily be game-streaming platforms, but they also cater to other mainstream consumer groups, such as reality television and food enthusiasts.
Western Consumer Media Trends
I believe that videos will always be more popular in the West than in the East. YouTube's diverse and interactive video library created a central hub for creativity and inspiration, similar to what the Huya/Douyu merger is assumed to become, only more than a decade earlier.
The success of YouTube tells us that all platforms, regardless of location, benefit from catering to multiple groups of consumers - not a surprise. The main livestreaming platforms in the West are Twitch, YouTube Live, and Facebook Gaming - by Amazon, Google, and Facebook, respectively.
Twitch owns approximately 72% of market share in the West but still boasts less than 10% of the total user base of YouTube. In China, Tencent Video and Youku are the best substitutes for YouTube but accounted for about 75% of YouTube's total monthly viewers in 2020 (Stream Hatchet 2021 Q1 Streaming Trends Report).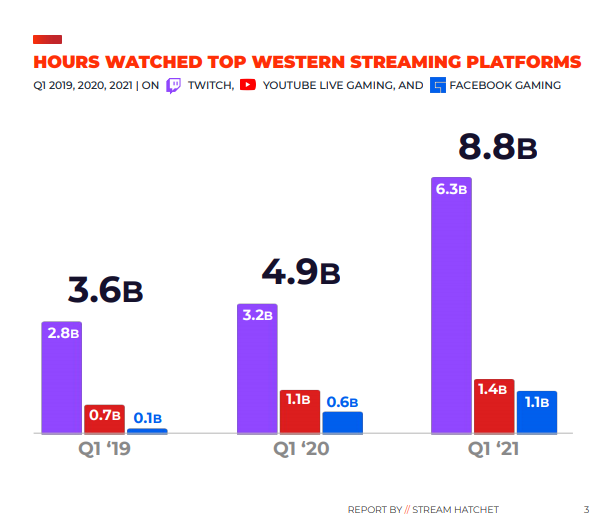 Courtesy of Stream Hatchet Report
Unsurprisingly, all three platforms picked up on the shifting trends and have made substantial efforts to diversify their live content. Facebook now offers shows in addition to Facebook Live, which is separate from Facebook Gaming.
YouTube features the most diverse content overall, and YouTube Live offers a few niche options in addition to gaming. Many news networks and television shows are streamed live. All pandemic-related announcements were made via YouTube, not Twitch.
Twitch, the only platform to offer solely livestreaming, has seen organic growth in IRL categories on their platform such as Just Chatting, which is essentially an all-encompassing category for IRL streams. In 2020, Just Chatting was the most watched category on Twitch. Here is what Dot Esports had to say about the category's growth:
In its first full year as a category in 2019, Just Chatting was the third most-watched content on the platform with nearly 760 million hours watched. And this year (2020), the category more than doubled that viewership, hitting over 1.9 billion hours watched. (Dot Esports, Miceli)
Recently, Ludwig, a "variety streamer", ran a continuous stream for 31 days, culminating with Ludwig surpassing Ninja as the most subscribed creator in Twitch history. During the event, Ludwigs most streamed categories were: Just Chatting, Chess, League of Legends, Dungeons and Dragons, and Super Mario. Besides League of Legends, none of these games cater directly to hardcore esports gamers - viewers tuned in to connect with Ludwig. The increase in non-gaming streams is likely in large part due to the pandemic, but still begs the question - why did creators flock to Twitch over YouTube or Facebook?
Western Platforms - Why Twitch?
Much like Facebook, Instagram, and YouTube in decades past, Twitch has attracted the mainstream appeal of the youngest generation of consumers. According to the Global Web Index, more than 73% of Twitch users are between the ages of 16-34. On YouTube, 53.1% of viewers are between 16 and 44
Let's compare livestreaming to the ridesharing industry. In the United States, people will unanimously remark "let's call an Uber," regardless of which ride sharing platform is eventually used. For this reason alone, Uber is the most valuable company in the ridesharing industry. We have seen this phenomenon countless times - Band-Aids represent bandages, Google represents search, and now, Twitch is synonymous with livestreaming.
Because of its younger, more focused user base, many social media celebrities and even politicians have turned to Twitch, oftentimes after having risen in popularity on other platforms, such as YouTube or Twitter. Alexandria Ocasio-Cortez, SteveWillDoIt, JuJu Smith-Schuster, and Snoop Dogg are among the many celebrities who stream on Twitch.
The names on this list range from politicians to athletes to musicians to 22-year-old YouTube stars, and they all stream on Twitch regardless of whether they are gaming or not. It seems clear that Twitch has garnered a similar reputation as YouTube, only for live content as opposed to VoDs.
Is Facebook a Fit for Game Streaming?
While Facebook may have a quasi-monopoly on social media, I believe that the site is simply not a fit for gamers. Facebook is the least developed of the Western streaming platforms, with Facebook Live and Facebook Gaming having launched in 2015 and 2020, respectively.
Over the past few decades, Facebook has made several strategic and successful acquisitions, including Instagram, Whatsapp, Oculus, and Giphy, to name a few. With all of these platforms and the understanding that Facebook's user base skews towards older consumers (at least compared to other streaming platforms), why launch a streaming platform as a part of Facebook? To me, Facebook is the exact opposite of a platform that complements a streaming service. The only platform that would have been a worse fit is LinkedIn.
Let's compare Facebook and Reddit to illustrate why Facebook is such a bad fit for gamers and livestreaming. On Facebook, users are looking for other people - real people. Whether via groups or finding friends via search, most accounts on Facebook are attached to the customer's real name and profile picture. On Reddit, there is no requirement to be social, or to have an account that gives away any information about yourself whatsoever - all you need is a username. This anonymity is a direct contrast to Facebook, where personal post history is often highly public. Regardless, Facebook's advertising business and Marketplace offer serious value propositions in the e-commerce space.
Western Platforms - Who Stays Relevant?
So, if the most successful platforms in China are the most diverse ones, and Western trends tend to follow those in the East, what kind of diversity are Western consumers looking for? The obvious answer is that Western consumers are looking for new and different types of content, such as a gaming stream or live-streamed cooking shows (as in China).
This facet of diversity is likely part of the solution, but as Mark Twain said, "History rhymes more than it repeats itself." In other words, I believe a greater selection of the formats available to consumers on a certain platform - such as music, recorded video, and live streaming - will have a greater effect on consumers in the West than in China..
It can be assumed that the livestreaming platform that features the most combined product offerings may pose substantial value to Western consumers. Let's look at how each platform compares under the following criteria: diversity of livestream content, diversity of types/formats of content, and the ability to monetize the content via e-commerce.
Diverse Livestream Content Offerings
Thanks to its relevance in mainstream culture, Twitch's organic growth makes it the most likely platform for new types of content to grow and be discovered live. Twitch is the new platform creators flock to for discovery - it just is.
YouTube offers value as well, but I believe Twitch's focus on livestreaming has already transformed it into the livestreaming platform of choice. Twitch has shown commitment to diversifying the types of live content on the platform, such as an exclusive agreement with FIBA Basketball and continuing to grow the Just Chatting category.
In a analysis of the growth of Just Chatting, StreamElement's CEO Donor Nir alluded to what the rapid growth of the category in 2020 tells us about Twitch's future plans:
"This is significant because it shows where Twitch is heading, [And it] opens the door to more non-endemic brands given that influencers who use the Just Chatting category are more conversational and provide more opportunities not tethered to game play." (Nir, VentureBeat)


Just Chatting Growth 2018-2020. Courtesy of twitchtracker.com
Facebook's vast customer base creates an opportunity for niche communities to survive, and I believe they may benefit from offering two platforms initially, but the separation between them may also create a divide between gaming content and non-gaming content. This disconnect would be a far cry from the unified, inclusive platforms succeeding in the East.
Diverse Content Format Offerings
Twitch seems focused on livestreaming and has proven to be the creative leader in the space. It is a running joke in the streaming community that YouTube simply mimics features on Twitch.
This criticism is fine, as YouTube's value proposition to consumers is not reliant on live streaming. YouTube is a video-streaming platform first and foremost.
Regardless, YouTube's size and monopoly over the amateur video market cannot be ignored. YouTube spurned a generation of change in the gaming industry, with creators such as Matthew "NadeShot" Haag and Hector "H3CZ" Rodriguez building multi-million dollar gaming brands, 100 Thieves and Optic Gaming, respectively. YouTube also boasts their own music service and television streaming service in YouTube TV - monopoly loading… 85% complete.
I also believe that Facebook provides value in this space, given their niche investments in AR and VR (augmented and virtual reality) gaming. This technology will eventually enter the mainstream and Facebook is poised to be the biggest beneficiary.
Facebook also benefits from its subsidiaries and from Facebook itself, which together combine to form a multi-faceted slew of livestream offerings. I mentioned earlier that Facebook's lack of uniformity may hurt its ability to scale as a mainstream platform in the future, but having multiple product offerings in overlapping spaces also has value.
Overall, YouTube and Facebook look to compete as the platforms with the most diverse formats of content offerings. Facebook may actually take home the gold ring on this one. They are the leader in the social media space and Oculus might be a big deal in a decade.
E-commerce
Twitch is owned by Amazon, the leader in e-commerce. This relationship gives Twitch the ability to monetize its audience unlike any other Western streaming platform. This monetization has already begun to happen with e-commerce plug-ins from Amazon Prime.
Facebook also has a good opportunity in the e-commerce space, as they have proven to be thought leaders in the advertising space and creators can monetize their e-commerce offerings directly on the site through Facebook Shops.
YouTube also has a growing e-commerce presence, but has done little work to integrate this business into YouTube. They are, however, working on software to track products shown in videos as to help monetize products shown in YouTube videos. I think YouTube will evolve into a major e-commerce platform, but it will likely focus its efforts on monetizing video creators and hoping that they choose to use YouTube when they livestream. YouTube already has the creator base to monetize - why try to force its creators to stream when they come to make videos? Regardless, it seems like all three platforms are poised to capitalize on the emergence of e-commerce in the world of content creation - not a coincidence.
Conclusion
While traditional, digital social media in the West has often mimicked China, I do not believe that the Western livestreaming market is too far behind the East - we just have slightly different preferences.
I also believe that much of the high-level consolidation within the industry has already happened. Tencent is effectively Twitch, Alphabet, and Facebook combined, and these platforms will likely never be allowed to merge in the U.S.
I have focused on these platforms as they pertain to livestreaming, not the company and its subsidiaries. Obviously, each platform's parent company offers their streaming service distinct advantages - these are important.
Simply put, Twitch will be to livestreaming as YouTube was to video for the last decade.
Fortunately for Twitch, livestreaming happens to be at the forefront of evolving consumer media trends and only looks to bring individual monetization to a media industry dominated by corporations.
As for YouTube and Facebook, I believe that both platforms will continue to build their livestreaming offerings, albeit with an understanding that they need to create separate, unique value propositions to consumers than Twitch. This ties back to the East, where platforms such as TMall and Inke cater to niche ecosystems and create sustainable ecosystems via e-commerce.
To this tune, I could see luxury items fitting in very well with YouTube's platform, creating even more reasons for them to acquire the e-commerce innovator: Pinterest. YouTube is here to stay, but will continue to be focused on video sharing rather than streaming. Given their VoD platform is home to the exciting moments from Twitch, they stand to benefit from the shift towards livestreaming regardless.
Facebook's IP gives them unique opportunities as well, as the platform could likely be the home for virtual reality livestreams via Oculus and could be a good fit for some of the Douyu gaming/dating features mentioned above. While both platforms have the opportunity to become major hubs for livestreaming, Twitch will likely continue to own the lion's share of the market, as they have already established themselves as the premier destination for livestream discovery and the platform is only going up from here.