The contents of this article are not intended as a recommendation to buy or sell any securities.
Introduction
Over-the-top (OTT) streaming is quickly becoming the preferred medium for individuals to consume film and television. Since the launch of Netflix's online streaming media service in 2007, a multitude of competing services have entered the market, attempting to capitalize on the rise of streaming and the rapid increase in cord cutting. Previously limited to a mostly Western user base, streaming is now an integral part of many emerging markets as well, which have their own dedicated services catering to a local language audience. Pricing strategies have also evolved, with some services employing a tiered model of paid subscriptions, and others allowing for both free and paid tiers, the former usually being ad-supported. Price sensitivity in emerging markets remains high, though is decreasing as select regions transition to upper-middle and high-income economies with increased discretionary spending.
The global lockdown environment of 2020 and 2021 provided substantial insight into expectations for the rest of this decade, as years of growth were pulled forward amidst a rush into online media. Successful services have discovered the steps necessary to grow in this evolutionary decade and overtake traditional television. Some are unlocking scale via mergers and acquisitions, combining content libraries and capabilities with other OTT services. Others are investing heavily in their own original content, or acquiring content providers directly to produce programming for their service. Today, the mix of services both large and small has never been greater, from niche services to broad cross-genre offerings targeting a wide swath of consumers.
Streaming Landscape
As of July 2021, there were 18 video streaming services with more than 10 million global subscribers. This grouping is a varied mix of services with large licensed content libraries and significant original content like Netflix and Amazon Prime Video, more bespoke services mainly focused on genre-specific original programming like CuriosityStream and Discovery+, and those offering something in between. Three are only available in China, including two of the top five (Tencent Video and iQIYI). Another three target specific emerging markets outside of China. ALTBalaji, iflix, and iWantTFC are the largest standalone OTT services in India, Malaysia, and the Philippines, respectively. In total, these services combine for 1.2 billion paid or monetized subscribers globally. Furthermore, the median launch date for one of the services was January 2015, illustrating just how new the transition to streaming is.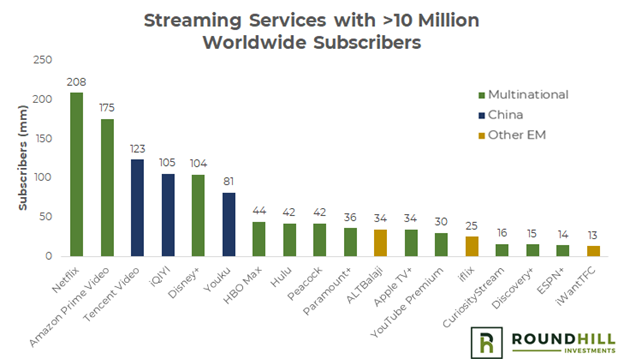 Source: Roundhill Investments, as of July 2021. Data sourced from company filings and press releases.
Outside of these top 18, there are at least another 25 services ranging between 100 thousand and 10 million subscribers. This assortment is a highly fragmented mix of upstart services launched by media conglomerates and film studios, targeted programming for niche demographics, and independent startups abroad trying to grow organically into household names. Given that most emerging markets do not have a giant of their own yet, there is room for these smaller services to evolve into a regional "Netflix", combining third-party content with original releases to offer consumers an alternative to linear television. The challenge with these markets, however, is in attracting and retaining paid subscribers to generate a recurring stream of revenue.
The other issue stems from their respective evolving digital advertising markets, which generally lack the infrastructure and governance present in the West, limiting the monetization potential of the "freemium" model. The U.S. makes up 4% of the global population but 40% of worldwide digital advertising spending; in contrast, China has 18% of the global population and 23% of worldwide digital advertising spending.1 Said differently, the U.S. outspends China on digital marketing over 7 to 1 when adjusting for population, corresponding approximately to the nations' difference in GDP per capita. As China's economic growth rate is anticipated to significantly outpace the U.S. in the coming decades, ad-supported models should become more lucrative for the country's streaming media platforms.2
Baidu's service iQIYI, for example, is one of the largest online video platforms in the world, with about 530 million monthly active users. However, only one in five of these users opt to become "VIP Subscribers", paying the equivalent of $3 per month for an ad-free experience, advanced screenings, and higher resolution viewing. After a price increase last November from $2.30, there was heightened churn as some reverted back to the ad-supported model. The company has identified the importance of original content, investing in film studios and television production companies. iQIYI hasn't been profitable since going public in 2018, with over 90% of operating expenses going into content creation, to facilitate price increases and keep paying subscribers hooked to the service. The approximate 30% price increase more than offset the loss in subscribers, and iQIYI has narrowed its losses over the last few years, as it works towards its goal of profitability by 2025.3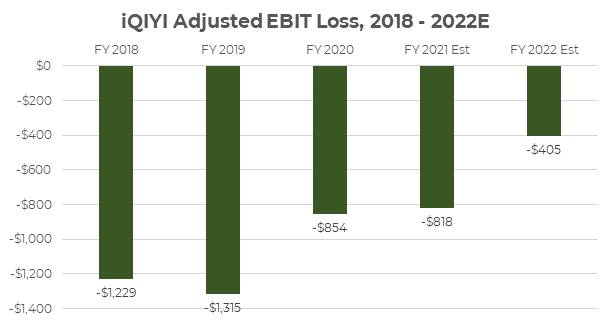 Source: Roundhill Investments, as of July 2021. Data sourced from Bloomberg.
Industry Consolidation
Mergers and acquisitions are beginning to become a powerful force in unlocking scale for larger media organizations. Consolidation goes hand in hand with the industry, as most consumers lack the financial resources and time to subscribe to dozens of individual services. Furthermore, the larger services have realized they can both grow subscribers and reduce churn by offering a wide array of content, including niche programming with dedicated followings. One key example recently is the acquisition of the WWE Network, which moved onto NBCUniversal's OTT service Peacock in March of this year.
As a standalone service, the WWE Network performed well, with 1.5 million subscribers as of Q3 2020, or approximately $180 million in annual revenue (20% of total company top line). The limiting factor to further upside was the niche product of wrestling, and subscribers both in the U.S. and internationally quickly peaked. In fact, the final reported quarterly subscriber figure was lower than in Q2 2016, though the average was stable throughout. The former $10 per month ad-free service is now integrated into Peacock at no additional cost, expanding its library of original content, while providing transitioning WWE Network subscribers with thousands of hours in additional programming. While terms of the deal weren't disclosed, WSJ reported the contract is valued at over $1 billion and runs over five years.4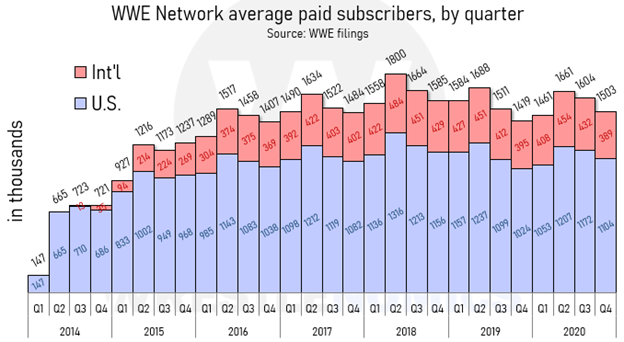 Source: Wrestlenomics, WWE Network subscriber data.
Consolidation has not been limited to larger players scooping up smaller or niche offerings. In May, AT&T announced a $43 billion deal to merge its WarnerMedia unit with Discovery. This would create one of the largest content catalogs in the U.S., resulting from the combination of HBO Max (44 million subs) with Discovery Plus (15 million subs). HBO Max without ads costs $15 per month, making it one of the priciest services, while Discovery Plus comes in at $7, making it one of the cheapest. The combined entity will contain an extensive catalog of original episodic content from the HBO side, with 25 premiers in 2020 alone, along with hundreds of original standalone movies and specials. Discovery will contribute over 55,000 shows from its 14 networks, including Discovery, Food Network, and Animal Planet. This factual and live programming should diversify HBO's mostly scripted drama and comedy content.
Part of the impetus for the merger is the migration of streaming rights back to their original content providers and networks. HBO Max features significant programming from Universal Pictures, 20th Century Studios, and Lionsgate, which are all slated to leave the service in 2022 when distribution deals expire.5 Programming will move to Disney+, Starz, FX, Hulu, and Peacock, which will result in a significant expansion to their own libraries. This also explains HBO's massive commitment to 50 original series in 2021, which should add more than 200 content hours to the platform. Furthermore, since these series will likely be released one episode at a time throughout the year, consumers are incentivized to stay on the platform, rather than "binge-watching" an entire release that interests them and unsubscribing afterwards.
Price Segmentation
There are two types of price segmentation that streaming services can employ to win a larger share of their addressable market: demographic and geographic. Demographic segmentation is based on income, and involves a tiered system with varying levels of service depending on price. Advertisements are usually, but not always, a feature of the lower tiers, including the free tier that some services offer. Another attribute occasionally employed by this strategy is the provision of better features at higher price points. This is common for the Chinese services, which tend to have a free offering, but an expanded library and "VIP perks" for paying customers. Examples in this category include iQIYI and Tencent Video. Among the multinational services and those with large U.S. audiences, this is employed as well. For example, HBO Max's more expensive plan not only allows for ad-free use, but also provides 4K streaming, versus 1080p for the cheaper plan. Netflix has three plan tiers (Basic, Standard, and Premium), which determine your stream quality and the number of screens you can watch at the same time.
Geographic segmentation is based on the consumer's country of residence, taking into account economics, spending habits, and the variation in content libraries based on local copyright laws. For example, while Netflix in the United States has a total library size of 5,564 movies and shows, the service in Norway, which is proportionally wealthier than the U.S, costs about $1 less per month due to its 28% smaller catalog of 3,977 programs.6 This doesn't correlate with a simple formula though, as two countries can have the same library size and similar incomes but also be priced differently. In short, there are numerous variables at play when a platform decides to price its offering differently depending on the country, and there are teams at large streaming services dedicated to pricing strategy. While Netflix does not disclose subscriber count by country, the below table looks at the cost of a "Standard" plan and library size for the ten largest countries which the company operates in.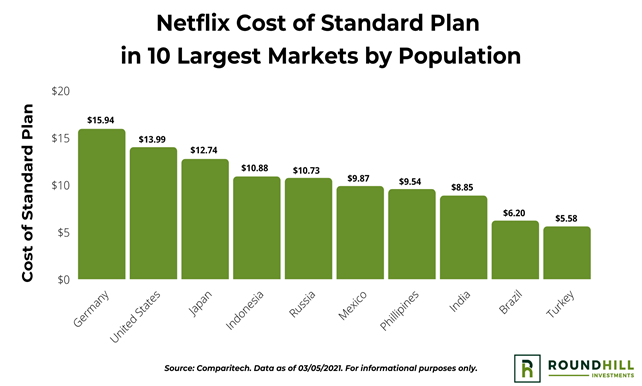 Looking Ahead
While the recent wave of consolidation likely signals a plateau for the number of streaming services (at least in the United States), there is still significant room for subscriber and profitability growth for OTT services of all sizes. With cord-cutting accelerating into the decade, the total market is expected to continue expanding globally, with particular growth from less saturated emerging markets. Mergers between large services will allow them to aggregate substantial libraries, providing them with more scale and pricing power. Large services will continue to acquire smaller, niche ones, bringing over dedicated subscribers with low churn rates.
Free ad-supported, paid ad-supported, and paid ad-free models have all been employed by streaming services to varying degrees. While almost all Western services charge for access, primarily through a paid ad-free subscription and occasionally a lower priced offering with ads, emerging markets like China also often offer free access with ads as a plan option. Consumers in these regions are more price sensitive and have lower discretionary budgets, thus gravitating towards the freemium model. This is less lucrative for these streaming services due to materially lower ARPU from ad-supported subscribers versus paid ones. The conversion of free subscribers into paying, combined with a more mature digital advertising market, should provide a boon for OTT services in emerging markets, facilitating their transition into global players.
1AdColony, May 2021. https://www.adcolony.com/blog/2021/05/09/mobile-monday-digital-ad-spending-to-increase-by-20-in-2021-nearly-three-quarters-will-go-to-mobile/
2Fortune, January 2021. https://fortune.com/2021/01/18/chinas-2020-gdp-world-no-1-economy-us/
3Reuters, May 2021. https://www.reuters.com/technology/chinas-streaming-giant-iqiyi-may-turn-profit-5-yrs-ceo-2021-05-14/
4WSJ, January 2021. https://www.wsj.com/articles/nbcuniversals-peacock-to-become-wwes-exclusive-streaming-home-11611578690
5Hollywood Reporter, March 2021. https://www.hollywoodreporter.com/movies/movie-news/lionsgate-summit-label-films-headed-to-starz-for-exclusive-first-window-4141830/
6Comparitech, March 2021. https://www.comparitech.com/blog/vpn-privacy/countries-netflix-cost/