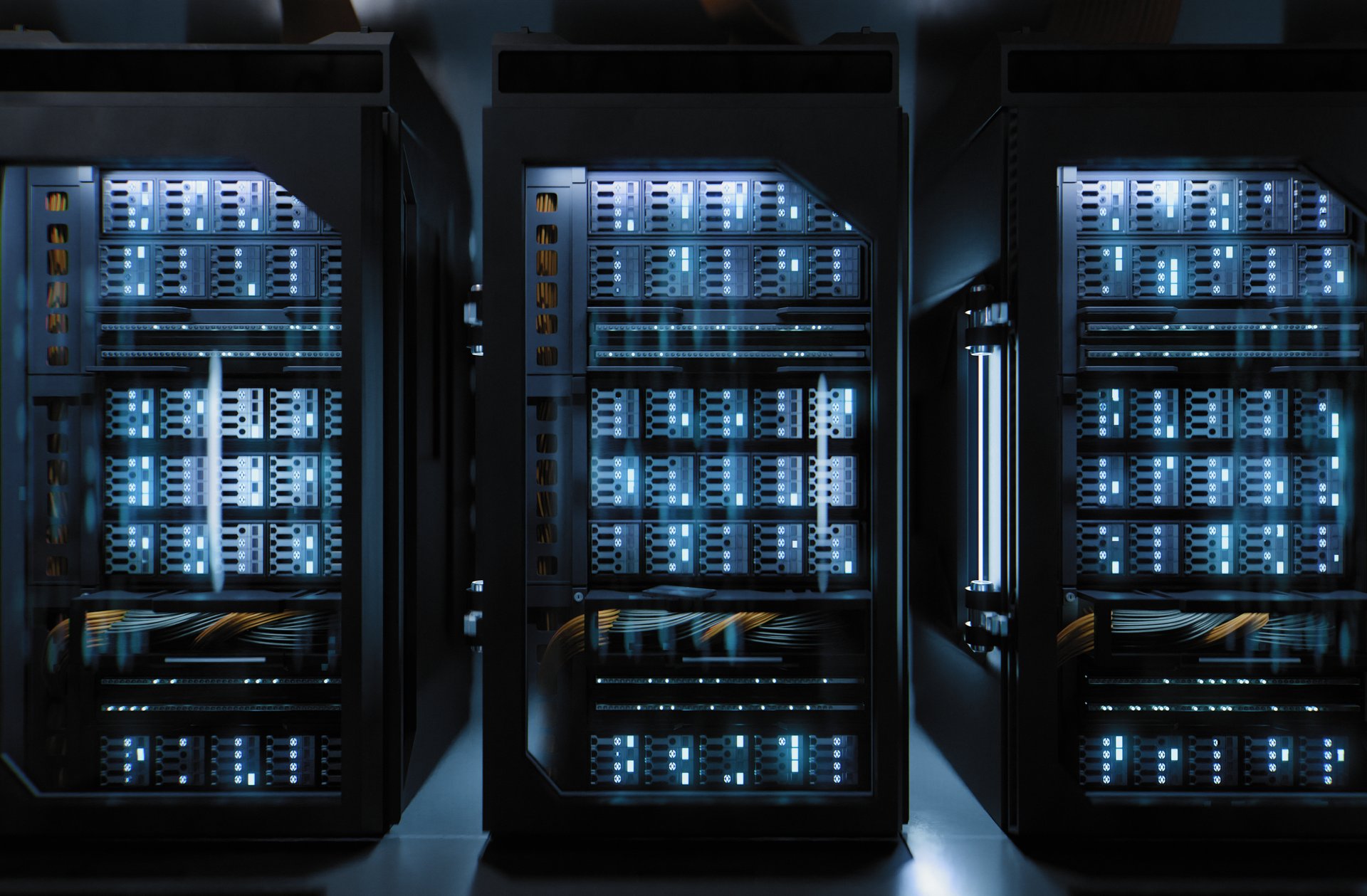 Digital Infrastructure Must Blanket the World

Introduction to Digital Infrastructure
Assets such as data centers, fiber connectivity, last mile broadband, and mobile towers make up the backbone of the internet, delivering the data we use for applications ranging from streaming video to social media. As that data consumption grows, so too does the importance of this high-performing digital infrastructure to connect, transport, and store that data. Digital infrastructure businesses win as the Internet of Everything expands.
Well-positioned digital infrastructure businesses are generally characterized by long-duration recurring revenue, secular growth, high margins, inflation resilience, sound asset value, and advantaged competitive positions. As end-user performance expectations grow, the importance of these assets grows with it, reinforcing those positive characteristics.
Data traffic and data consumption have grown exponentially for decades. This inexorable trend will likely define the 21st century, driving digital infrastructure demand for the foreseeable future.
The IO Digital Infrastructure Index (BYTE) is comprised of 40 leading global businesses that provide the infrastructure layer of the internet. BYTE is designed to capitalize on one of the most important trends of our lifetime: the digitization that is enabling the Internet of Everything.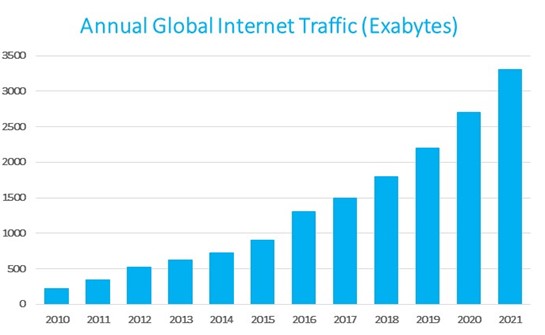 Source: Akamai Technologies
What is Digital Infrastructure?
"Digital infrastructure" may be an unfamiliar term, but it becomes easier when we think of it as the highways and hotels that transport and store data on its journey from one place to another.
When you stream a movie or use a software application, you are using data delivered by digital infrastructure. When Netflix publishes a movie to its service, the movie (data) needs to securely travel from Netflix's local servers into the "internet," before ultimately being delivered to your home.

The movie's digital journey begins by leaving Netflix as bytes of data: in the above graphic, we can imagine that movie traveling by fiber to an initial data center, then moving around the world on additional fiber connections to be stored at additional data centers near Netflix's end-users.
The largest data centers are purpose-built buildings that can house rows and rows of servers on multiple floors. The data center provides a secure, cooled environment with access to affordable, reliable power. Companies like Netflix or Microsoft frequently sign long-term leases with annual price escalators for "space and power" from data center owners. This allows Netflix or Microsoft, as a tenant, to place and run their servers in the data center. Data centers will generally have multiple fiber and connectivity suppliers coming into and out of the building, enabling convenience and competition for data transportation.
If data centers are the roadside hotel for data storage, fiberoptic connections are the highways across which data travels. These fiber connections allow data to travel near the speed of light. Large companies like Microsoft and Netflix may directly or indirectly lease fiber to ensure dedicated highway capacity to and from their data centers. This allows Microsoft and Netflix to meet the high-performance expectations of end-users, who demand access to data when and where they want it.
As your Netflix movie is delivered toward you from a server in a data center, at some point it is handed off from a fiber highway to your "last mile" provider. This handoff occurs at an interconnection between networks, often inside data centers.
The last mile is the off-ramp of the internet highway, delivering data along the final leg of its journey. Your Internet Service Provider (ISP) provides this last mile service. ISPs include your home or work broadband provider, like Comcast's Xfinity, and your mobile phone provider, like Verizon. These companies invest heavily in delivery assets, be they 5G antennas that Verizon hangs on cellular towers or coaxial cables piped into a neighborhood's homes. In the case of an antenna on a tower, Verizon generally leases space on that tower from a third-party tower owner. Verizon may also pay a fiber provider to transport data from the data center to the tower itself. These tower and fiber leases are generally multi-year in nature and have built-in price escalators.
These various infrastructure technologies come together to provide improved network performance: in addition to the proliferation of data centers closer to end-users (at the "edge" of the internet), the growth of fiber "route miles" and improved last mile technologies (e.g., fiber to the home and 5G) are enabling the near-instant data delivery experience that we increasingly are accustomed to.
All of these various digital infrastructure assets mesh together to create a high-performing internet that delivers your Netflix movie to the screen of your choosing at the time of your choosing.
BYTE Universe Focus Asset Types
The digital infrastructure value chain is comprised of various asset-types, ranging from those that are more service and software-centric, like Amazon Web Services (AWS) or Microsoft's Azure and Office365, to those that are more akin to high tech highways and hotels. The companies in the BYTE Universe generally own the latter and often sell to the former.
Data Centers: When you move to a new home or a company moves into or out of an office building, it is an expensive hassle. Likewise, when a tenant moves into or out of a data center, it is a time consuming, expensive and laborious task. It also entails risk as the tenant takes a portion of its network offline when it moves. These impediments to moving make data center deployments sticky relationships and strategic decisions that often involve long-term contracts. For large deployments, total contract value ("TCV" or lifetime cumulative rent) can be in the many tens of millions of dollars. While tenants might sometimes choose to pursue shorter-term leases, data center operators like Equinix (Nasdaq: EQIX), CyrusOne (Nasdaq: CONE), and Digital Realty Trust (NYSE: DLR) offer strong incentives for long-term contract commitments to customers in the form of lower prices. This adds up to sticky, recurring revenue for data center operators.
Mobile Infrastructure/Cell Towers: Mobile infrastructure businesses own assets that are mission critical to the partners that utilize them. A classic example is cell phone towers. Most of the towers in the US are owned by companies like American Tower (NYSE: AMT), SBA Communications (Nasdaq: SBAC), and Crown Castle (NYSE: CCI). These companies lease out space on their towers to large mobile network owners (MNO) such as Verizon, AT&T, and T-Mobile. The MNO pays for the right to deploy its antennas and other network equipment on and around the tower.
Mobile towers can be thought of as small office buildings, where each tenant leases a floor: the economics to the tower owner improve with each additional tenant. Verizon, AT&T, and T-Mobile often each lease space on the same tower, signing long-term contracts that include annual rent escalators and additional charges if the MNO wants to access the tower to modify or upgrade its equipment. As a result, tower economics are highly recurring and generally growing. As each new mobile technology rolls out (e.g., 4G, 5G, small cell densification), it creates new opportunities for tower owners to capture value.
Fixed Line Connectivity/Last Mile: Towers and data centers only work well if they are ultimately fed by fiber connectivity. Fiberoptic cable is the thread that knits together the internet, allowing information to move at the speed of light to, from, and between key nodes. Fiber and coaxial cable are also key technologies for fixed line last mile. Cable and telco providers increasingly utilize fiber to the home (FTTH) or "fiber deep" architectures to serve ever faster speeds to end-users. Companies such as Charter Communications (Nasdaq: CHTR), Lumen Technologies (Nasdaq: LUMN), and Cogent Communications (Nasdaq: CCOI) offer fixed line connectivity solutions to retail, enterprise, small business, and other end-users.
Demand Drivers
At a high level, we can conceptualize the demand drivers for digital infrastructure as:
Number of People x Connected Devices/Person x Data Use/Device x Performance Expectations = Demand for Data Use
Each of these drivers is expected to continue to grow for the foreseeable future.
While other factors, such as edge deployments and 5G, impact the way digital infrastructure is deployed, we ultimately know that as more data is consumed per person, digital infrastructure investments must grow to fulfill those expectations.
For example, the below graphics from American Tower illuminate the expected trajectory of U.S. mobile data consumption growth. With a 40% increase in connected devices and a tripling of data consumed per device, the overall demand for U.S. mobile data consumption is set to quadruple over the next five years, with further growth from there. Meeting those expectations will require investment in digital infrastructure for years to come.


B2B
If you are a CEO, CTO, or entrepreneur, you likely want to spend your time building a team and designing and marketing great products and services.
While storing and transporting your product (in the form of data) is critical, nearly all modern companies choose to outsource this storage and delivery, fully or partially, to digital infrastructure businesses. This includes companies that position themselves as technology infrastructure businesses, such as hyperscale cloud providers AWS, Google, Alibaba, and Microsoft, each of which relies heavily on independent digital infrastructure companies to support their growth.
When Microsoft wants to sell its cloud services, such as Microsoft Azure and Office 365, it promises end-users a reliable, secure, and high-performing experience. To fulfill that promise, Microsoft must build, buy, or lease data center space all over the world. When it leases, Microsoft often signs 5- to 15-year contracts with its data center partners, several of whom are publicly traded. These contracts effectively convey Microsoft's AAA credit rating to the data center owner in the form of contracted, growing cash flow. This highly predictable revenue allows data center providers, such as Digital Realty, to finance their data centers at highly attractive rates. The benefits of these savings can be split between Microsoft and Digital Realty, allowing for a win-win solution.
As illustrated in the chart below, this has enabled Digital Realty to steadily grow its cash flow and dividend per share, while continuing to reinvest in the growth of its business.
Digital Realty 16 Year Dividend History1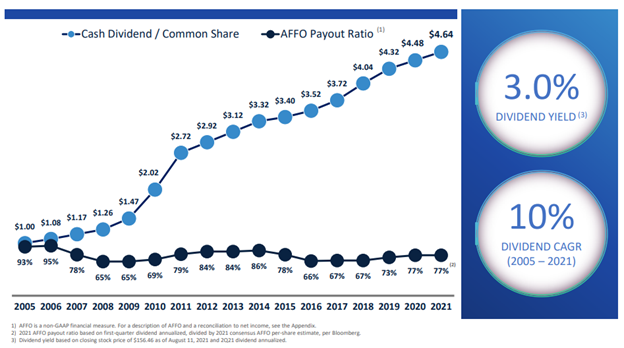 B2C
As consumers of data, we often take for granted how the data arrived to our screens or computer. Whether we are working from home, streaming a Disney movie, or playing mobile games while we commute by train, all we really want is a seamless, high-performing experience. As consumers, we contract with consumer-facing digital infrastructure providers for last-mile services. This generally takes the form of a home broadband provider and a mobile service provider. Outside the US, these two services are frequently "converged," such that your mobile and home internet provider are the same company. This trend toward fixed-wireless convergence is beginning to gain steam in the United States.
5G mobile is a potential accelerant of convergence. The promise of 5G is low latency, high speed, and large throughput. To accomplish this, 5G deployments rely heavily on fiber. In addition to hanging antennas on large traditional cell towers, 5G is also built on "small cell" deployments. Small cell architecture involves smaller but more frequent antenna deployments from places like the sides of buildings and utility poles. Each small cell antenna covers a smaller footprint, but enables higher performance in its coverage area. To deliver this performance, each antenna needs to connect into the internet by some means, typically fiber. As a result, 5G providers must invest heavily in fiber connectivity near where people live, commute, and work. While 5G providers will build some of this fiber connectivity, they also rely heavily on leasing from existing infrastructure owners like local cable companies, such as Altice USA (Nasdaq: ATUS).
At the same time that mobile providers need more local fiber connectivity, local connectivity providers are increasingly offering mobile service: all of the largest cable companies in the U.S. have agreements with mobile providers to lease their mobile networks for bespoke mobile phone service. These MVNO (Mobile Virtual Network Operator) arrangements allow Charter and Comcast to rent Verizon's network and offer their own converged Charter or Comcast fixed-mobile offerings.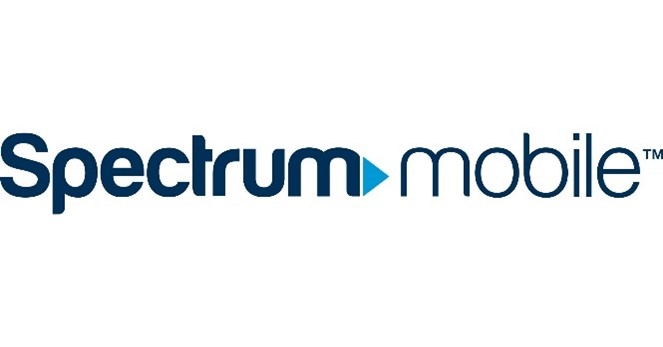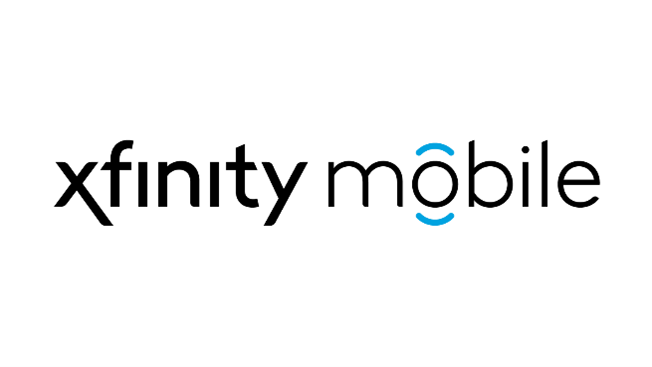 As mobile operators increasingly invest in fiber to get closer to mobile customers and fixed operators increasingly invest to provide mobile coverage to their home customers, consolidation between fixed and mobile operators seems logical. This consolidation is well underway outside the US and is likely to someday come stateside.
Potential Market Size
As of September 30, 2021, the combined market cap of companies in the BYTE digital infrastructure universe ("BYTE Universe") was well over $1 trillion across dozens and dozens of companies listed around the world. These businesses often have advantaged competitive positions, secular tailwinds, and long-term recurring revenue.
The BYTE Universe itself is culled from an even larger pool of companies that includes many "national champion" telecom companies, such as AT&T in the US or Deutsche Telekom in Germany. Many of these national champions still have a heavy reliance on legacy technologies (such as copper/DSL) and operate in heavily competitive markets such as mobile phone service. While they are part of the overall market, this lack of primacy in modern digital infrastructure excludes them from the BYTE Universe. While the BYTE Universe includes certain modern telecoms, other constituents are categorized by industry classification firms as real estate investment trusts (REITs), Communications Services, Internet Service Providers (ISPs), and other oblique descriptors. IO Digital Index Partners attempts to filter through these many labels to build a universe of businesses that are focused on modern digital infrastructure.
In the future, certain excluded companies may modernize to a point where they would be eligible for inclusion. The BYTE Universe is curated to focus on companies with leading, modern technologies.
If Marc Andreesen of a16z is correct that "Software is Eating the World"2, then it will only do so if digital infrastructure blankets the world first. Whether it is the latest Silicon Valley backed unicorn or an "old world" business adapting its model to compete in the future, the trend of digitization is unstoppable.
The BYTE Universe is built to serve the trend of digital ubiquity - the Internet of Everything. Use cases touch virtually every aspect of society:
Healthcare
Education
Payments, banking, and finance
Bitcoin, cryptocurrency, and blockchain
Retail and ecommerce
Software / SaaS
IoT and smart devices
Logistics
Travel
Gaming
Media, video, and streaming
Communications and telecommunications
Social Media
Art, NFTs, and creatives
Defense and aviation
Transportation and self-driving autonomous vehicles
Even industries that seem immune to digitization, such as farming and agriculture, are increasingly impacted by modern high technology.
Wrapping Up
High performance digital infrastructure underpins our world – from the most mundane to the highest tech. Digital infrastructure is the engine of every technology trend on Earth. The BYTE Index exists to capitalize on this progress.
The BYTE Index tracks a portfolio of 40 leading digital infrastructure companies from around the world that exhibit a mix of Growth, Soundness, and Value. IO Digital Index Partners monitors companies globally for universe inclusion, keeping the pool of potential constituents focused on key digital infrastructure owners and operators. The 40-company index is rebalanced semi-annually.
The BYTE Index is designed to provide access to the most important global trend of the next 50 years: the digitization of everything. Data wants to be free, and digital infrastructure enables that future. The BYTE Index provides access to that vision.
---