Roundhill Q&A with John Levy, Founder and CEO, theScore.
1. To kick things off, and for those who are not familiar, what does Score Media do?
Score Media - better known as theScore - serves millions of fans daily through our sports media, esports, and sports betting platforms. Our sports news and scores app, theScore, is the second most popular sports app in North America, delivering real-time and highly-personalized scores, stats and news across every major sports league and event. On top of this, we are also a global leader in esports coverage, producing on-demand video content that has garnered more than 1.4 million subscribers to our YouTube channel. We maintain a highly engaged audience, including through our social media channels which reach more than 100M fans a month on average. The growth and success we've accomplished on the media side leads directly to the newest exciting addition to our business, sports betting and gaming.
In September 2019 we made history as the first media company to also become a sportsbook with the launch of theScore Bet app in New Jersey. Since this launch, we've been thrilled with the response from fans who have responded to our differentiated approach to sports betting, which uniquely fuses media and betting for a complete experience. We're seeing great momentum with theScore Bet in New Jersey, and have recently expanded into Colorado and Indiana. We also have market access to 9 more states through a wide-ranging deal we did with leading US gaming operator Penn National last year, and continue to explore myriad market access opportunities across the US. It's an exciting time for theScore.
2. Can you talk about the move into sports betting, specifically how you approached entering the space and why it's such a natural move given your existing business lines?
We always saw sports betting as the next natural phase of evolution for theScore. Sports betting has long been in our DNA, regularly ingrained in our content and coverage, as we always knew that a large percentage of fans on our media app were interested in betting. When sports betting was legalized in the US in 2018, we had a big decision to make: Do we take the short-term path capitalizing on the influx of advertising dollars that would be flowing into the space, acting as an affiliate in return for sending our audience to other sportsbook operators? Or do we take the bolder path, and actually become the book?
The decision was ultimately not that difficult. We knew we had a distinct advantage with our vast and highly engaged user base. We knew our media audience would be key in our marketing efforts and building the betting brand. And we knew there was a different way to attack the market. While most sportsbooks operate as purely transactional platforms, working to build loyalty and find media channels to source users, we had both. By uniquely integrating media and wagering, we could deliver a holistic betting experience, bringing the bet to our users and making it part of their regular sports consumption. We are still in the initial stages of sports betting, with many more states in the US, and possibly Canada, poised to come online. The future is bright and we're confident that fans will continue to gravitate toward our cutting-edge and highly intuitive betting product.
3. There's definitely a lot of excitement surrounding sports betting - what's the competitive landscape like and how are you differentiating yourself?
Sports betting is a highly competitive industry, just like sports media. We executed on a unique approach to become a leading sports media player, and are now doing the same thing with sports betting. As stated above, we already have a differentiated approach and a built-in audience. We're going to be prudent in how we grow and market the product and will be opportunistic as situations present themselves.
As an example, we just secured market access in New Jersey for an online casino offering. Now, in addition to sports betting, we're going to use our expertise to build out our igaming product, which broadens our reach and capabilities as we further establish theScore as a leader in mobile gaming.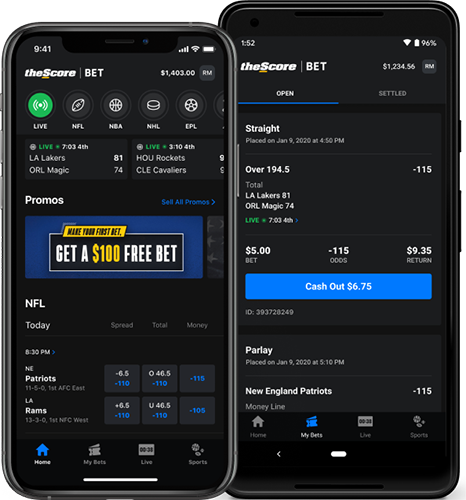 4.Switching gears a bit, can you talk a bit about your expansion into esports and how that fits within the broader company strategy?
We made esports a core offering in 2015, becoming the first 'traditional' sports media outlet to create an entire division devoted to the exciting and fast-growing competitive video gaming space. We viewed esports as an underserved category and knew that if we could produce compelling content, there would be substantial opportunity to serve a wide audience and monetize accordingly. Our success is a result of our strategic approach, which is to be game-agnostic and produce content that is equally approachable to the most hardcore of esports fans and the least endemic audiences simultaneously. Ultimately, our storytelling resonated with the esports community and outward, driving the exciting results we're seeing as we set an all-time quarterly record with 145 million views across all of our esports platforms last quarter for 113 percent year-over-year growth. This growth and engagement has not gone unnoticed as major brands, including RIOT Games, Grubhub and Nvidia, continue to approach us to activate against our content. As a company we strive to satisfy fans' insatiable appetite for sports content, whether that's traditional stick and ball sports or esports, and are consistently looking to innovate and pioneer new coverage.
5. Last but not least - 2020 has been a strange year thus far. How have the consumption patterns across your offerings shifted over the course of the year? Specifically, have you seen segments of your audience begin consuming new types of content while their preferred offerings are on-hold?
During the sports hiatus, we quickly pivoted to offer innovative and interactive content formats to keep fans engaged. Not surprisingly, fans still wanted to interact and heavily consume sports content even without live events. We were also able to leverage our fairly substantial social reach to filter fans back to the app. We're proud that we were able to retain approximately 75% of our app audience during the pause in sports and developed new content ideas that will continue throughout sports' gradual return. Now that sports have largely returned, it's been fantastic to see our audience continue to return at scale and engagement bounce right back.
This post is for information purposes only and is not investment advice, is not an offer or a solicitation of an offer to buy or sell a security and is not a recommendation to buy or sell a security.