Flutter Entertainment - Overview, Insights, and Outlook
This is a guest post by our friends at Changebridge Capital. The team at Changebridge consists of experts in equity research and the sports betting market. In the guest blog below, Changebridge provides a detailed overview of Flutter Entertainment, the parent company behind brands like FanDuel, PokerStars, Betfair, and more.
This blog is not a recommendation to buy or sell securities.
Introduction:
Flutter Entertainment is a global leader in sports betting and gaming headquartered in Dublin. Their stock is listed in the UK under the ticker FLTR, with an ADR in the US under the ticker PDYPY. The company was founded via a merger between Betfair and Paddy Power and has continued to consolidate leading brands under the Flutter umbrella. We'll spend some time in this piece discussing how Flutter leverages their operating expertise to make accretive acquisitions.
Flutter primarily operates in the UK, Ireland, Australia, and now the US. They are the world's largest online gaming company by revenue, and their extensive portfolio includes Fanduel, Betfair, Paddy Power, Pokerstars, Full Tilt, Sky Bet, BetEasy, FoxBet, Adjarabet.com, Sportsbet.com.au, Timeform and TVG Network. Between the highly predictable profile of a casino business model and the diversified brand portfolio, Flutter has a highly defensible business position within a rapidly growing industry.


Bloomberg: Company Presentation, August 2020
Industry Overview:
The e-gaming industry has been growing well above global GDP for years but is still underpenetrated relative to global e-commerce. In fact, from 2015-19, the industry grew at a 10% CAGR (compound annual growth rate), yet still only represents 12% of the global gaming market.1 This does not take into consideration any acceleration of the shift to digital spurred on by the global lockdowns in 2020. The graphic below tracks Flutter's user growth in the UK/Ireland since the beginning of lockdowns in the UK. As you can see, the trend towards online gaming continued to improve over time. Growth rates actually accelerated as we entered the 6th month since lockdowns began.
---
1https://www.flutter.com/investors/why-invest


Bloomberg: Company Presentation; Aug. 2020
Regulation:
The regulatory landscape for online gaming varies by jurisdiction. We'll break our analysis up into the US and International markets. In the United States, momentum for online gaming and sports betting has been growing for years. Beginning with the landmark case of Murray vs the National Collegiate Athletic Association (NJ vs NCAA), the Supreme Court gave the states the right to legalize sports betting in their own jurisdictions.2 Since then, there has been an increase in the number of states that have legalized online gaming and sports betting, or are pursuing opening legal markets for online sports betting. With the regulatory tides shifting in favor of more responsible gaming, Flutter is in a unique position to capitalize on a greenfield marketplace. In the US, they own Fanduel, PokerStars, Full Tilt, FoxBet, and TVG Racing, providing them with a diverse portfolio of brands to penetrate this growing market.
As seen in the below graphic presented by ESPN, the regulatory tide in the US is moving in favor of legalization. While this trend was kickstarted less than 3 years ago by the Supreme Court ruling in the States' favor, it's clear that the vast majority of states have either recently legalized or introduced bills in an effort to legalize responsible sports betting.
---
2https://www.nbcnews.com/politics/supreme-court/supreme-court-allows-sports-betting-across-country-n868956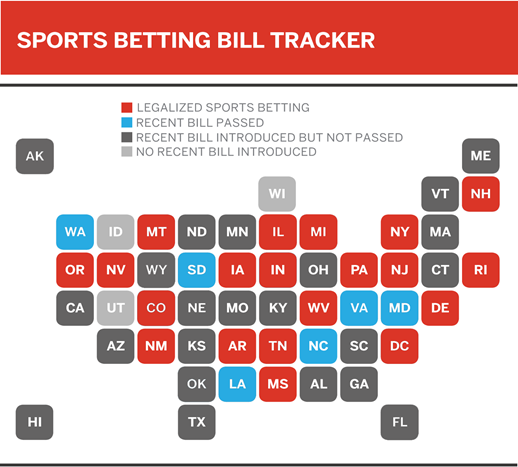 Source - ESPN3
While legalization of online sports betting alone is a meaningful catalyst for growth, Flutter has shown a propensity to attract customers who are interested in online casino games as well. Their market share in the US iGaming market is a leading 27% in New Jersey and Pennsylvania, the two states Flutter operated in the first half of 2020.
---
3https://www.espn.com/chalk/story/_/id/19740480/the-united-states-sports-betting-where-all-50-states-stand-legalization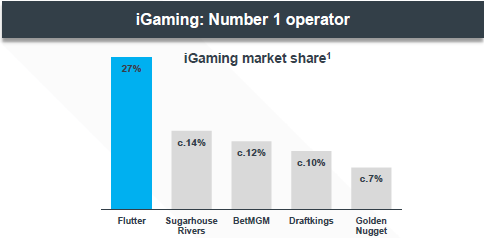 Bloomberg: Company Presentation; Aug. 2020
In Europe, regulations vary from country to country. The UK is likely considered the world's most open gaming market, Italy has been slowly trending towards full legalization since 2010, and France allows poker and sports betting, but not online casino-style gaming. Germany, however, does not allow most forms of online gaming and regulations have been inconsistent. Trends may be erratic but it seems the consensus is moving towards broad legalization of responsible and regulated gaming. In Australia, both sports betting and lottery games are allowed, and have been since 2003, making this one of the world's most well-established gaming marketplaces.4
---
4https://www.gamblingsites.org/laws/europe/
Competition:
Globally, Flutter is the largest online gaming company by revenue. Market share can be difficult to quantify perfectly, but the company cites being a top 3 operator in every geography they participate in. Further, their poker share globally was over 65% via their ownership of PokerStars5. While poker does not necessarily indicate share in sports betting or iGaming, it is representative of a valuable channel to identify potential new customers. Traditional digital competitors include William Hill and Bet365. In reality, however, the largest competition for digital gaming is on-premise gaming. In a $450B global market for gaming, less than $50B occurred online in 20196, leaving ample room for digital to take share. The transition from on-premise to digital has happened across geographies, albeit at varying rates. As seen below, there has been a consistent 5 year trend towards responsible digital gaming.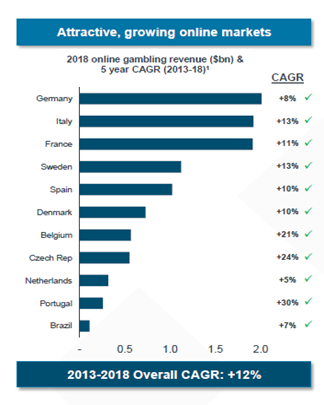 Bloomberg: Company Presentation; 2018
In the United States, the dynamic is even more fluid. Sports betting has only been legal outside of Nevada for a few years, and companies are currently battling for market share in a nascent space. Currently, in order to operate an online casino, firms must have a physical partner in that state, creating somewhat of a competitive protection against new entrants. It seems likely that the US market matures into an oligopoly, similar to what we've witnessed globally. As brands grow, they become stronger operators with improved loyalty programs. The CEO of competing firm Draftkings has been quoted as saying customers "tend to stick with a brand. As long as you give them a good experience, most will stick."7 This dynamic likely holds true for Flutter and its Fanduel brand in the US.
So far, we believe Fanduel's US rollout has been successful. They have maintained a leading sports betting market share of 43% as of Q3 2020 in Colorado, Indiana, Iowa, Illinois, New Jersey, Pennsylvania, and West Virginia. As a possible oligopoly takes shape, Draftkings has also had success with a reported 25% market share. There is not a consistent number 3 competitor across states, to date. While a 43% share may be difficult to sustain, Flutter also owns the FoxBet brand, which is much earlier in its efforts to establish a viable sports betting platform, leveraging access to the Fox Sports networks for brand distribution. (FoxBet has not been included in the Fanduel market share estimates below).
---
52018 Company Filings, 10-K
6Bloomberg: Company Presentation, Aug 2020
7https://www.cdcgamingreports.com/draftkings-ceo-says-company-started-mobilizing-for-sports-betting-more-than-a-year-ago/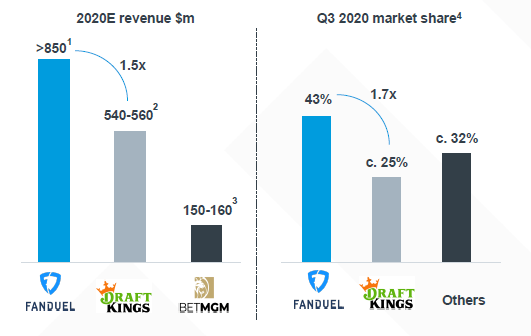 Bloomberg: Company Presentation; Dec. 2020
Business History:
Recent Acquisitions:
In 2019, Flutter announced an acquisition of The Stars Group (TSG). TSG is composed of Sky, Poker Stars, FoxBet, and Bet Easy. They generated $1.9B in revenue and 689m in EBITDA in '18.8 Management expects €140m in synergy after 3 years - still ongoing. This was an all-stock deal that gave the former TSG shareholders 45% of the combined entity. It was highly accretive to EBITDA and Earnings, and Flutter used their higher multiple equity to acquire lower multiple equity from a somewhat distressed operator. Flutter's management team saw an opportunity to improve TSG structurally and operationally. The acquisition also bolstered Flutter's strength in the US by integrating the business with their Fox and Pokerstars brands in the US.
---
8Bloomberg: Company Presentation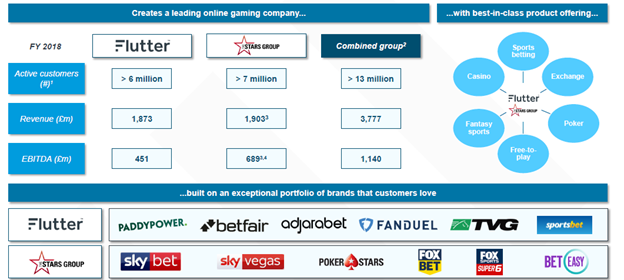 Bloomberg: Company Presentation; 2019
In December 2020, Flutter acquired an additional 37.2% stake in Fanduel from Fastball for $4.175b, increasing their stake in Fanduel to 95%. This acquisition effectively valued Fanduel at $11.2B. Due to previously granted rights, this is a 50% market value discount relative to Draftkings' recent market valuation. This transaction gives Flutter a leading position in the US, which has the potential to be the world's largest legal gaming market.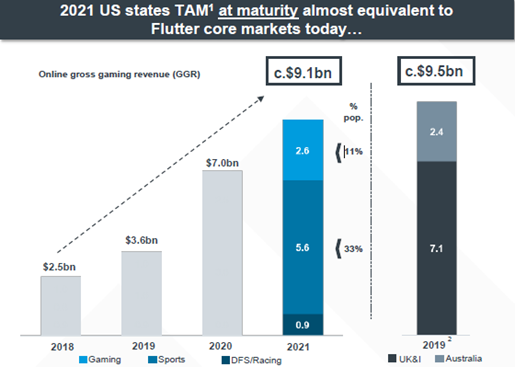 Bloomberg: Company Presentation; Dec 2020
Quantitative Insights:
There may exist a perception arbitrage opportunity with Flutter. Changebridge defines perception arbitrage as occurring when a company can't be properly evaluated by analyzing stated financials. It may be due to a company having multiple business segments or fundamental changes in the business model. In Flutter's case, there are geographic segments at differing stages in their business evolution. In Europe and Australia, Flutter generates over $1b in EBITDA. The company guided to $1.3B in '20 EBITDA outside of the United States. While still growing revenue at a high single digit percentage, the business is in a position to continue generating meaningful free cash flow. In the US, Flutter - largely through its Fanduel brand - is attempting to gain market share aggressively. In that effort, they are spending heavily on sales and marketing. Effectively, the international business is subsidizing the US expansion. The negative economics from building out the US so aggressively is masking Flutter's overall EBITDA power. While stated overall estimates are for $1.145B EBITDA in '20, ex-US, they guided to $1.315B at the midpoint.
Contributing to the valuation framework, the Flutter's US segment (which is currently a drag on overall earnings) has a publicly traded competitor, Draftkings. While there are differences in structure and ownership, the comparable valuation for Draftkings US business is $21B, as of December 2020.
Additional datapoints:
JP Morgan estimates the US Sports and Online Betting markets to reach $15B by 2030. Flutter's own forecasts are for the currently legal US states to have a larger market at maturity than the rest of Flutter's geographical markets combined - and this only refers to 14 states where Flutter currently operates.9 The US market has the potential to overshadow the rest of the world in the coming years.

Flutter's existing core markets (UK, Ireland, Australia) are a $9.5B revenue opportunity.

Flutter generates about $1B in EBITDA in those markets.

The current legal US market of 14 states is expected to be equivalent to those core markets at maturity, and Flutter's share in the US is currently higher than or equivalent to its share in the UK/Ireland/Australia.

The company has stated margins should be similar across geographies at maturity, meaning in the existing 14 states, Flutter has a potential $1b EBITDA opportunity.

In a United States market where gambling is legal in all 50 states, Flutter has the opportunity to generate $3B in EBITDA.
---
9Bloomberg: Company Presentation
Fundamental Insights:
We believe that Flutter has proven itself to be an elite operator and capital allocator. Their acquisition strategy has paid off nicely, and has shown them to be prescient managers. When Flutter initially acquired Fanduel in 2018, they paid $158m and integrated their Betfair US business for a 61% stake in the combined Fanduel-Betfair entity. At the time, Fanduel was only a DFS (daily fantasy sports) business, but management had the vision to apply a long term mindset, and the operational strength to create the leading US sports betting franchise.
At the time of acquisition in May 2018, Fanduel had not embarked on their journey to become one of the largest iGaming platforms in the US. Their growth since then has been impressive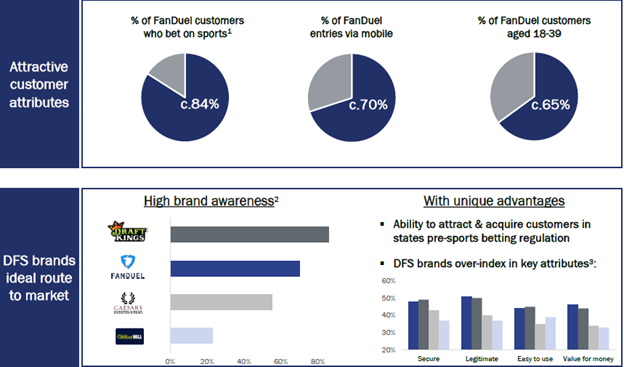 Bloomberg: Company Presentation, 2018
This acquisition also highlighted Flutter's ability to leverage one of their key assets: their global risk and trading capabilities. Their market leading products have withstood multiple stress tests, and the firm has amassed the intellectual property to develop leading gaming brands.
Further, Flutter's ability to cross sell has the potential to improve organic growth in the future. They have earned customers' loyalty, resulting in more predictable earnings power. Generally, more predictable earnings lead to better opportunities to continue making wise capital allocation decisions.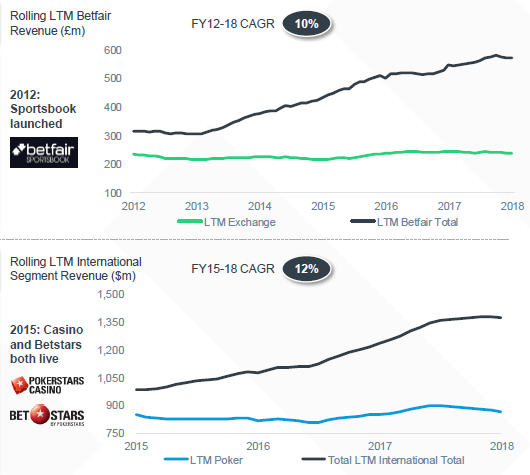 Bloomberg: Company Presentation; 2019
Covid-19 Impact:
It goes without saying that Covid-19 has had far reaching implications for all business models. Digital gaming markets were not the exception. Social distancing conventions forced professional sports leagues to effectively shut down for months. This lack of sports created a headwind that will become a tailwind from pent-up demand as leagues reopen. Covid-19 also accelerated a shift to digital for many business models.10 As noted, customers tend to be brand loyal, so this trend likely created long term customers for Flutter. Further, in the UK/Ireland, Flutter actually gained market share since lockdowns began, achieving a 50% engagement among all sports bettors.11
Sustainability Insights:
Flutter has made a concerted effort in recent years to reduce its carbon footprint. The company has installed energy efficient materials in its Dublin headquarters, and has embraced recommendations from the Energy Savings Opportunity Scheme (ESOS) in 2020. They have also been working to shift electricity consumption towards renewable energy sources. As of 2019, all UK retail stores are on renewable tariffs.12 Additionally, in 2018 Flutter funded an anti-deforestation project in Peru called Madre de Dios, which preserves 100,000 hectares of rainforest from deforestation. Further, in 2019, they participated in 52 Business Improvement District strategies in the UK to combat anti-social behavior and reduce crime within the gambling industry. Finally, Flutter invests meaningful resources in an effort to promote responsible gaming, educate customers, and support responsible gaming charities. Ultimately, these environmental, social and governance initiatives are establishing Flutter as a sustainability leader in an industry that will benefit from increased regulation.
---
10Bloomberg: Company Presentation, August 2020
11Third quarter 2020 Earnings Conference Call
12https://www.flutter.com/operating-responsibly/sustainability
Business Outlook:
We believe Flutter is establishing a "flywheel" business model. We believe the US online gaming market will be oligopolistic, similar to what we've seen internationally. There are network effects in having the broadest betting markets and an abundance of casino games. There are scale benefits that stem from leveraging existing skill-sets, and customers tend to be loyal. Because brand recognition is important, spending aggressively to capture share is a rational business decision, and we expect Flutter to maintain this strategy.
The US is on a path towards full legalization. Recent quarters showed a doubling of revenues in existing states' on a year-over-year basis in the third quarter of 2020.13 Management cites an expectation that mature US margins could be on par with those currently experienced in Europe and Australia, and we see no fundamental reason to disagree. While there is opportunity to expand product offerings, the greenfield geographic opportunity in the United States is quite meaningful.
Globally, the picture is complicated, but trends appear generally favorable. Governing bodies are broadly recognizing a reality that online operators are capable of offering safety enhancements relative to in-person gaming. Covid-19 has only accelerated the process of transitioning gaming and sports betting from physical to digital locations, with no signs of reverting. In short, we expect additional consolidation and gradual regulatory approvals globally, while we forecast rapid development of the US market. As the US scales, margins at Flutter should approach the historical international level on a full-company basis, and the perception arbitrage opportunity should gradually disappear as Flutter continues to improve disclosures and operate as a premier US-iGaming brand.
---
13Third Quarter 2020 Earnings Conference Call
Changebridge Capital, LLC ("Changebridge") is a registered investment advisor whose principal office is located in Massachusetts. Changebridge is federally registered with the SEC. Changebridge only transacts business in states where it is properly registered, or excluded or exempted from registration requirements. Individualized responses to persons that involve either the effecting of transaction insecurities, or the rendering of personalized investment advice for compensation, will not be made without registration or exemption.
Changebridge has a long position in Flutter as of 1/22/21. We highlight Flutter, solely on the basis of recent, well-publicized competitor merger and acquisition activity in the industry, not on the basis of purely investment performance-related factors. The company identified herein does not represent all of the securities purchased, sold or recommended for client accounts, and you should not assume that an investment in the company identified was or will be profitable.
This is a publication of Changebridge. Information presented is believed to be factual and up-to-date, but we do not guarantee its accuracy, and it should not be regarded as a complete analysis of any subjects discussed. No reliance, no update and use of information: You may not rely on this document as the basis upon which to make an investment decision. To the extent that you rely on this document in connection with any investment decision, you do so at your own risk. This document is being provided in summary fashion and does not purport to be complete. The information in this document is provided to you as of the dates indicated and Changebridge does not intend to update information after its distribution, even in the event the information becomes materially inaccurate. A professional adviser should be consulted before any investment decisions are made.
Past performance does not guarantee future success. Information herein is not an offer to buy or sell or a solicitation of any offer to buy or sell the securities mentioned. Information herein does not involve the rendering of personalized investment advice.
Hyperlinks in this publication point are provided as a convenience only, and we disclaim any responsibility for the accuracy of information on any other website linked hereto. Information in this publication is directed toward U.S. residents only.
Our form ADV Part 1 can be accessed here.