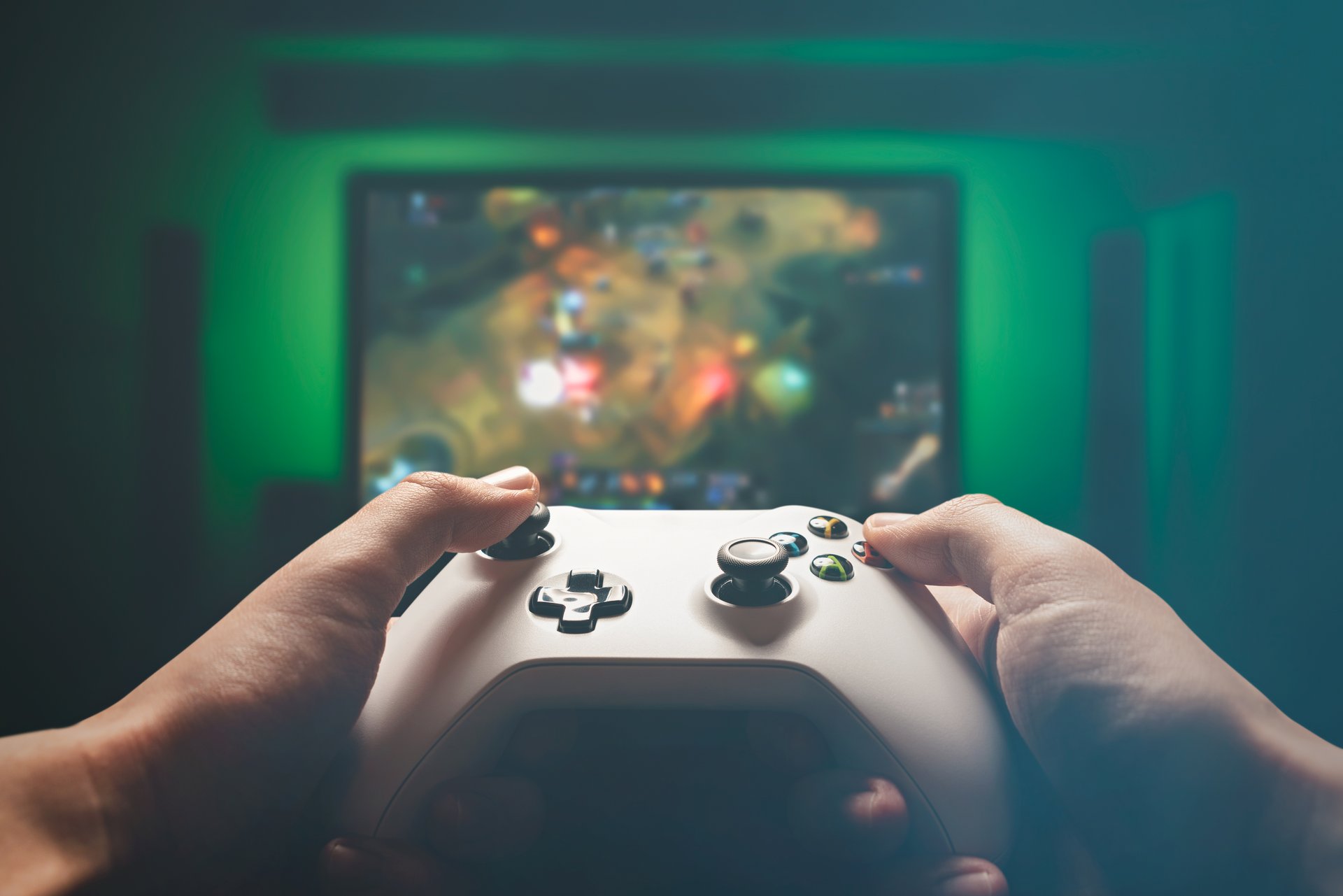 In 1979, The Buggles released their debut single "Video Killed the Radio Star." Like the title implies, the lyrics mourn the death of old forms of media like radio, in favor of new technology like VCR. Four decades later, it has become clear that streaming killed the video star, in the next evolution of media. Streaming has not only usurped video but is rapidly overtaking most kinds of multimedia and has become a key part of our lives.
Streaming refers to the transmission of various kinds of media, like audio and video, to an end-user over the internet. While the modern internet came into fruition in the early '90s, bandwidth was not initially fast enough to facilitate most kinds of streaming, except for some forms of audio. Furthermore, multimedia compression was still in its infancy, which would become especially relevant for network-intensive video streaming. Many of us are old enough to remember early YouTube videos in the 2000's, which came through at a very low resolution (144p to 240p) and had stuttered playback, if it would load at all.
Audio streaming consumes less resources, as it only requires an audio coding format (like MP3), but still compression in the early days was a significant problem. Lossy compression to reduce file sizes resulted in bitrates as low as 32 kbit/s, whereas today, anywhere between 128 to 320 kbit/s is acceptable. To stream video and audio together, a multimedia container format such as MP4 needs to be utilized, which consumes even more data.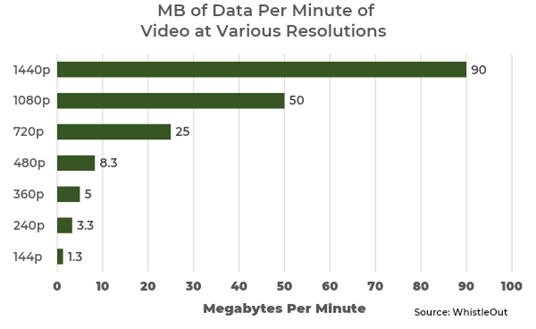 By the early- to mid-2010s, smartphone and tablet adoption became widespread, and provided a massive tailwind for streaming. Users could watch or listen to their media of choice anywhere in their home, and with the growth of cellular network technology like 4G, anywhere where coverage was available. The convenience afforded by streaming was too great, resulting in the death of CDs and DVDs and companies like Blockbuster. Led by Netflix, the streaming industry rose in its wake, characterized by a subscription-based model, a wide array of content, and cross-device portability. Below, I will cover ten publicly traded streaming companies that may pose attractive investment opportunities.
Video
Video streaming is probably the first thing that comes to mind when streaming is mentioned. This segment includes platforms that offer film and television programs over the internet. Service providers can either create and host their own content (Disney+, HBO Now), aggregate and host third party content (Apple TV+, Crunchyroll), or blend both approaches (Netflix, Hulu) which is increasingly becoming the most popular model. On these latter platforms, quality original content is vital, to differentiate offerings from the competition and to increase user retention.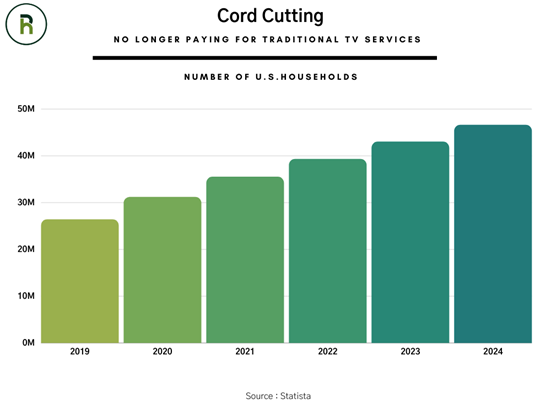 Netflix (NFLX)
Market Capitalization: $238.9 bn
As the first company to make major inroads into streaming, Netflix has the largest market share of any platform and a cult-like following. What started out as a DVD rental company in 1997 has morphed into a streaming behemoth, with 195 million paid subscribers as of 3Q 2020. This is up 23.3% since Q3 2019, a move buoyed by global lockdowns in much of the world throughout 2020. The US only accounts for about a third of these numbers, reflecting the international reach the service has been able to achieve.
In addition to its large catalog of third-party content, Netflix is also home to a growing number of Netflix original films, original series, comedy specials, and documentaries. The company's first foray into their own programming was House of Cards in 2013, which became the first original online-only series to receive Emmy nominations. Most recently, The Queen's Gambit miniseries, released in October 2020, has become the most watched series on Netflix - 62 million accounts have already watched the show.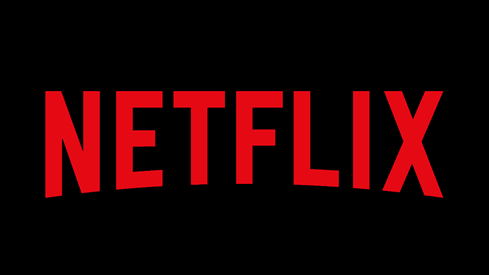 Disney (DIS)
Market Capitalization: $328.0 bn
Disney is firing on all cylinders in terms of monetizing its massive content library, which it has built up over a century of operation. The three flagship offerings by the company now include Disney+, ESPN+, and Hulu, which can be bundled for just $13 per month. Combined, the services feature a mix of original Disney programming, professional sports, and third-party licensed content.
Disney+: This is the company's flagship offering, which launched just over a year ago in November 2019. The service has already garnered 86.8 million subscribers as of Disney's investor day this December, shattering both guidance and analyst estimates. In addition to classic Disney shows and films, most of the family-friendly content from the 20th Century Fox acquisition lives here as well.
ESPN+: Disney's OTT sports offering is marketed as an add-on to the ESPN channels on cable, and features programming distinct from major professional sports (which are offered as an add-on). Included sports offerings are UFC, rugby, cricket, and golf, with original programming including shows like Detail, which features sports analysis by various star players, ESPN FC which is focused on soccer, and NFL PrimeTime.
Hulu: Hulu started as a JV between several parties in 2007 and ended up as a wholly owned subsidiary of Disney, after a series of mergers and stake purchases. The platform contains a diverse array of content from third parties, with some original programming as well. There is also a Live TV offering which costs $54.99 per month and is marketed as an alternative to a cable subscription.

iQIYI (IQ)
Market Capitalization: $13.7 bn
iQIYI is China's largest streaming service, and one of the largest online video platforms globally. Spun off from Baidu in 2018, the platform has been called the "Netflix of China", though there are significant differences. For one, iQIYI has both a free ad-supported model, and a paid subscription model. The company had over 100 million paid subscribers by the end of 2019, and 476 million mobile MAUs. Note that consumers primarily access the service through mobile, whereas Netflix is cross platform across consoles, PCs, smart TVs, and mobile devices. While most Netflix users are international, nearly all iQIYI customers are within China. Lastly, iQIYI offers not only video streaming, but online games, an online wallet, and even a credit card.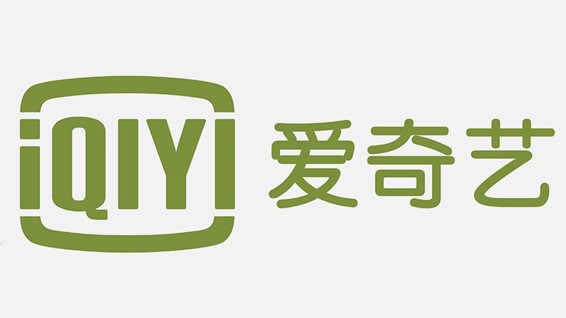 Audio
The other major type of media streaming is for audio, which mainly includes music, podcasts, and online radio shows. Audio is delivered in packets to your device of choice, meaning that you can start listening to a song before the entire track has buffered. With the advent of streaming, users can have exceptionally large libraries of high-quality music without taking up large amounts of hard drive space. A 320kbps MP3 file, which is the highest quality for the format, takes up 2.4MB of space per minute.
Spotify (SPOT)
Market Capitalization: $59.7 bn
Swedish-based Spotify was only launched in 2008 and is already the largest audio streaming provider on the internet. The service operates with a freemium model, where users can either listen to music free, with limited capabilities and advertisements, or pay a monthly subscription fee and get unlimited consumption. As of September 2020, the platform has 320 million MAUs, of which 144 million are paying subscribers. In addition to the 60 million songs on Spotify, there are also 1.9 million podcasts, including the Joe Rogan Experience in a multi-year deal worth $100mm, according to the WSJ. Spotify is also known for its robust user-created playlists, and algorithm-generated radio stations which can be created based on any song, artist, or genre.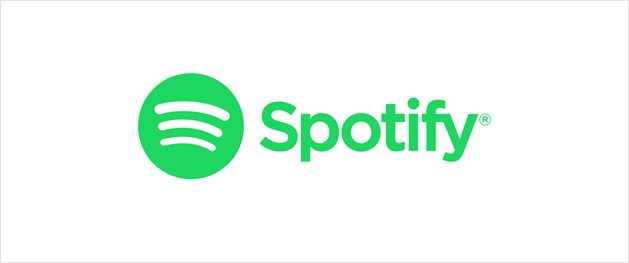 Tencent Music (TME)
Market Capitalization: $59.7 bn
Tencent Music was created as a joint venture between Tencent and Spotify to provide streaming services for the Chinese market. Operating as a holding company, subsidiaries include the three most popular music apps in China - QQ Music, Kugou, and Kuwo Music. These collectively have a staggering 646 million MAUs, or about half the population of China, as of September 2020. While paying subscribers as a percentage of overall users are growing, only about 51.7 million users subscribe to one of these services, as the Chinese market is heavily based on the freemium model. In addition to the JV integration, TME and Spotify own single digit stakes in each other, due to a stock swap in 2017.
QQ Music: Focused on professionally created content, QQ is available exclusively in China, across platforms including Windows, Mac, iOS, and Android. The free version of QQ includes 128kbps streaming, limited offline listening, and restricted general streaming, as labels can restrict content to paying users. The subscription is two-tiered (VIP and Luxury), with both offering higher quality streaming (up to lossless), 300 and 500 downloadable songs per month respectively, and theme customization on the mobile app.
Kugou: Unlike QQ, Kugou is focused on user-generated content. The service promotes live-streamed music performances and concerts, which feature an interactive chatting environment. Kugou also offers traditional music streaming, with songs created by both professional and amateur artists. A key part of this experience are the comments, which add a social element to the listening experience, where users can like each other's comments and chat with each other.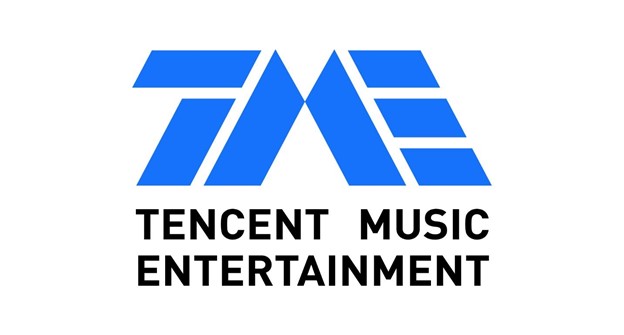 Technology
The backbone of the entire streaming experience, technology companies facilitate the transmission of streaming media to end users. This segment also includes firms operating in the streaming ecosystem, such as those who provide advertising solutions, or analytics to streaming companies which help them make business decisions. Generally, these types of companies benefit with the growth of the entire sector, and do not represent plays on specific content.
Roku (ROKU)
Market Capitalization: $42.1 bn
Roku emerged from Netflix in 2008, when Netflix decided not to build its own media player, and instead spun off its small hardware division. Roku's products offer inexpensive access to streaming media for consumers, across several channels and services. The company aggregates content and charges providers a percentage of the subscription revenue billed through the platform.
Streaming Players: The company's flagship products are streaming players, which connect via the internet to a television, screen, or mobile device, and provide access to a large variety of streaming services. These include the Roku Ultra, the Roku Streaming Stick, and Roku Premiere, which use either HDMI or remote streaming to output media.
Roku TV: Roku partners with television manufacturers like TCL, JVC, and Philips to make co-branded Smart TVs, which run on Roku's software without the need for a discrete streaming player.
Roku Channel: Roku launched a free, ad-supported streaming channel in 2017 for its devices. Content providers include Disney, Sony Pictures, Paramount, MGM, and Lionsgate among others, who receive a share of ad revenue.

J-Stream (4308 JP)
Market Capitalization: $727 mm
Founded all the way back in 1997, J-Stream was the first company to offer streaming services to the Japanese market. Operating a number of subsidiaries under the J-Stream Group, the company offers a full suite of services to corporate customers, including a content delivery network (CDN), authentication services, copyright protection/DRM functions, website creative services, and production assistance. J-Stream also offers advertising planning, for customers interested in monetizing their streams via ads.
J Creative Works: Builds content management systems (CMS) for corporate and media sites, and provides training and support for employees. Provides an HTML5 based video player that supports on-demand and live distribution on multiple devices.
Crossco: Creates strategies for businesses using live internet video distribution, such as advertisements and promotional videos. The company has a VR utilization solution to provide immersive experiences for users, compatible with headsets like Oculus and sensor devices like Kinect and Leap Motion. Also provides technical support and graphic design for websites.
BIGM2Y: Caters to the medical community, and provides medical website production, video production for e-detailing, and multi-device live distribution for medical care/telemedicine.
Health
An emerging segment of the streaming universe, this category involves the transmission of health, wellness, and exercise content to subscribers on a variety of internet-enabled devices. Currently, this primarily includes exercise courses, such as those offered by Peloton, or Apple's new Fitness+ service. Accelerated by the pandemic, telemedicine is also becoming increasingly popular, as it removes the commute to and from the doctor and allows for online prescriptions.
Peloton (PTON)
Market Capitalization: $44.4 bn
Peloton manufactures high quality exercise devices like bikes and treadmills, with large screens that host training classes. Peloton creates thousands of classes across several different workout types, which are available via an additional monthly subscription fee. A full suite of health metrics are also provided, which track performance on the devices, including a live leaderboard where users can compare progress. The company sells these courses separately as well, via a digital membership accessible from phone, tablet, TV, or web browser.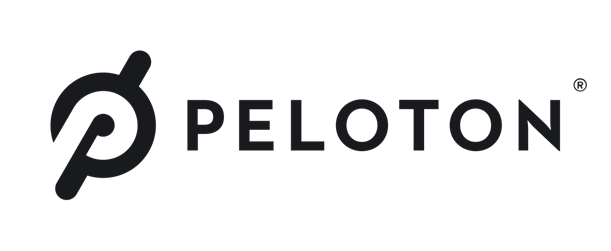 Gaming & Livestream
This category of streaming was popularized by Twitch (now an Amazon subsidiary) which emerged in 2011 as an esports streaming service. The company has since branched out into general video game streaming, live music and DJ performances, and real life broadcasts via the "Just Chatting" section, which is now one of the most popular channels on the site. A number of other services have followed this trajectory, and the category has gotten more broad. Livestreaming ultimately involves content being streamed by creators to end users, usually with an interactive chat experience.
Huya (HUYA)
Market Capitalization: $4.7 bn
Huya is the largest video game streaming service in China by market capitalization, and one of the two game-related live streaming giants in the country. Similar to Twitch in the US, Huya primarily features gaming streams from Chinese streamers, but also has a significant amount of live and in-person content. As of Q3 2020, Huya had 172.9 million MAUs, and 18.9% year over year growth. The company is currently attempting to merge with its rival DouYu, which operates an extremely similar platform, and has similar MAUs and valuation, though is growing more slowly. Tencent owns a majority stake in Huya and a minority stake in DouYu, and would own 67.5% of the merged entity.

AfreecaTV (067160 KS)
Market Capitalization: $639 mm
AfreecaTV is a South Korean livestreaming platform, available as a website and app on the Google Play and iOS app stores. The site features a wide variety of broadcasts, ranging from video games, music performances, beauty and lifestyle, and even mukbangs, where people watch streamers eat while interacting with the audience. Afreeca currently does not feature advertisements on broadcasts, and instead derives most revenue by taking a cut of donations to streamers (Star Balloons). In addition to live streams, there is also a large VOD category featuring popular clips from broadcasts which already aired.
Selected Streaming Stocks
| | | | | | |
| --- | --- | --- | --- | --- | --- |
| Ticker | Name | Country | Market Cap ($mm) | Thematic Relevance | Notable Brands |
| NFLX | Netflix Inc | United States | $238,892 | Video | N/A |
| DIS | The Walt Disney Company | United States | $328,024 | Video | Disney+, Hulu, ESPN+ |
| IQ | iQIYI Inc | China | $13,695 | Video | N/A |
| SPOT | Spotify Technology SA | Sweden | $59,655 | Audio | N/A |
| TME | Tencent Music Entertainment Group | China | $32,276 | Audio | QQ Music, Kugou |
| ROKU | Roku Inc | United States | $42,144 | Technology | Roku TV, Roku Streaming Player, The Roku Channel |
| 4308 JP | J-Stream Inc | Japan | $727 | Technology | J Creative Works, Crossco, BIGM2Y |
| PTON | Peloton Interactive Inc | United States | $44,383 | Health | Peloton Digital |
| HUYA | HUYA Inc | China | $4,689 | Gaming & Livestream | N/A |
| 067160 KS | AfreecaTV Co Ltd | South Korea | $639 | Gaming & Livestream | N/A |