Over the past several years, we have seen a shift in consumption across all forms of entertainment. For television and film, Netflix and streaming services have gradually replaced cable and satellite. In music, Spotify and Apple Music have transformed the distribution landscape. A different shift has taken place in gaming. In gaming, we have witnessed the creation of an entirely new form of entertainment, born out of technological innovation -- game livestreaming.
What is Livestreaming?
Game livestreaming, whereby "streamers" broadcast their gameplay live via web platforms, has taken the original form of entertainment -- the games themselves -- and allowed for a "second derivative" mode of consumption. While no one is interested in watching others stare at a movie screen or listen to an album, the digital immersiveness and interactivity of games has made this second derivative an exciting and popular form of new entertainment. Per SuperData, more people watch gaming than HBO, Netflix, ESPN, and Hulu combined [(this includes both livestreaming and gaming video on demand ("VOD")].


Source: Superdata
Roundhill estimates that the global live game streaming market will generate in excess of $5 billion in revenues for 2019. (This excludes gaming video on-demand).
We derive these figures from a combination of company filings, market research and analysis.
Why do people watch games?
The most common question about game streaming from older generations is consistent: why do people watch? The answer is less consistent. In many cases, viewers watch streamers to witness a high level of play -- the same reason we enjoy watching professional sports. For others, they watch to learn tactics and strategies they hadn't conceptualized in order to improve their own game. A third, and likely understated reason is viewers' interest in the personalities of content creators themselves. (Typically, streamers will include a camera view of themselves overlayed on top of gameplay.)
Is game streaming the same thing as esports?
At Roundhill, we consider the broader opportunity set of gaming video content as our investment thesis. That said, many industry participants define esports exclusively as "professional gaming". Importantly, this distinction differentiates between popular streamers like Ninja (who also happens to be a professional Fortnite player) and professional esports tournaments like ESL One. For reference, League of Legends generated 19.4 million in esports hours watched in August 2019. Meanwhile, League of Legends had 69.7 million in total hours watched.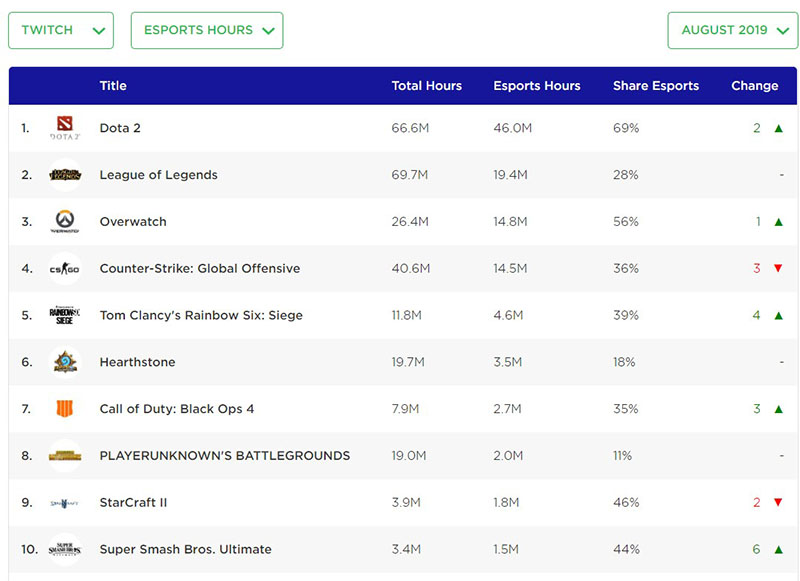 Source: Newzoo
We believe that the current monetization of professional esports is its infancy. Meanwhile, the ecosystem around game streaming and gaming video content more broadly has been developing for years, and is already producing meaningful revenues for its stakeholders.
How do livestreaming platforms make money?
From a business standpoint, streaming platforms are typically game agnostic. This means that regardless of which title is en vogue, the streaming platform will benefit from an overall increase in game viewership. In general, streaming platforms generate revenue from three sources, while utilizing a "free-to-use" model.
Advertising -- digital advertising can include pre-roll clips on stream or throughout the platform website. A large majority of advertising revenue typically accrues to the platform directly.
Subscriptions -- users can sign up for subscriptions that allow for improved viewing (i.e. ad-free) or increased interactivity (chat with streamers, emojis). For the platforms that offer subscriptions, the platforms typically receive a meaningful take rate.
Donations & Virtual Gifts -- viewers may make donations and or virtual gifts to their favorite streamers, many times in an attempt to have their name called out on stream. Platforms typically take a significant cut of donation and/or virtual gifting revenues, but it varies significantly amongst platforms.
Per Superdata, 60% of total revenues in 2016 came from "indirect" spending including advertisements and sponsorships, while 40% was attributable to "direct" spending such as subscriptions and donations.
From an investment standpoint, it is important to understand the streaming platform landscape and the major players. Below we analyze the world's most important streaming websites on a regional (domicile) basis.
Livestreaming Platforms in the United States
In the US, the dominant livestreaming platforms are all owned and operated by large technology companies - Amazon, Google, Microsoft, and Facebook. Notably, these services are all banned in China.
In the US, a large majority of streaming revenues are derived from advertising and sponsorships.
Twitch (Amazon - AMZN) Twitch.tv is the largest and most well-known gaming website in the world. The site, which was originally formed as Justin.tv in 2007, relaunched as Twitch in 2011. Three years later, Amazon came out the winner of a three-way bidding war alongside Yahoo and Google, purchasing the streaming service in a $970 million all-cash deal. At the time, it represented Amazon's largest acquisition in its 20-year history.
Twitch is the clear-cut leader in game streaming globally. In the third quarter 2019, Twitch recorded more than 2.5 billion hours watched -- per Newzoo and Streamlabs. This represented growth of 28% since first quarter 2018, and more than 70% of total hours watched amongst the largest US-based platforms (YouTube, Mixer, Facebook).
Per Similar Web, Twitch.tv is currently the 58th most visited site worldwide. The Wall Street Journal recently reported that an average of 1.3 million people are on Twitch at any given time, and the platform sees more than 15 million daily visitors.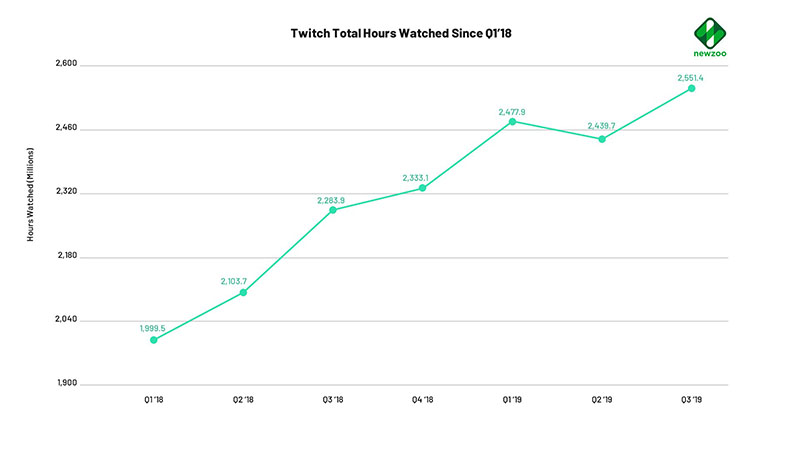 While we have very little visibility into Twitch's current economics as part of Amazon, SuperData estimated Twitch's standalone 2017 revenues at $1.7 billion. It's likely safe to say that figure has grown since.
For reference, Twitch generally takes an approximate 50% cut of most subscription revenues. For larger streamers, they can take as little as 30%. Twitch does not take a meaningful cut of donations.
YouTube Gaming (Alphabet - GOOGL) Following their failed acquisition attempt of Twitch, YouTube launched YouTube Gaming in August 2015. At the time of launch, gaming-related content (VOD) accounted for "billions of hours of watch-time a month, with hundreds of millions of users" on YouTube's core platform. However, the new YouTube Gaming vertical intended to compete directly with Twitch by focusing on livestreaming.
YouTube Gaming has grown steadily over the years, and has become the second-most popular livestreaming platform in the US, accounting for approximately 20% of total hours watched in the third quarter 2019.
However, per Ryan Wyatt, Global Head of Gaming at YouTube, live gaming only accounted for 17% of gaming video content market globally (excluding China).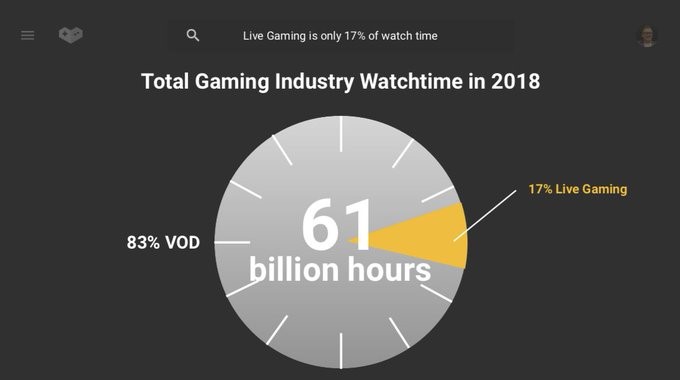 YouTube dominates the gaming VOD market, and reportedly totalled 50 billion of 61 billion total gaming watchtime (including both live and VOD) in 2018. As per Wyatt, YouTube had "over 200M logged-in daily active users watching Gaming on YouTube every single day, making YouTube the largest gaming platform in the world by DAU".
YouTube reportedly takes a cut of 30% on subscriptions.
Mixer (Microsoft - MSFT) Mixer, which originally launched as Beam in 2016, is a game livestreaming platform owned by Microsoft. It is a much smaller platform than Twitch and YouTube in terms of hours watched, but has made waves recently after the platform signed an exclusive deal to sign superstar streamer and professional Fortnite player, Ninja.
While the deal terms of the Ninja deal are unknown, the exclusive highlights an ongoing battle amongst platform for top talent and content creators. In the second quarter 2019, Ninja generated 23.7 million total hours watched, compared to 112 million for all of Mixer (Techcrunch, TwitchTracker). Ninja's move to Mixer resulted in a temporary spike for Mixer - it very briefly reached #1 in the US App Store - but has not translated to continued success. Mixer's total hours watched declined in the third quarter 2019 (Ninja transitioned in early August).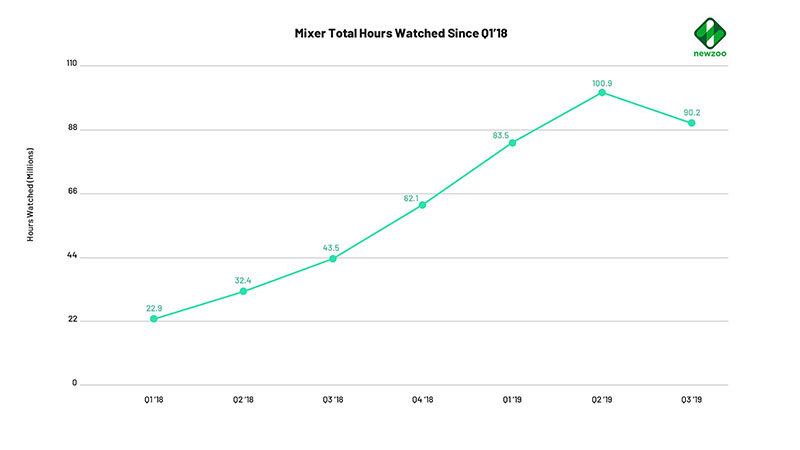 Source: Newzoo, Streamlabs
Mixer has been built using technology that is arguably superior compared to peers, claiming latency of less than one second between original broadcasts and the stream. This compares to 10-20 seconds for other services.
Facebook Gaming (Facebook - FB) Facebook introduced Facebook Gaming in 2018. As of May 2019, the streaming service is native to Facebook's primary app, which has allowed for the platform to develop a following. For the second quarter 2019, Facebook Gaming achieved nearly 200 million viewership hours, surpassing Mixer's 112 million (Stream Elements).
Facebook has developed an ecosystem that is intended to be streamer-friendly, with its take rate on donations (5 to 30%) and subscriptions (30%) in-line or below peers.
Livestreaming Platforms in China
Popular US-based streaming platforms like Twitch are banned in China. As a result, Chinese viewers turn to their own set of distribution platforms. China's streaming market dates back to the mid 2000s, and it boasts a viewership base (measured as monthly active users) roughly 5 times that of the United States.
China is widely considered to be a major growth driver of the overall gaming market. Game livestreaming is no exception. As reported in Douyu's F-1, "the average total MAUs of game-centric livestreaming platforms in China are expected to increase from 255 million in 2018 to 400 million by 2023. Revenues from China's game-centric livestreaming market is expected to grow at a CAGR of 24.7% from 2018 to 2023."

Huya (Huya Inc - HUYA) Huya and its sister company Douyu (both are backed by Tencent), collectively control the large majority of China's game livestreaming market. Huya was spun out its parent company YY in May 2018, listing ADSs (American Depositary Shares) on the NYSE.
Huya revenues grew 174% in 2017 and 113% in 2018, while estimates call for 61% growth this year and 36% next year. Huya has grown its business by focusing on mobile game streaming. As of second quarter 2019, 39% of monthly active users were from mobile.
Huya currently derives more than 95% of its revenues from virtual gifting (Huya retains a 50%-plus cut on gross donations). However, the company continues to focus on increasing monetization from its user base. As of second quarter 2019, Huya had 4.9 million paying users, up 46.7% year-over-year.
In addition to its core business, Huya owns Nimo TV (see below), Royal Never Give Up (an LPL team), and the Chengu Hunters (an OWL team). They also recently announced a JV with ESL to expand its esports competitions into China.
Douyu (Douyu International - DOYU) As mentioned above, Douyu and Huya are the two largest players in China's game streaming market. Douyu, whose name translates to "fighting fish" (Huya translates to "tiger's teeth"), raised $775 million in an IPO earlier this year, after securing a $532 million investment from Tencent in 2018.
Despite a larger user base, Douyu is trailing Huya in revenues. Notably, Douyu derives approximately 85% of revenues from virtual gifting versus Huya's ~95%.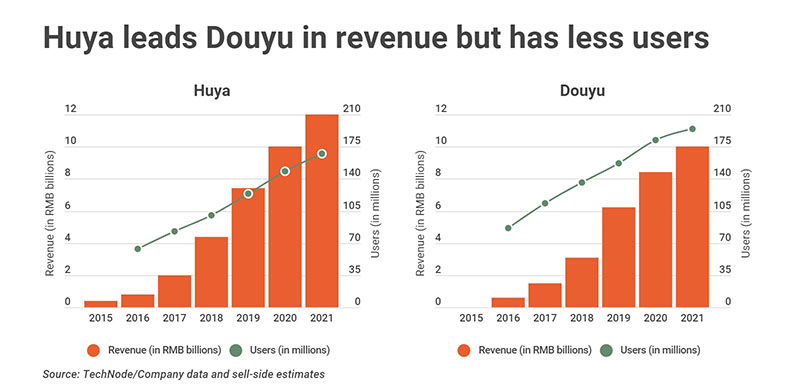 Compared to Huya, Douyu's focus has been on content creators. Douyu employs an "exclusive contract model" whereby it signs streamers to 3 to 5 year contracts in exchange for salaries and a cut of virtual gifting revenues. For the first quarter 2019, Douyu derived more than 60% of revenues from exclusive streamers.
As part of its esports content strategy, Douyu has exclusive streaming rights to 29 major tournaments in China, including League of Legends, PUBG, and Dota 2.
Douyu launched Nonolive in 2015. Nonolive is a livestreaming platform focused on Southeast Asia.
bilibili (Bilibili - BILI) Amongst US platforms, bilibili is most similar to YouTube. The company's core business is video sharing (i.e. VOD) with a focus on animation, comics and games.
The company, which was founded in 2009, listed ADRs (American Depository Receipts) on the NASDAQ in March 2018.
Per bilibili IR, "games" is the 3rd most popular video genre on the platform, while "game-themed live broadcasting" is growing. Bilili has 1 self-developed mobile game, while it is the exclusive distributor for 16 additional titles.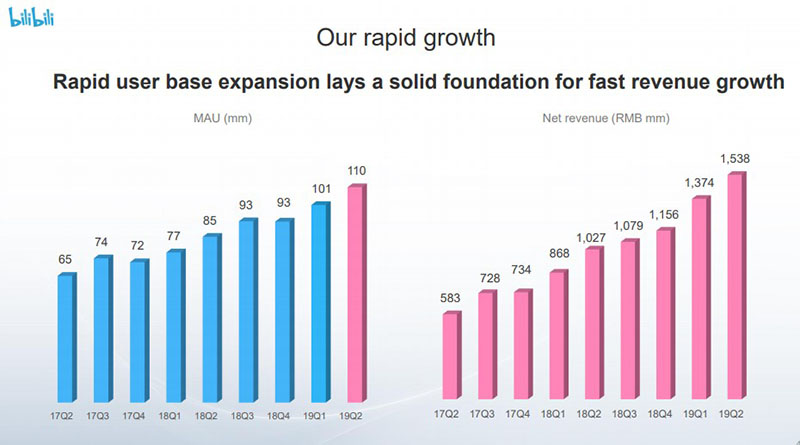 Source: bilibili IR
Bilibili derives the majority of its revenues from mobile games, advertising, and livestreaming (live-streaming is the fastest-growing, at 175% year-over-year). Company level revenues have grown from $79 million in 2016 to $625 million in 2018. 2020 consensus is for $1.35 billion in revenues; however the company is expected to operate at a loss.
Tencent owns approximately 15% of bilibli. Meanwhile, bilibili owns the Hangzhou Spark of the Overwatch League. In December 2019, bilibili reportedly signed a 3-year, $113 million deal for exclusive Chinese media rights for the League of Legends World Championships, outbidding rivals Huya, Douyu, and Kuaishou.
Livestreaming Platforms in Korea
Unlike the US and China, Korea has a long-standing history of watching gaming as entertainment. In Korea, pro gaming and esports are considered a national pastime and by the mid-2000s, the country had three cable television stations dedicated to gaming and esports.
afreecaTV (067160 KS - Afreeca TV) While Twitch is permitted it South Korea, local platform afreecaTV has historically been the predominant streaming site for Koreans. AfreecaTV originally launched as a beta in 2005 and has increasingly incorporated gaming and esports over time.
AfreecaTV revenues grown significantly over the last few years, recording $69 million, $115 million, and $132 in 2016, 2017, and 2018, respectively. As with China-based streaming platforms, Afreeca derives a large majority of revenues from virtual currency and gifting.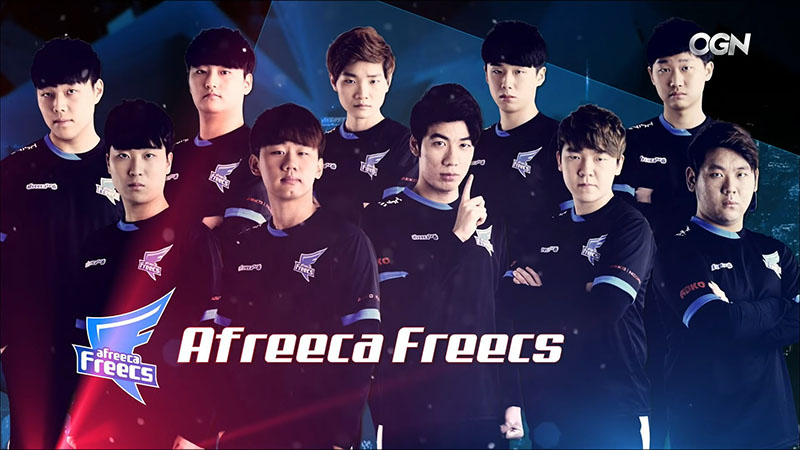 AfreecaTV hosts various esports leagues, including the AfreecaTV StarCraft League and the AfreecaTV PUBG League.
AfreecaTV also sponsors the Afreeca Freecs, a League of Legends team in the LCK.
Additional Livestreaming Platforms
Nimo TV (Huya Inc - HUYA) Nimo TV is a subsidiary of Huya, focused on mobile livestreaming outside of China. At current, Nimo has a focus on Southeast Asia and Latin America. As of December 2018, Nimo had 11.5 million monthly active users.
As reported by StreamHatchet, Nimo TV surpassed YouTube Gaming in livestreaming hours watched for September 2019, at a reported 263 million.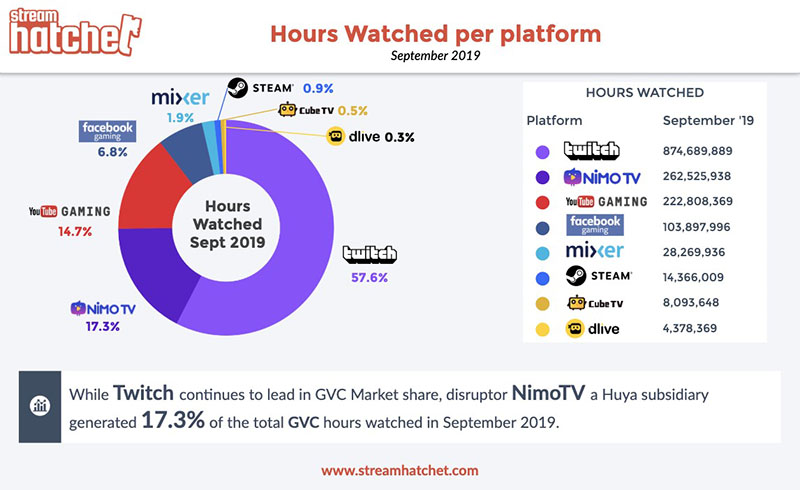 Source: StreamHatchet
Smashcast (Private) Smashcast is an esports-focused streaming platform that was borne out of a merger between now-defunct platforms, Hitbox.tv and Azubu.
YY Live (YY - YY) YY Live is the oldest- running livestreaming platform in China, having launched in 2005 as douwan.com. The platform originally focused on gaming exclusively, prior to expanding into additional forms of live entertainment broadcasting. YY listed its ADSs (American Depositary Shares) on the NASDAQ in 2012.
The company spun out its gaming-focused platform, Huya, in 2018. It maintains a controlling stake.
Following its spin-off of Huya, gaming and esports are no longer a primary source of viewership.
Takeaway
Game-centric live streaming companies may offer a compelling, game-agnostic way to play the esports investment theme. As per the below table, selected companies with game streaming assets are growing revenues at a median rate of 49% for 2019 and 36% for 2020, while trading at a consensus 2020 price-to-earnings multiple of 18 times. This compares favorably to larger media streaming platforms like Netflix, which trades more expensively, despite growing at a slower rate.
Selected Livestreaming Companies

Revenues
Growth
P/E
Ticker
Name
Country
Market Cap ($M)
EV ($M)
2018
2019E
2020E
2019E
2020E
2019E
2020E
067160 KS
AfreecaTV Co Ltd
SOUTH KOREA
$ 655
$ 615
$ 115
$ 142
$ 173
23%
22%
21.5x
17.8x
BILI US
Bilibili Inc
CHINA
$ 4,784
$ 4,499
$ 625
$ 929
$ 1,362
49%
47%
N/A
N/A
DOYU US
DouYu International Holdings Ltd
CHINA
$ 2,480
$ 2,803
$ 553
$ 1,021
$ 1,429
85%
40%
75.3x
17.9x
HUYA US
HUYA Inc
CHINA
$ 4,672
$ 3,363
$ 706
$ 1,150
$ 1,562
63%
36%
51.8x
29.2x
YY US
YY Inc
CHINA
$ 4,675
$ 2,556
$ 2,385
$ 3,536
$ 4,459
48%
26%
14.6x
10.8x
Median
49%
36%
36.7x
17.8x
NFLX
Netflix Inc
UNITED STATES
$ 117,587
$ 126,507
$ 15,794
$ 20,142
$ 24,563
28%
22%
68.2x
43.3x
Source: Bloomberg, Roundhill Investments. Data as of 10/22/2019.
Additional Platforms:
AbemaTV (CyberAgent - 4751 JP)
CubeTV
Garena Live (Sea Limited - SE)
GoodGame
MLG.tv (Activision Blizzard - ATVI)
Nonolive (Douyu - DOYU)
OPENREC (CyberAgent - 4751 JP)
Steam.tv (Valve - Private)
VK (Mail.ru - MAIL LI)
Additional Platforms (China):
EGame
Huomao
KingKong
Quanmin
Zhanqi