Roundhill Roundup
Ohio Betting + Apple's Mixed Reality Headset
Week of 01/02/2023

Ohio launched online sports betting on New Year's Day.
The Buckeye State became the 33rd U.S. state to legalize sports wagering after Governor Mike DeWine signed House Bill 29 into law on December 22nd, 2021. In the first two days of 2023, Ohio recorded 11.3 million geolocation transactions according to GeoComply, surpassing all other states including New York (9.3 million transactions). Between January 1st and 2nd, 784,000 unique accounts placed bets across 16 operators. Despite the successful launch, sportsbook operators are under fire from Governor Mike DeWine. On Tuesday, DeWine stated that companies employing "massive advertising" are being looked at "very closely by the governor and the Casino Control Commission in regard to statements that they are making." DeWine added that they believe the line has already been crossed on several occasions and such actions will not be tolerated. Following these comments, several operators are already facing fines, including DraftKings, Barstool Sports, BetMGM, and Caesars. In addition to Ohio, retail sports betting will launch in Massachusetts on January 31st, with the Massachusetts Gaming Commission targeting a mid-March launch of mobile sports betting in time for March Madness.
Home to eight major sports teams and more than eight million adult residents, Ohio is poised to become a substantial sports betting market. According to PlayOhio, regulated wagering in the state could total as high as $8 billion in 2023, and up to $12 billion within the first eighteen months of operations. Based on 2023 expected handle of $8 billion, gross gaming revenues would likely be in the $500 million to $700 million range for the year. Those figures suggest that Ohio could quickly become a top-five state market for sports betting, and potentially even reach the top three by 2024. In addition to its large population of sports enthusiasts, the Ohio market is likely to further benefit from its open licensing structure and favorable tax rates. The state only imposes a 10% tax rate on net revenues, and with dozens of operators scheduled to launch this year, the Ohio market should develop into a highly-competitive landscape providing various options for bettors. This comes in stark contrast to a state like New York, which imposes an onerous 51% on revenues across only a handful of operators.

In addition to Ohio, the upcoming online launch in Massachusetts represents a meaningful milestone for the industry. Similar to Ohio, Massachusetts is home to a population of avid sports fans and above average household incomes. The state will tax online operators at 20%, and retail sportsbooks at a 15% rate. After the Massachusetts market launches later this quarter, industry growth is expected to shift from new state launches to retention and growth in existing jurisdictions. While California, Texas, and Florida have yet to launch mobile sports betting operations, those prospective state launches could become further catalysts in 2024 and beyond, despite political complications in each state.
Investment Themes
Sports Betting

New details emerged regarding Apple's upcoming mixed reality headset.
According to The Information, the yet-to-be released hardware will feature a physical dial such that users can flip between "complete immersion in VR" and seeing the real world. Based on prior reporting from The Information, the headset "resembles a pair of ski goggles and will use an array of cameras to allow people to experience both augmented and virtual reality." According to sources, the release target for the device is scheduled for calendar year 2023. As of early 2021, the headset — which may be priced around $3,000 — was in the "engineering validation test" phase of the production milestone. However, Apple reportedly still may tweak parts of the device or cancel the headset altogether, following the Meta Quest Pro's lackluster release and a broader decline in VR headset shipments for 2022.
New rumors came out this week surrounding Apple's upcoming virtual and mixed reality headset. Ming-chi Kuo, an analyst known for his Apple predictions, said that the headset will likely launch in the third quarter of 2023. This is behind initial expectations that the product would be revealed in the first quarter, and is due to various hardware and software development issues that have pushed the product behind schedule. Apple is creating an entirely new operating system for this product (rumored to be called realityOS), and the company is likely willing to push back launch to make sure the OS is as polished as possible. While the product reveal may come sooner than the date the device actually hits shelves, Apple is known for keeping these two dates close to each other with past products.

Reports on potential pricing for the headset remain mixed, though all seem to point to a price tag between $1,500 and $3,000. At the lower end, this would be priced the same as the Meta Quest Pro, but most signs point to the device being the most expensive consumer VR headset on the market. The Microsoft Hololens 2 costs $3,500 but uses AR only and is geared towards enterprises. Details on the new Apple headset's display are also scarce, though DSCC believes the resolution would achieve 4,000 pixels per inch, a record among competitor devices.
Investment Themes
Metaverse

India has drafted regulations to oversee online betting.
According to Bloomberg, the proposed rules will represent the country's first attempt to "oversee areas of online gaming that fall into a gray area between gambling and entertainment." India's information technology ministry is seeking to govern apps and websites that transact money from its users, ranging from online casino games to fantasy sports. The draft rules are in response to concerns of gambling addiction in India, particularly among minors. The regulations call for operating companies to form regulatory entities registered with the IT ministry and for each company to appoint a Chief Compliance Officer tasked with verifying player age and identity.
While sports betting remains primarily a U.S. growth story for now, international markets have the opportunity to develop meaningfully as well. In India, sports betting has grown into becoming one of the more popular ways to gamble, in large part due to the accessibility provided by online wagering. However, the legality of online betting in India remains unclear, at best. While anti-gambling laws written in 1867 forbid in-person wagering, the language did not contemplate the concept of online betting, resulting in a gray market of sorts. However, legal sports betting is officially offered in a handful of Indian states, including Goa, Sikkim, and Daman. The newly proposed regulations could provide a framework that allows for the market to gradually develop into a traditional regulated market over time.
Investment Themes
Sports Betting, iGaming

Cantor Fitzgerald says to selectively "buy the dip" in cannabis.
In a research note this week, research analyst Pablo Zuanic stated that "[they] are confident on the regulatory tailwinds pushing the U.S. marijuana industry forward based on a two-year outlook.'" After Congress failed to pass the SAFE Banking Act, Zuanic believes that smaller operators may suffer while they are "even more confident on the durability (insulated model), scalability (via M&A), and long-term outlook of the larger and better-capitalized U.S. MSOs." Specifically, the note highlights Curaleaf, the largest cannabis company globally by market cap, as "a kid in a candy shop" with the potential to pursue accretive M&A. Despite several headwinds, Cantor further noted that 2022 was actually positive for the cannabis industry, as evidenced by President Biden's order for a review of marijuana's scheduling.
With a potential move by the White House to push for a rescheduling of cannabis from Schedule I to Schedule II or lower on the horizon, sentiment and tolerance surrounding cannabis reform appears to be improving in the eyes of Cantor Fitzgerald analysts and lawmakers alike. Despite considerable reform headwinds for the broader cannabis industry that were seen in 2022 as SAFE was struck down, the long term view isn't so bleak.

By Cantor's measure, the U.S. cannabis industry is estimated to generate $100 billion in sales annually at present (of which 25% is legal sales) with the international market representing an additional $100 billion. Therefore, a rough calculation puts the total addressable legal market for global cannabis sales at roughly $200 billion, a figure that dwarfs the combined $17.59 billion market capitalization for the entire cannabis sector (as per the Bloomberg Industry Classification System). As of 12/31/2022, the median market cap of the 6 largest MSOs (i.e. Curaleaf, Greenthumb, Trulieve, Verano Holdings, Cresco Labs, Columbia Care) stood at $1.3 billion. The prospect of transitioning the global cannabis market from illicit and unregulated to regulated and legal sales provides a substantial long-term opportunity for the industry, competition and margin compression aside.
Investment Themes
Cannabis

Japanese gaming company Square Enix is planning for "aggressive investment" into blockchain technology and NFTs in 2023.
In a New Year's letter, Square Enix President Yosuke Matsuda reiterated the company's commitment to the blockchain-related space despite a volatile 2022. According to Matsuda, Square Enix Group is developing multiple blockchain games based on original IPs, and the hope is that these games will bring a stage of growth in 2023. Square Enix's plans to invest heavily in blockchain and NFTs follow the company's sale of multiple game studios to Embracer Group in May 2022 when it said the deal would enable "the launch of new businesses by moving forward with investments in fields including blockchain." Matsuda expressed optimism about the blockchain industry's future, stating that if the turmoil in 2022 leads to new rules and a more transparent business environment, "it will definitely have been for the good of the growth of blockchain entertainment."
Square Enix, the creator of popular franchises like Final Fantasy and Dragon Quest, will be investing aggressively in the blockchain in 2023. The company made a number of investments last year in the industry, including purchasing a stake in Animoca Brands' game The Sandbox and NFT startup Enjin, which they launched an NFT collection in partnership with in 2022. Company president Yosuke Matsuda acknowledged the struggles faced by the industry in 2022 caused by crypto's volatility. He expressed a positive view on Web3, which he described in the letter as having become "a firmly established buzzword among businesspeople."

Matsuda did not mention the company's investments in cloud gaming, which was a focus area of the last two letters. He had previously expressed his belief that the technology would "take off with the advent of 5G," with particular growth in India and South America, regions where consoles have not had significant adoption. This has not yet panned out as services like Amazon Luna and Nvidia's GeForce Now have not yet hit the mainstream, while others like Google Stadia have shut down outright. Lastly, Square Enix has "multiple blockchain games based on original IPs under development", but the company has yet to launch a such a title thus far.
Investment Themes
Metaverse, Gaming

BetFanatics will be powered by UK-based B2B supplier Amelco.
According to a report from Legal Sports Report, Amelco, which has also provided technology solutions to Fox Bet, Hard Rock, PlayUp, and Fubo, will operate as the back-end tech provider for Fanatics upcoming U.S. sportsbook. According to CEO of Fanatics Betting and Gaming Matt King, BetFanatics will launch in the first quarter of 2023 with availability in the majority of regulated state markets before September 2023. Fanatics maintains ambitious goals in the competitive sports betting industry currently dominated by incumbents DraftKings and FanDuel, with Fanatics CEO Michael Rubin stating his belief last year that they "can be[come] the No. 1 player in the world in 10 years." Shares of Kambi, which offers similar B2B sportsbook solutions as Amelco, declined 10.6% in Sweden Thursday after failing to win Fanatics' business.
While Legal Sports Report had already reported on the Fanatics/Amelco relationship in April 2022, the market still had some hope that Kambi would win Fanatics' business based on the stock's performance this week. This is another setback for the Swedish sports betting company after DraftKings and Barstool migrated away from the platform. Further, Unibet operator Kindred has plans to transition away from Kambi when their partnership ends in 2024.

With this string of bad news, an update from Kambi management at its upcoming Capital Markets Day on January 19th will be of utmost importance. In September 2022, Kambi CEO Kristian Nylen noted in a Q&A that the company's approach to modularization is to "continue to build the best end-to-end sportsbook possible but in a way which enables us to offer modules of that service separately, modules which are significantly strengthened by being part of a full sportsbook offer while at the same time having the independence required to fully leverage those benefits to deliver products operators will desire."

As for Fanatics, it will be interesting to see both how their BetFanatics product looks visually and performs against stiff competition. Generally speaking, DraftKings and FanDuel have established themselves as the top players in the states in which they are available, with Caesars and BetMGM in the mix as well. However, it appears as though Fanatics does not want to settle in the middle of the pack based on comments from CEO Michael Rubin last year. While Massachusetts could present BetFanatics the opportunity to compete from Day 1, the Massachusetts Gaming Commission's decision on their sports betting license has been pushed to next week due to a scheduling conflict. During the meeting this week, the company reiterated its goal to launch in the state at or near the time of online betting's launch before March Madness. With 2 million Massachusetts residents in their retail customer database, Fanatics has the opportunity to enter the sports betting market seamlessly, potentially attracting customers away from competition.
Investment Themes
Sports Betting, iGaming

Chart of the Week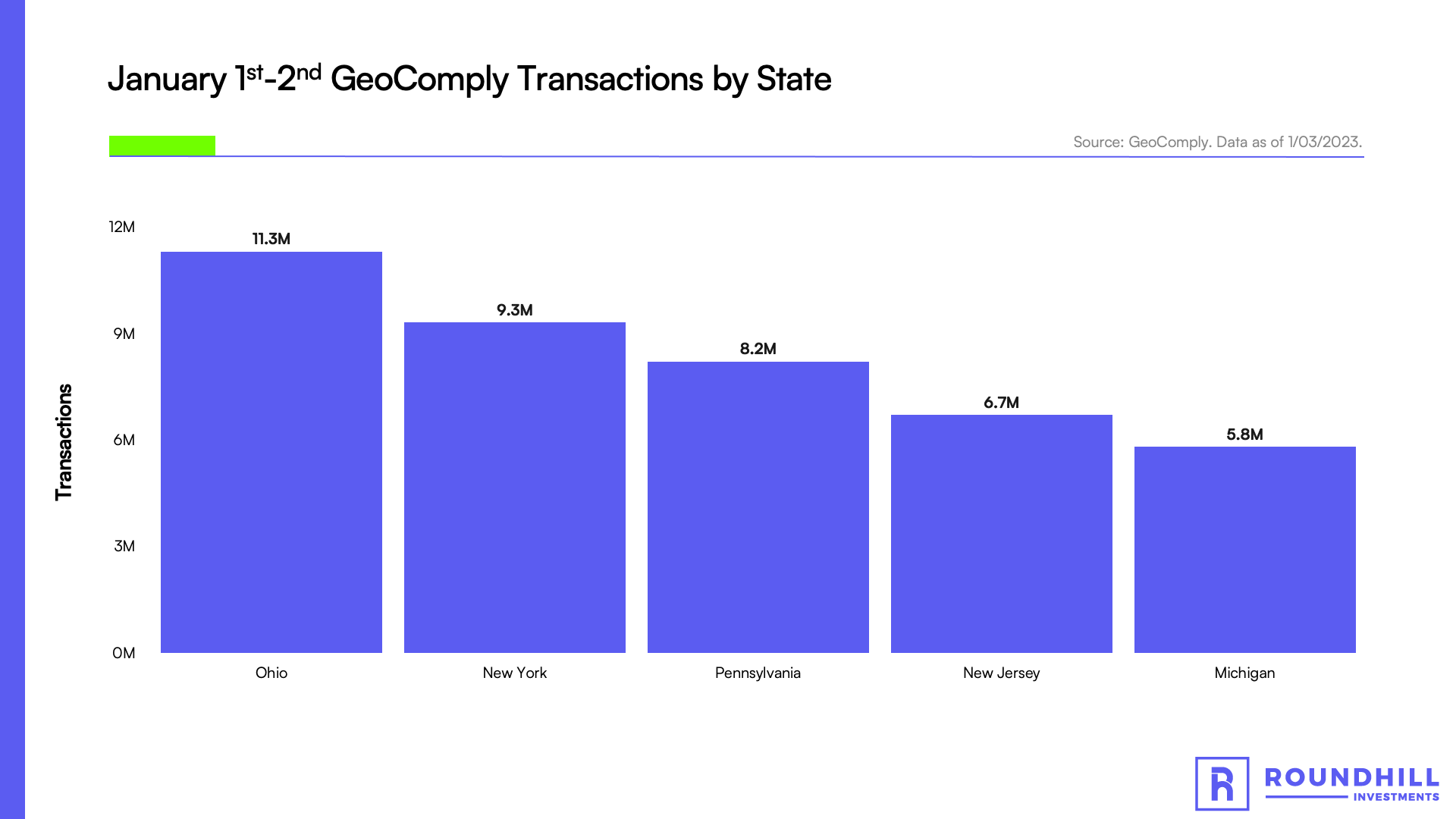 After launching sports betting on New Year's Day, Ohio led all other states in GeoComply transactions from January 1st through January 2nd.

Additionally, with a population of 11.8 million, the Buckeye State saw 783,864 unique accounts place bets while New York, with a population of 19.8 million, had 460,306.