Cannabis Catch-Up
Q4 2022

Lead Stories
1) The White House requested a review of marijuana scheduling under federal law. On October 6th, the Biden administration issued its most direct endorsement for rescheduling cannabis since the President took office nearly two years ago. A statement released by President Biden outlined three steps aimed at ameliorating the "failed approach" that has sent thousands of Americans to prison for using or possessing the substance. First, the Attorney General was directed to develop an administrative process to pardon all prior Federal offenses of "simple possession." This action is aimed at restoring opportunities to disenfranchised individuals who may have been denied employment or housing due to possession.

Next, a call was issued for governors to pardon those imprisoned for related state offenses. This was met with mixed responses from governors of both parties. Lastly, the President called upon the Secretary of Health and Human Services and the Attorney General to review cannabis scheduling under the Controlled Substances Act. Since 1970, the substance has been under "Schedule 1" of the Act, indicating it has no accepted medical use and a high potential for abuse. Rescheduling arguments have been proposed since 1972 to no avail.
2) Green Thumb Industries will begin selling cannabis at select Circle K locations in Florida. An exclusive agreement between Chicago-based MSO Green Thumb and Circle K will see cannabis make its way to 10 of the 600 Circle K gas station convenience stores in the form of "premium flower, pre-rolls, gummies and vapes." Green Thumb already operates the "RISE Dispensaries" brand in Florida and will sell cannabis via a new "RISE Express" brand in leased space adjacent to chosen Circle K locations. Product will be locally sourced from Green Thumb's new cultivation facility in Ocala, Florida.

The medical use of cannabis was legalized in 2016 via a ballot initiative with 71% of the vote, though recreational use in Florida remains illegal. According to Green Thumb's press release, over 700,000 adults in Florida are registered active cardholders in the state's medical marijuana program. While this total addressable market may be small, a successful retail rollout may galvanize support for broader recreational legalization, a potentially huge milestone in the third most populous state.
3) New York began legal recreational cannabis sales. Twenty-one months after being signed into law, recreational marijuana sales have kicked off in New York. The first recreational dispensary in the state opened on December 29th in Lower Manhattan and is operated by a nonprofit called Housing Works. In total, eight nonprofits and 28 for-profit entities were granted CAURD (Conditional Adult-Use Retail Dispensary) licenses in November by the NYS Cannabis Control Board. To promote social equity, these nonprofits will set up shop first in the state, followed by the other approved parties.

In March, Governor Hochul announced the state's "Seeding Opportunity Initiative," which aims to "offset the harms resulting from the disproportionate impact of cannabis prohibition." This initiative not only prioritizes equitable non-profits, but also sets out the criteria for eligible New York cannabinoid hemp farmers, who must pursue sustainability and equity mentorship programs. All retail cannabis sales will be subject to a 13% state and local excise tax – 9% will go to the state, while 4% will go to local governments. For comparison, retail taxes in other legal states range from 6% in Missouri to 37% in Washington.
4) The SAFE Banking Act failed to be included in Congress' year-end spending package. The Secure and Fair Enforcement Banking (SAFE) Act is a piece of legislation that was introduced in the United States in 2019 and passed the House of Representatives in 2021. The bill aims to provide a safe and secure banking environment for the cannabis industry, which currently operates in a legal gray area due to the fact that the substance remains illegal at the federal level.

Despite support from a wide range of organizations including the American Bankers Association, the Credit Union National Association, and the National Cannabis Industry Association, the bill has failed to pass the Senate. Its most recent attempt to be included on the agenda came during the recent lame-duck session in November and December 2022. While many publications ascribed a high probability that the SAFE Banking Act would finally pass, it ultimately was excluded from any of the must-pass bills during the session. Current Senate rules require a three-fifths majority to end debate and move to a vote. Senate Majority Leader Chuck Schumer stated the chamber would continue working on decriminalization efforts in 2023.
5) Germany has begun taking steps to legalize recreational cannabis. The coalition government formed after the 2021 German federal election pledged to legalize cannabis for recreational use. On October 26, 2022, a legalization framework was introduced that would legalize approximately one ounce of cannabis for personal adult consumption. While many countries in the European Union allow for the limited medical use of cannabis, none have yet legalized it recreationally.

Germany has the potential to become a major player in the global cannabis market, as the country has the EU's largest economy and population. The Dusseldorf Institute projected in September that recreational cannabis legalization could earn Germany €4.7 billion per year in revenue. German Finance Minister Christian Lindner expressed optimism that legalization could happen as soon as 2023. However, any framework would have to be put in front of the EU Commission before going live, which may set back this goal. According to a report called "Recreational Europe" from London-based Hanway Associates, 50% of polled Germans said they support legalized cannabis, 29% said they oppose it, and 18% were unsure.


Chart of the Quarter
As of October 2022, the six U.S. "Tier 1" MSOs generated more revenue in their latest fiscal year than the remaining 53 Bloomberg-classified cannabis companies with a >$25 million market cap. When combined they were also EBITDA positive and had smaller FCF losses than their counterparts. MSOs are vertically integrated and have control over the entire cannabis product life cycle, from growing operations to the retail point of sale. This may reduce costs as well as supply-chain related risks. These companies generally also tailor their marketing and pricing strategy on a state-by-state basis. For more details on the financial metrics of Tier 1 MSOs, you can read our recent cannabis investing piece here.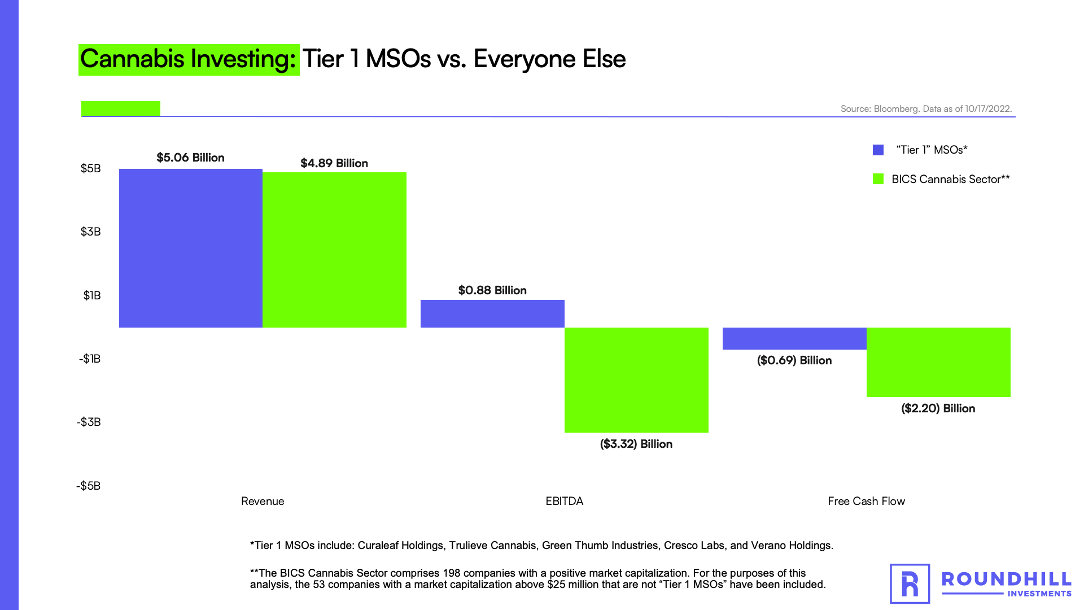 Source: Bloomberg, Roundhill Investments, as of October 2022.

Legalization Update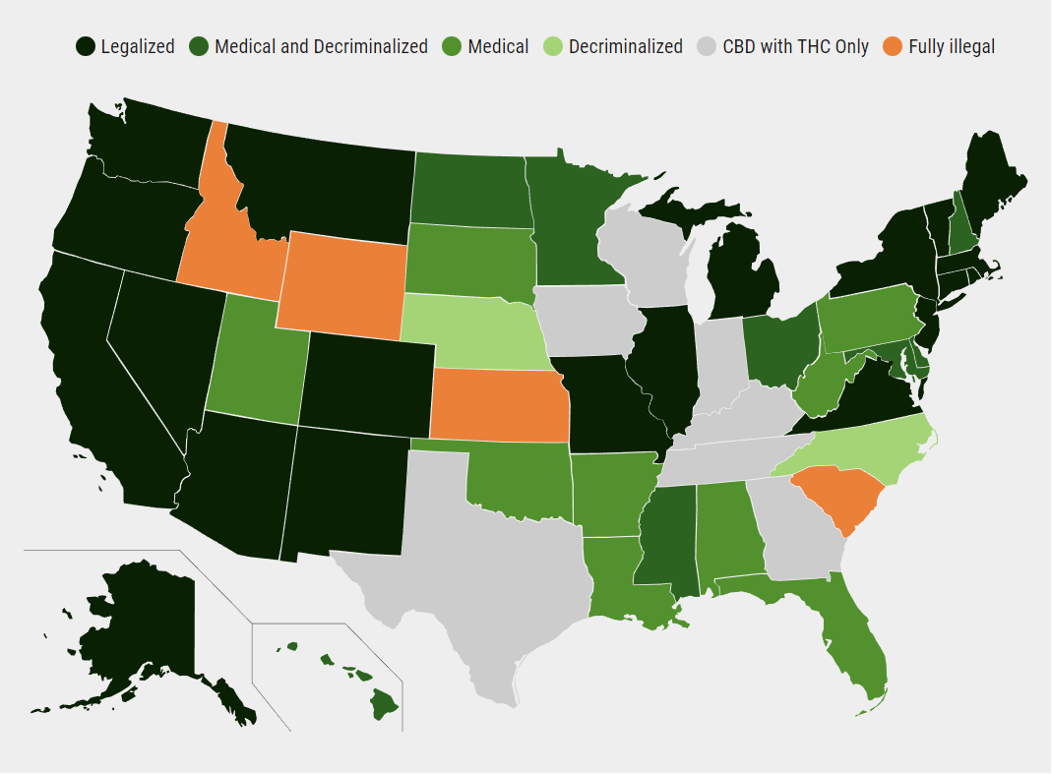 Source: DISA, as of December 2022.
During the quarter, three states made progress regarding their own cannabis legalization efforts: Maryland, Missouri, and Rhode Island.
Maryland:

Voters on November 8th approved "Question 4," a referendum which amends the Maryland Constitution to legalize marijuana use by adults age 21 and older. The referendum received overwhelming approval with 67% of voters in favor. Beginning July 1, 2023, adults in the state will be able to legally possess up to 1.5 ounces of cannabis and grow up to two plants.



Missouri:

Voters on November 8th approved "Amendment 3" by a narrow margin with 53% in favor. Similar to Maryland's legalization process, this initiative amends the Missouri Constitution to legalize marijuana use by adults age 21 and older. The amendment went into effect on December 8, 2022. Sales will be taxed at a 6% rate and consumers will be allowed to legally possess up to 3 ounces of cannabis.



Rhode Island:

Governor Dan McKee signed Rhode Island's legal cannabis measure into law on May 25, 2022, after successful passage through the state legislature. Starting on December 1st, Rhode Island commenced recreational cannabis sales through five licensed medical dispensaries. These dispensaries received "hybrid retail licenses" which allow them to sell cannabis for recreational use; medical use was approved in 2006 via the state legislature.
Federally, no progress has been made regarding national legalization. The SAFE Banking Act, which would permit cannabis businesses to operate nationwide, failed to be included in the Senate's year-end agenda. Current federal restrictions require these businesses to operate within individual states, prohibiting access to national banking services. The measure failed to go through the Senate's committee hearing process in December after it became clear that it would not garner the requisite 60 votes to pass.

Fully Legal: 21 States + DC (Alaska, Arizona, California, Colorado, Connecticut, DC, Illinois, Maine, Maryland, Massachusetts, Michigan, Missouri, Montana, Nevada, New Jersey, New Mexico, New York, Oregon, Rhode Island, Vermont, Virginia, Washington)
Total Population Represented: 159.2 million // 47.4% of U.S. population Latest Legal State: Missouri (Full effect: December 8, 2022)
Medical and Decriminalized: 8 States (Delaware, Hawaii, Louisiana, Minnesota, Mississippi, New Hampshire, North Dakota, Ohio)
Total Population Represented: 29.8 million // 8.9% of U.S. population
Medical Only: 8 States (Alabama, Arkansas, Florida, Oklahoma, Pennsylvania, South Dakota, Utah, West Virginia)
Total Population Represented: 52.4 million // 15.8% of U.S. population
Decriminalized Only: 2 States (Nebraska, North Carolina)
Total Population Represented: 12.4 million // 3.7% of U.S. population
Source: DISA, U.S. Census Bureau. In states with any form of decriminalization, cannabis is legal for adults aged 21 and over.