Roundhill Roundup
Record Sports Betting Year + NY Begins Cannabis Sales
Week of 12/26/2022

Online sports betting in the U.S. had a record-breaking year in 2022.
According to Variety Intelligence Platform, $73.3 billion was wagered on online sportsbooks from January to October, a 98% increase from the same period in 2021. With November wagers totaling more than $6.3 billion, mobile sports betting is set to eclipse $80 billion for the year. New York — which was one of five states to launch mobile sports betting in 2022 — had the highest amount wagered during the January to October period at $13 billion. More states are expected to launch online sports betting in 2023, including Ohio, where DraftKings announced they plan to launch their online sportsbook on New Year's Day.
Since PASPA was overturned in May of 2018, legal online sports betting in the U.S. has become extremely popular, evidenced by the data from Variety in the now 25 states (plus Washington D.C.) it is legal in. Naturally, as more states come online, the overall market will grow. This year, five states launched online sports betting, including New York. The Empire State wasted no time in becoming the biggest sports betting market, totaling $13 billion in wagers from January to October. This surpassed New Jersey which saw $8.1 billion during the same period. The market is set to expand again in 2023, as Ohio is scheduled to launch on January 1st with DraftKings and ten other operators. According to Play Ohio, residents of Ohio are projected to place $8 billion in bets in 2023, of which 35% are expected to be wagered on basketball and 33% on football. Between the addition of the Buckeye State (alongside Massachusetts) and growth in states already live, it would not be surprising to see 2023's total amount wagered top $100 billion.

In Variety's 2022 sports betting report, there is an interesting correlation between sports betting and sports viewership. According to data collected by CRG Global in October, 67% of NFL bettors eighteen and over say they watch more than usual when betting on a game. There are similar trends across all other sports, suggesting a link between betting on a sport and an increased chance bettors watch a game. This may prove important for sports leagues to consider when thinking about deals with sportsbooks like DraftKings, FanDuel, and others, to the extent that if they can aid in getting more bets placed, they likely will improve viewership. The same can be said for cable networks and streaming providers. All in all, 2022 was a record-breaking year, which may be topped once again in 2023.
Investment Themes
Sports Betting

New York started legal recreational cannabis sales.
The state's first dispensary operated by Housing Works Cannabis Co. opened in Greenwich Village in Manhattan on Thursday at 4:20 P.M. Managers of the store said they were expecting over 2,000 visitors on Thursday and anticipated selling out of its products by Saturday. Housing Works CEO Charles King compared the business of operating a cannabis dispensary to the non-profit's thrift stores, stating "in some respects, retail is retail." In its first year, Housing Works is hoping to generate almost $1 million in pretax revenue. By launching a store before the New Year, New York met its deadline to begin sales in 2022 after former New York Governor Andrew Cuomo signed the bill into law in March of 2021. The New York State Cannabis Control Board has approved 36 Conditional Adult Use Retail Dispensary Licenses, including 28 for qualifying businesses and 8 for non-profits.
After nearly two years since being signed into law, recreational marijuana sales have kicked off in the Big Apple. The first recreational dispensary in the state opened on December 29th in Lower Manhattan, and is operated by a nonprofit called Housing Works. This is one of the eight nonprofits and 36 entities total that was granted a CAURD (Conditional Adult-Use Retail Dispensary) license in November by the NYS Cannabis Control Boards. The entire first round of openings will be handled by nonprofits, something done deliberately by the state to maximize social equity. In Housing Works' case, profits will go to people living with AIDS and those who are currently homeless or were formerly incarcerated.

All retail cannabis sales will be subject to a 13% state and local tax. Former Governor Cuomo had previously stated the industry could create up to 60,000 jobs and bring in $350 million annually in tax collections. This is especially important as the state has faced an exodus of residents since the start of the pandemic, which has depressed revenue and has led New York City to project a large budget shortfall. The city's mayor, Eric Adams said in a statement that the legal cannabis market represents a "major boon to New York's economic recovery." Coupled with the legalization of recreational cannabis in Maryland and Missouri in November, state regulatory momentum in the United States is positive, despite the lack of a unified bill on the federal level.
Investment Themes
Cannabis

China ended its ban on imported games, granting 44 licenses to foreign games for domestic release.
The list, published on Wednesday by the National Press and Publication Administration (NPPA), was the first batch of foreign approvals since June 2021 when 76 licenses were granted. Tencent received licenses for the first-person hero shooter Valorant from U.S. developer Riot Games, alongside Pokemon Unite (published by The Pokemon Company). Meanwhile, NetEase received a license for Fantasy Life, a role-playing game from Nintendo. The NPPA also granted licenses to 84 locally developed games, bringing 2022's total number of licenses for domestic video games to 462, down from 755 in 2021. Shares of Tencent and NetEase rose 4.3% and 1.1% this week, respectively.
Foreign game licenses are finally being doled out again in China after an 18 month pause. Given the nation's crackdown on gaming and technology more broadly that started last year, it was unclear when, if ever, these licenses would be granted to foreign game publishers again. The removal of this overhang has diminished short-term uncertainty in the Chinese video games market, though licenses could just as easily be revoked if the nation's lawmakers have a change of heart.

Tencent subsidiary Riot Games' first-person shooter Valorant notably received approval during this first round. Valorant is one of the most popular esports in the world, and may prove to be popular in China which has the most esports viewers of any country by a wide margin. According to Valorant's official Weibo account, the game will launch in China under the name "Fearless Covenant." This approval has huge implications for Riot's planned launch of Valorant Mobile, which is expected to debut next year on Android and iOS devices. Most gamers in China play on their smartphones, and more broadly, mobile esports titles in Asia are more popular than those released for console or PC.
Investment Themes
Gaming

PointsBet is in discussions to sell its Australian trading business to NTD Pty Limited.
After media speculation published in The Australian on December 23rd, PointsBet issued a statement this week confirming that it is speaking with the owners and operators of Australian wagering operator Betr about a potential sale of its Australian unit. According to PointsBet, the discussions are "incomplete and preliminary in nature," and there is "no certainty that these discussions will result in any binding transaction." In June of 2022, PointsBet rejected an offer for its Australian business unit from Betr — which is owned by Rupert Murdoch's News Corporation, Tekkorp Capital, and BetMakers Technology Group — worth between A$220 million and A$300 million. Shares of PointsBet closed the week higher by 10.4% in Australia.
PointsBet's confirmation that they are speaking with the owners and operators of Australian wagering startup Betr was a welcome sign for its investors, as the stock has suffered greatly this year, finishing down 78.9%. In June, Betr's offer for PointsBet's Australian unit was between $220 million and $300 million (AUD). Being that PointsBet, like other sports betting companies, saw their stock fall considerably in 2022, it may be the case that the new offer for its Australian trading business will be below the low end of the previous range.

If Betr is able to finalize a deal this time, they would be adding about 232,000 Australian customers that generated $600 million in turnover in September. In August, PointsBet stated they are seeking to garner 10% of the Australian market by 2025, which would be double from where they currently stand, according to The Sydney Morning Herald. For PointsBet, a deal would provide instant cash flow and the ability to focus entirely on its U.S. expansion. PointsBet is currently the seventh largest operator in America, operating in 13 states plus Canada. As of Friday's close, PointsBet had a market capitalization of $454 million (AUD). If we take the low end of the previous offer range ($220 million AUD), this implies a ~$230 million (AUD) valuation for its U.S. business. Given the depressed valuation but respectable market share, PointsBet remains a potentially attractive takeover target.
Investment Themes
Sports Betting

The Meta Quest app was the number one free app on Christmas Day on the iOS App Store.
The holiday success for the app that accompanies the virtual reality headsets Meta Quest 2 and Meta Quest Pro follows a 2021 Holiday where the app reached the top of the App Store for the first time ever (then named Oculus). In the days leading up to Christmas, there were a number of tweets showing empty shelves for Meta Quest headsets, suggesting they once again would be a popular holiday gift. According to data from research firm NPD Group, sales of virtual reality headsets declined 2% year-over-year to $1.1 billion. Additionally, data from CCS Insights says shipments AR/VR devices fell 12% year-over-year to 9.6 million in 2022.
The maker of the world's best selling virtual reality headset saw light sales headwinds during the holiday season. Sales were down 2% year over year, which is impressive considering last year's sales were accompanied by favorable market dynamics for the Meta Quest 2 and Meta Quest Pro. In 2021, the Meta Quest series of headsets simply had less devices to compete with relative to 2022. The less competitive environment can be attributed to supply shortages for gaming consoles such as Sony's PlayStation 5. However, this won't last long, as several high profile headsets are slated to launch in the future, including Apple's Mixed Reality Headset (announced in 2022) and the PlayStation 5 VR/ PlayStation VR 2 headset, among others.

By the end of the decade, Meta is hoping, with the help of its investment in its Reality Labs division, that VR experiences are going to be better than today's PCs in every way — working in mixed reality with more advanced hardware. According to Zuckerberg, in five years, this VR hardware will exist. In ten years, mixed reality will be ubiquitous and eventually, accessible to all.
Investment Themes
Metaverse

Chart of the Week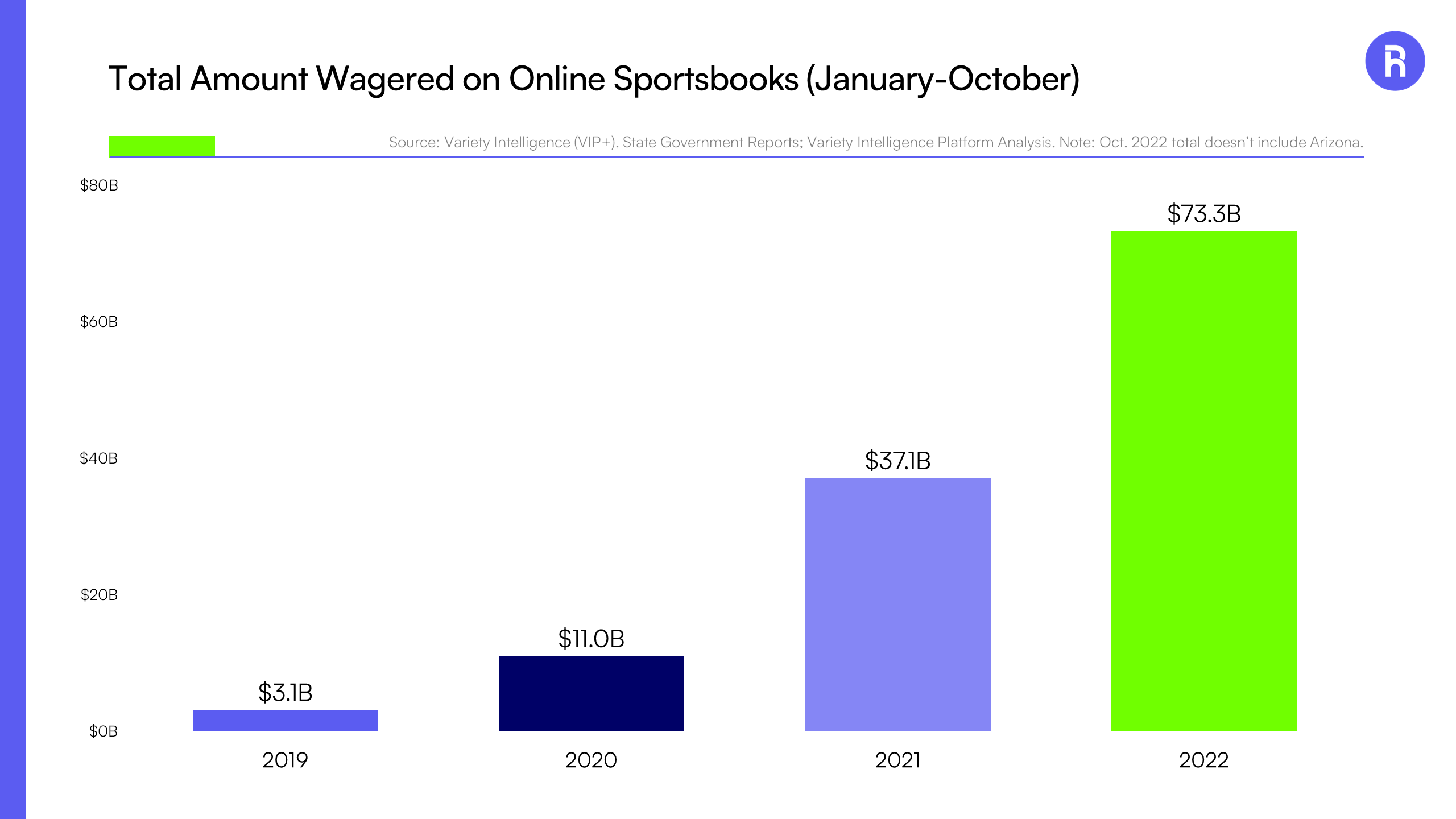 2022 was a record year for sports betting, with the total amount wagered on online sportsbooks between January and October totaling $73.3 billion, according to Variety Intelligence Platform.

This represents a 98% increase from 2021 and a more than 2,000% increase from 2019.