Roundhill Roundup
Roblox's Big Quarter + DraftKings Winning Bets
Week of 02/13/2023

Around the Markets:
Stocks fell and bond yields jumped in the week ended February 17 as inflation in the U.S. led to expectations of bigger rate hikes from the Federal Reserve and a higher peak rate. The consumer price index for January came in largely in-line with economist expectations, but showed a pickup in energy prices, while producer prices rose more quickly than projections. Bloomberg's World Interest Rate Probability now expects a peak Federal Funds rate of 5.3% vs. 5.19% last week.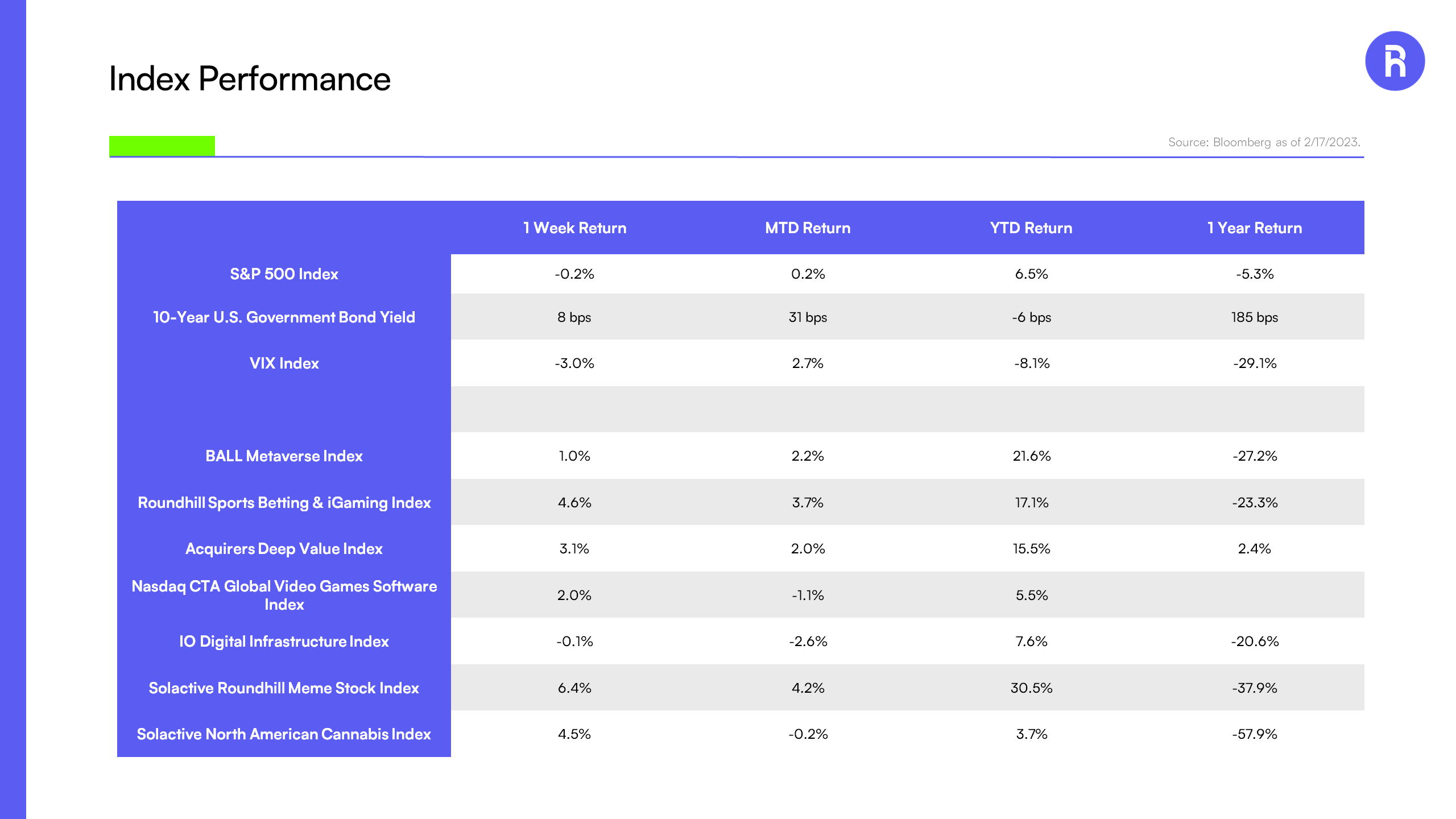 Source: Bloomberg
Note: Bond yield change in basis points

Roblox Surges as it Keeps Building Towards Its Vision of the Metaverse
Roblox's shares surged 26% on February 15 after the company reported better-than-expected bookings and adjusted EBITDA for 4Q22 and posted record January operating metrics. EBITDA at $183 million was notably nearly double consensus and above the highest estimate. The gain on Feb. 15 was the biggest percent increase for the shares since November 2021, according to Dow Jones.
Our Take:
Roblox's strong profitability in 4Q and January metrics are helping to negate the bear case that it can't grow profitably except during times of peak engagement such as the height of the pandemic in 2020 and 2021. Before 4Q, its EBITDA margin declined from a peak of 32% in 2020 to 25% in 2021 and was printing single digits in 2Q22 and 3Q22. But a very strong 4Q margin of 20% shows that the company has significant operating leverage that can come organically from revenue growth while it continues to invest rather aggressively in headcount and infrastructure.

As CFO Mike Guthrie said, "I know the concept of efficiency is being talked about a lot, which is obviously very, very important and you can get there in a couple of different ways, you can get there through cutting costs and get there through growth in the top line or you can get there by doing both. We chose very strategically last year to invest in the belief that the topline would grow and we would see that kind of leverage."

January metrics were also very strong, with a record 65 million daily active users (DAU) for the month and hours engaged reaching 5 billion, the first month to reach the 5 billion threshold. Monetization, measured by average bookings per daily active user and monthly average bookings per paying user, also appears to have bottomed out and is back on a growth trajectory following a post-pandemic lull. Altogether, it appears that Roblox has passed the trough of its financials driven by the post-pandemic economic re-opening and the broader macro environment and is set to re-accelerate growth through 2023.

Over the long-term, CEO Dave Baszucki reiterated that the company remains focused on reaching a goal of 1 billion daily active users vs. 58 million in 2022. To get there, the company will continue making investments in its engineering team, trust and safety, and infrastructure.

Because of these investments, Roblox's margin and growth profile could be lumpy. But we believe the company has several levers to pull in the next few years to sustain its growth and boost engagement such as advertising, branded content and live events.
Investment Themes
Gaming, Metaverse

DraftKings Surges on Improving Path to Profitability, Strong Growth
DraftKings shares surged 15% on February 17 after the company reported a narrower-than-expected EBITDA loss in 4Q and revenue above consensus. DraftKings now expects an EBITDA loss of $350 to $450 million in 2023 vs. estimates for a loss of over $500 million and sees revenue for the year in-line with consensus.
Our Take:
It's encouraging to see DraftKings post better-than-expected results and guidance fueled both by cost cuts and revenue growth. The company is continuing to grow while reining in expenses, putting it on a path to profitability sooner than previously expected.

Notably, DraftKings reported positive EBITDA in October and, excluding launch costs for Maryland and Ohio, had positive EBITDA for the entire quarter. As the focus for online betting companies like DraftKings shifts to growing profitably and reining in promotional expenses, this is a really important reflection that the business, once at a steady state, can operate profitably.

DraftKings is now live with mobile sports betting in 20 states that account for 42% of the U.S. population and plans to launch in Massachusetts and Puerto Rico in 2023 which will bring it to 45% population coverage. Additionally, 10 states that represent 19% of the U.S. population have either introduced legislation to legalize mobile sports betting or introduced bills that may result in sports wagering referendums during an upcoming election.

These state-level initiatives to legalize mobile sports betting represent big opportunities for DraftKings and peers such as Flutter's FanDuel and BetMGM. Now that we can see DraftKings' ability to grow profitably, these are potentially even more exciting.
Investment Themes
Sports Betting, iGaming

Schumer Rallies Senate for SAFE Cannabis Bill While Veterans Committee Pushes Medical
Cannabis shares rallied 4.5% last week, per the North American Cannabis Index, after Senate Majority Leader Chuck Schumer met with Republican Senators to seek a bipartisan consensus on how to proceed forward with cannabis legislation, according to Marijuana Moment. The Senate Veterans' Affairs Committee also approved a bill to mandate that the Department of Veterans Affairs study medical marijuana for veterans with PTSD and chronic pain.
Our Take:
The Democrats failed to garner enough support for comprehensive marijuana reform in the prior congress and ran out of time to pass narrower legislation before the next congressional session began. With the Republicans gaining control of the House, comprehensive reform appears a remote possibility but narrower legislation, especially focused on banking reform or veterans affairs, could find a bipartisan middle ground.

The Secure and Fair Enforcement (SAFE) Banking Act passed the House and the Senate's SAFE+ version could now come to the floor despite the lame duck session. Whichever version eventually makes it through Congress, the reforms would go a long way toward reducing the regulatory burdens facing the banking sector in dealing with legal cannabis operators and be a major boon to the industry.

Still, comprehensive reform is the preferred route for legalization, but with a split congress unlikely to budge on this, SAFE+ could help move the needle forward towards greater liberalization of the industry.
Investment Themes
Cannabis

Flutter Shares Rally on Prospects for U.S. Secondary Listing
Flutter shares rallied 1.8% on February 14 after the company announced that it is considering a secondary listing of its shares in the U.S. The company's board of directors said the move would boost its profile in the market, access to talent, deepen its capital access, and pave the way to a possible primary US listing later on.
Our Take:
A possible U.S. listing by Flutter could help the company deepen its presence in the rapidly growing U.S. market through its FanDuel subsidiary, though the move probably means that a standalone IPO of FanDuel is off the table. FanDuel is coming off a strong year, gaining significant market share in many key U.S. states, according to an analysis by Bloomberg Intelligence.

Another benefit for Flutter could also come from the network effects of possible deeper connections with retail investors who may trade its stock and then become sports-betting customers. This is a similar dynamic experienced by rival DraftKings. FanDuel is also on pace to become the first U.S. online sports betting company to turn EBITDA profitable in 2023, which could further support the rationale for a U.S. listing as rivals continue to lose money.
Investment Themes
Sports Betting, iGaming

Apple Delays Upcoming Mixed Reality Headset to Iron Out Bugs
Apple is delaying the reveal of its upcoming mixed reality headset two months until its June Worldwide Developer Conference (WWDC), Bloomberg reports, as it still has both hardware and software issues to iron out. Still, Apple is gearing up to enter its first new major product category since 2015 and mark its presence in immersive hardware with the device.
Our Take:
Apple's long-rumored entry to the immersive hardware market faces yet another delay and it's uncertain when consumers can actually get their hands on the hardware at this point. If Apple is going to unveil the device and the accompanying software at WWDC, it suggests that this will be the point at which it starts seeding the developer base with test hardware and software development kits to begin building apps. If this is the case, it means the hardware won't be available for consumers for at least a few more months.

Apple will probably be able to tap its hardcore fans for an initial wave of device sales regardless of the quality of the hardware and software available at launch but the product is unlikely to achieve mass-market appeal without a truly killer app. And with a rumored $3,000 price point, it's probably well-above the budget for the average consumer and will likely remain relegated to the fans.

The jury is still out on immersive hardware as a gateway to metaverse experiences long-term, with Meta's Oculus seemingly reaching a degree of saturation already and lacking a killer app to drive mass adoption. Can Apple break the trend and reach mass adoption? It really rests on the software that is developed for the hardware, which is why it isn't out of the realm of possibility that there could be a long gap between the unveiling of the device at WWDC and when it's actually available to consumers.
Investment Themes
Metaverse

Savvy Gaming Group Keeps Splashing the Cash - is the Strategy Savvy Enough?
Saudi Arabia's state-owned Public Investment Fund, which oversees its Savvy Gaming Group, increased its stake in Nintendo last week to 8.3%, making it the largest external shareholder of the company, and it bought China's VSPO, an esports event organizer, for $265 million. The state-owned investor continues to splash the cash and is nowhere close to being tapped out, given its initial $38 billion of funding.
Our Take:
Savvy Gaming continues to seemingly be single-handedly trying to save esports and it has put its money where its mouth is. After acquiring ESL from MTG for over $1 billion in early 2022 and merging it with FACEIT to create a dominant North American esports event organizer, it's now adding a presence in China with VSPO.

It's still to be determined if the amount of capital Savvy is using to back esports will eventually be money good but up until now, it's definitely the case that large-scale esports events and leagues have failed to live up to the hype and monetary expectations they once were. The pandemic was a significant disruption to the industry, but there were even signs of cracks ahead of that.

Alongside buying esports companies, Savvy is now one of the world's largest investors in public video game equities. They own stakes in Nintendo, Activision Blizzard, Nexon, Electronic Arts, Take-Two, Embracer, Capcom and Koei Tecmo, per Bloomberg data. Its holdings of these companies amount to roughly $13.5 billion now.

These investments are all part of Saudi Arabia's plan to become a hub for gaming and esports by 2030, with a warchest of about $38 billion, including funds allocated for strategic M&A, minority investments and startup investments. The country is aiming to establish 250 games companies, 39,000 jobs and increase the sector's share of domestic GDP to 50 billion rials, or about $13 billion.
Investment Themes
Gaming
Chart of the Week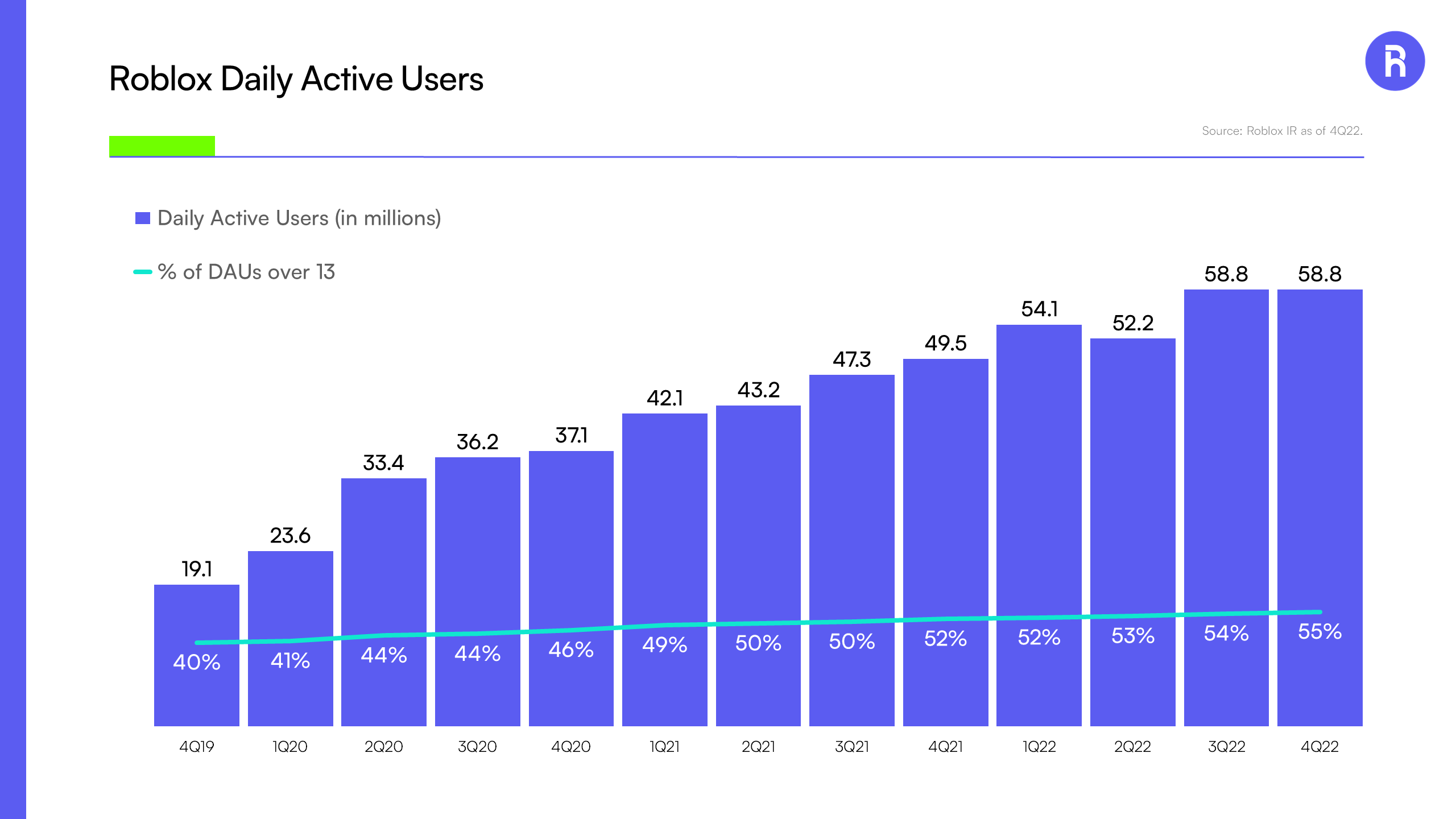 Roblox DAUs in 4Q22 remained at a record 58.8 million. In its earnings report, the metaverse company also revealed DAUs reached a record 65 million in January.

The number of DAUs over the age of 13 has steadily increased since 2019, now sitting at 55% of the total.