Roundhill Roundup
SAFE Banking's Failure + Epic Games Settlement
Week of 12/19/2022

The Secure and Fair Enforcement (SAFE) Banking Act was not included in the $1.7 trillion federal spending bill.
After being excluded from the National Defense Authorization Act, SAFE was left out of Congress' spending package this week. According to Senate Majority Leader Chuck Schumer (D-NY), Senate Minority Leader Mitch McConnell (R-KY) and Senate Banking Committee Ranking Member Pat Toomey (R-PA) opposed attaching SAFE to the bill. Schumer had been making a "last-ditch effort" to push SAFE through before the next Congress when Republicans take control of the Senate. Despite the change in leadership, Schumer notes that the SAFE Banking Act is bipartisan with "support from many groups" and they will "go back at it next year." Shares of multi-state operators Green Thumb and Curaleaf closed the week lower by 14.8% and 16.9%, respectively.
After failing to be included in either the NDAA or omnibus, SAFE Banking will now become a 2023 or 2024 issue for the cannabis industry. In the meantime, investor sentiment has turned extremely negative on the sector and a dearth of liquidity suggests continued volatility ahead. Cowen downgraded Cresco Labs and Columbia Care on the back of SAFE's omission, highlighting additional risks to their combination transaction closing. If the deal were to fail to close, Cowen's Vivien Azer notes that Cresco's "heavy reliance on wholesale" could be negatively impacted by third-party retail partners struggling with mounting headwinds and constrained access to capital markets. Columbia Care, meanwhile, would be left as a standalone company with a meaningful debt load.

On the positive side of things, multi-state operator Trulieve was able to complete two distinct financing transactions this week. The first transaction, which resulted in $71.5 million of gross proceeds, came in the form of a five-year loan at a fixed rate of 7.53%. The second deal, which includes a fixed rate of 7.3% for five years and then floats at a 350 basis point spread to the five-year Treasury for an additional five years, was for $18.9 million. In light of a miss on SAFE Banking and continued tightening from the Fed, these transactions appear favorable and represent an incrementally positive data point. We continue to believe that the largest and best-run multi-state operators will continue to have the ability to pursue such transactions, whereas smaller players are likely to be tapped out of capital markets. This may lead to further consolidation in the sector, particularly if macro headwinds persist into the new year.
Investment Themes
Cannabis

Fortnite creator Epic Games agreed to two record-setting settlements with the FTC for a total of $520 million.
The agreement settles allegations from the FTC that Epic violated the Children's Online Privacy Protection Act (COPPA) and used "dark patterns" to trick millions of users into making unintentional purchases. Epic will pay $275 million to resolve alleged COPPA Rule violations, the largest penalty the FTC has ever received for such a rule violation. The FTC alleged that Epic collected personal information of players age 13 and under without parental notification or consent. In the lawsuit, the FTC also claimed Epic "violated the FTC Act's prohibition against unfair practices by enabling real-time voice and text chat communications for children and teens by default." For its use of dark patterns and deceptive billing practices, Epic will pay $245 million in refunds to customers, representing the largest refund amount on record in a gaming case. These dark patterns included "counterintuitive, inconsistent, and confusing button configuration" which led to "unwanted charges based on the press of a single button." As part of the settlements, Epic did not admit to nor deny the FTC's allegations.
The historic $520 million settlement between the FTC and Epic Games can be seen as a warning to the industry as a whole, specifically as to how games like Fortnite and Roblox market microtransactions toward children. Some of the ways in which the FTC alleged that Fortnite used dark patterns are certainly concerning, including how "players could be charged while attempting to wake the game from sleep mode." Another illegal method the complaint alleged against Epic was that up until 2018, children were able to purchase V-Bucks — virtual currency in Fortnite — by simply pressing a button without any additional parental or cardholder consent. Beyond these practices, according to the FTC, Epic ignored over one million user complaints as well as employee concerns about the "huge" number of wrongfully charged users. By ordering the largest refund to customers ever in a gaming case, the FTC is making an example of Epic, showing that there is no place for misleading purchasing methods, especially toward minors.

The other settlement relates to alleged privacy violations of minors according to the Children's Online Privacy Protection Act (COPPA). The FTC alleged that Epic collected personal information from children under the age of 13 playing Fortnite without notifying their parents or obtaining parental consent. In addition, Fortnite had settings on by default that enabled text and voice communications, and when children matched with strangers in games, resulted in harm where players were "bullied, threatened, harassed, and exposed to dangerous and psychologically traumatizing issues such as suicide while on Fortnite." Employees warned that the default settings should be changed as early as 2017, and even after it added the ability to turn off voice chat, Epic made it difficult to find the option, according to the complaint. Gaming practices in the United States have generally been far more lenient than in other countries, such as China. That being said, this week's settlements re-emphasize that gaming companies need to be very careful in their privacy and transaction processes, no matter the country or age of the players.
Investment Themes
Gaming

China's Zhejiang province is planning to develop metaverse-related industries worth over 200 billion yuan by 2025.
According to official provincial development plans, the home to Chinese e-commerce giant Alibaba has plans to build a supply chain and industry ecosystem, as well as promote metaverse applications in the e-commerce and entertainment industries. The Zhejiang government also will look to integrate the real economy and metaverse across manufacturing, medicine, and city development. The plans, which are designated for 2023 to 2025, include the goal of grooming 10 industry leaders and 50 enterprises specializing in AR/VR, blockchain, and artificial intelligence. In addition to Zhejiang, Shanghai, Hangzhou, and Wuhan have each announced similar metaverse plans. As local governments look to partake in the growth of the metaverse, Chinese state media has issued warnings regarding its development, including last month when China's top economic newspaper, the Economic Daily, cautioned against "feverishly" jumping on the metaverse bandwagon.
The government-backed metaverse development plan in China's Zhejiang province is the latest example of a state-run initiative aimed at the nascent concept. As the home of some of the largest technology companies in China including the likes of Alibaba, Ant Group, and NetEase, the Zhejiang province and the city of Hangzhou have established themselves as something of a regional tech hot bed. Technology companies in Hangzhou have helped to shape the city's future, driving progress and advancement in various fields such as artificial intelligence, e-commerce, and digital media. Alibaba already has a large footprint in the capital city, having recently opened a sprawling 10 building campus for Alibaba Cloud in October. Alibaba's metaverse ambitions, combined with government support, could potentially attract even more tech talent to Hangzhou.

The metaverse concept, a virtual world where people can interact with each other and with virtual objects and environments in real-time, has been a focus for Alibaba in recent years. The company has made significant investments in the development of its own metaverse-esque shopping experience, known as "Tmall Luxury Pavilion", which it envisions as a new frontier for online commerce, entertainment, and social interaction. If successful, this platform could have significant implications for the luxury and tech industries in China and beyond. Due to the country's tight internet censorship restrictions, the metaverse in China may very well be separate from the rest of the world, similar to other Chinese internet technologies such as social media, search, and commerce platforms.
Investment Themes
Metaverse

New York's recreational marijuana sales will begin on December 29th.
The state's first licensed dispensary will be opened in Greenwich Village by Housing Works, a non-profit organization that operates charitable thrift stores in New York City. The venue will sell a number of cannabis products, including pre-rolled joints, concentrates, and edibles. In her announcement Wednesday, Governor Kathy Hochul stated that the cannabis industry "will continue to grow from here, creating inclusive opportunity in every corner of New York State with revenues directed to our schools and revitalizing communities." New York's cannabis law, which was approved in March of 2021 by the state legislature and then by former Governor Andrew Cuomo, is a "seed to sale" program, meaning flowered products must be grown, cultivated, manufactured, and sold in New York. As part of its Seeding Opportunity Initiative, New York awarded the first 36 cannabis licenses (26 to individuals and 8 to non-profit groups) to people who have had marijuana-related convictions or non-profits providing assistance to those who have been harmed by "unequal enforcement of cannabis prohibition." According to Bloomberg, New York State could eventually become the world's second-largest marijuana market behind California.
New York State is finally gearing up for the launch of its recreational cannabis market, three years after reform decriminalization was passed. However, the state's two-tier system, which is designed to separate cultivation from retail, means vertically-integrated cannabis companies are unlikely to reap any rewards. The state's regulation mirrors the state's policy on alcohol, whereby an individual entity cannot own and/or operate a retail dispensary insofar as they own and/or operate a wholesale supplier (i.e. a cultivation facility). By definition, New York is attempting to create a market dominated by "mom and pop" operators rather than large publicly-traded cannabis companies. Meanwhile, all operators in New York will be competing with a fast-growing illicit market, estimated to represent $2 billion in annual sales. New York's illicit market has expanded rapidly amongst unregulated storefronts since initial legislation was passed.
Investment Themes
Cannabis

Massachusetts is expected to launch retail sports betting in January and online sports betting in early March.
The timeline coincides with Super Bowl LVII on February 12th and the beginning of March Madness on March 14th. On Tuesday, the Massachusetts Gaming Commission (MGC) approved Plainridge Park Casino's (owned by Penn Entertainment) application for a temporary Category 1 retail sports betting license. However, there remain concerns regarding the casino's ties to Barstool Sports and its plan to partner with Barstool Sportsbook for retail and online sports betting. The MGC has been very critical of Barstool Sports founder Dave Portnoy, who the New York Times recently labeled as a "degenerate gambler." Discussing Portnoy, MGC Commissioner Brad Hill said that "some of the comments he's made in the past fly in the face of responsible gaming," while Commissioner Eileen O'Brien says she wants a "full sustainability review of Barstool." By granting the temporary license, the MGC can open its suitability investigation into Barstool Sports, which will take place after the holidays, according to MGC Chair Cathy Judd-Stein. In addition to Plainridge, Encore Boston Harbor and MGM Springfield were awarded licenses for retail betting, while Caesars Sportsbook and WynnBET were awarded licenses to operate mobile sports betting applications through Encore Boston Harbor. According to Massachusetts lawmakers, the state is expected to generate $70 million in gaming licenses and another $70 million annually in tax revenues.
The Massachusetts Gaming Commission's concern over Dave Portnoy and Barstool Sports' ties to the Plainridge Park Casino is not an issue we have seen come up in any prior state launches. One of Commissioner Eileen O'Brien's principal concerns is that Barstool on a number of occasions has held in-person shows at or near college campuses, including an instance that resulted in a possible fine from the Ohio Casino Control Commission for a broadcast on Toledo's campus. During the show on November 15th, Barstool personalities urged attendees to sign up for the Barstool Sportsbook app which will begin operations in Ohio on January 1st. The state of Ohio prohibits anyone under the age of 21 from placing bets, and there was no age restriction for attendees of the show. The alleged violation may result in a $250,000 fine for Penn Entertainment.

Meanwhile, during the several-hour meeting with the MGC, Penn CEO Jay Snowden tried to quell concerns over Barstool's direct ties to the sportsbook by noting that the site is merely a marketing partner "with zero control over any Penn, Plainridge Park Casino, or Penn Sports Interactive gaming operations." The two sides agreed to subjecting Barstool Sports to a suitability investigation by the Massachusetts Investigation and Enforcement Bureau in February once Barstool is to become a fully-owned subsidiary of Penn Entertainment. It sounds like the two sides are willing to work together and ensure that proper firewalls are in place, but it is certainly a situation worth monitoring, especially with Boston being a potential key market for Barstool as CEO Dave Portnoy is from Massachusetts and a die-hard Patriots fan.
Investment Themes
Sports Betting, iGaming

Meta Platforms plans to continue to allocate 20% of its expenses to its metaverse division Reality Labs.
In a blog post titled "Why we still believe in the future", Meta CTO & Head of Reality Labs Andrew Bosworth reiterated the company's vision for the metaverse, noting that "this year was even harder than we expected." According to Bosworth, the 20% allocation towards Reality Labs is a "level of investment we believe makes sense for a company committed to staying at the leading edge of one of the most competitive and innovative industries on earth." Despite many headwinds for both Reality Labs and Meta as a whole, Bosworth was resolute in pointing out the "disastrous consequences" of short-term thinking and abandoning the company's ambitious plans. Bosworth said that in the face of economic challenges across the world, the company believes 2022 will be remembered as "a year when foundational pieces of technology enabling our vision for the future made their way into the hands of developers and users for the first time." While Meta's VR devices like its newly-released Meta Quest Pro receive the lion's share of media attention, Bosworth noted that Reality Labs will direct "about half" of its operating expenses towards AR initiatives.
Antitrust cases typically center around an established market where one company has exhibited monopolistic tendencies, often characterized by squashing competitors via acquisition. One of the key differences in the FTC's antitrust lawsuit to block Meta's acquisition of Within is that the market in the crosshairs is a market that is not only unestablished, but uncertain to become meaningful altogether. Said another way, it is not guaranteed that demand for virtual reality experiences, like Within's VR fitness app Supernatural, will increase in the future.

Investing so meaningfully in a market where demand for a product is lacking is in many ways unprecedented in the history of technology. That is what makes the scope and size Meta's investment in its Reality Labs division all the more extraordinary. Last year, Meta spent $10 billion on Reality Labs. This year, Meta has spent $9.4 billion on the division through only three quarters. Next year, the figure spent on Reality labs is expected to total 20% of 2023's costs and expenses, estimated at nearly $100 billion. In the early days of the internet, investment came from non-profit foundations and universities. Unlike those days, in order for the metaverse to come to fruition, heavy investment across the entire ecosystem from public companies like Meta will be necessary to increase the value of the metaverse overall. This will mean continued R&D investment over a multi-year period, and an emphasis on long-term value creation over near-term profitability. In the face of a deteriorating macro environment, Meta is making the difficult but necessary decision to keep building towards what it believes could become the next iteration of the internet.
Investment Themes
Metaverse

Chart of the Week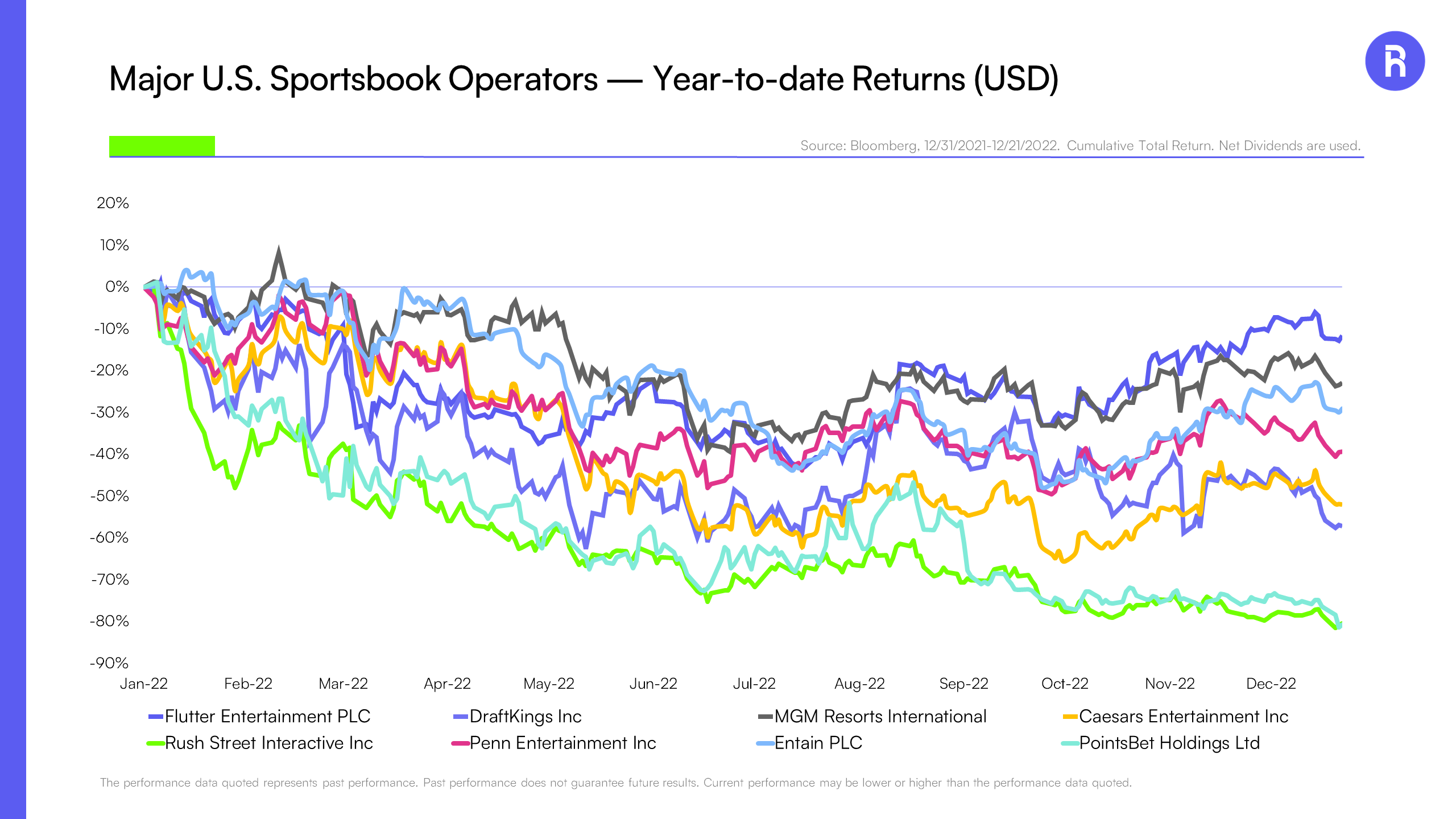 Despite continued robust industry growth, shares of U.S. sportsbook operators have declined meaningfully across the board in 2022. Amongst the group, profitable and/or diversified companies have fared the best.

Looking forward to 2023, several U.S. sportsbooks anticipate turning a corner on profitability, with prominent operators anticipating positive EBITDA starting in the back half of next year.