What Is Streaming?
Streaming, otherwise known as OTT content (Over-The-Top Content), is the technology of transmitting audio and video files continuously over the internet. There are currently two popular forms of streaming; video streaming and audio streaming, though there are other forms as well which we will discuss below.
From 2013 to 2019, average spend per American household on video streaming services increased 480% and average spend on audio streaming increased 345% according to the Bureau of Labor Statistics.
Morgan Stanley believes the number of OTT streaming subscribers in the U.S. has increased from 21.5 million in 2011 to 246.7 million in 2020. Goldman Sachs expects there will be 1.2 billion paid audio streaming subscribers in 2030, up from 341 million in 2019.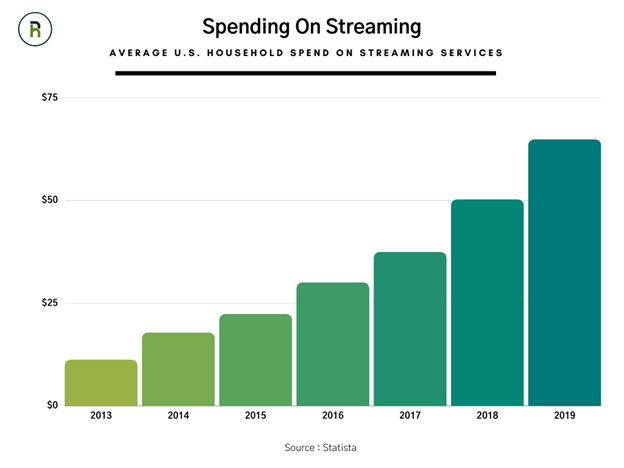 What Is Video Streaming?
Video streaming is a type of media streaming in which the data from a video file is continuously delivered through an internet connection to a viewer. It allows media to be viewed online without being downloaded on a host device. Typically, streaming can be done using multiple devices (screens) simultaneously.
VOD, video on demand, is a form of streaming that allows viewers to access and play back content. VOD is becoming increasingly popular as users can access videos when they choose, rather than needing to follow the constraints of regularly scheduled broadcasting.
SVOD, subscription video on demand, is a form of video streaming where users subscribe to a provider for video content. For a fixed rate, users can consume as much content as they want without limitation. Netflix, Hulu, and Disney Plus are all examples of subscription video services.
SVOD is still in its early growth cycle globally, with an estimated penetration rate of 11.9% in 2020 and expected penetration rate of 17.2% by 2025.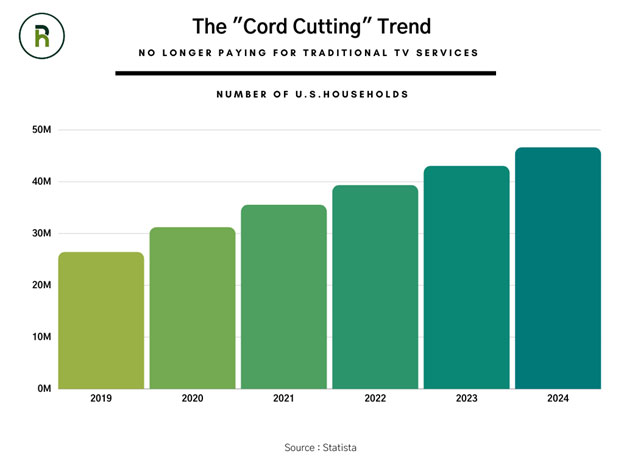 What Is Audio Streaming?
Audio streaming is a technology that allows the steaming of audio files, such as music, podcasts, or audiobooks, to an internet enabled device such as a personal computer or smartphone. Audio streaming has become increasingly popular over the past decade due to three primary factors: (1) increased bandwidth has made audio streaming more accessible, (2) improved user experience over physical media options such as CDs, and (3) subscription models allow users to pay a recurring fee for unlimited audio consumption.
Goldman Sachs believes the audio streaming user base will grow from 341 million in 2019 to 1.2 billion in 2030. Audio streaming is the go-to source for the younger demographic (ages 16-24), with over 80% of the age group consuming audio via a streaming service.
The Subscription Model
Streaming services are built around subscription models where users pay a recurring monthly or yearly fee for unlimited content consumption.
The model offers reliable recurring revenue for the provider, high margins, and a low incremental cost for each new user added to the service. As for the user experience, the user receives unlimited access to their favorite content at a set price, no limitations due to scheduling, and the ability to access content from anywhere there is an internet connection.
Estimates expect yearly revenues from video streaming globally to increase from $51.6 billion in 2020 to $85.7 billion, a 10.7% compound annual growth rate. As for audio streaming, estimates suggest yearly revenues will reach $46.9 billion by 2027, a 7.4% compound annual growth rate from 2020.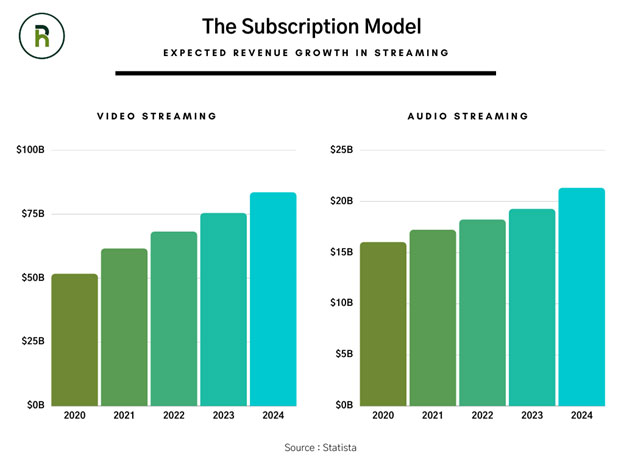 Streaming Ecosystem: The Different Types of Streaming
1. Video Streaming
Video streaming companies are primarily involved in the business of offering video content transmitted over the internet. In many cases, these companies are also in the business of content creation through the production of original series, movies, documentaries, and game shows.
2. Audio Streaming
Audio streaming companies operate audio platforms that distribute music, podcasts, and audiobooks directly to consumers. In some cases, audio streaming companies are also responsible for content creation through the production of original podcasts and record label partnerships.
3. Game Streaming
Game streaming companies operate platforms that allow gamers to stream live gameplay directly to their viewers. Game streaming has become increasingly popular through platforms such as Twitch, YouTube Gaming, and Huya. It's estimated that the industry (ex-China) as a whole grew ~100% over the last year. In China, it is estimated that the game streaming market has 340 million users and will grow to $7.44 billion in revenues by 2022.
Related: How to invest in esports
4. Livestreaming
Livestreaming companies are primarily in the business of operating platforms that allow content creators to broadcast directly to their fanbase. In this regard, there is some overlap with game streaming, though platforms such as Inke and YY are mainly focused on transmitting streamers' lives (similar to the Just Chatting section on Twitch). In the United States, livestreaming has experienced significant growth in 2020. Twitch, a popular livestreaming platform owned by Amazon, set a company record with 3 billion hours watched in a single quarter, up from 1.1 billion the quarter prior.
In China, the livestreaming market is also growing at an accelerated pace. According to Deloitte, the livestreaming market in China attracted 456 million viewers and generated $4.4 billion in revenue. Chinese eCommerce companies are also getting into the livestreaming mix to create "shoppable" virtual experiences. It's expected that in 2020 the total numbers of people in China engaged in livestreaming will be 560 million, and sales from livestreaming eCommerce are expected to rise 100% in 2020. Livestreaming is taking on multiple forms including music events, shopping experiences, and talk shows with "super hosts".
5. Hardware & Technology
Hardware and technology companies in the streaming sector create the infrastructure that makes streaming possible. On the hardware side, these products include streaming devices (Roku Box, Fire Stick), specialized peripherals (Elgato Deck), andSmart TVs. Within technology, companies like Magnite provide advertising solutions for streaming platforms, and connect advertising publishers with buyers programmatically. There are also content delivery networks such as J-Stream, which allow for the transmission of broadcasts to thousands of users with little latency. As streaming becomes more adopted, the streaming devices market is expected to grow to $18.92 billion by 2027 at 13% CAGR.