How Video Killed the Video Star(s)
Even before COVID took the world by storm, the "Streaming Wars" were well underway. In short, the term "Streaming Wars" refers to the global race for supremacy within streaming video on-demand (SVOD). Some participants offer their service via a freemium model, where customers can pay nothing and sit through commercials or pay a monthly subscription for no commercials and sometimes better content. Netflix, the subject of this piece, offers a subscription-based model where subscribers pay a monthly fee for unlimited access to the company's streaming content library.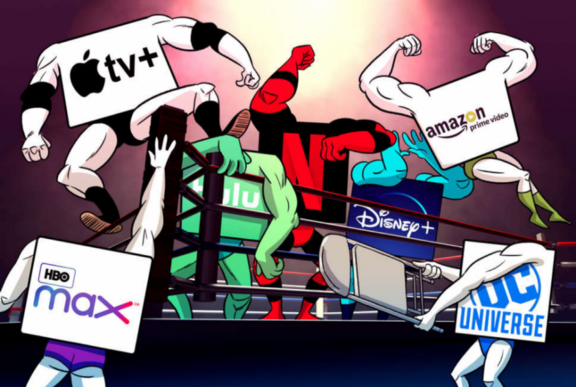 Source
In my opinion, Netflix remains atop the pack at the moment, with Disney a very close second following the successful roll-out of Disney+. As with all wars, there have been casualties - most recently, once-heralded start-up short-form video platform Quibi (which might be worthy of a piece of its own in the future).
Related: Streaming 101
How We Got Here
Blockbuster
To understand Netflix, you have to understand the fall of Blockbuster Video. For my younger readers, Blockbuster Video was a chain of video rental stores primarily in the U.S. (though they did have a global footprint) and an integral part of life in the '80s, '90s, and early '00's. The company leveraged its scale to purchase movies cheaply in bulk and rent them out to Blockbuster members around the world.
For much of Blockbuster's glory days, it represented the best option to watch the movie you wanted, when you wanted. If not for Blockbuster, you had three main choices: rent from your local video store, buy the movie, or check the TV guides to see when it was playing and make sure you were available at that time. Each of these options had pitfalls, and Blockbuster was essentially a monopoly for all intents and purposes.
But Blockbuster wasn't perfect, either. You needed to drive to a physical store to rent and return movies. The movie you wanted was often (always?) not in stock. And don't you dare return your movie late or, in the case of VHS, without rewinding it! These short-comings represented an opportunity. The company's dominance did not last forever.
Enter Netflix
Netflix was founded in 1997 by Reed Hastings and Marc Randolph. The company's initial model was relatively simple - DVD rentals (and, briefly, sales), but no stores - similar to how Amazon approached disrupting books. The company's founders believed they could beat Blockbuster by mailing customers DVDs they rented online and then returned in the mail. The company initially charged a per-rental fee before rolling out a subscription model in 1999 and dropping the single-rental model completely in early 2000.
I won't cover the violent battle with Blockbuster as it has been well-covered before (check out Business Wars 8-part podcast if you're interested), except to say that Netflix's (spoiler alert) triumph was by no means a certainty throughout the early years. Acquiring and keeping customers was incredibly expensive, the company took on debt to finance negative cash flows, and many believed throughout time (including now) that the company was destined to fail.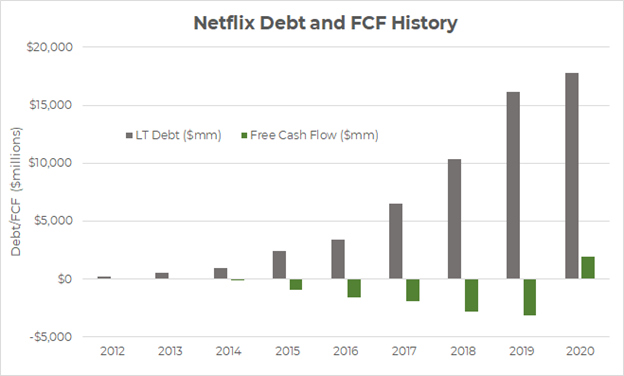 In my opinion, Netflix has survived and thrived to this day because they were better able to adapt and because they had better technology.
Netflix's Edge
Blockbuster did its best to copy what Netflix was doing, and they might have succeeded had they had they focused a bit more on what they couldn't see - specifically, Netflix's use of algorithms to both better understand user preferences and optimize the operational aspects of its business.
The first allowed Netflix to guess what a user would want to watch next, improving the customer experience. This same algorithm would later help Netflix decide what to make. The second allowed Netflix to optimize the placement of their distribution centers to, once again, improve the customer experience.
Beyond simply having better technology, Netflix also took a more flexible approach. It's a bit of an oversimplification to say Blockbuster fell victim to the Innovator's Dilemma, but Netflix's willingness to iterate on their strategy - exiting the DVD sales business, switching to a subscription model, etc., - definitely contributed to their success.
Netflix continued its tradition of innovating on itself with the launch of its online streaming service, initially dubbed Watch Now, in 2007. To win in today's Streaming Wars, Netflix will need to keep these edges sharp as their peers invest considerable sums toward beating them at their own game.
The Streaming Wars
Hollywood Enters the Chat
Early on, Netflix realized that acquiring quality content was key to a desirable streaming offering. Thus began an ongoing campaign to woo content owners to license their content out to Netflix. This proved challenging, as many in Hollywood saw Netflix as a competitor, though not directly given that none had their own streaming services to speak of.
While the company landed enough deals to continue building their offering - including the rights to Starz's 2,500 movies and TV shows amidst the financial crisis, - a deal Starz later publicly acknowledged was a "terrible" idea - Netflix leadership became acutely aware that a different approach to content would be required over the longer term. With that in mind, Netflix decided to adapt once again and take on Hollywood head on by making their own content.
Related: How to Invest in Streaming
DIY Content
In hindsight, given the objective and immediate success of Netflix's content strategy, the move to create their own content seems pretty obvious. House of Cards and Orange is the New Black took the market by storm and the company hasn't slowed down since.
Once again, data-driven innovation was a key contributor. The data showed people enjoyed "binge-watching" shows, so Netflix controversially decided to release full seasons of new shows at once.
With a content strategy firing on all cylinders, Netflix was now squarely intruding on Hollywood's turf. When taken with the company's unique distribution model that allowed users to stream what they wanted, when they wanted, on whatever device they wanted, a cord-cutting movement was well underway. Netflix was on-to something, and it was time for everyone else to adapt or die.
DIY Streaming Offering
The competition has heated up in the nearly two decades since Netflix debuted their streaming offering, notably so in the past few years. The company now competes with subscription streaming services from traditional media companies (Disney's Disney+ and HBO's HBO Max) and large-cap tech (Amazon's Prime Video and Google's Youtube TV), to say nothing of competition from other forms of media. In a 2019 Shareholder letter, Netflix stated that they "compete with (and lose to) Fortnite more than HBO".
As in our other themes (sports betting & video games), getting and keeping users' attention is the name of the game. Netflix has continued to build on its considerable head-start in the space, spending $10s of billions each year to expand their content library.
What's Next?
Netflix Today
The company navigated the global pandemic and increasing competition successfully in 2020 (01/19/2021 Shareholder Letter), adding 37 million paid subscribers and surpassing 200 million total paid subscribers. Revenue and operating profit grew 24% and 76% year-over-year to $25 billion and $4.6 billion, respectively. As of this writing (01/24/2021), the company has a market capitalization of ~$250 billion, making it roughly 80% the size of long-time media heavyweight Disney ($313 billion).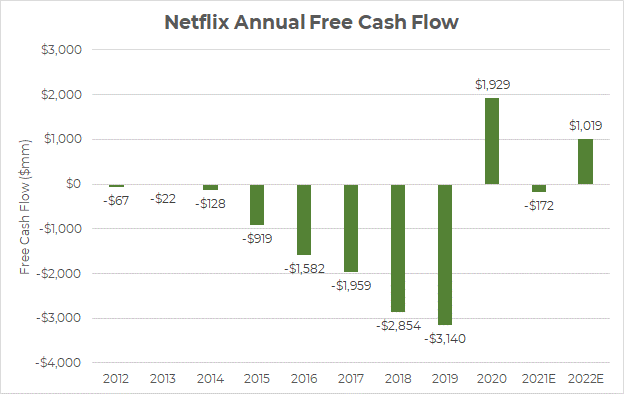 Source: Company Filings
Perhaps most importantly, the company anticipates 2021 free cash flow to be around breakeven and that they believe they "no longer have a need to raise external financing for our day-to-day operations."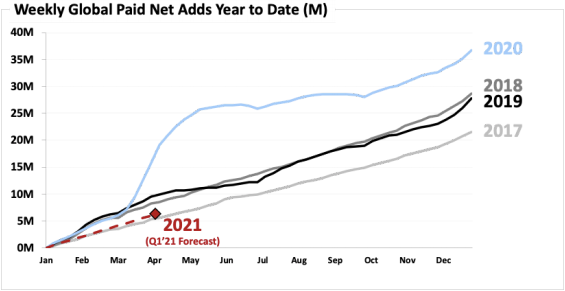 Source
Looking past the financials, the hits kept coming in 2020. Tiger King helped some ~34 million people through the early months of the pandemic, Queen's Gambit caused a surge in demand for chess sets and books, and animated series Big Mouth (a favorite of yours truly) put the company's range on display. While critics continue to question whether the move into content creation was the right long-term strategy for Netflix, the results thus far have been pretty spectacular.
The Future of Netflix
So what does the future look like for this Silicon Valley success story? It's a bit simplistic to look at the company's opportunity set in a vacuum, given the competitive landscape within streaming services and media, more broadly. With that in mind, here are a few Netflix-specific things I'm watching moving forward.
First and foremost, content will remain king. The company has made investing in their own content a priority in recent years, and I believe this has to continue if they are to maintain their lead.
Second, movie theatres are dying. The company should position itself as the premier alternative to a theatrical release for third-party content.
Third is international expansion. This effort is well underway, with a presence in 190 countries as of this writing. They need to continue to build out their content offering in each market to ensure they remain competitive.
Finally, the company must not forget how to innovate. There may be opportunities to cross-over into other forms of media (live TV or video games). There may be opportunities to build out a Disney-esque business line around in-person experiences and merchandise. Netflix has to avoid the Innovator's Dilemma if they're going to stay on top.