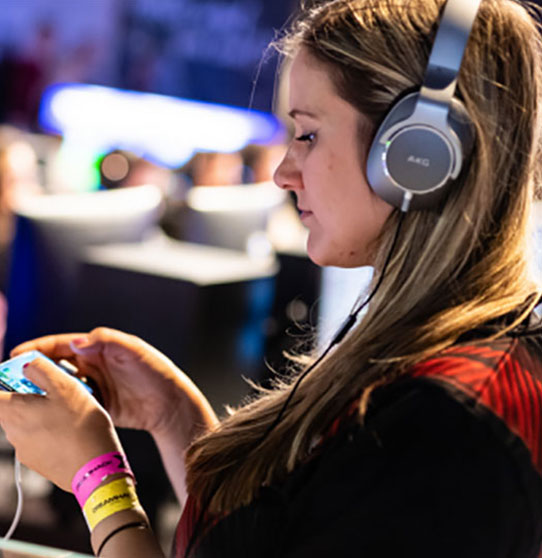 Top Mobile Games and Esports Games
by Roundhill Team / January 28th, 2020
When people think of gamers, their first thought may be a group of guys donning headsets, huddled around their glowing PCs in a room full of junk food and energy drinks - screaming at the screens in front of them. Or maybe someone curled up in bed, controller in hand, transformed to a distant land in their favorite fantasy game as they ignore everything else around them.
We hate these stereotypes and are working to change them - besides, the majority of gamers are actually on their phones, playing mobile games. And nearly half of them are women.
Mobile Gaming Continues to Take Over Gaming Industry
Last year, the global games market was predicted to be worth $134.9 billion. According to Newzoo research, $63.2 billion of this impressive total is from mobile gaming, meaning this sector makes up 47% of the global games market. Compare that to console gaming's $38.3 billion of the global games market and it's easy to see just how massive mobile gaming has become.
Over 2.4 billion people around the world are predicted to play mobile games by the end of 2019, and nearly 50% of those people will be women. A Google Play survey found that 65% of women not only play mobile games, but play them more frequently than their male counterparts. In fact, 60% of women polled admitted they played mobile games daily, compared to 47% of men.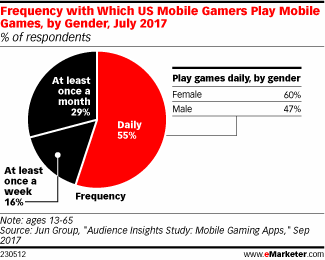 www.emarketer.com
A Betting on Billions report found that mobile games are the third most popular app category and account for a staggering 73% of app revenue. These mobile gamers are equally men and women, are an average age of 36, and the average mobile gamer spends almost $80 a year on in-app purchases.
Top Mobile Games in 2019
While mobile gaming is clearly an important segment of the video game industry, it's still unclear how to decide which specific games are the "top" or "best" mobile games of the past few years. Is it decided by popularity? By positive reviews on app stores? By how many active players it has daily? It's also hard to come by this information and is scattered throughout the web a bit haphazardly. But one thing people can agree on when it comes to mobile gaming - it's making money. You've seen the above statistics: money is what has determined mobile games as the dominant force in the gaming industry.
So let's check out the top grossing iPhone mobile gaming apps of the year, ranked by daily revenue in the US by Statistica.
#1 Candy Crush
After seven years, Candy Crush is still the top earning mobile game in the United States. Making a whopping $4.2 million in daily revenue, Candy Crush is more than just your father's favorite bathroom pastime.
This free-to-play puzzle game was released by King on April 12, 2012 for Facebook. Candy Crush Saga is all about leveling up by solving varying game boards that get trickier and trickier as the level increases. Players compete to eliminate candy by lining up three or more of the same color in an attempt to clear the board in as few moves and as many points as possible. This all sounds quite simple - and it is - but that hasn't stopped over 2.7 billion people from downloading it since it was created all those years ago.
Nor does it stop them from making in-app purchases. These in-app purchases consist of additional lives, extra moves, or new episodes. For people having difficulty beating a level, boosters are also available for sale. These make the levels a bit easier. Interestingly enough, only 2.3% of Candy Crush players make in-app purchases, but that small percentage has kept the app at the top of every mobile gaming earnings chart.
So why are so many people playing this bright and colorful - yet simple - game religiously? NYU associate professor and author of a book on addictive smartphone behavior, Adam Alter, told the Observer that Candy Crush "rewards you with goals, so you feel good about yourself."
He explained: "Humans hate leaving goals incomplete. That's why we complete reading books we don't enjoy. That's why we spend huge amounts of time playing games so that we can complete them. Completing those games gives us a sense of mastery."
In fact, TIMES conducted a report in 2013 that found that 32% of Candy Crush players admitted to ignoring friends or family to continue playing the game. 28% played during work, and 10% of the 1,000 participants even revealed that their obsessive Candy Crush playing created arguments with their significant other. 30% said they were addicted.
Enter the Candy Kingdom with caution, and don't let Toffette boss you around too much.
#2 Homescapes
Raking in nearly $641,000 a day in the United States, Homescapes is the second most lucrative mobile game downloaded by iPhone users. The free-to-play game features Austin the Butler, who wants to move back home after working in a big city for far too long. But when he gets home, Austin finds out that a big mansion is about to be sold due to its poor condition. Austin convinces his dad to not sell the house and renovate it instead. You help Austin renovate his parents' mansion by solving match-3 puzzles. Surprise!
Much like Candy Crush, Homescapes' gameplay is focused on swapping two adjacent elements on a game board with the goal of making a new row or column with at least three matching elements in an attempt to clear the board with a certain score or turn total. Players can use power-ups that help them obtain these goals a bit easier and - you guessed it - they're also available as an in-app purchase. Players can also purchase extra lives to retry levels they exhausted.
Based on the developer's previous title, Gardenscapes, Homescapes was downloaded over 7 million times within the first week of its release. By the end of the first month, Homescapes had been downloaded 28 million times. That same month - October 2017 - Homescapes was the 4th most downloaded game on iOS around the world and ranked 8th for most downloaded game on Android.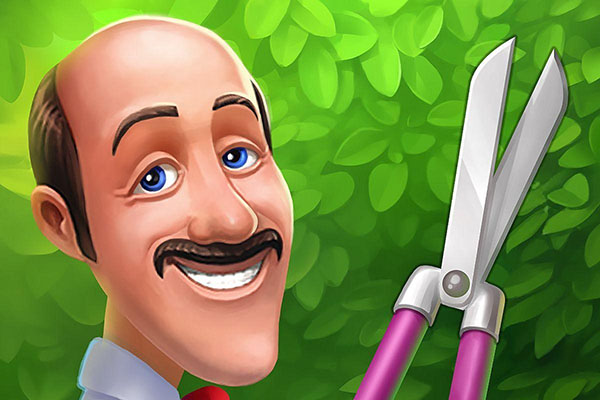 While Candy Crush is the OG of match puzzle games, Homescapes introduces a new element - a graphic novel of sorts. There's a much clearer story when you play Homescapes, and the characters are much more developed. And that - of course - has led to people falling victim to the game's clutches.
"We mention Austin in this home regularly. I don't know that there's like, a normal amount of times to mention Austin the butler from Homescapes in a domestic arrangement, but we've definitely exceeded it long ago," a Polygon writer revealed in a satirical article about her addiction to Homescapes.
She acknowledged that Austin's desperation to keep the mansion was addicting, no matter how disturbing his dedication to his family's home may be. She jokingly admitted that she feels obligated to do Austin's biddings, even when her husband seems concerned - or jealous.
"Why is my husband so aware of Austin? Because I can't stop updating him on recent developments. Metaphorically, I'm sharing spoiled milk and then asking him to smell the carton so I can confirm the spoiled milk is, in fact, gross. Humans were not meant to suffer alone, and so he has to come in on this too," she wrote.
While satirical in nature, the article brings up good points about not only mobile games' addictiveness, but social media's constant bombardment of ads for the games - even after you have deleted them off your phone.
Top Mobile Esports Games
There's another side to mobile gaming that is also growing exponentially: esports. Far removed from the addictive world of colorful candies and pushy butlers, the top mobile esports games are a lot more serious in nature. And their audience is quite different as well. While women have taken over the mobile gaming sector as a whole, competitive mobile gaming is still dominated by men.
PUBG Mobile in Esports
PlayerUnknown's Battlegrounds is currently the most established mobile game in the esports industry. Many esports organizations already have squads participating in PUBG Mobile tournaments, which often center around the region of Southeast Asia, which are the most dedicated to PUBG and other competitive mobile games.
One recent tournament, the PUBG MOBILE Club Open 2019 Fall Split Global Finals, featured a $500,000 prize pool. Indonesian team Bigetron RA took home the first place trophy, along with $180,000 in prize money. The entirety of the year-long season featured over $2.5 million in prizes. The PUBG Mobile Star Challenge 2018, held in Dubai, had a $600,000 prize pool.
While PUBG has continued to grow as an esport, its presence in China has become a concern for the country's government. Interestingly enough, while China is one of the game's biggest markets, the game itself is banned there completely. PUBG's developers, Tencent Games, created an entirely new game based on PUBG to continue dipping into China's mobile gaming market, which is estimated to be worth around $30 billion. Their solution was Game for Peace, which exchanged killing opponents with waving them a friendly goodbye. It also features pro-Chinese propaganda - but that's a small price to pay to keep PUBG relevant in the biggest gaming market in the world.
With PUBG still allowed in China - albeit with some changes to gameplay, violence, and overall messaging - the government decided it was time to regulate mobile gaming once more. The country's "Notice from Preventing Minors from Indulging in Online Games" declared that minors would be banned from playing online games from 10 PM to 8 AM. The notice, which aims to fight gaming addiction, also limits the in-game purchases that minors are allowed to make.
And China will have to fight harder than ever to continue enforcing these laws in the coming years, because more and more mobile games are predicted to enter the esports realm.
Free Fire in Esports
While PUBG Mobile is the most popular esports title available on phones, there are other games already set to surpass it as the industry continues to evolve. According to Esports Charts, the Free Fire World Cup 2019 had more viewers than the PUBG Mobile Star Challenge Finals, averaging 630,931 viewers during its five-hour long stream. It peaked at over 1 million viewers, well over double PUBG's peak.
So what is Free Fire? It's another battle royale, of course. Published by Garena, Free Fire features 50 competitors falling from a parachute onto an island in search of weapons and equipment that will help them eliminate the other players.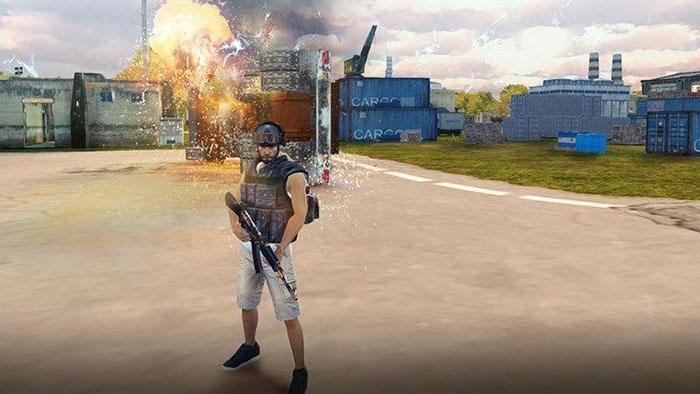 Compared to PUBG Mobile, Free Fire is playable on low-end devices without heating problems and with a decent FPS and high graphics. This has made the game an obsession in Southeast Asia and South America, along with its fast-paced and short matches. Another reason competitors are turning to Free Fire is its less realistic take on combat. While a few bullets will kill you in PUBG, Free Fire players can take way more shots before they're eliminated. This has made the game more appealing to casual and competitive players alike, and made it more enjoyable for spectators.
While Free Fire has yet to announce any esports plans for 2020, the industry is already predicting which titles will take over the esports world this year. This includes Supercell's Brawl Stars, a free-to-play MOBA that may overtake the developer's previous esports titles, Clash Royale and Clash of Clans. Supercell currently hosts weekly tournaments for the game, with over $1,000 on the line. Activision's Call of Duty Mobile is a yet-to-be-released FPS that already has over 10 million pre-registrants. Since Call of Duty is already making waves in the esports industry, it wouldn't be surprising if the competitive mobile version was also a top mobile esport as the industry expands in that direction.
Honor of Kings In Esports
Honor of Kings is one of the most popular mobile esports in the world. TiMi Studios, the developer of the Honor of Kings, claims the game's esports were viewed 44 billion times in 2019. Of those, 24 billion were related to official professional esports tournaments, up nearly 41 percent year-over-year. In 2020, Team TS won $1.9 million in the Honor of Kings Champion cup, a tournament that boasted a $4.6 million prize pool. Honor of Kings emergence as a top esport can be credited to its overall user growth. It was reported earlier this year by Tencent that Honor of Kings had surpassed the 100 million daily active user milestone. Now, mainstream brands want in on the action. Burberry recently announced an integration with Honor of Kings to create brand awareness within the game. User growth and sponsorships should propel Honor of Kings into another successful year in 2021.
Arena of Valor In Esports
Arena of Valor, the international version of Honor of Kings, is a 5v5 multiplayer online battle arena game developed by TiMi Studios and published by Tencent. In 2019, Arena of Valor was the most watched mobile esports game in the world with 72 million hours watched. Most of AoV's fanfare comes from Southeast Asia region, especially Thailand, where it was downloaded over 28 million times within 18 months. Globally, AoV has topped 200 millIon downloads.
Much of Arena of Valor's success is due to the robust esports tournament ecosystem for the game. In 2019, Arena of Valor has the second largest tournament prize pool for mobile gaming at $2.1 million. Unfortunately, AoV's World Cup 2020 was cancelled due to COVID complications but the tournament was expected to be one of the biggest esports events of the year. The AoV World 2019 saw peak concurrent viewership reach 764,000. In YouTube Gaming's 2020 Year in View, Ryan Wyatt, Head of Gaming at YouTube, included AoV in a list of games having success on the platform.
Other Mobile Esports Worth Noting
With a wide selection of heroes and lively 5v5 battles, Vainglory is a free-to-play MOBA that has been slowly building an esports scene since it was launched in 2014. The World Championship in 2017 boasted over 56,000 viewers, who anxiously watched to see which team would take home the $140,000.
Unfortunately, the game's developer, Super Evil Megacorp, announced that it was cutting back on esports support in a recent blog post. They explained that the "planning, resourcing, and running" of their esports events took away too much time from the development team and, therefore, the development of the game itself. While third parties are still allowed to run Vainglory tourneys, it's definitely a major step back for the game's competitive scene.
Launched in 2016, Clash Royale has already given away $1.9 million in prize money to its players across its 24 major tournaments. Supercell, the game's developer, even has its own Clash Royale League, a team-based competition with multiple divisions based on region. The Clash Royale Worlds Finals 2019 took place in December, pitting big name esports organizations like Team Liquid and SK Gaming against each other for the $150,000. That grand prize ultimately went to Liquid. The League will most likely follow a similar structure in 2020, giving their 50 million active users another chance to prove themselves.
Mobile esports still don't arouse the same amount of excitement from competitive gamers as classic titles like League of Legends, Dota 2, and Overwatch. This may be due to the stigma that mobile games aren't as competitive or don't require as much skill. Or it may just be due to how new the scene is. Either way, mobile esport titles are continuing to flex their popularity, while the players are continuing to show off their unmatched skills. Soon, your Candy Crush-obsessed dad could be part of his very own league.
What To Look For In Mobile Esports 2021
2021 is looking like it will be a massive year for mobile esports. PUBG Mobile announced a $14 million esports program slated to launch in 2021. The program, which features sponsors such as Qualcomm Technologies, Mountain Dew and OnePlus, will be the biggest competitive series in mobile esports history.
According to data from Statista, mobile esports is expected to have a compound annual growth rate of 31% until 2025 with total revenues reaching $1.1 billion. The revenue growth is primarily driven by increased viewership. Statista and Fuse believe esports viewership will reach 548 million by 2025. Increased mobile network and bandwidth, the decentralization of tournaments, and livestreaming is making it easier than ever for fans and players to experience the world of esports.