Roundhill Roundup
Ubisoft Disappoints + bet365's U.S. Expansion
Week of 01/09/2023

Ubisoft is expecting an operating loss of €500 million for the current fiscal year.
The video game publisher behind hit series Assassin's Creed previously forecasted an operating profit of €400 million. In their financial targets update, Ubisoft noted that they are facing "major challenges" as the gaming industry shifts toward big brands and long-lasting titles. Recent launches have not performed to the company's expectations while the Holiday season was "markedly and surprisingly slower than expected." CEO Yves Guillemot said they are "clearly disappointed by [their] recent performance." In addition to the updated guidance, Ubisoft announced they have canceled three unannounced projects and delayed upcoming title Skull & Bones for a sixth time, with a release now scheduled for after April 1st. The title was originally planned to launch in 2018. Shares of Ubisoft hit a seven-year low, finishing the week lower by 19.4%.
Ubisoft's performance the last several years has been underwhelming, to say the least. The French publisher has struggled with various game delays, and has not been immune to a broader COVID hangover for the video game industry. In particular, the 2022 holiday season, which typically represents seasonal strength, fell far short of expectations. Management largely blamed macroeconomic factors, citing inflation as a key driver on a reduction in discretionary consumer spending. However, video games have proved resilient in previous recessionary environments. On a dollar-per hour basis, games represent a relatively cheap form of entertainment when compared to alternatives such as going to the movies. In addition, the gaming industry has in part shifted towards freemium and/or microtransaction-based models, whereby free-to-play games have grown meaningfully in popularity. Insofar as low-cost virtual items remain popular, video games could return to growth in 2023 by taking share from other, more expensive entertainment mediums.

While we will start to get a better picture for the fourth quarter once industry leaders such as Electronic Arts and Activision Blizzard report numbers, early signs point to continued weakness. In addition to Ubisoft, Frontier Developments and Devolver Digital both disappointed on sales for key franchises. Logitech, which is a key player in gaming peripherals and hardware, similarly pre-announced uninspiring fourth quarter results.
Investment Themes
Gaming

U.K. online gambling giant bet365 is partnering with Churchill Downs in Pennsylvania.
Churchill Downs Incorporated (CDI) CEO Bill Carjansten stated their relationship with bet365 "enables us to maximize the value of our company's sports betting access" in the state. In February 2022, CDI announced it would be exiting the sports betting and iGaming business and focusing solely on horse racing. Following that decision, the company has been offering its market access to other operators. As one of the largest sportsbooks in the world, bet365 has only recently begun expanding in the U.S., with operations now live in New Jersey, Colorado, and Ohio. Pennsylvania is one of the country's most mature online sports betting markets, having started operations in May of 2019.
As a leading sports betting and iGaming operator in the U.K., bet365's expansion into the U.S. is promising despite expected challenges. In particular, Pennsylvania is a mature market, with 14 sportsbooks and 18 online casinos currently operational, according to PlayPennsylvania. As is the case throughout the country, FanDuel and DraftKings take the bulk of business in Pennsylvania, with market shares of ~40% and 25%, respectively. In order to compete in the U.S., bet365 most likely will need to undergo significant marketing spend in order to gain brand awareness. Bet365 released their 2022 fiscal year report last week, revealing $4 billion in cash on hand. They also reported an increase in their administrative costs, which were attributed in part due to "significant costs associated with raising brand awareness in new markets." In addition to plans to launch in Pennsylvania, bet365 has new entities incorporated in Maryland and Massachusetts, suggesting plans to launch in those states as well.

One way in which bet365 is trying to make its presence known in the U.S. is through partnerships with professional sports teams, both in states with legal sports betting and without. After just recently launching in Ohio after the state went live on January 1st, bet365 announced a multi-year partnership this week with the Cleveland Guardians. Additionally, in 2021 bet365 launched a free-to-play game with the San Antonio Spurs. While most U.S. sports fans may not be as familiar with their brand, bet365 is a massive player in the industry globally, generating revenue of $3.2 billion in the 2022 fiscal year. After years of the same sportsbook operators at the top, bet365 has the opportunity to shake up the landscape of mobile sports betting in the U.S.
Investment Themes
Sports Betting, iGaming

Swedish online gambling operator Kindred announced preliminary fourth quarter revenue of GBP 305 million.
This figure compares to estimates of GBP 326.4 million. According to Kindred, quarterly revenue was negatively impacted by the World Cup, as the tournament was not enough to offset the approximately 200 fewer top league fixtures compared to fourth quarter 2021. Morgan Stanley analyst Ed Young noted that while the World Cup led to lower volumes, "many of the factors driving the Q4 performance appear to be one off in nature." The Houston Astros winning the World Series also hurt fourth quarter performance, resulting in a negative revenue contribution of GBP 4.4 million and an EBITDA loss of GBP 3.9 million. In response to the weaker than anticipated performance, Kindred stated that "immediate actions will be taken to improve profitability in the short- and medium-term."
While we had expected the World Cup to provide a boost to European-based sportsbook operators such as Kindred, it appears as though the event wasn't enough to offset a slower overall schedule for soccer. This could carry over to Euro-focused peers such as Betsson and 888 Holdings. Meanwhile, the World Series loss is a one-off, as the large one-sided wager came from "Mattress Mack", a bettor notorious for placing outsized wagers to hedge promotions for his business. Mack placed multi-million dollar wagers on the Astros to win the World Series across various sportsbooks, including Caesars and Barstool, which will impact the fourth quarter figures for those platforms.

For Kindred, the parent company of Unibet, all eyes remain on Keith Meister's Corvex Management, which surpassed a 10% position in Kindred in 2022 and remains the company's largest shareholder. Corvex is an activist, and is likely to continue to push for Kindred to explore a sale.
Investment Themes
Sports Betting, iGaming

Roblox may be coming to Meta Quest in 2023.
The Verge's Command Line editor Alex Heath stated he is "hearing that Roblox is planning to come to Quest in the back half of this year." While Roblox is available on other VR headsets such as the Oculus Rift and HTC Vive, players need to plug their device into a PC to play. In 2021, Roblox CEO said Quest "makes perfect sense" for Roblox, hinting that a potential future release. With Meta's Quest 3 rumored to be arriving in 2023, TechCrunch says it is possible Roblox may be a launch title for the device.
If Roblox ends up adding support for the Meta Quest headset, it would be a monumental statement for the virtual platform and would be an on-ramp for Meta to introduce a new demographic of teenage-skewing Roblox players to VR. It would also differentiate Roblox from what other major video game companies and platforms are pursuing. Tim Sweeney, CEO of Epic Games, has expressed a disinterest in adding VR support for Fortnite because of concerns over motion sickness. Of the multiplayer UGC titles that are available on the Meta Quest headset, many were made for VR. Roblox is a PC native title, and transitioning to VR is uncharted waters for the company.

On the other hand, Meta has invested heavily in VR games like Horizon Worlds, their flagship VR title for the Meta Quest. Meta also acquired publisher BigBox VR to bolster their multiplayer lineup, with titles like Population: One, a cross between a battle royale game a la Fortnite with world building aspects of Roblox and Grand Theft Auto sprinkled in. Despite Meta's VR and metaverse ambitions, multiplayer games remain in the minority of available titles on its headsets. According to VRDB, as of Friday, there were 1,597 games/apps currently available on Meta's App Lab store. Of those, 1,330 were single player games. For Meta, Roblox would be a blockbuster entry into their multiplayer catalog that is currently dominated by single player simulation and action games.
Investment Themes
Metaverse, Gaming

Italian gambling company Lottomatica is considering an IPO this year in Milan.
According to Bloomberg, the Apollo Global Management-backed Lottomatica could go public as early as the second quarter in an IPO that may raise about $1 billion. Anonymous sources told Bloomberg that the company is considering seeking a valuation of about $5 billion, including debt. In response to the news, Lottomatica's July 2025 bonds climbed to their highest level since April 2022. Italy's oldest betting company Sisal filed for its IPO in Milan in October 2021 before ultimately being acquired by Flutter in December 2021 for GBP 1.6 billion.
Despite a slowdown in IPO/SPAC activity, Lottomatica's continued strong results may allow for a successful public offering. As per the company's latest presentation, EBITDA grew 27% year-over-year for the nine months ended September 2022. The company continues to transition from brick and mortar to digital, evidenced in part by its recent acquisition of Betflag, a B2C Italian iGaming operator. Pro-forma for the acquisition, Lottomatica will have tripled the EBITDA of its online operations since 2019, which now represent roughly half of total EBITDA. The company carries meaningful net debt, but strength in operating cash flows have allowed for the balance sheet to improve over time. As the leader in Italian gaming, Lottomatica has 3,100 points of sale in sports betting and more than 1,400 gaming halls.
Investment Themes
Sports Betting, iGaming

Saudi Arabia's Public Investment Fund (PIF) increased its stake in Nintendo from 5.01% to 6.07%, according to a Japanese regulatory filing.
The PIF first disclosed a position in the Japanese video game company in May of 2022. In addition to Nintendo, PIF has gained exposure to the Japanese video game industry via investments in Nexon, Capcom, and Koei Tecmo. According to Toyo Securities analyst Hideki Yasuda, "the market for subcultures like games and anime is gradually expanding" in Saudi Arabia. PIF has also made investments in American video companies Activision and Electronic Arts in recent years.
Among the largest sovereign wealth funds in the world with total assets estimated to be around $620 billion, Saudi Arabia's Public Investment Fund (PIF) has been used as a vehicle to diversify the Kingdom's portfolio beyond the oil industry in recent years. In 2021, PIF purchased stakes in Electronic Arts, Take-Two Interactive, and Activision Blizzard, before ultimately taking its initial 5% stake in Nintendo. The Kingdom has significant plans for the future of gaming, highlighted by Crown Prince Mohammed bin Salman's statement that the Saudi-backed Savvy Games Group "is part of [their] ambitious strategy aiming to make Saudi Arabia the ultimate global hub for the games and esports sector by 2030." In September 2022, state news agency SPA announced that Savvy would be investing $37.8 billion toward initiatives to reach this goal, including $13 billion for "a leading game publisher to become a strategic development partner." While PIF's stake in Nintendo only increased slightly, it is yet another sign of Saudi Arabia's commitment to the video game industry that should be viewed in a positive light.
Investment Themes
Gaming

Chart of the Week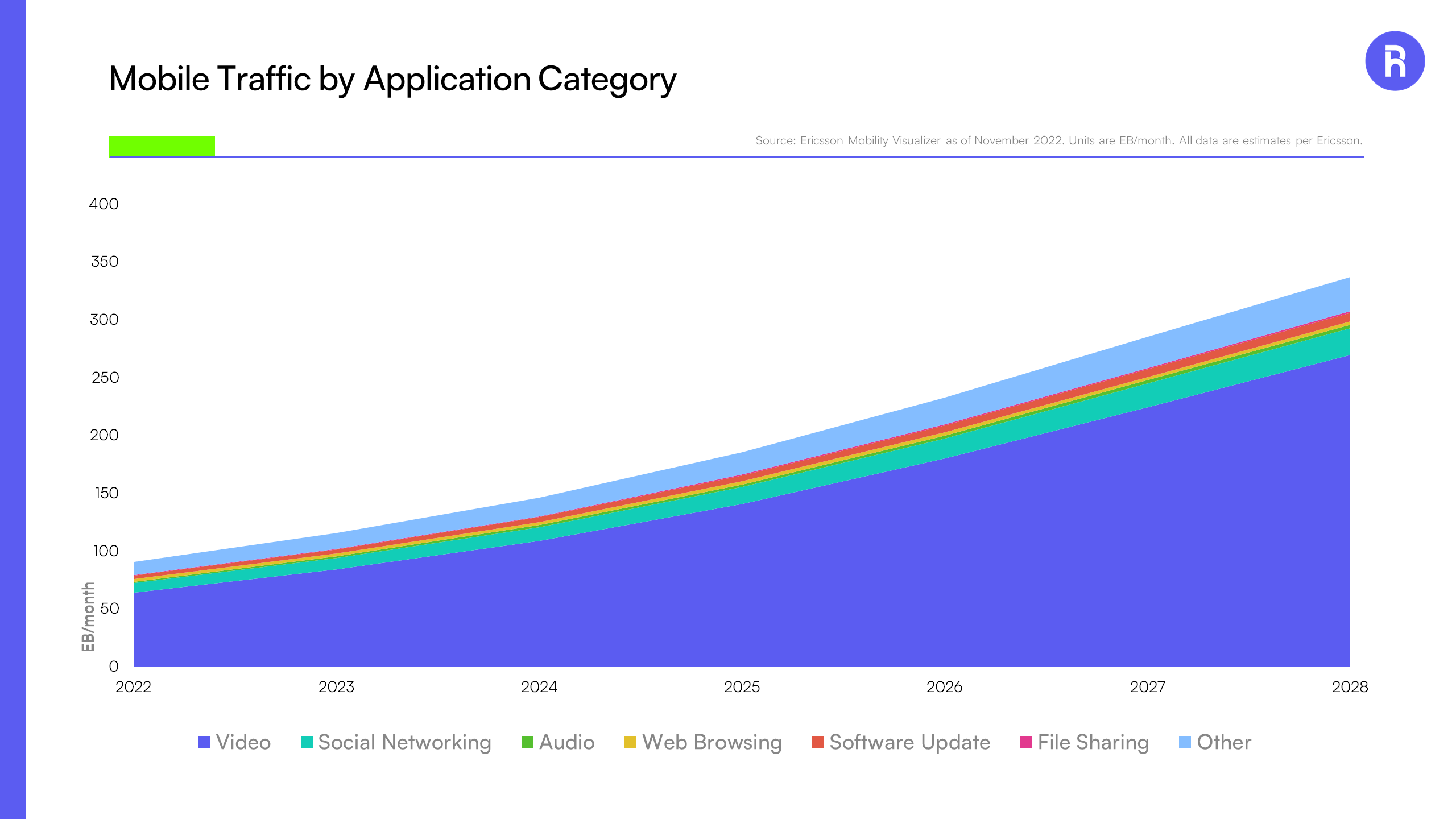 Video traffic accounted for an estimated 71% of all mobile traffic in 2022, according to data from Ericsson. By 2028, this is forecasted to rise to 81%.

For the growth of video traffic, advancements in digital infrastructure may be necessary to increase network performance.