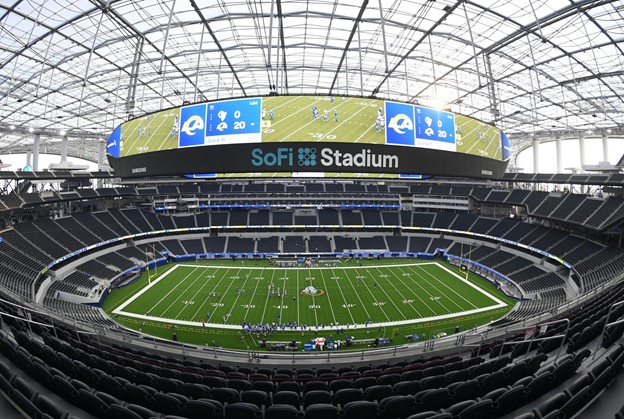 How to Invest in Sports Teams - The Top 5 Most Valuable Publicly-Traded Teams
The contents of this article are not intended as a recommendation to buy or sell any securities.
In a difficult year across the globe, sports shined through like never before in 2020, conforming to new safety measures in order to provide live entertainment for a world largely stuck at home. Between the UFC creating Fight Island and the NBA forming a playoff bubble at the ESPN Wide World of Sports Complex in Orlando, teams and leagues worked together in new ways in order to salvage what they could of their seasons. With this, many fans undoubtedly strengthened their affinity toward sports and their favorite team(s) as they were a way to momentarily escape the harsh realities of the pandemic.
While television viewership was down, some may attribute this to the vast amount of sports offerings that became available concurrently throughout the year. No matter what the numbers tell, sports were a mental break for many in 2020. The Masters in November? Unusual, yes, but we welcomed any distraction from COVID-19 with open arms. The NFL and the NFLPA's collaboration on testing and social distancing efforts proved highly successful in the face of the pandemic, as the 2020 season did not have any cancellations.
Now we are getting back to some sense of normalcy in sports. The Masters are back in April and the MLB started its season on time. Oddly enough, it will be a relief to see a game postponed due to inclement weather and not pandemic-related issues. With COVID headwinds largely in the rearview mirror for sports, the market appears primed to continue its growth trajectory.
NPD Group predicts the global sports market will be worth $626 billion by 2023 - a 33% increase from $471 billion recorded in 2018.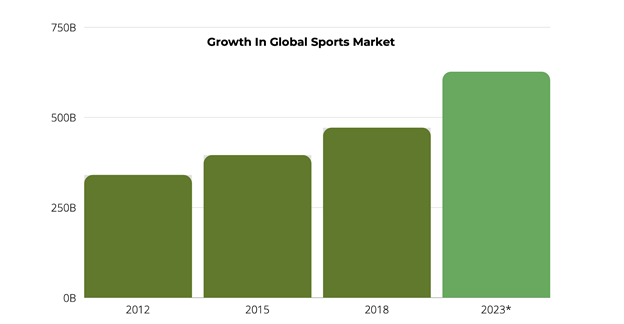 Source: Statista. NPD, data as of February 24, 2021 - For informational purposes only. Forecasts are inherently limited and cannot be relied upon. Actual results may vary.
Within the global sports market, sports teams and clubs comprise 72.5% of the value, per Research and Markets (via Business Newswire). Sports franchises are scarce, premium assets. As we've seen in 2021 with Beeple's NFT painting selling for $69 million, unique assets are greatly appreciating, and professional sports teams are no different. In a time where people want to invest in their favorite NBA moments, there's arguably no better time for investors to explore investing in their favorite professional teams.
The graphic below visualizes franchise valuations across the NFL, NBA, MLB, Premier League, and NHL and their increases in value from 2011 to 2020. NFL teams are the most valuable in large part due to the popularity of the sport and the media rights associated with the league.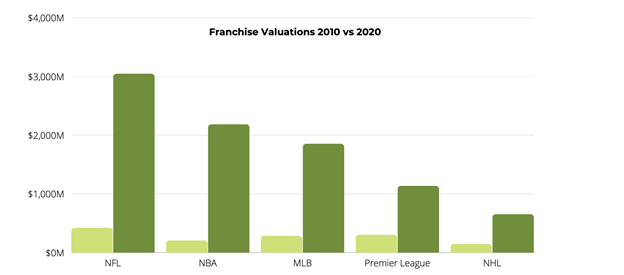 Source: Statista as of January 12, 2021. Information is subject to change and is not a guarantee of future results.
In March of this year, the NFL renewed its TV rights with various networks - CBS, FOX, NBC, Disney (ABC & ESPN) - and Amazon. Amazon's deal is particularly noteworthy as it is the first streaming service to retain exclusive rights for a particular segment (Thursday Night Football).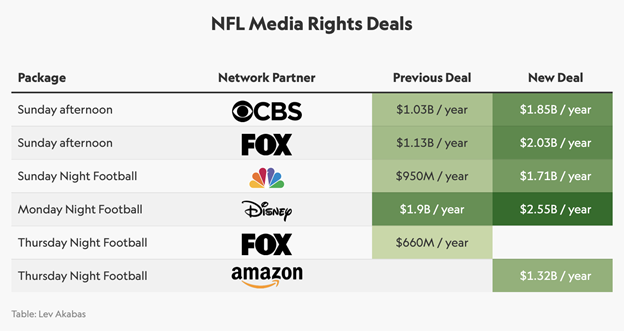 Source: Lev Akabas, Sportico
Media rights deals contribute to the growth of both professional sports teams valuations, leagues, and the global sports market as a whole. As media deals, sponsorship agreements, and sports betting continues to grow, sports franchises may provide attractive investment opportunities.
Below, I will cover five sports teams that are publicly traded, including their history, status as a publicly traded company, alongside various aspects of their business operations such as media rights, apparel/licensing deals, and more.
New York Knicks (MSGS)
Market Capitalization: $4.3 billion
Despite owning the league's worst record over the last two decades and having only won two NBA Championships ('70, '73), the New York Knicks are far and away the highest-valued publicly-traded sports team in the United States, valued at $5.42 billion in 2021 according to Sportico. Founded in 1946, the Knicks partook in the very first NBA game (at the time known as the BAA - Basketball Association of America) against the Toronto Huskies on November 1, 1946, winning 68-66.
Over the years, the Knicks have rostered some of the greatest NBA players ever, such as Hall of Famers Patrick Ewing, Walt "Clyde" Frazier, and Bernard King, alongside current Portland Trailblazer Carmelo Anthony (who played seven seasons with New York). The franchise plays in the iconic Madison Square Garden in Midtown Manhattan, which is a big draw for tourists and native New Yorkers alike. In the last full NBA season (2018-19), the Knicks boasted the league's ninth best attendance, averaging just over 19,000 fans per home game. Often among them is Academy Award winning director Spike Lee, who stated last year that he has spent over $10 million on season tickets to the Knicks.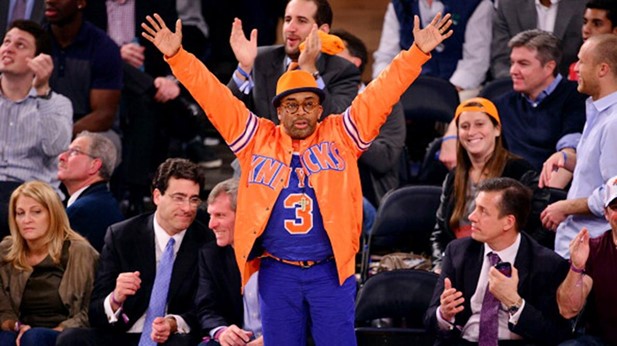 Spike Lee. Image via Fox Business.
After being acquired for $300 million in 1997 by Cablevision, the Knicks were spun off with other sports and entertainment assets in 2010 to form Madison Square Garden, Inc. (MSG), an independent, publicly traded company. From there, ownership conducted two subsequent spinoffs, most recently in 2020 where the sports assets became Madison Square Garden Sports (MSGS), the entertainment properties formed Madison Square Garden Entertainment (MSGE), and the television network turned into MSG Networks (MSGN). Madison Square Garden Entertainment is set to acquire MSG Networks in an all-stock transaction. The majority owner of the Knicks and Madison Square Garden Sports is the Dolan family, represented most notably by James Dolan, son of Cablevision founder Charles Dolan. Despite calls for Dolan to sell the Knicks, the team's valuation has soared 1,706% since its purchase in 1997, and Dolan has stated he has no intention to sell amid revamping the front office.
The Knicks currently generate over $100 million annually in local media rights, while teams like the Memphis Grizzlies - who made the playoffs in seven out of ten seasons last decade - bring in closer to $10 million each year, per ESPN. Additionally, starting in the 2017-18 NBA season, teams were permitted to display sponsors on their jerseys. The Knicks currently have a partnership with website building company Squarespace, a deal originally signed in October of 2017.
As sports return to their regular schedule and begin to allow fans back to stadiums and arenas, the allure of Midtown Manhattan and Madison Square Garden seemingly will be a popular attraction, and the Knicks stand to benefit from the anticipated travel/entertainment boom.
Note: MSGS also owns the New York Rangers, who were most recently valued at $1.65 billion by Forbes. The Rangers are the NHL's most valuable team.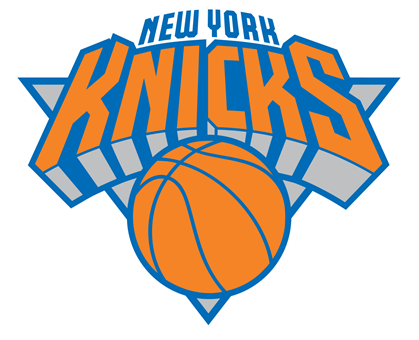 Manchester United (MANU)
Market Capitalization: $2.6 billion
While the NFL and NBA saw declining viewership during the pandemic in 2020, the 2019-20 Premiere League season was the most-watched season in four years according to Nielsen and Adobe Analytics, averaging 462,000 daily viewers within NBC Sports Group. Additionally, Manchester United's March 8, 2020 2-0 victory over Manchester City became the most-viewed live Premier League match within the United States, averaging 1.76 million viewers.
Manchester United is currently the most valuable publicly-traded football club in the world, and ranks third of all clubs behind only Real Madrid and Barcelona. Anchored by record goalscorer Wayne Rooney for thirteen seasons, Manchester United has twenty Premiere League titles, including five with Rooney. Playing alongside Rooney for multiple championship seasons was forward Cristiano Ronaldo (who I'll speak further on in the Juventus section). Current stars for the club include Spanish goalkeeper David de Gea and French midfielder Paul Pogba. In its history, Manchester United has a total of 66 major trophies, including 3 UEFA Champions League titles (annual tournament for top European clubs).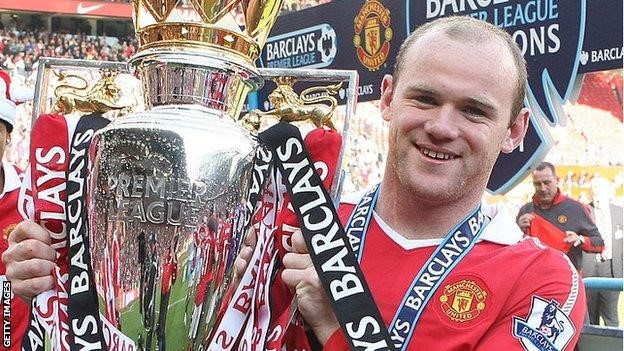 Wayne Rooney. Image via BBC.
Playing out of Manchester, United Kingdom, the club is currently majority-owned by the Glazer family, who notably also own the 2020 Super Bowl Champion Tampa Bay Buccaneers. Malcolm Glazer officially took control of Manchester United in 2005 after spending a few years buying out other shareholders. Manchester United's latest valuation, according to Forbes, is $3.8 billion, around four times the amount Glazer acquired the club for. After Malcolm's passing in 2014, the family's stake in the club was evenly distributed amongst his six children. The company's public float has traded on the NYSE since the club's 2012 IPO.
Social popularity for sports teams (and players) continues to grow in the age of digital media, and Manchester United has taken advantage of this, amassing an impressive 73.4 million Facebook followers (as of January 2021), per Deloitte, ranking third among the top European clubs.
An annual top contender in the Premier League, Man U currently only trails Manchester City in the standings after finishing third last season and placing within the top seven every year for the last seventeen seasons. Fun fact: The football club originated from the Lancashire and Yorkshire Railway company, which operated until 1922 in Manchester.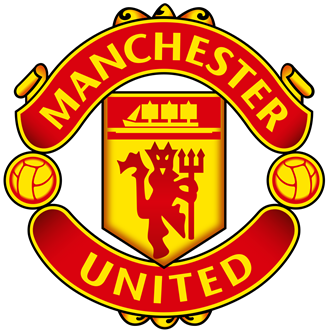 Atlanta Braves (BATRK/BATRA)
Market Capitalization: $1.5 billion
Major League Baseball (MLB) consists of the 15 American League (AL) teams and 15 National League (NL) teams. The Braves organization has a rich history as one of the original members of the National League. Established in 1871, the club began as the Boston Red Stockings and would go on to become the Boston Braves, followed by the Milwaukee Braves, and ultimately the Atlanta Braves that they are today. The Braves have won three World Series titles, one in Boston (1914), another in Milwaukee (1957) and most recently in Atlanta (1995) with Atlanta Braves legend Chipper Jones in his rookie campaign. Currently a hitting consultant for the team, Jones retired following the 2012 season, having played his entire professional career with the Braves and becoming a first ballot Hall of Famer in 2018.
While Jones was the face of the franchise for the 2000s, Hank Aaron is not only the greatest Atlanta Braves player, but one of the greatest MLB players in the history of baseball. Aaron holds the MLB record for most RBIs and is behind only Barry Bonds on the Home Runs list (a record that may never be broken and is controversial due to Bonds' use of steroids).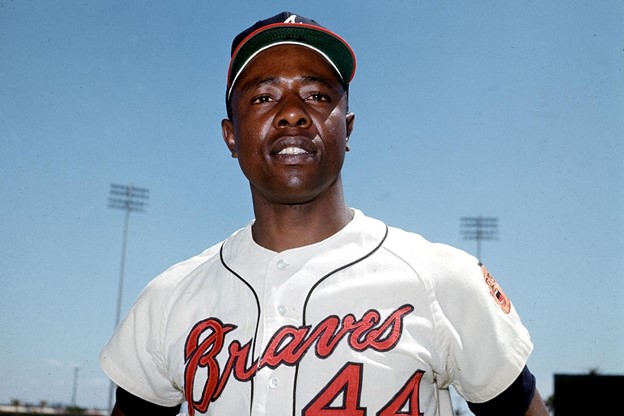 Hank Aaron. Image via Washington Post.
The Atlanta Braves are currently owned by Liberty Media, a media conglomerate that operates with three divisions - the Braves Group (consisting of the Atlanta Braves), Liberty SiriusXM Group (includes a 76.4% ownership stake in SiriusXM), and Formula One Group (headlined by Liberty's 100% ownership in Formula 1).
Liberty Media took the Atlanta Braves public in 2016 as a tracking stock, which, according to Investopedia, is a "type of security issued by a parent company to represent a specific division of the business." At the time, the team was valued by Forbes at $1.2 billion. In its 2021 MLB valuations list, Forbes ranks the Braves as the eleventh most valuable MLB team with a valuation of $1.8 billion. Professional sports teams as public companies can make for fun business ratios, such as revenue per fan, which Forbes calculates is $8 for the Braves.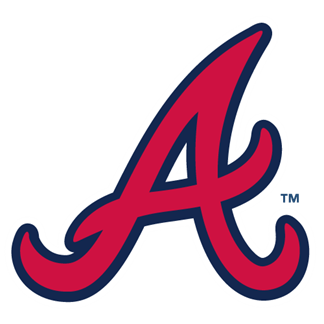 Juventus Football Club (JUVE IM)
Market Capitalization: $1.2 billion
In the debate of who is the greatest soccer player of all-time (or at the very least the last 20 years), it almost always comes down to Lionel Messi and current Juventus Forward Cristiano Ronaldo. Ronaldo certainly has the accolades and skillset to be the GOAT, and while he's only in his third season with the club, he has made quite the impact.
Ronaldo joined Juventus after nine highly successful seasons with Real Madrid in La Liga, following his aforementioned tenure with Manchester United. In his first season (2018-19) of Serie A play, he scored 21 goals and was named Serie A MVP in a title winning season. Ronaldo and Juventus were again dominant in 2019-20, winning the Serie A title for the 36th time and 9th consecutive year. That's the thing about Juventus - the Italian club has had a history of winning long before Cristiano Ronaldo's signing (unlike situations in American sports where a superstar joins an inferior team and takes them to the top).
Juventus has been a powerhouse in Italy for countless years. For context, the next closest clubs in terms of Serie A titles are Inter Milan and A.C. Milan who each have 18 - half of what Juventus has garnered. In total, the club has won 69 official titles on the national and international stage.
For European soccer teams especially, jersey sponsorships are highly sought after, and Juventus' iconic black and white kits don a large Jeep logo across the chest. According to the Associated Press, In December of 2020, Juventus extended their deal with Jeep until the 2023-24 season, receiving $55 million per season. Additionally, Juventus has a kit deal in place with Adidas where the club makes a minimum of $62 million per season through the 2026-27 season. As is common in soccer sponsorship deals, performance bonuses may be earned for winning national and/or international titles. Juventus is majority-owned by the Agnelli family through a holding company named Exor, which has a 63.77% stake in the Italian club. According to Exor, 22.6% of revenues come from sponsorships and advertising.
One aspect of investing in soccer teams is that they receive income for player transfers, where they loan a player to another club. According to Deloitte's Football Money League 2021, Juventus player transfer income totaled €240.6 million in 2020. Deloitte also notes that the club's 36% decline in matchday revenue was the largest of their so-called "Money League" clubs. With that, Juventus is primed for a strong rebound once fans return in full force to Allianz Stadium in Turin, Italy.
Shares of Juventus are listed on Borsa Italiana, the Italian stock exchange located in Milan. The club originally became publicly traded after a 2001 IPO in Italy.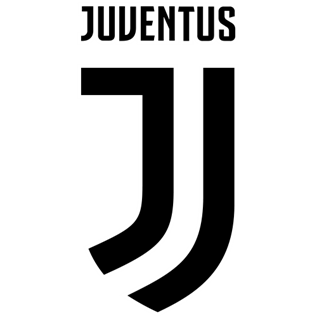 Dortmund (BVB GR)
Combined Capitalization: $584 million
Rounding out the top-five most valued publicly traded sports teams is Dortmund, a perennial contender in the Bundesliga, Germany's top soccer league. According to Deloitte, in the face of the pandemic, Dortmund and other top German clubs were least impacted among the "Big Five" top soccer leagues in England, Germany, Spain, France, and Italy. This was due to the fact that the club's domestic season finished within the financial year. In fact, Dortmund's revenue loss of 2% was the smallest loss of any of Deloitte's "Money League" clubs.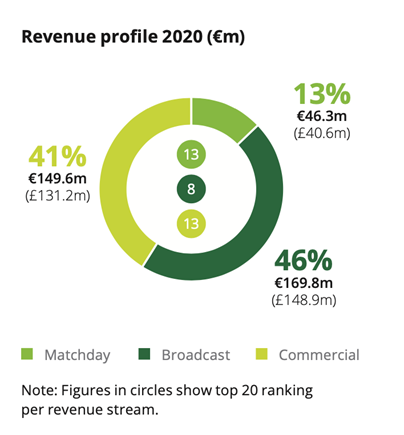 Source: Deloitte, data as of January 2021. Information is subject to change and is not a guarantee of future results.
A 2020 revenue profile of Dortmund (via Deloitte) reveals that a relatively small percent of their annual revenue comes from matchdays. Broadcasting and commercial/sponsorship deals make up the vast majority of their revenue. On this note, Deloitte anticipates that Dortmund's "future revenue growth is likely to rely on-pitch performances - notably in the Champions League - and BVB's continued commercial drive, particularly with a focus towards the Chinese and other Asian markets."
Dortmund became publicly traded on the Frankfurt stock exchange in 2000. The Wall Street Journal noted in 1999, as Dortmund announced its IPO plans, that the German federal soccer league began allowing teams to become corporations in 1998.