How Do Esports Teams Make Money?
For a while, every conversation I had about investing in esports centered around the teams. An important part of the ecosystem, it's imperative that we, as esports investors, understand how esports teams make money.
Since the esports industry is ever-changing and ever-expanding, it's worth noting that over time, investors have started to look at other parts of the esports ecosystem when it comes to investing. This could be due to the fact that the majority of people aren't able to invest directly in teams. The Roundhill BITKRAFT Index (NERD Index) doesn't include any pure-play esports teams or team organizations. Honestly, there aren't any public ones that are large enough or liquid enough. But none of this changes the fact that esports teams are an important piece of the competitive landscape.
This piece attempts to answer this question, while keeping in mind that different games and regions exhibit different setups.
Related: How to invest in Esports?
The Numbers Behind Esports
Gaming is the fastest-growing form of entertainment globally, with revenues increasing at 9%+ per year. By 2022 the global video game market is expected to surpass $190 billion in revenues. According to Newzoo, esports revenues were $856 million in 2018 and are expected to grow to $1.79 billion by 2022.
These numbers include media rights, merchandise and ticket sales, advertising, sponsorship, and game publisher fees. At Roundhill, we believe that the opportunity set associated with esports (as we broadly define it) is considerably larger and more difficult to estimate. As an example - if I watch my favorite streamer play at the Fortnite World Cup and end up buying the skin he or she used, is Epic counting that as esports revenue?
While the water can get murky, it's a bit cleaner for the teams themselves. This makes it an easy place to start, although it probably won't be your last.
How Esports Teams Make Money
As alluded to above, the more traditionally accepted esports revenue channels are pretty effective when looking at how teams make money. We break down the key revenue channels for esports teams below. Worth noting before diving in, the valuations behind some of these teams are closer to tech company valuations than traditional sports team valuations.
Sponsorships
Sponsorships represent a key channel of revenue for the industry, currently the largest at roughly 40% in 2018 according to Newzoo. In 2019, sponsorships generated $456.7 million. For endemic brands, sponsorships have an amplified effect. As with any sponsorship, they help create brand awareness around the company's products. The messaging is further strengthened, in most cases, when the team competes using the sponsor's gear. Endemic sponsors include Razer, MSI, Bilibili, Huya, AfreecaTV, and NetEase - among several others.
Non-endemic brands sponsor esports events in much the same way they sponsor traditional sports. This includes product placements, direct sponsorship of teams or events, rights to use IP in marketing, and more. The virtual nature of esports allows for additional opportunities in many cases. Think branding on a player's jersey and on the player's avatar's skins. For example, Samsung partnered with Fortnite to offer the exclusive Samsung Galaxy Fortnite skin, which was originally only made available to gamers who pre-ordered the Samsung Galaxy Note 9.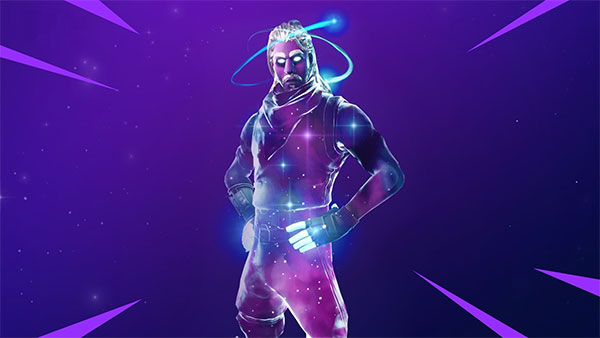 Samsung Galaxy Skin. Source: Samsung.
Of all the leagues, Overwatch League boasts the strongest and most well-known list of sponsors, including Coca-Cola, HP, Intel, Toyota, and T-Mobile. But the League of Legends Championship Series announced that they would be partnering with Bud Light at the start of 2020, a sponsor they now share with the aforementioned Overwatch League. These sponsorships lead to exclusive content for fans, interactive streams, and sometimes even watch parties and other in-person events.
Back within esports teams, sponsorships are an extremely important part of their annual revenue. So much so, in fact, that one team, FaZe Clan, became the target of heavy scrutiny when one of their popular streamers demanded that the team give up a bigger percent of his sponsorship earnings. Tfue's lawsuit made waves in the esports community, leading to many players and streamers getting bigger percentages of their sponsorship earnings after it was revealed that FaZe took a whopping 80% of his endorsement deal profits.
Advertising
We've seen sponsorships and advertising grouped together elsewhere, and while splitting them can create challenges in certain instances as to where to attribute revenue, we felt it was important to split them for the purposes of this discussion. In part, this is because they make up nearly 60% of industry revenue when combined (39% and 19%, respectively, in 2018).
Advertising revenues are those generated from content presented to viewers of esports events. Given the consumption patterns of esports viewers, where linear television makes up a considerably smaller portion of views compared to traditional sports, the majority of this revenue stream is generated from ads served on streamed content. As such, "advertising" revenue for teams could be reclassified as "content" revenue, or revenue generated by deals with streaming platforms. These deals also include rights to advertise on players individual streams.
Selling Merchandise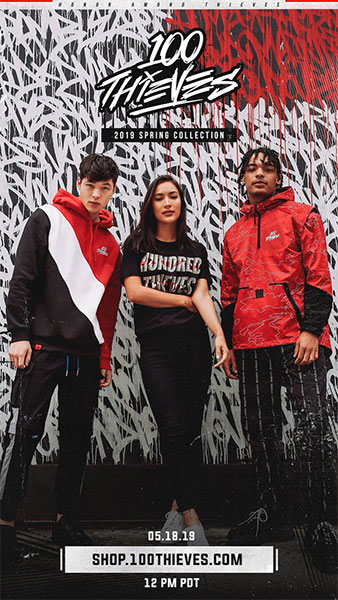 Source: 100 Thieves.
As in traditional sports, merchandise sales are another key revenue channel. In fact, esports organization 100 Thieves describes itself as "a new lifestyle company and esports organization built at the intersection of competitive gaming, entertainment, and apparel." This is one example of esports organizations approaching business in a differentiated way, and focusing on their strengths. 100 Thieves recently raised $35 million to expand, and other organizations are watching.
Team Liquid partnered with Marvel in 2019 to bring exclusive superhero-themed merch, like a Captain America-styled jersey. Perhaps most surprising - and brilliant - of all was Fnatic's clothing collaboration with Hello Kitty.
As alluded to before, and unlike traditional sports, "merchandise" can be both physical and digital. In-game purchases tied to esports organizations is a unique channel that could drive revenues meaningfully going forward.
Winning Tournaments
The final revenue channel is tournament winnings. Many will have read about the 2019 Fortnite World Cup winner, Bugha, and his $3 million first place prize. What many may not realize is that a portion of his winnings ultimately go to his team, the LA based Sentinels.
While there is no doubt that team organizations value their teams succeeding in competition, it's actually not universal for a team organization to take a cut of tournament winnings. Many of the larger team organizations prefer instead to benefit indirectly from the success their teams have in competitive play when it comes time to negotiate new sponsorship deals, which are more valuable if the team is performing well, thus making this a less significant channel for most teams.
League Revenue Sharing
Not unlike traditional sports, many top leagues include revenue sharing agreements, where revenues generated by the league are redistributed to individual teams. The league level revenue channels typically include the aforementioned channels through which teams earn revenues (excluding winning tournaments). In addition to sponsorships, advertising, and merchandising, leagues generate revenues in the following additional ways.
Ticket Sales
Like any in-person media experience, ticket sales make up a portion of revenues for esports. While some events have generated reasonable numbers here, the current climate leads to limitations. For example, all matches throughout the League of Legends Championship Series' regular season are held at the LCS Arena in Santa Monica, California.
To combat this, the franchised Overwatch League announced that they would be going global in 2020. Every team has the chance to host a weekend's worth of tournaments in their hometown, whether it be in New York City or Seoul, South Korea. According to the Overwatch League's former commissioner, Nate Nanzer, this would be a way for fans from all over the world to attend games. In return, this helps teams grow larger fanbases in their home city.


Fortnite World Cup. July 28, Arthur Ashe Stadium, Queens, NY.
Still, given the digital nature of esports, one could argue that the opportunity for "ticket sales" may actually reside online. Organizers charging a premium for viewers to watch an advertisement free or enhanced version of the events from the comfort of their own homes could yield a nice return - imagine a virtual reality based in-game viewing mode. The Fortnite World Cup was hosted at Arthur Ashe Stadium (23,000 capacity) over three days. If they had hoped to have ticket sales pay the cost of the prize pool alone ($30 million), they'd need to sell tickets for an average of ~$435 per day ($30 million divided by 69,000, or 23,000 seats a day).
Broadcasting Rights
Broadcasting rights are a key channel for revenue, and one where tournament organizers may have leverage to negotiate better terms within the hyper-competitive universe of media platforms.
These platforms are all competing for views, and securing sole-broadcasting rights, or sole rights within a given region, for a major event is a nice way to drive traffic to a given platform. These platforms must then find ways to retain and eventually monetize users, which is another challenge altogether, but exclusive streaming rights for major events can be a strong means for onboarding new customers.
However, exclusive streaming rights most often belong to the event organizers. In the case of the StarLadder Major, Counter-Strike: Global Offensive streamers became outraged when StarLadder wouldn't allow them to stream one of their 2019 events. Eventually, the event organizer decided to loosen up their streaming rules after the backlash.
What are the Top Tournaments and Leagues?
Speaking frankly, we're not in the business of ranking the top tournaments or leagues within esports. This type of exercise can draw extra scrutiny, leading some to feel their game is underrepresented on a given list.
The purpose here is to discuss the tournaments and leagues that have the most brand awareness both within and outside the gaming community. We believe this list does just that.
Overwatch League
Within the US, the Overwatch League is one of the most well-known competitive esports leagues outside of the gaming community, thanks in large part to the deep bench of big-four traditional sports team owners who are involved in the league.
Blizzard Entertainment (owned by Activision Blizzard) operates the league, choosing to utilize a location-based franchise model most similar to that of traditional sports in the US. This model both a) ties teams to an individual city (which helps promote community growth) and b) does away with the promotion/relegation model often seen in soccer and other esports. Their new global schedule is expected to lead to more recognition and followers outside of the US, although some are worried they are attempting too much too soon.
League of Legends Championship Series
The League of Legends Championship Series (LCS) is the premier League of Legends league for North America. The Riot Games operated league has 10 teams and, like the Overwatch League, has chosen not to utilize the promotion and relegation model (though other top tier League of Legends leagues globally do utilize promotion and relegation).
However, the LCS differs from the OWL in that the franchises, while not at risk of relegation each season, do not represent specific cities. This contrast will be important to watch in the coming years, as the franchises build brand equity for these digitally native competitions.
Fortnite World Cup
2019 marked the first year of the Fortnite World Cup. The Epic Games-sponsored tournament gave out $30 million in prizes the largest prize pool for an inaugural esports tournament -- by far.
Fortnite became a cultural phenomenon in recent years and has helped in many ways to bring gaming into the mainstream. It's no surprise, then, that the initiation of a true competitive scene is catching the attention of the broader population as well - even if the competitors themselves often question Epic's decisions in promoting competitive play.
Dota 2: The International
The International has made headlines year after year since its inception in 2011, when tournament organizer Valve offered a $1.6 million prize pool. In 2013, Valve announced that an interactive compendium would be available for purchase, with 25% of the revenue from the compendium going to the prize pool.
Each year since, The International has broken its previous year's record for overall prize pool, with a 2018 total of ~$25.5 million. In 2019, it easily broke $30 million.
How are Tournaments and Leagues Funded?
Tournaments and leagues are primarily funded in two ways: sponsored or crowd-funded.
Sponsored
One of the key differentiators between esports and traditional sports is the fact that a company owns the intellectual property that is the game. The NFL doesn't own football, but Activision Blizzard does own the game Overwatch.
The entities that own the IP behind these games like to take an active role in developing the competitive scene. Part of that active role is funding the rewards for those competing. Broadly speaking, the largest prize-pools tend to be for developer sponsored competitions, like the Fortnite World Cup.
Non-developer sponsored competitive play is also common, although the numbers tend to be smaller. For example, the Apex Legends' EXP Invitational was hosted by ESPN as part of the X Games in Minneapolis. The prize pool was $150,000.
Crowd-Funded
Dota 2's The International, the largest tournament in all of esports (by prize money) is primarily a "crowd-funded" tournament. However, The International is still organized by Valve (the company behind Dota 2), and thus largely controlled by Valve and only secondarily by the community.
Truly crowd-funded esports events are actually really common, although as alluded to above, they tend to carry prize pools that are smaller in size. On a positive note, crowd-funded events are built by the community itself, in the way the community wants it to be executed. The Fighting Game Community (FGC) is a great example of crowd-funding in action, and has allowed a competitive scene to flourish without significant developer contributions. This hasn't stopped some communities, like the Smash Bros. competitive scene, from questioning if Nintendo should get more involved in order to offer more prize support for top players.
The Future of Esports
We believe esports is hitting an inflection point, and given the recent investments into the industry, it makes sense to wonder where we go from here. The model provided by traditional sports certainly offers a framework to work off, though I would argue that following that roadmap too closely would be a mistake.
There are a number of key differences to consider. One example is the alternative path that streaming offers to talented gamers. For those who can combine talent at a given game (or games, in some cases) with an on-screen personality that people enjoy watching, the opportunities as a professional streamer are often more lucrative than those as a competitive player. As an example, it has been reported that professional gamer Ninja signed a multi-year contract to stream his content exclusively on Mixer, Microsoft's streaming platform, and while the exact economics are not public, estimates range from $6 million per year to considerably higher. In terms of traditional esports, the top players are still being paid six-figure salaries. On the other hand, Lebron isn't moving away from the NBA to sign with ESPN+ anytime soon...
In the US, the NCAA has decided to hold off on overseeing collegiate esports. But what if they did? Would talented young players be forced to choose between a potentially lucrative streaming career and a chance at a college scholarship to play competitively? Applying the NCAA rules for student-athlete compensation to streamers would almost certainly make doing both impractical, if not impossible.
Related: Esports Viewership vs Sports
Conclusion
Looking at how esports teams make money going into 2020 is an important exercise for evaluating the future of the industry. As with many things, following the money is a good way to understand how it all works.
That said, the industry has never seen the inflow of interest or capital that we're seeing today. How it evolves from here is really anyone's guess. Will the city-based franchise model of the Overwatch League (and the brand new Call of Duty: World League) prove optimal? Or does the digitally native nature of esports lend itself better to the non-city-based model that dominated the esports world in the past? Does eliminating promotion and relegation to give investors more comfort buying into a team promote the long-term health of a league?
What will the NCAA do? Will esports become an Olympic sport? If so, which games will be played and how will they be chosen? Answering these questions will ultimately impact the value proposition of each part of the ecosystem, and thus will impact where the money goes.