Understanding the Games Driving Esports

On National Video Games Day, we posted a somewhat controversial tweet to the Roundhill twitter account, whereby we attempted to rank popular esports using a tiered system. In our post, we intentionally left off the framework used to prescribe tiers for two reasons: (1) to drive discussion and to see what the community thought; and (2) because our ranking was less quantitative than we would generally prefer. While the methodology remains entirely imperfect, we wanted to flesh out our mix of qualitative and quantitative factors to further promote discussion amongst the community.
We believe it is important to educate non-gamers within the investment community on the esports landscape. While nearly all U.S. investors have heard of Fortnite -- given its ascendance in mainstream culture -- it is important to understand all of the popular esports and how they fit into the overall story going forwards. After all, the games themselves are at the center of the entire investment thesis.
TIER 1 - These games combine storied histories within esports with the potential for future growth. They are consistently near the top of the pack when it comes to viewership.
Dota 2 (Valve - Private): Defense of the Ancients 2, or simply Dota 2, is a Multiplayer online battle arena ("MOBA") developed and published by Valve Corporation. Dota 2, which was originally a mod for Blizzard's Warcaft III, is best known for its annual esports tournament, The International ("TI"). Per Niko Partners, Dota 2 generated half a billion dollars in revenues in 2018, seventh among PC esport titles.
The International has been the largest tournament in esports -- by prize money -- for the last seven years, with its 2019 version offering up more than $34 million (an esports record). In aggregate, Dota 2 players have won an incredible $216 million in prize money, more than $100 million more than the next title, Fortnite (Esports Earnings). Notably, a large majority of the prize pool comes from the Compendium each year, a crowd sourced form of in-game monetization.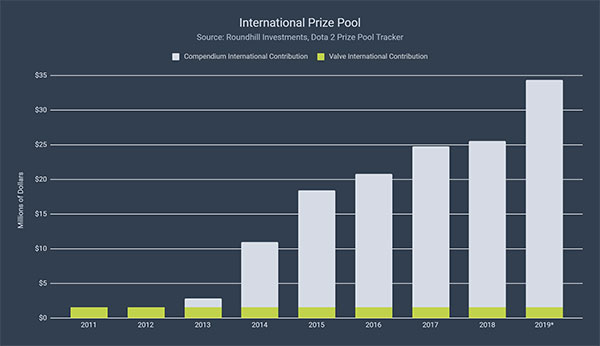 Dota 2 viewership continues to increase, with peak viewership (excluding China) of more than 1.9 million for this year's finals. Tickets to this year's event, held in Shanghai, reportedly sold out in less than one minute, with resale prices as high as $1,000 -- suggesting that Chinese interest in the title remains significant and growing.
League of Legends (Riot Games / Tencent - 700.HK): League of Legends ("LoL" or "League") is another MOBA. It is developed and published by Riot Games, which was bought by Chinese gaming conglomerate Tencent for ~$400 million in 2011. (To be specific, Tencent purchased 93 percent of Riot in 2011. They bought the remainder in 2015 for an undisclosed amount). According to Niko Partners, League was the highest-grossing PC esport globally at $1.9 billion in revenues.
League is one of the oldest esports, having recently celebrated its 10-year anniversary by announcing 8 million daily active players. Is is also amongst the most developed in terms of infrastructure and scale, with parent company Riot Games overseeing franchised leagues in the US and China. League consistently ranks amongst the most watched content on Twitch, and according to The Esports Observer, had 512.3 million hours for the first half of 2019, representing nearly 20% growth versus 2018. For the first half of 2019, it was the most watched title on Twitch.
LoL is frequently celebrated for the viewership for its World Championship, which is typically amongst the highest in all of esports. According to China data provider iResearch, the 2018 League of Legends Pro League Finals achieved peak concurrent Chinese viewership of 67 million. In 2018, League topped the list in terms of esports hours watched at 240 million.
Counter-Strike: Global Offensive (Valve - Private) Counter-Strike is the world's premier first person shooter esport. With competitive play that dates back nearly two decades, Counter-Strike is one of the most popular franchises in PC gaming. The current iteration, Counter-Strike Global Offensive, or CS:GO, was released in 2012.
Since its release, CS:GO has been at the top of the esports world in terms of both prize money and viewership. CS:GO Majors have featured prize pools of $1 million in recent years and two 2018 Majors -- ELEAGUE Major and the FACEIT Major London -- achieved peak concurrent viewership of more than 1 million viewers. For 2018, CS:GO only trailied League of Legends in esports hours watched. It ranked ninth amongst PC esports titles in total revenues for 2018, pulling in $350 million USD (Niko Partners).
TIER 1A - Despite lacking the history of their "Tier 1" counterparts, these titles are proving to be major commercial successes.
Fortnite (Epic Games* - 700.HK) When Epic Games announced $100 million in prize money for 2019, Fortnite secured its position towards the top of the esports landscape. Despite concerns from the esports community surrounding the feasibility of a competitive battle royale and Epic Games' apparent focus on the everyday player (i.e. changing the meta before major events), the 2019 Fortnite World Cup was a seminal moment in North American esports.
The three-day tournament was hosted at Arthur Ashe Stadium in New York and awarded more than $30 million in prize money. The finals peaked at more than 2.3 million concurrent viewers across platforms, with an average of 1.1 million tuning in.


Source: Roundhill Investments
At $100 million-plus, Fortnite will award the largest dollar figure in prize money of any esport in 2019. In addition to competitive play, it also boasts one of - if not the strongest - communities amongst the casual streaming community. According to Niko Partners, Fortnite generated $1.25 billion in 2018 on PC, with an additional $455 million from mobile (iOS only).
Overwatch (Blizzard - ATVI) Unlike the majority of other popular esports, Overwatch, a "hero shooter" developed and published by Blizzard Entertainment, was a title originally designed with esports and spectators in mind. As part of Activision's strategy, the Overwatch League ("OWL") was founded in 2017, less than a year after the title's original launch.
Amongst esports leagues, OWL is best known as the first to adopt a traditional-sports-esque, franchised, city-based model. Playing off its familiar structure, OWL was able to attract capital from big names in traditional sports, including Bob Kraft and Jeff Wilpon, to buy franchise slots in the league. According to various reports, slots were sold at $25 million in year 1, and increased to $30-60 million for year 2. The OWL also reportedly signed a two-year $90 million deal with Twitch for exclusive media rights beginning in 2017.
According to Nielsen, the Overwatch League drew a global average-minute audience of 313,000 viewers for the 2019 regular season, up 18 percent from its inaugural season. Notably, OWL has seen some semblance of success on linear TV where it has a media rights deal with ABC -- see below.


Source: Manny Anekal on Twitter
For reference, OWL boasts one of the strongest sponsorship lineups in all of esports, including deals with Coca-Cola, T-Mobile, and State Farm.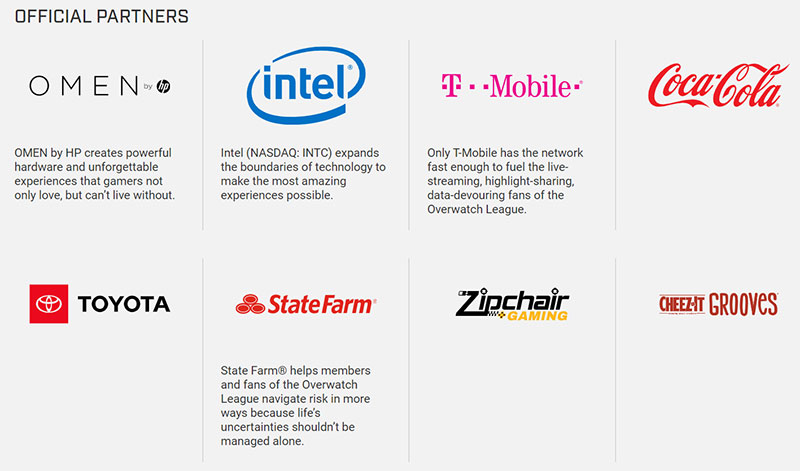 Source: The Overwatch League
TIER 2 - These titles are below their "Tier 1" counterparts in terms of viewership, prize money, and general mainstream acceptance. However, they continue to maintain large, loyal fanbases.
Call of Duty (Activision - ATVI) Call of Duty ("CoD") is an annual release first-person shooter developed and published by Activision. CoD is one of the best-selling franchises in the history of gaming, having generated gross revenues of an estimated $17 billion as of 2018. Over its tenure, Call of Duty has been known to produce some of the biggest names in competitive gaming, including 'Optic Scump' and 'Nadeshot', the CEO of 100 Thieves.
The Call of Duty World League ("CWL") announced $6 million in prize money for the 2019 season, with tournaments played on Call of Duty: Black Ops 4. At current, the $6 million in prizes solidifies CoD as a top 5 esport in terms of prize money. In May, The Esports Observer reported that CWL hours watched had increased roughly 20% versus 2018, a year in which the title took backstage relative to battle royale upstarts Fortnite and PUBG.
Historically, CoD esports have been produced as an "open circuit", with all teams eligible to compete in major tournaments that take place globally year round. For the 2020 season, Activision has announced significant changes to CoD esports including a shift to the franchise, city-based model being employed in Overwatch. Franchise slots in the league ("CDL") have been reportedly sold at an asking price of $25 million. Prominent investment groups have bought into the league for its first season, including many of the same parties invested in Overwatch. Notably, a number of esports organizations with a history of success in CoD, including aforementioned 100 Thieves, have opted not to purchase a franchise at the reported asking price.
PUBG / PUBG Mobile (Bluehole** - 700.HK) PlayerUnknown's Battlegrounds, better known as "PUBG", is a battle royale game developed by PUBG Corporation, a subsidiary of Korean game company Bluehole. Unlike the majority of titles on the list, PUBG has been extremely successful in growing a competitive gaming scene for both its PC and mobile versions. In December 2018, it was reported that PUBG Mobile reached 200 million registered users, including roughly 30 million daily actives.
As of June 2019, PUBG Mobile secured its position as the most popular mobile game in the world, as defined by 100 million monthly players and nearly $150 million in monthly revenue.
In terms of esports, the PUBG Mobile Club Open ("PMCO") reached 600,000 peak concurrent viewers, firmly establishing the title as a clear leader in mobile esports. Meanwhile, the PC version achieved 750,000 viewers for its 2018 PUBG Global Invitational, excluding China. According to iResearch, Chinese viewership for the PUBG Global Invitational exceeded 60 million.
PUBG (#8) and PUBG Mobile (#16) also are near the top of the prize earnings list for 2019. For 2018, PUBG came at number 9 on Newzoo's list of esports hours watched.
Rainbow Six Siege (Ubisoft - UBI FP) Tom Clancy's Rainbow Six Siege ("R6" for short) is a tactical shooter developed and published by Ubisoft in 2015. The player count for R6 continues to grow years after its initial launch, reporting a total of 50 million registered players as of September 2019.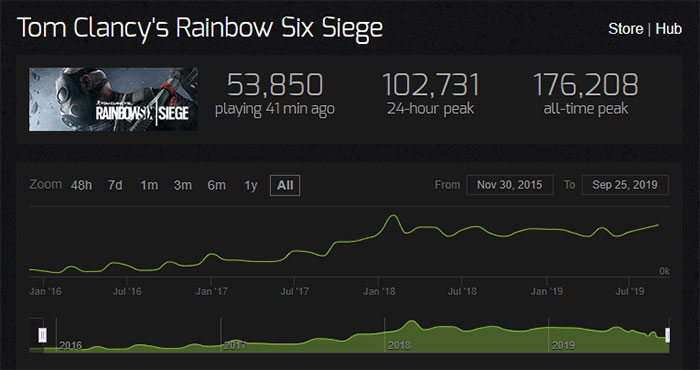 Source: Steam Charts
Ubisoft has supported its core player base by building a robust esports ecosystem, which resulted in a doubling of Twitch viewership in 2018 (according to TEO). The world's preeminent R6 esports league, the Rainbow Six Pro League, is run by ESL, and includes teams from North America, South America, Europe, and APAC.
R6 is currently 9th in prize money for 2019; the title was eighth for 2018 in esports hours watched, clocking in at 14.5 million.
Rocket League (Psyonix / Epic Games * - 700.HK) Rocket League, which is best described as "soccer with cars", is a 2015 title developed and published by Psyonix. According to Esports Earnings, Rocket League has distributed the 15th most prize money in 2019. For full year 2018, Newzoo reported that Rocket League was tenth in terms of esports hours watched (13 million).
Rocket League will also be one of two titles -- the other being Street Fighter V -- that will be featured at the Intel World Open leading up to the 2020 Olympics in Tokyo. While this is certainly an indication of the games popularity, it also speaks to the ease of consumption for the average viewer in a game that effectively looks and feels like traditional soccer.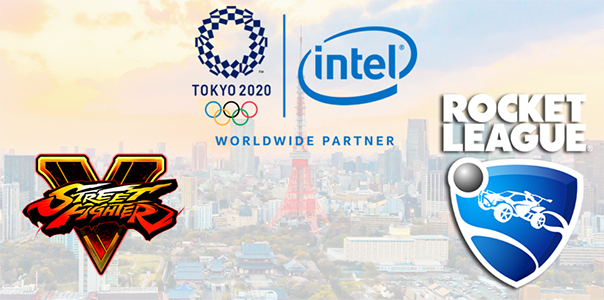 Source: The Esports Observer
In May 2019, Epic Games, Fortnite's parent company, announced its acquisition of Psyonix.
Hearthstone (Blizzard - ATVI) Hearthstone is a massively successful turn-based collectible card game ("CCG") developed and published by Blizzard Entertainment. The game was released in 2014 and rapidly developed into the world's foremost CCG. While the game utilizes a free-to-play model, it was 12th in PC esports title revenues in 2018 at $125 million, per Niko Partners. The title continues to grow, reportedly reaching 100 million registered players four years after its initial release.
In terms of prize money, Hearthstone has placed in the top ten every year since 2014. For 2019, more than $4 million in prizes will be distributed. Per Newzoo, Hearthstone was fifth in esports hours watched for 2018 at 43 million hours. Hearthstone reportedly saw viewership decline in 2018 amongst competition from other CCGs, such as MTG: Arena, but has seen a resurgence in 2019 following a crowd-sourced prize format.
Hearthstone was a featured esport at the 2018 Asian Games.
TIER 3 - These titles have different stories and trajectories, but each carry merit in terms of earning a spot amongst the biggest esports titles in the world.
StarCraft II (Blizzard - ATVI) StarCraft II has historically been one of the top titles in esports, and its South Korean competitive scene is often credited for being the basis of modern pro gaming. StarCraft, a real-time strategy game ("RTS"), is developed and published by Blizzard Entertainment.
The StarCraft II World Champion Series was launched in 2012, and beginning in 2013, has been supplemented by tour events at Intel Extreme Masters and Dreamhack.
In the early 2010s, StarCraft was the most-watched game in the world. In 2018, it achieved the seventh-most esports hours watched despite continued competition from free-to-play titles League and Dota.
StarCraft has awarded the fifth-most prize money all-time -- $31 million distributed over nearly 5,600 tournaments. In 2011, total StarCraft II prize money of $3.2 million was paid out, the most of any esport that year.
Arena of Valor / Honor of Kings (Tencent - 700.HK) Arena of Valor ("AoV") is a MOBA designed and published on mobile by Tencent Games. According to Niko Partners, AoV was the highest grossing esports mobile title in 2018, generating $2.5 billion in revenues.
Outside of its commercial success, AoV has developed a robust esports community in the mobile market. It has distributed more than $5 million in prize money for 2019, establishing the title in the top ten of all esports (PC games included). Esports Charts reported peak viewership of more than 760,000 for the 2019 Arena of Valor World Cup, including 580,000 viewers from Vietnam alone.
Notably, Arena of Valor was a featured title at the 2018 Asia Games in Indonesia.
FIFA (EA Sports - EA) FIFA is a soccer (football) simulation franchised published by EA Sports, a subsidiary of Electronic Arts. With a new version released each year, FIFA is the 6th best-selling franchise in the history of gaming, having sold a reported 260 million copies as of 2018.
Interest in competitive FIFA continues to grow. According to EA, the title's 2019 eWorld Cup Grand Final viewership increased 60% percent versus 2018, setting a new record for the title. At nearly $2.9 million in prize money distributed for 2019, FIFA is the largest sports simulation esport, and 11th overall.
From a competitive standpoint, it has been able to generate an audience both on console and PC.
Apex Legends (Respawn Entertainment - EA) Apex Legends, the youngest title on the list (released February 2019), is a free-to-play battle royale game developed by Respawn Entertainment and published by Electronic Arts. Following a "surprise launch", the title amassed 25 million registered players in its first week, and 50 million in its first month. Unlike Fortnite which includes modes featuring teams of 1,2,3, and 4, Apex Legends is exclusively based on team play (teams of 3).
As early as three months following its launch, esports organizations began to field teams in Apex. The title has since been featured as part of the ESPN's EXP program. Apex Legends has already distributed more than $2 million in prize money, including $500,000 at the inaugural Apex Legends Preseason Invitational held in Krakow, Poland.
Viewership for the title has struggled to keep pace with its initial success, which was driven by a streamer-focused marketing campaign.
Street Fighter V (Capcom - 9697 JP) Street Fighter V ("SFV") is a fighting game title published by Capcom. The Street Fighter franchise has a long tradition in gaming and esports, with the first iteration of the franchise having been released back in 1987. Street Fighter II is widely recognized for helping to pioneer the 1v1 fighting game genre, and the franchise is one of the highest grossing in the history of video games.
Street Fighter V was recently announced as a featured title at the Intel World Open, which will take place in Tokyo during the lead-up to the 2020 Olympic Games. In 2018, SFV paid out the greatest amount of prize money amongst fighting games.
At EVO 2018, an annual esports event focused exclusively on fighting games, SFV saw the second-most registrations, trailing only DragonBall FighterZ.
Super Smash Bros. (Nintendo - 7974 JP) Super Smash Bros. is a fighting game franchise developed and published by Nintendo. The game features a multitude of characters borrowing from Nintendo IP. The inaugural title in the series, Super Smash Bros, was released in 1999 on the Nintendo 64, establishing the franchise's long-standing reputation in the gaming community.
Smash Ultimate and Smash Melee have both been successful in terms of competitive esports. At EVO 2019, Ultimate set the viewership record for any title at an EVO event, drawing 279,000 peak viewers, as reported by Slasher on Twitter.
The Smash series is immensely popular amongst the Fighting Game Community ("FGC").
NBA 2K (2K Games - TTWO) NBA 2K is the predominant basketball simulation title globally. It is published by 2K Sports, a subsidiary of Take-Two Interactive. While viewership numbers have yet to materialize in a major way, '2K' gets the nod due to its superior infrastructure and institutional backing. The title is best-known for its 2K League, a JV between parent TTWO and the NBA, which includes buy-in from 21 NBA franchises as of 2019.
Summary
TIER 1

- These games combine storied histories within esports with the potential for future growth. They are consistently near the top of the pack when it comes to viewership.
Title
Publisher
Genre
Released
Ticker
Platform
Dota 2
Valve Corporation
MOBA
2013
Private
PC
League of Legends
Riot Games
MOBA
2009
700.HK (Tencent)
PC
Counter-Strike: Global Offensive
Valve Corporation
FPS
2012
Private
PC

TIER 1A

- Despite lacking the history of their "Tier 1" counterparts, these titles are proving to be major commercial successes.
Title
Publisher
Genre
Released
Ticker
Platform
Fortnite
Epic Games
Battle Royale
2017
700.HK (Tencent)
PC
Overwatch
Blizzard Entertainment
FPS
2016
ATVI
PC

TIER 2

- These titles are below their "Tier 1" counterparts in terms of viewership, prize money, and general mainstream acceptance. However, they continue to maintain large, loyal fanbases.
Title
Publisher
Genre
Released
Ticker
Platform
Call of Duty
Activision
FPS
Annual
ATVI
Console
Player's Unknown Battlegrounds
PUBG Corporation
Battle Royale
2017
700.HK (Tencent)
PC / Mobile
Tom Clancy's Rainbow Six Siege
Ubisoft
FPS
2016
UBI FP (Ubisoft)
PC
Rocket League
Psyonix
Vehicular Soccer
2015
700.HK (Tencent)
PC/Console
Hearthstone
Blizzard Entertainment
CCG
2014
ATVI
PC

TIER 3

- These titles have different stories and trajectories, but each carry merit in terms of earning a spot amongst the biggest esports titles in the world.
Title
Publisher
Genre
Released
Ticker
Platform
StarCraft II
Blizzard Entertainment
RTS
2010
ATVI
PC
Arena of Valor / Honor of Kings
Tencent Games
MOBA
2017
700.HK (Tencent)
Mobile
FIFA
EA Sports
Sports simulation (soccer)
Annual
EA
Console / PC
Apex Legends
Respawn Entertainment
Battle Royale
2019
EA
PC
Street Fighter V
Capcom
Fighting game
2016
9797 JP (Capcom)
Console
Super Smash Bros.
Nintendo
Fighting game
Multiple
7974 JP (Nintendo)
Console
NBA 2K
2K Games
Sports simulation (basketball)
Annual
TTWO
Console