How to Invest in Esports – 10 Esports Stocks to Know

For most people, the concept of esports may be foreign. It seems strange that people would rather watch someone playing a game than play themselves. However, for the current generation of children and young adults, spectating video games has become a notably popular activity, one that could conquer the landscape of traditional live media, sports, and entertainment. Over the past few years, esports and game streaming have rapidly moved from the fringe to the mainstream, and viewership is challenging that of traditional sports.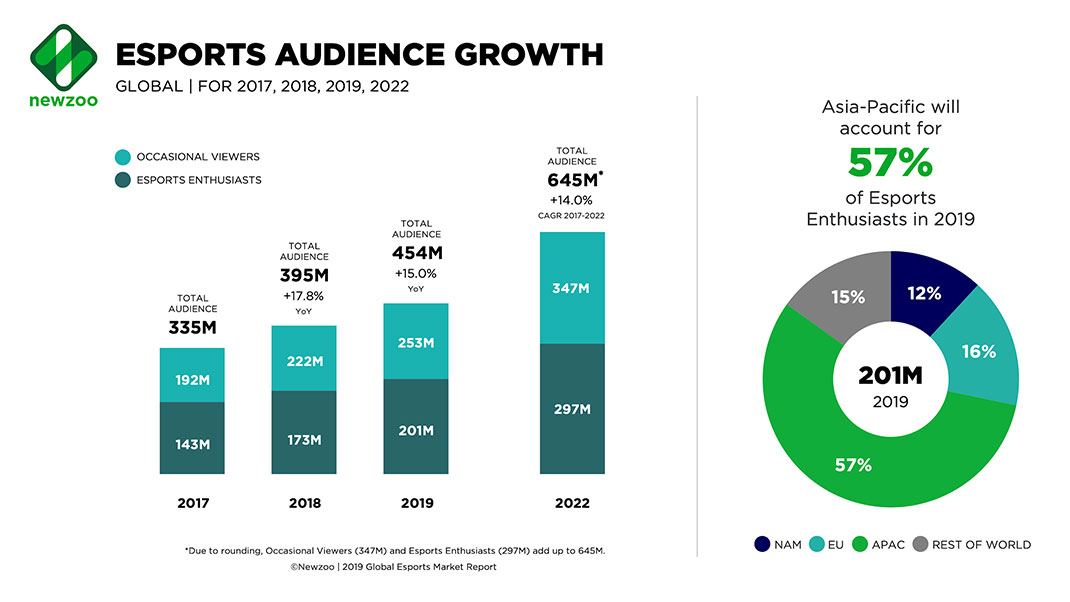 Source: Newzoo
On a global basis, Newzoo estimates that there are 173 million frequent viewers of esports and an additional 222 million occasional viewers today. By 2022, Newzoo expects the esports total audience to reach 645 million, roughly double the entire population of the United States. These figures may suggest esports has already become a mainstream form of entertainment, though the industry is still seeking more effective audience monetization channels. Uncovering these monetization channels is likely a key factor in industry revenue and profitability going forward.
While many opportunities to invest in esports are private, we designed the Roundhill BITKRAFT Esports Index to provide exposure to esports via public companies. We identified four primary types of public companies that provide exposure to the esports ecosystem — games, media, hardware, and broad-based. In our analysis below, we highlight each type of company and provide examples of holdings from our Index.
Games - Publishers / Developers
Games companies are primarily involved in the business of developing and distributing gaming software. In several cases, these companies own and operate competitive esports leagues.
Game publishers benefit from ownership in the underlying intellectual property, and unlike traditional sports, these companies control the ecosystem surrounding that IP.
Historically, game publisher revenues have been hit-driven and dependent on one-time title sales. As the industry moves to a "games-as-a-service" model, publishers are increasingly able to monetize existing IP over longer time horizons.
As it relates to esports and game streaming, not all publishers are created equal. Certain game publishers are positioned for esports growth, with a lineup of competitive game titles, while others focus on casual gameplay.
Activision Blizzard (ATVI)
Market Capitalization: $45.0 billion
Activision Blizzard is a globally-leading developer and publisher of interactive entertainment software. The company operates three primary business segments: Activision (console-focused), Blizzard (PC-focused) and King Digital (mobile-focused). The company's most popular esports franchises include Call of Duty, World of Warcraft, Overwatch, StarCraft, and Hearthstone. Activision Blizzard acquired King Digital, the company behind popular mobile franchise Candy Crush, and esports platform, Major League Gaming, in 2016.
Overwatch League: Activision's Overwatch League was the first professional esports league to adopt a city-based, franchise model – a model very similar to that of traditional sports. For the 2019 season, the Overwatch League supported an ecosystem of 20 teams, including 13 in North America, 5 in Asia, and 2 in Europe, highlighting the brand's global reach. According to various reports, Blizzard sold franchise slots for $25 million in year 1, and increased to more than $30 million for year 2. The Overwatch League also reportedly signed a two-year, $90 million deal with Twitch for exclusive media rights beginning in 2017.
Call of Duty League: Call of Duty is the best-selling first-person shooter franchise in video game history. Beginning in 2020, the professional Call of Duty League will adopt the city-based, franchise model first implemented in Overwatch. The inaugural season will feature 12 teams, including 10 based in North America, and 2 in Europe. Once again, franchise slots were reportedly sold for $25 million each.
Electronic Arts (EA)
Market Capitalization: $31.9 billion
Electronic Arts is one of the largest video game software companies in the world, currently ranked number two throughout Europe and North America in terms of revenue and market capitalization. EA publishes and distributes games, content and services on a variety of platforms, including consoles, PCs, mobile phones and tablets. Notable intellectual property includes established brands such as FIFA, Madden NFL, The Sims, and Battlefield, and newer releases Apex Legends and Anthem.
EA Sports
EA is the largest video game licensor of IP from traditional sports leagues, and as a result, is best-known for its sports simulation franchises, which include FIFA and Madden. FIFA is the 6th best-selling franchise in the history of gaming, having sold a reported 260 million copies as of 2018. Meanwhile, interest in competitive FIFA continues to grow. According to EA, the title's 2019 eWorld Cup Grand Final viewership increased 60% percent versus 2018, setting a new record for the title.
Apex Legends
Apex Legends is a free-to-play battle royale game developed by Respawn Entertainment and published by EA. Following a "surprise launch", the title amassed 25 million registered players in its first week, and 50 million in its first month. As early as three months following its launch, esports organizations began to field teams in Apex. The title has since been featured as part of the ESPN's EXP program and Apex Legends has already distributed more than $2 million in prize money, including $500,000 at the inaugural Apex Legends Preseason Invitational held in Krakow, Poland. Viewership for the title has struggled to keep pace with its initial success, which was driven by a streamer-focused marketing campaign.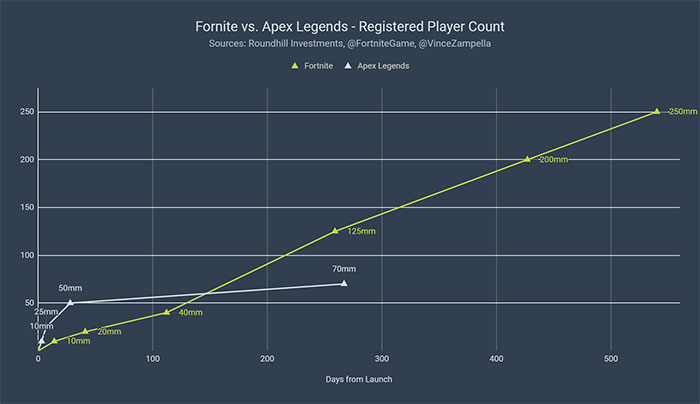 Source: Roundhill Investments
Media - Streaming Platforms, Live Events, Esports Teams
Esports media companies operate livestreaming platforms, entertainment properties, and / or esports events. These companies may also own or operate esports teams.
Esports media companies offer a derivative form of entertainment to the underlying games, allowing for increased engagement and monetization.
Unlike publishers, media companies are typically game agnostic, and their business models can adapt to the industry as new titles and genres gain in popularity.
The business models employed by esports media companies can vary significantly.
Huya (HUYA) & Douyu (DOYU)
Combined Market Capitalization: $6.3 billion
Tencent-backed Huya and sister company Douyu are two of the largest livestreaming platforms in China. Both companies operate as platforms for watching and interacting with live streamed content -- focused on gaming and esports. As of their most recent filings, Huya and Douyu collectively accounted for 310 million monthly active users.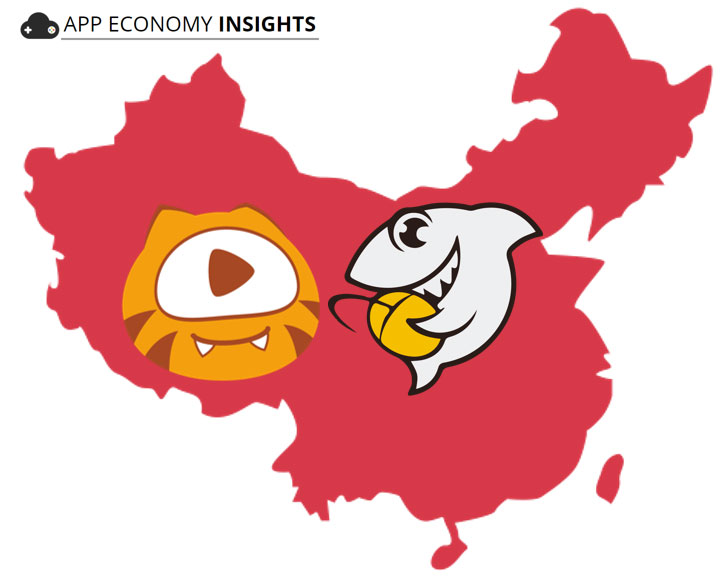 Source: Seeking Alpha
Huya
Huya currently derives more than 95% of its revenues from virtual gifting on its platforms, including core Huya and its subsidiary Nimo TV, a livestreaming platform focused on mobile in Southeast Asia and Latin America. In addition to its core business, Huya owns Royal Never Give Up (League of Legends Team) and the Chengu Hunters (Overwatch Team). Huya also recently announced a JV with ESL to expand its esports competitions into China.
Douyu
Compared to Huya, Douyu's focus has been on content creators. Douyu employs an "exclusive contract model" whereby it signs streamers to 3-5 year contracts in exchange for salaries and a cut of virtual gifting revenues. For the first quarter 2019, Douyu derived more than 60% of revenues from exclusive streamers. In esports, Douyu has exclusive streaming rights to 29 major tournaments in China, including League of Legends, PUBG, and Dota 2.
Modern Times Group (MTGB SS)
Market Capitalization: $774 million
Modern Times Group (MTG) is a Sweden-based holding company focused on esports and gaming entertainment. MTG portfolio companies include strong global brands in the industry, including stakes in ESL (an esports league and events operator), Dreamhack (the world's largest gaming and esports festival), Innogames, and Kongregate (online gaming companies). In 2019, the company completed a spin-off of Nordic Entertainment Group to become a pure-play on esports and gaming.
Turtle Entertainment (ESL)
ESL, formerly known as 'Electronic Sports League', is the world's largest esports-dedicated company, offering services in gaming technology, event management, advertising, and media production. Each year, ESL runs 13 mega esports events with thousands of attendees and millions of viewers online. Most recently, ESL One hosted the Intel Extreme Masters Major in Katowice, Poland. The event saw attendance of 174,000 alongside 230 million viewers online.
Dreamhack
DreamHack is a Swedish production company specialized in organizing esports tournaments and conventions worldwide. DreamHack helped to pioneer esports and currently holds the Guinness World Record for the world's largest LAN (Local Area Network) party. By the end of 2019, Dreamhack will have hosted 15 events in 8 countries on 4 continents.
Enthusiast Gaming (EGLX CN)
Market Capitalization: $86 million
Enthusiast Gaming is a vertically integrated gaming media, esports and live events company. The company's media segment owns and operates 100+ gaming websites, with more than 150 million unique monthly visitors. The company's esports division is Luminosity Gaming, which owns / manages 7 esports teams including the Vancouver Titans (Overwatch) and the Seattle Surge (Call of Duty). Enthusiast also owns and operates the largest gaming expo in Canada, EGLX.
Luminosity Gaming
Luminosity Gaming, Enthusiast Gaming's esports vertical, is Canada's largest esports organization, consisting of 7 esports teams under ownership and management. The company's roster includes 50+ influencers and content creators. Notably, popular streamer Ninja last competed for Luminosity before striking out on his own. Luminosity derives revenues from a combination of sponsorships, merchandise sales, prize revenues, management revenues, and league sharing revenues. They currently field teams and content creators in Overwatch, Fortnite, Rainbow Six Siege, Apex Legends, Madden, Smite, and Call of Duty.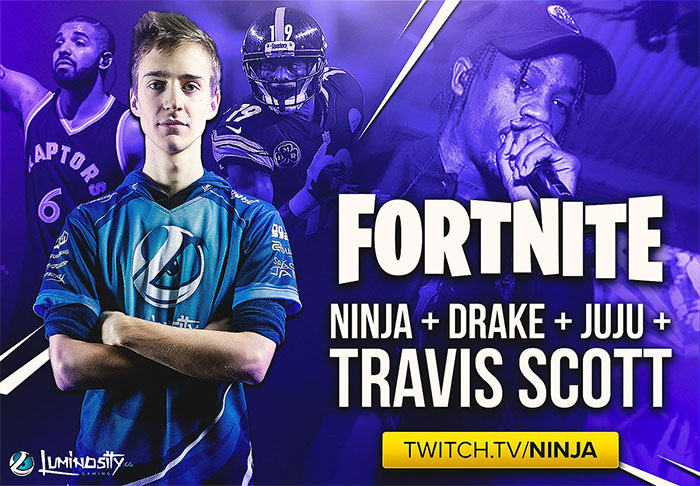 Media Assets
Enthusiast Gaming's digital media network of websites and YouTube channels is verified as the largest online gaming information network in the United States and the United Kingdom. The company's notable properties include Destructoid, Escapist, and The Sims Resource, whereby it monetizes via a combination of digital advertising and subscription services.
Hardware
Gaming hardware companies produce peripherals (e.g. headsets, keyboards), gaming devices and processing units. These companies may act as endemic sponsors for popular streamers and esports organizations. As gaming becomes more competitive and increasingly popular, the hardware sector may benefit from increased demand.
As with media companies, gaming hardware manufacturers can provide game-agnostic exposure to the esports industry.
Gaming hardware companies generally produce products that appeal to a wide array of gamers, including casual players and esports professionals.
Hardware can be seen as the "picks and shovels" of the gaming industry.
Razer (1337.HK)
Market Capitalization: $1.4 billion
Razer is a leading gaming lifestyle brand, sporting the tagline "for gamers, by gamers". Razer is best known for its hardware segment, which includes high-performance gaming peripherals and Razer Blade gaming laptops. Razer's software vertical includes Razer Synapse (an Internet of Things platform), Razer Chroma (a proprietary RGB lighting technology system), and Razer Cortex (a game optimizer and launcher). Razer's services business consists of Razer zGold and Razer Pay, an e-wallet targeting Gen Z.
Gaming Peripherals & Hardware
Razer is a global leader in gaming peripherals and hardware. The company's Razer Huntsman Elite is the best-selling gaming keyboard in the US, while its Razer Blade is the best-selling high-end gaming laptop.
Team Razer
Razer is known as an endemic sponsor in esports, acting as the hardware partner for many of the top esports teams, including Immortals, Gen.G and Evil Geniuses. In total, they sponsor 18 organizations.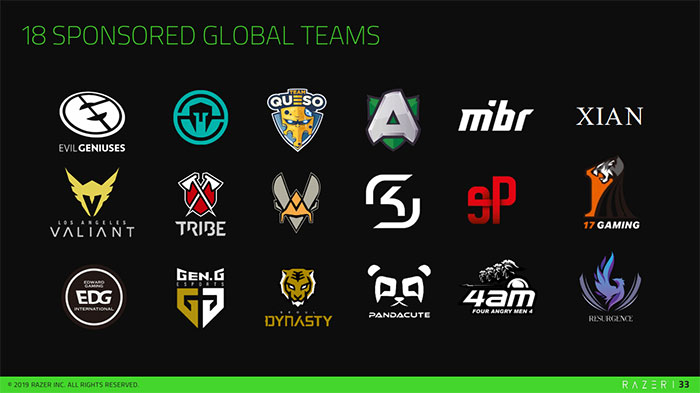 Source: Razer IR
Turtle Beach (HEAR)
Market Capitalization: $127 million
Turtle Beach was founded in 1975 as Octave Electronics, a company focused on music and audio-related products, including analog music synthesizers and PC sound cards. Over time, the company leveraged its audio expertise and evolved into one of the world's premier gaming headset brands. Turtle Beach is credited with creating the first ever console gaming headset and is the leader in the North American console headset market.
Turtle Beach
Turtle Beach is the North American leader in gaming headsets, providing peripherals to everyone from casual gamers to esports professionals. Turtle Beach's product line includes 21 console gaming headsets and 5 PC gaming headsets. In 2018, Turtle Beach posted a record year as a result of the "Fortnite Effect". Fortnite, a battle royale title where 100 players compete in a single map, emphasized the importance of high-quality audio for casual gamers. In esports and streaming, Turtle Beach acts as an endemic sponsor. Notable partners include the Houston Outlaws (Overwatch), Astralis (CS:GO), and Dr. Disrespect (popular streamer).
Roccat
In May 2019, Turtle Beach acquired Roccat, a Hamburg and Taipei-based provider of PC mice, keyboards, headsets, and software. Roccat offers a complete line of gaming mice (9), keyboards (8), and headsets (5). The company is built on German engineering, offering unique innovations targeting PC gamers. The acquisition of Roccat represents expansion into a new vertical (PC gaming) and new markets (Europe and Asia).
Broad-Based
Broad-based companies are stakeholders in various segments in the esports value chain.
Sea Limited (SE)
Market Capitalization: $17.6 billion
Sea Limited is the leading digital entertainment and e-commerce company in Greater Southeast Asia ("GSEA"), which consists of the combined region of Indonesia, Taiwan, Vietnam, Thailand, the Philippines, Malaysia and Singapore. Formerly known as Garena, Sea was founded in Singapore in 2009. Sea's business consists of three distinct verticals: Garena (digital entertainment), Shopee (e-commerce), and AirPay (digital payments).
Free Fire
Free Fire, Garena's self-developed mobile battle royale, is one of the world's most popular mobile games. As of August 2019, the game had more than 450 million registered users -- for reference, Fortnite last reported 250 million registered users. The title is especially popular in Latin America and Southeast Asia, generating in excess of $1 billion cumulative revenues. Free Fire has a burgeoning esports scene as well -- the Free Fire World Series 2019 achieved over 100 million cumulative views, with more than 1 million concurrent viewers for the Brazilian qualifiers.
Garena +
Garena+ is an online gaming platform. Through Garena+, the company publishes and distributes game software to Southeast Asia and Taiwan including Call of Duty: Mobile, Arena of Valor, and FIFA Online. Greater Southeast Asia is the world's fastest-growing gaming and esports market.
Tencent (700 HK)
Market Capitalization: $441.2 billion
In terms of revenue, Tencent is the largest gaming company in the world. In 2018, it earned more than $19 billion in gaming software sales, representing 18.4% of the global market. The Chinese company owns stakes in several notable game publishers, game developers, and livestreaming platforms.
Tencent's ownership in game developers includes:
Riot Games 100%
Epic Games 48.4%
Bluehole 11.5%
Ubisoft 5%
Activision Blizzard 5%
Grinding Gear Games 80%
Supercell 84.3%
Frontier Developments 9%
Kakao 13.5%
Paradox Interactive 5%
Fatshark 36%
Funcom 29%
Sharkmob 100%
Tencent also owns Huya, Douyu, bilibili, and Discord.
Riot Games
Riot Games, a wholly-owned subsidiary of Tencent, is an American game developer, publisher and esports tournament operator. The company's flagship product is League of Legends, a multiplayer online battle arena game. League of Legends is one of the world's leading esports, and was the highest-grossing PC esport globally in 2018 at $1.9 billion in revenues, according to Niko Partners. League is one of the oldest esports, having recently celebrated its 10-year anniversary by announcing 8 million daily active players. It is also amongst the most developed in terms of infrastructure and scale, with parent company Riot Games overseeing franchised leagues on 3 continents. In 2019, Evil Geniuses acquired a slot in the North American LCS for a reported $30.25 million. In addition to League of Legends, Riot released Teamfight Tactics in 2019, and announced plans to release a series of additional titles in the coming years.
Epic Games
Epic is a video game and software development company. Epic is best-known for publishing Fortnite, the world's most popular battle royale game. In terms of esports, Fortnite will award the largest dollar figure in prize money of any esport in 2019, highlighted by the $30 million Fortnite World Cup. According to Niko Partners, Fortnite generated $1.25 billion in 2018 on PC, with an additional $455 million from mobile (iOS only). In 2019, Epic Games purchased Psynoix, the developer of popular esport Rocket League. Epic Games' additional properties include the Epic Games Store, and its Unreal Engine, one of the most successful game engines in the world. As of 2018, Epic Games was valued at an estimated $15 billion.
Summary
As highlighted above, there are various publicly-traded stocks that provide exposure to the esports ecosystem. Below is a summary of the ten companies we highlighted.
Selected Esports Stocks
| | | | | | |
| --- | --- | --- | --- | --- | --- |
| Ticker | Name | Country | Market Cap | Esports Relevance | Notable Brands |
| ATVI | Activision Blizzard Inc | United States | $45,028 | Games | Overwatch, Call of Duty, World of Warcraft |
| EA | Electronic Arts Inc | United States | $30,868 | Games | FIFA, Madden, Apex Legends |
| HUYA | HUYA Inc | China | $3,803 | Media | Huya, Chendu Hunters, Royal Never Give Up |
| DOYU | DouYu International Holdings Ltd | China | $2,477 | Media | Douyu, NonoLive |
| MTGB SS | Modern Times Group MTG AB | Sweden | $774 | Media | ESL, Dreamhack |
| EGLX CN | Enthusiast Gaming Holdings Inc | Canada | $86 | Media | Luminosity, Vancouver Titans, Seattle Surge |
| 1337 HK | Razer Inc | Singapore | $1,433 | Hardware | Razer Blade, Razer Huntsman, Team Razer |
| HEAR | Turtle Beach Corp | United States | $127 | Hardware | Turtle Beach, Roccat |
| SE | Sea Ltd | Singapore | $17,603 | Broad-Based | Garena+, Free Fire, Call of Duty: Mobile |
| 700 HK | Tencent Holdings Ltd | China | $441,234 | Broad-Based | League of Legends, Fortnite |