The Top Online Casino Companies In The United States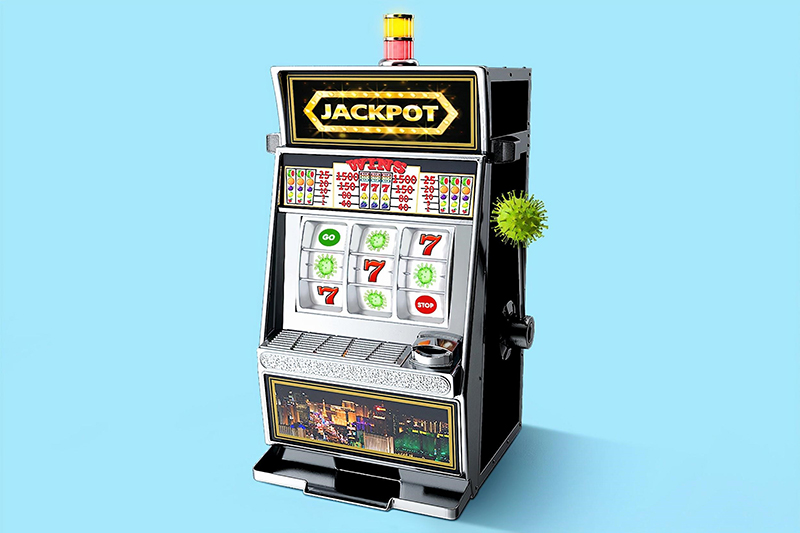 Picture By Morning Brew
This blog is not a recommendation to buy or sell securities.
What is iGaming?
iGaming, otherwise known as online gambling, consists primarily of two sectors, sportsbook and online casino. Placing a bet online on the outcome of a sports match, playing online poker with friends, or trying your luck at a virtual craps table would all fall under the category of iGaming, with the first example categorized as "sportsbook" and the last two examples categorized as "online casino".
Needham sees the U.S. online sports betting and gambling opportunity between $42 and $58 billion annually longer-term. Grand View Research expects a CAGR of 11.25% for iGaming leading into 2025. Why is the industry experiencing explosive growth?
The rapid expansion of smartphones and tablets have made internet gaming more accessible.
Many states within the U.S. have either legalized online gaming or are on the path towards legalization.
Online gaming brings the excitement of a casino directly to the user's home. Morgan Stanley expects over 75% of U.S. sports bets to be placed online based (versus land-based) by 2025.
As previously mentioned, iGaming consists of two sectors, sportsbook and online casino. In the second quarter of this year, online casino revenues tripled from the prior year with revenues surpassing $400 million. The growth in online casinos is primarily due to user demand for a digital experience, COVID-19 complications around brick and mortar casinos, and new states legalizing online gambling products.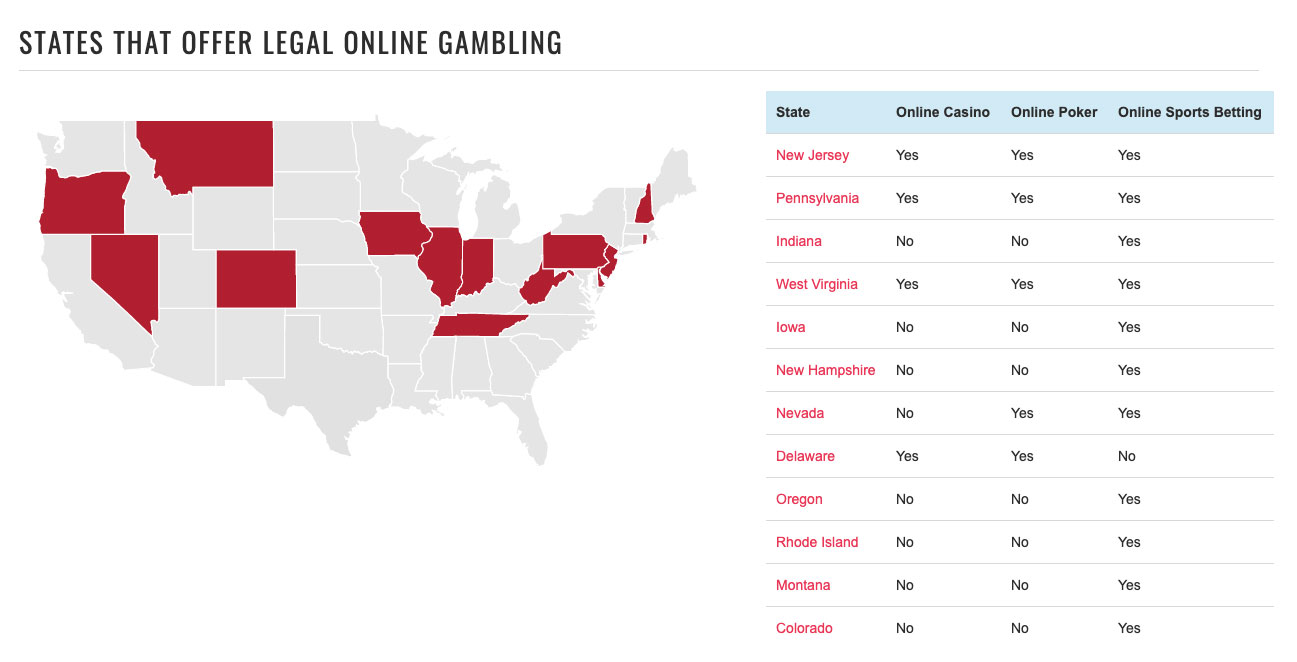 source: PlayUSA.com
At the moment, online casinos are legal in New Jersey, Pennsylvania, West Virginia and Delaware. Early results from legalization highlight that user demand is strong:
West Virginians placed nearly $50 million in legal online wagers within the first four weeks of legislation.
Online casinos brought in over $81 million in June 2020 in New Jersey alone.
In Pennsylvania, online casinos saw revenues of $51 million in July 2020 and total wagers on slots surpassed $1 billion for the third consecutive month.
The U.S. opportunity for online casinos is significant. Despite strict regulations, the legacy US gambling industry still makes a total contribution of around $137.5 billion to the U.S economy annually and directly employs more than 730 thousand people (according to Statista). This figure also doesn't take into account the assumed $150 billion wagered off-shore due to legal complications in the United States. As regulations improve, online casinos are well positioned to attract users and take market share in this growing industry.
Top U.S. Online Casinos
Let's look into the biggest players in the U.S. online casino market based off of GGR market share from the three months ending October 31st, 2020. GGR, or gross gaming revenue, is the difference between the amount of money players wager minus the amount that they win. This is a key metric for the gaming industry and reflects the "sales" or "revenues" for online casinos.
The rankings below are based on data from Eilers & Krejcik Gaming on U.S. online casino operations. The rankings only reflect GGR market share from U.S. online casino operations three months ended October 31st 2020 and do not include data from sportsbook operations.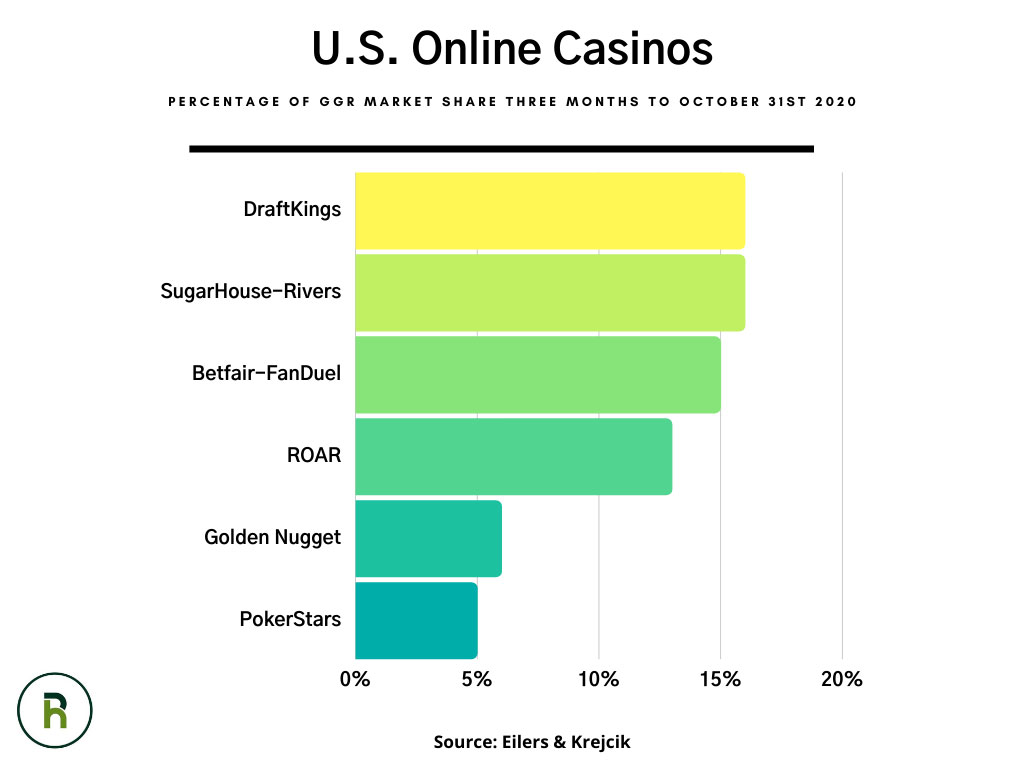 1. DraftKings
DraftKings is number one on the list with 16% of the U.S. online casino GGR market share. DraftKings, famously known for daily fantasy sports, is also becoming a dominant player in the U.S. online casino market. The company operates online casinos in New Jersey, Pennsylvania, and West Virginia. In its first month of business in West Virginia, DraftKings Casino brought in 75% of the $50 million in total online wagers for the state. According to DraftKings IR, their online casino app now offers over 360 different games.
Related Companies: DraftKings
2. SugarHouse-Rivers
SugarHouse-Rivers is number two on the list with 16% of the US online casino GGR market share. Sugarhouse-Rivers Casino is owned by Rush Street Interactive. The company operates online casinos in Pennsylvania and New Jersey. SugarHouse Casino was one of the first casinos to apply for an online gambling license in PA. The Pennsylvania Gaming Control Board approved the license in 2018, allowing SugarHouse to offer online slots, tables games, and poker for Pennsylvania residents and visitors.
Related Companies: Rush Street Interactive
3. Betfair-FanDuel
Betfair-Fanduel is number three on the list with 15% of the U.S. online casino GGR market share. In 2018, Paddy Power Betfair and FanDuel merged their U.S. businesses. Together, they operate online casinos in Pennsylvania (FanDuel operation) and New Jersey (Betfair operation). Both companies are owned by their parent company, Flutter Entertainment. Flutter is an online gaming powerhouse with over 13 million customers worldwide. Other notable brands under the Flutter umbrella include Full Tilt Poker, PokerStars, SkyBet, and FOXBet.
Related Companies: Flutter Entertainment
4. ROAR
ROAR is number four on the list with 13% of the US online casino GGR market share. ROAR Digital is a joint venture between MGM Resorts International and GVC Holdings and consists of the BetMGM, Borgata, PartyCasino, and PartyPoker brands. According to ROAR Digital's CEO, BetMGM is on track to generate over $130 million of net revenues this year, predominantly from iGaming (online casino) in New Jersey, given the impact of COVID-19 (i.e. lack of live sports). ROAR Digital has live online casinos in New Jersey and West Virginia under the BetMGM brand and plans to enter the Pennsylvania market this year.
Related Companies: MGM, GVC
5. Golden Nugget
Tilman Fertitta's Golden Nugget online casino comes in at 5th place. At the moment, Golden Nugget operates its online casino exclusively in New Jersey, where they are a market leader. The company saw record high user activity in the third quarter and may surpass $100 million in GGR in New Jersey in 2020. The company recently received approval from the New Jersey Casino Control Commision to complete its merger with the SPAC Landcadia Holdings II.
6. PokerStars
PokerStars is number six on the list with 5% of the U.S. online casino GGR market share. Like BetFair-FanDuel in the number two spot, PokerStars is under the Flutter Entertainment umbrella. The popular European poker website launched in New Jersey in 2016. PokerStars offers users access to online poker, slots, and casino games in New Jersey.
Related Companies: Flutter Entertainment