Sports betting is the activity of placing wagers on predicting the results of sporting events. As of 2018, sports betting represented approximately 18% of the $449 billion global gaming market, as measured by gross gaming revenues, or "GGR". In terms of the sports upon which wagers are placed, popularity varies significantly from region to region. Goldman Sachs expects the online sports betting market to grow 7.1% per annum from 2018 to 2022.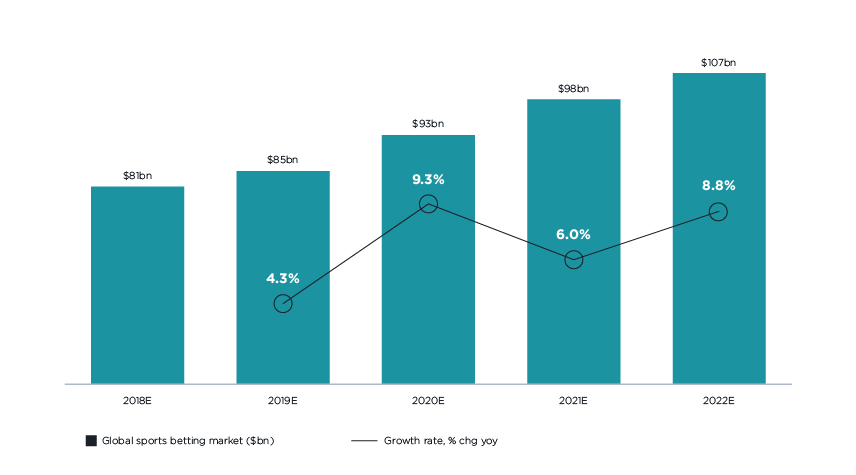 Source: Goldman Sachs Global Investment Research
What is iGaming?
iGaming or "online gaming" is broadly defined as: the wagering of money or some other value on the outcome of an event or a game, using the internet. This includes online sports betting, as well as online casino games and poker. In 2018, online represented 11.3% of the total market. This is expected to grow as improved regulation allows for more betting to take place via the internet.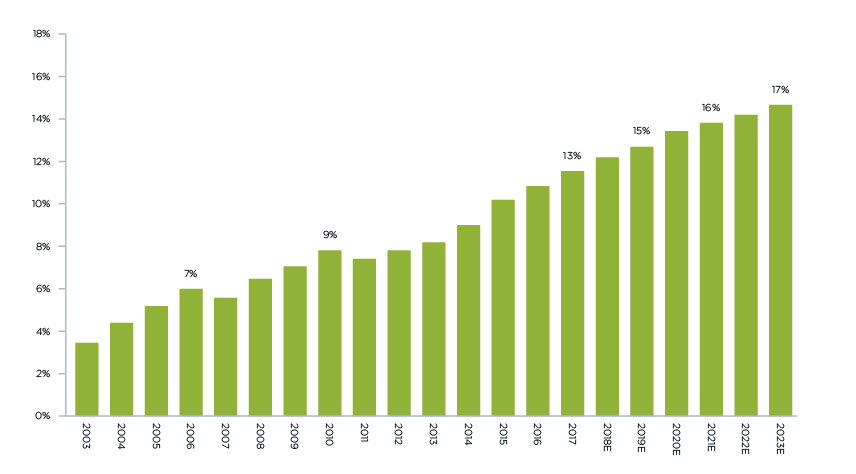 Source: H2 Gaming Capital
Is Sports Betting legal?
Regulated sports betting is currently legal in several European countries, Australia, and Mexico. In the United States, legalization is enforced at the state level. In May 2018, New Jersey successfully won a court ruling to legalize sports betting in the state, paving the way for additional States to receive approval. Several additional States have since received regulatory approval, while additional States continue to work towards legalization. On a country level, Brazil and India represent two examples of countries that are moving towards potential regulation.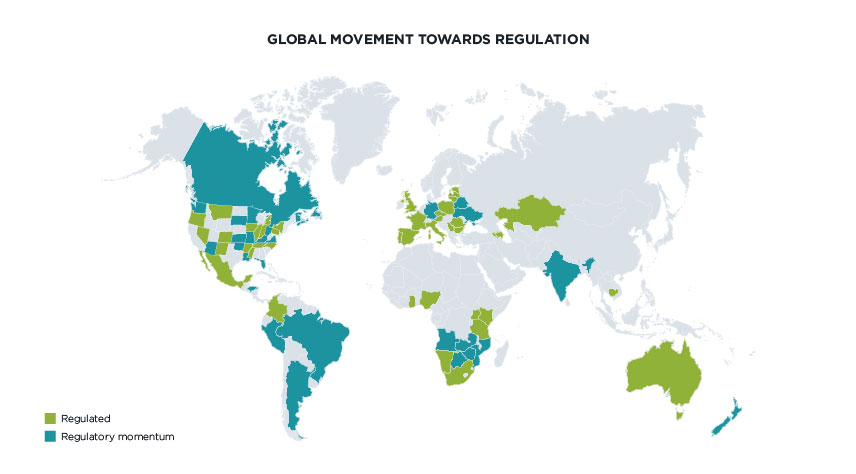 Source: DraftKings IR
Why invest in Online Sports Betting & iGaming?
The global gaming industry is evolving from a "brick and mortar" to "online" business. From 2015 to 2018, online revenues increased at a 15% annualized rate -- from $38 billion to $51 billion. We expect online to earn an increasing share of the $400+ billion gaming market.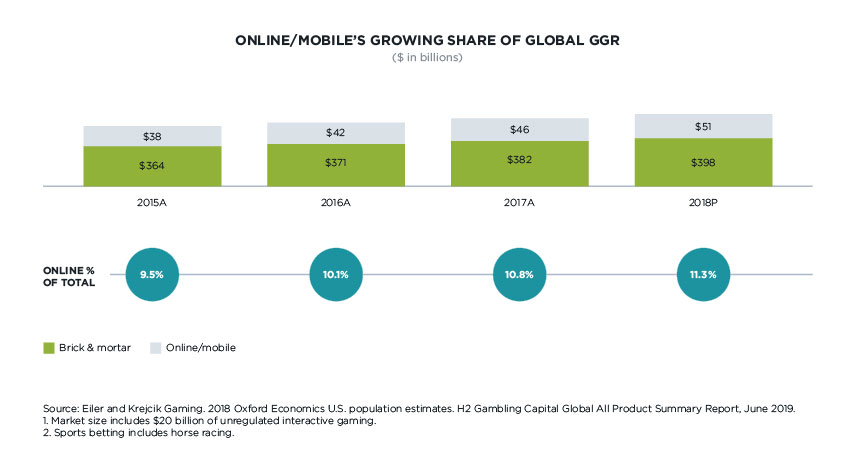 Source: DraftKings IR
U.S. Online Betting Market
Growth in the US market is expected to increase as the regulatory environment evolves state by state. Ellers & Kreijuk estimates that US online sports betting will reach $14 billion at maturity. However, the US currently lags behind the UK and Australia in terms of per capita gambling spend. If we estimate the market based on per capita rates in those countries, the market would reach $22 billion or $23 billion, respectively.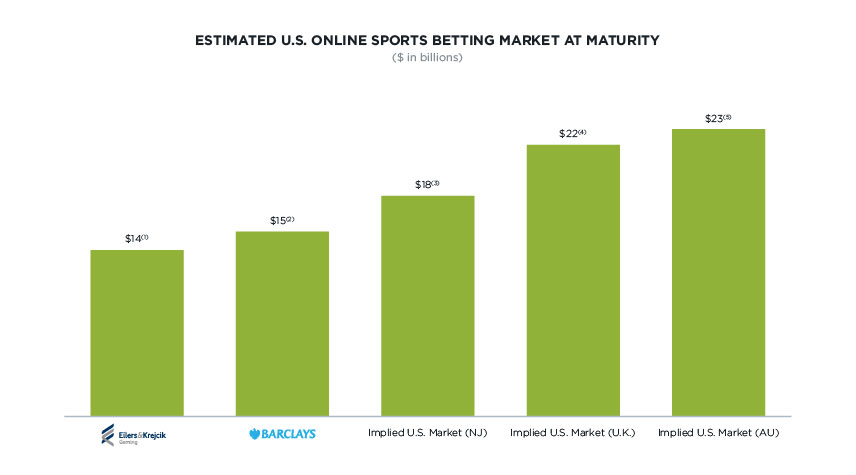 The Sports Betting & iGaming Ecosystem
Roundhill has identified five primary types of public companies that provide exposure to the sports betting and iGaming ecosystem — sportsbooks, technology, casinos, lead generation and iGaming.
Sportsbooks
Sportbooks' primary business is owning and operating online and/or land-based sportsbooks. In several cases, these companies are vertically integrated, whereby they own the underlying technology. Sportsbooks derive revenue from collecting a commission on bettors' losing bets.
Technology
Technology companies include both B2B and B2C betting technology providers. These companies license their software and data to online sportsbooks and land-based gaming operators.
Lead Generation
Lead Generation companies involved in iGaming and sports betting are focused on marketing and sales lead generation. They provide a "top of funnel" for iGaming and Sportsbook customers.
iGaming
iGaming companies' principal business is online gaming, focused on casino games such as poker, blackjack, and roulette. In some instances, these companies may be expanding their presence in sports betting.
Casinos
As the name suggests, Casino companies' primary business is owning and/or operating brick and mortar casinos. Several Casino operators are investing into online-based gaming, including both iGaming and sports betting.