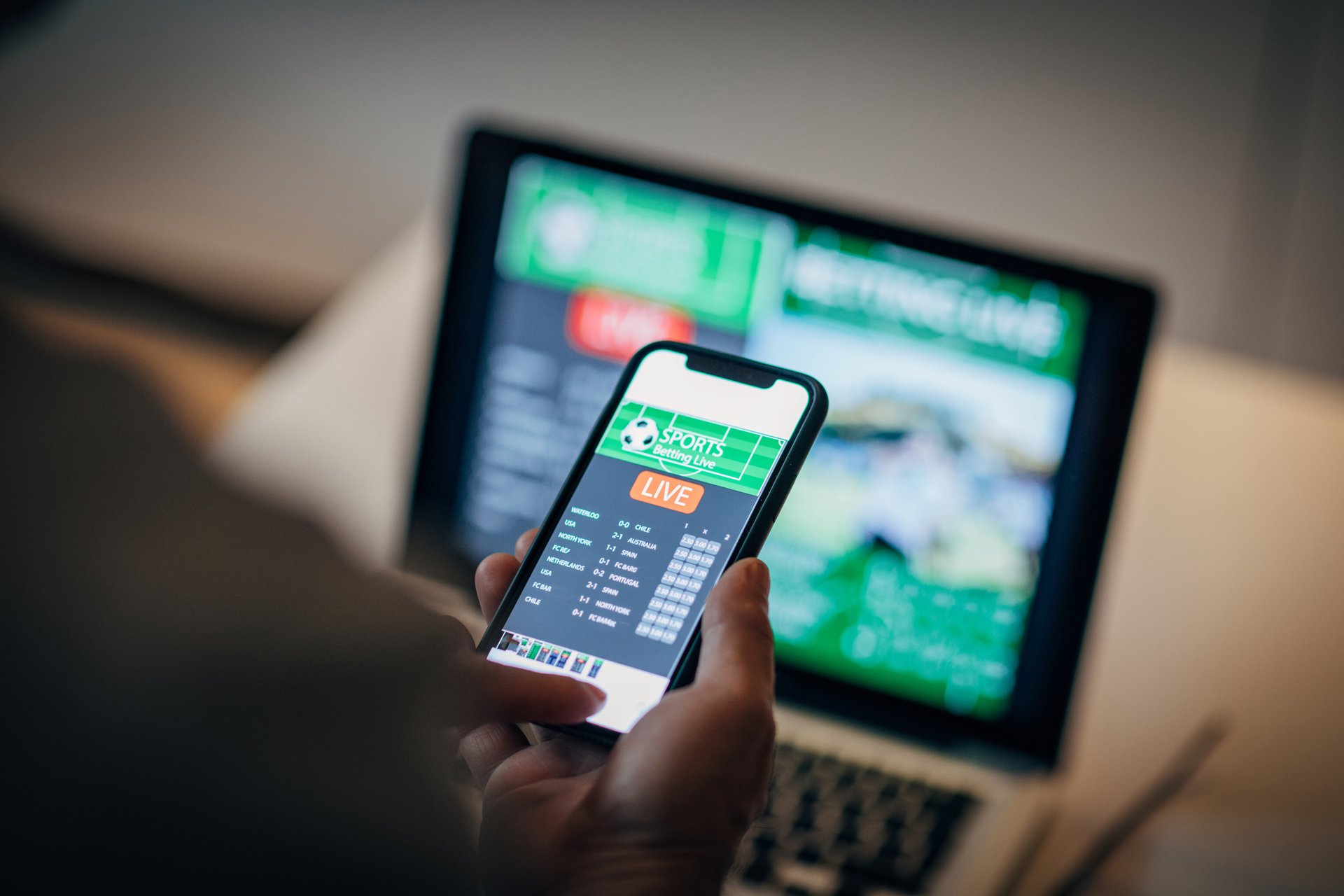 Technology Innovation is Reshaping the Gambling Industry

The contents of this article are informational in nature and not intended as a recommendation to buy or sell any securities and should not be construed as investment advice.
Introduction
Since the introduction of online gambling in the 1990s, online sports betting and iGaming operations have grown significantly due to innovations in technology. Gambling operations over the internet involve a convergence of technology, centered around payment facilitation, settlement, website security, and player privacy. In addition to the core back-end, gamers seek to emulate the experience of brick and mortar casinos via immersive slot machines, table games, and sportsbooks. Modern online casinos license this technology from a variety of providers and are increasingly creating their own games in an effort to reduce operating costs.
Looking ahead to this decade, continued advancements may elevate the industry further and make the gambling experience more seamless, all from the comfort of one's home. Technology such as cloud gaming, AR and VR, and the blockchain may shape everything from how individuals place bets and interact with other users, to the way payments are taken and made secure. While online gambling is currently legal in just 17 states, platform technology has been built for scale and should be able to facilitate millions more players when additional legalizations take place.
Early Online Casino Technology
The earliest online casinos spawned due to evolutions in technology and software. In 1995, brothers Mark and Andrew Rivkin set up a secure online transactions system known as Intertain, now rebranded as CryptoLogic. Seeking to utilize this system in an actual application, the brothers set up a subsidiary called WagerLogic to license the gaming software and handle customer support. From there, InterCasino was created, which was the first branded application where players could gamble real money over the internet. What's remarkable about this platform is the capabilities it had 25 years ago, many of which are staples of online gambling companies today.
Figure 1: Screenshot of InterCasino home page from 1996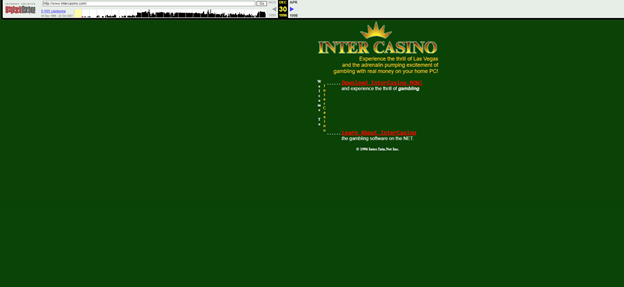 Source: Wayback Machine1, as of 10/26/21.
The back-end utilized by InterCasino pioneered a number of advances, the biggest of which was their payment system. The software utilized an electronic cash system through WagerLogic called Ecash. After players signed up for their Ecash account, they were able to deposit money using major credit cards, prepaid cards, checks, money orders, and wire transfers with services like Western Union. Credit card transfers took about 30 seconds, and all transactions were encrypted with a proprietary symmetric-key algorithm. Cash within the account could be transferred to other players by simply entering the recipient's Ecash number and desired amount. The software itself could be downloaded over the internet without the use of an installation CD. For reference, the preferred system requirements were 16MB of RAM and 1MB of VRAM, and the software was supported on the prevailing versions of Windows.
On the gaming front, InterCasino allowed players to gamble with both real money and play money, something that remains a hallmark of most modern online casinos. Within the iGaming side, the company had web-based table games like blackjack, roulette, and stud poker, as well as terminals including slots and video poker machines. These games have payouts that are set by the casino, usually within a range provided by the creators of the casino game technology. InterCasino's slot machines were set to offer up to a 95% payout percentage. This is known as "return to player," or "RTP," something that exists in physical casinos as well, but is much more easily modifiable by online providers. For sports betting, users could wager up to $100 for a single bet (subject to a monthly cap of $500) on various sports outcomes within football, baseball, hockey, and basketball. Parlays, teasers, and straight bets were all facilitated using software provided by World Wide Tele Sports (WWTS), which like InterCasino, was based out of Antigua. WWTS also provided the odds for every game and outcome — oddsmaking today is a multi-billion dollar industry, handled by a small number of companies. Since they can set the odds, bookmakers make money by applying a premium to the "fair" odds for a certain outcome known as "vig."
Lastly, InterCasino debuted the "skin" model of licensing, which is still prevalent today. Using the WagerLogic software, InterCasino customized its own look and feel, incorporating the platform's branding into the website and overall identity. Since there are under a dozen major software providers at present serving hundreds of online casinos, each casino stamps its mark by customizing the appearance of the software it employs, creating a unique identity. This is crucial to differentiate them from competitors that use the same back-end provider for their systems, and is an important tool in garnering player loyalty. This is not much different than brick and mortar casinos, particularly in Las Vegas, which all have different themes and attractions on the exterior, but fundamentally the same table games and slots on the floor.
WagerLogic was ultimately acquired by the Amaya Gaming Group in 2012, for $35.8 million. Amaya, which later rebranded as The Stars Group, was the parent company of various iGaming and Sports Betting platforms including Pokerstars, BetStars, and Full Tilt Poker. The Stars Group merged with UK gambling conglomerate Flutter in 2020, culminating in one of the largest mergers to date in the sector.2 Consolidation in the sports betting and iGaming industries is ultimately a story about technology, and this trend would accelerate later in the decade and into the next.
Regulatory Trajectory
MGM CEO Bill Hornbuckle stated in April 2021 that internet casinos would eventually constitute two-thirds of the bottom line for the entire gambling space.3 This is a remarkable statement, given that U.S. land-based casinos in the second quarter of 2021 combined for approximately $10.8 billion of the $13.6 billion of total gross gaming revenue (GGR), or about 80% according to the AGA. Sports betting and iGaming GGR was $2.8 billion, accounting for the remaining 20%. This is up significantly from just two years ago, when the two verticals combined for around 2% of the overall pie in Q2 2019. While some of this growth is attributable to the base effect of the pandemic, online growth is still greatly outpacing land-based growth even as the virus situation abates.
Figure 2: Q2 2021 land-based versus online GGR in the U.S.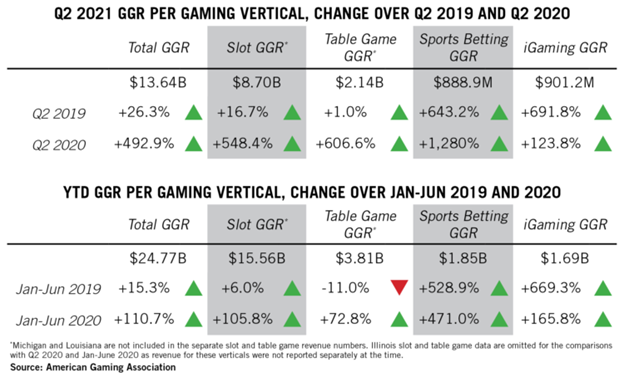 Source: American Gaming Association, as of 8/10/2021.
In the U.S., a substantial portion of the growth online is due to a clearer regulatory picture from the federal government down to the states. Prior to 2011, states were forbidden from legalizing and regulating online gambling, due to the industry being interpreted as violating the Federal Wire Act. However, in 2018 the Justice Department issued a new opinion regarding their position on the Wire Act, effectively paving the way for state-by-state legalization. Concurrently, in 2018 the Professional and Amateur Sports Protection Act (PASPA) was ruled unconstitutional by the Supreme Court. PASPA previously outlawed sports betting nationwide, except in a select few states which were granted exemptions for their existing sports lotteries.
Both the new opinion on the Wire Act and the repeal of PASPA have given states significant rights to regulate online wagering as they see fit. As of October 29th, 2021, 32 states and the District of Columbia have legalized sports betting, and either have sportsbooks operating in the state or are in the process of granting licenses. iGaming activities like online slots, table games, or poker are legal in seven states, all of which also have legal sports betting — Connecticut, Delaware, Michigan, Nevada, New Jersey, Pennsylvania, and West Virginia.4
Figure 3: States organized by sports betting and iGaming legal status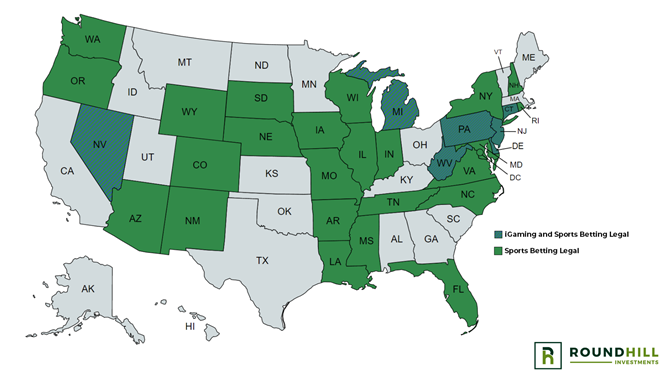 Source: BettingUSA, Roundhill Investments as of 10/29/2021.
Operator Consolidation
About 57% of the country has access to legalized sports betting, while only 13% have access to legal iGaming. Given the leeway now afforded to states by the federal government, the need to boost tax receipts to make up for COVID related shortfalls, and a shift in public perceptions regarding gambling, 80% of the country or more may be able to place a legal wager by 2025, assuming major population centers like California and Texas pursue legalization. For iGaming operators, there is a sense of urgency to capitalize on this opportunity before these additional states come online. This has spurred a wave of mergers and acquisitions within the industry, which has accelerated in the last couple years.
The chart below contains the eight largest online sports betting and iGaming deals within constituents of the Roundhill Sports Betting & iGaming Index, since its inception on April 30, 2020. The aggregate market value of these transactions is about $16.4 billion, in either stock, cash, or mixed considerations. Two deals which explicitly mentioned technology as a key acquisition driver were Penn National's purchase of Score Media and Gaming for approximately $2.0 billion, and DraftKings' purchase of Golden Nugget Online Gaming for $1.6 billion. Both of these deals were announced in August 2021, right before the lucrative NFL season kicked off in September.
Figure 4: Sports betting & iGaming acquisitions in BETZ Index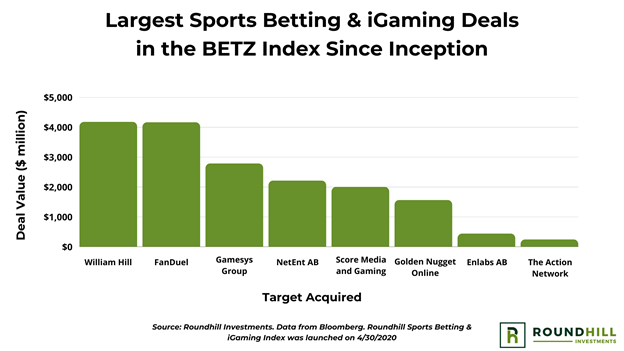 Source: Roundhill Investments, Bloomberg, as of 8/10/2021.
In DraftKings' case, the company seeks to realize cost synergies by integrating Golden Nugget's current technology into the DraftKings platform, bringing five million users along in the process. The consolidated platforms would see marketing efficiencies as well, due to advertising on DraftKings reaching the entire combined user base, across its sports betting, daily fantasy, and iGaming offerings. Prior to the acquisition, Golden Nugget lacked a competitive sportsbook, and DraftKings was looking to expand its iGaming offerings and extend their brand into additional segments. CEO Jason Robins stated that the purchase would increase revenues via a "tech-driven product expansion as well as technology optimisation."
For Penn National, the acquisition of Score Media and Gaming was centered on acquiring their tech stack and integrating it into their own. Namely, Score's player account management system and in-development managed risk and trading service will replace Penn's current third-party systems, licensed from Swedish betting software provider Kambi. This investment should reduce operating costs once the guaranteed term of the contract with Kambi ends, and boost company margins. In addition, Penn is gaining data-driven user analytics which should help drive their customer acquisition strategy, and may offer insights into how to best retain users. Penn is slowly working towards vertical integration, which should allow it to improve financial metrics and exercise more control over its entire operations.
Emerging Technology
Further innovation is coming to the online gambling industry, amidst a number of exciting tech-led developments. Due to the improving regulatory landscape in the U.S., combined with the stay-at-home environment of the COVID pandemic, millions of new players are gambling online for the first time. Casinos and sportsbooks have realized the importance of improving their platforms' scale so users can game without friction. Graphics and interfaces are becoming more realistic, and there are a near-unlimited number of games to choose from, including live ones that have a social element similar to the brick and mortar experience. The large number of entities now competing online should help spur innovation, since consumers have more choices than ever regarding where to place their wagers. As the technology outlined below comes to fruition, it will likely be incorporated rapidly into the fast growing business of online gambling.
Cloud Gaming: While cloud gaming is making inroads in the video game industry, it has yet to permeate online gambling, though the benefits of its application are similar. Cloud gaming involves streaming games on powerful remote servers to an end user via the cloud, effectively outsourcing hardware requirements. This requires players to only need a stable, yet high-speed, internet connection to stream from the remote server to their home or mobile device. Some of these services allow players to stream only games they have bought, like Nvidia's GeForce Now, while others have a Netflix-style library like Xbox Game Pass Ultimate, which grants access to a rotating catalog of first and third-party titles.
Adopted for iGaming, this technology would solve a number of issues for both the players and casino operators. Post-COVID, online casinos have seen a surge in signups and concurrent player activity, which has the potential to create lag during peak times. The surge in traffic can be ameliorated via cloud computing, allowing providers to accommodate high traffic while scaling back during slower times. This is accomplished by contracting with cloud computing providers who operate large server farms with significant computing power. The largest of these companies have infrastructure in many geographic regions, which decreases response times for those near that particular cluster.
The technology is critical for sportsbooks that allow for real-time betting, as website crashes due to traffic could result in losses of revenue, especially during large events like the NBA Finals or Super Bowl.5 Player security is enhanced as well, given that the back-end shifts to industrial-grade cloud computing providers with considerable investments in security and data integrity. It would also make download-based clients obsolete, which requires files to be stored client-side, accelerating the shift of the industry to web-based gaming. Note that on mobile, this is distinct from closed ecosystems such as the iOS App Store and Android Google Play store. While both now allow for real-money gambling apps, developers are constrained by each OS's SDK, and are susceptible to removal at any time subject to each store's distribution agreement. Cloud gaming on mobile devices would see the full web-based experience emulated on the user's browser.
Blockchain: Cryptocurrencies like Bitcoin and Ethereum are already utilized by online casinos, particularly those regulated in favorable gambling jurisdictions like Curaçao and Antigua and Barbuda. However, the technology underlying the blockchain itself remains underutilized. When applied to gambling, blockchain technology could enhance platform security and user privacy. This is particularly relevant because the iGaming and online sports betting ecosystem facilitates hundreds of billions of dollars in wagers every year, along with significant amounts of deposit and withdrawal activity. Just as casinos can gain an edge by having more attractive payout percentages, some users also choose where to wager based on how fast they can withdraw their money, and how secure the process is.
Blockchains will eventually become the standard medium for international transactions. Consumers have been plagued by high fees and slow settlement times under traditional payment mechanisms for decades. For online casinos, which will be one of many beneficiaries of this technology after its widespread acceptance, back office settlement times will be automated or meaningfully sped up. This could reduce operating expenses and allow an operator to focus more on customer acquisition, which is the biggest challenge and opportunity for revenue growth.
Figure 5: Illustration of the transaction process within the blockchain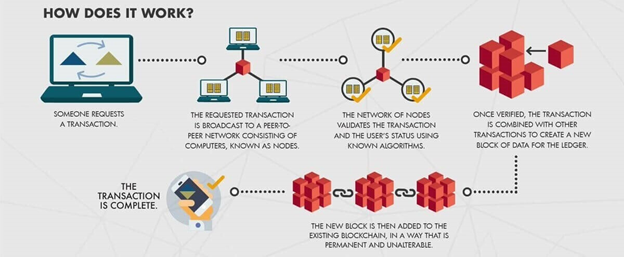 Source: masterthecrypto.com, as of 10/29/21.
However, using a blockchain to speed up deposits and withdrawals can be limited by regulatory hurdles. Many countries have Know Your Customer (KYC) requirements that require detailed due diligence on customers before they can make a financial transaction with the entity. Even with the blockchain making transactions near instantaneous, the document verification process for heavily regulated localities is cumbersome and manual. There are proposals though to utilize smart contracts and the blockchain to accept documents securely and digitally.6 This will require cooperation from numerous parties in the ecosystem, and organizations like IEEE Blockchain are actively pursuing standardization efforts for a variety of blockchain implementations.
As for security, blockchains are decentralized and each record is secured via cryptographic algorithms, ensuring transactions are validated and legitimate. Consensus algorithms, which are the backbone of blockchain technology, play an extremely important role in the process as well. Essentially, as long as a majority (51% or more) of a blockchain's computational power agrees, a transaction is validated and a new block is added to the ledger. There are both public and private blockchains, which differ in their participation but have the same security features — anyone can see the private ledger and its history, while in private blockchains, a single organization has control over the network. Among online casino operators, it's likely many will adopt a private blockchain, either as combined or standalone entities, where information can be shared between a set of authorized parties.
Virtual Reality: Virtual reality (VR) is the next logical step for real money wagering from the comfort of one's own home. While the post-COVID world brought many players from land-based casinos to the online realm, one aspect that remains missing is the immersion and social interaction provided by the physical experience. VR has the potential to breach this gap by providing a more realistic and immersive 3D experience. Prices have come down significantly for the technology — Meta's (formerly Facebook) Oculus Quest VR headset now costs just $299, targeting broad consumers. The technology has yet to go mainstream however, partially due to the lack of software applications that utilize VR, and the steep computing resources needed to run them. As a result, broad VR growth could increase concurrently with the rise in cloud gaming, and online wagering could be the "killer app" that is the catalyst for widespread adoption.
There are only a handful of casinos that live in VR and even fewer that accept real money wagers. One example is "Pokerstars VR'' on digital distribution platform Steam, published by The Stars Group in November 2018. The game is still in early access three years later as development remains ongoing. Monetization is through in-app purchases for play money chips, as the game is downloadable globally including in regions where real-money wagers are still illegal. Other applications still in development include virtual reality sports betting experiences, something that Entain and Verizon announced a partnership on in December 2020.7 This exciting technology would allow bettors to enter live sporting events and simulate audience participation across various sports. Entain CEO at the time Shay Segev stated that the companies "envisage consumers meeting at a game with friends, who could in fact be elsewhere, using virtual reality headsets to watch, interact and share the experience together,"
Figure 6: Avatars playing Texas Hold 'Em within Pokerstars VR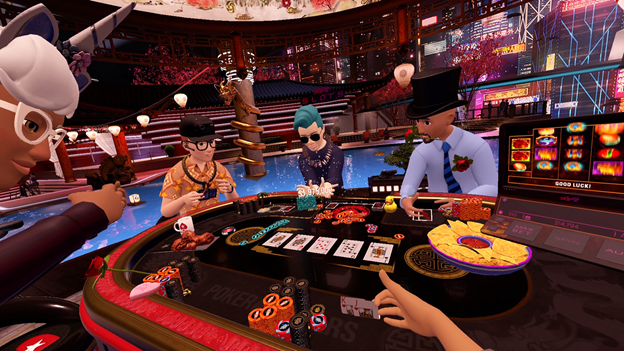 Source: PokerStars VR.
While these experiences are more "realistic" than gambling on a webpage, they still lack the polish to garner a wider audience. Current headsets are also still bulky, and some users complain of headaches or nausea when wearing them for prolonged periods, due to low refresh and frame rates. This problem will abate as headset manufacturers continue to miniaturize the technology, such as through varifocal displays which more resemble glasses.8 Brands have not yet marketed VR heavily, but forays into the technology by large tech companies like Facebook, Microsoft, and Apple are likely to change that in the next few years.
Metaverse: Metaverse: Similar to the thesis for VR, online gambling will eventually live within the metaverse, the future iteration of the internet. In the metaverse, physical and virtual realities will be melded together, and allow individuals to explore a substantial amount of experiences. An uncapped number of players will be able to interact with each other, and in the context of online gambling, simulate the experience of playing slots, table games, or wagering on sports in a social environment.
Payouts would be handled securely and seamlessly, with no risk of funds or chips being stolen by another player, as the software could be coded to mitigate these risks. Gamers would never spend time looking for an empty machine or a seat at the table, as expansion of the gaming floor could happen in seconds. Hubs like Las Vegas or Macau can be emulated within the metaverse, and new casinos could spring up that currently do not exist in the physical world. Perhaps the most exciting prospect is connecting with friends who live hundreds of miles away and sharing experiences together. Casinos would be seconds away from concerts, malls, and theme parks, as interoperability is one of the key pillars of the metaverse. Furthermore, since there will be a common currency within the metaverse, there will not be transactional complexity for this type of ecommerce.
There are already some B2B online casino services like Sweden-based Evolution Gaming who are bringing social experiences to gaming operators. The company provides immersive game shows, money wheels, and table games that can accommodate thousands of simultaneous users. Players can chat to each other and the host in real-time, communally sharing in the betting experience. The games themselves are hosted in off-site studios run by Evolution, and are overseen by a central control room ensuring the integrity of the games.
Gaming in the metaverse is likely the furthest opportunity for online casinos, as it represents the convergence of all the aforementioned technology. In the context of the U.S., it also requires a regulatory environment where online gambling is legal in more states, reaching a larger percentage of the population. Nevertheless, large technology companies are investing heavily in the metaverse's development, including Meta's investment in 2021 which increased the company's operating expenses by $10 billion.9 There is an ongoing rollout of infrastructure and experiences, which resemble "proto-metaverses" and are years out from an end state.
Conclusion
In addition to current regulatory tailwinds, online gambling has benefited from decades of technological progress. The ability to safely and securely place a wager on an online sportsbook or casino would not be possible without significant investments in technology. Betting platforms are either developing their tech stacks in-house or acquiring smaller providers to enhance the player experience, and build scale as more and more states legalize wagering and grant licenses to operators. In the second quarter of 2019, online sports betting and iGaming combined for about 2% of overall GGR. Just two years later, this sum has leapt to 20%, leading the gambling industry to a strong recovery and causing traditional casinos to rethink their online strategy.
Consumers value the convenience of placing bets in the comfort of their own homes, rather than traveling to brick and mortar casinos with worse player odds due to their higher overhead. This applies to sportsbooks as well, which are easily accessible online in regulated states and allow for betting on a wide variety of sporting events. Younger generations desire interactive experiences beyond sitting down for hours and watching a game uninterrupted. This has led more users into the sports betting ecosystem, aided by the rise in low latency streaming to facilitate real-time betting. Some streaming services have begun to integrate betting into their own platforms, bolstered by increases in users amidst linear TV cord cutting.
Technology such as cloud gaming, blockchain, virtual reality, and the metaverse may further enhance the player experience. Gaming in the cloud will eliminate the need for hardware, requiring only an internet-enabled screen to access gambling experiences via a capable bandwidth connection. Transferring the computing liability to remote servers could also reduce downtime for sportsbooks, which is critical during large sporting events with many bets being placed. Blockchain technology could improve settlement times related to deposits and withdrawals, contingent on regulatory compliance. Blockchains could also automate some back office tasks like document collection and user verification, which may improve margins for operators and allow them to reallocate spending to consumer acquisition.
Virtual reality will bring immersive gaming and social interactions to players, helping bridge one of the largest gaps between land-based and online casinos. Virtual reality sports betting experiences are actively being explored, which would allow bettors to enter live sporting events and simulate participation in various sports. With some consumer-grade headsets now selling for under $300, gambling may be one of the "killer apps" that leads to more widespread adoption of the technology. Lastly but not least, the metaverse represents the convergence of the physical and virtual worlds, standing to become the successor to the internet. While still years away and billions of investment dollars from fruition, the metaverse could allow users to bet alongside thousands of other players in persistent, synchronous environments.
1https://web.archive.org/web/19961230044247/http://www.intercasino.com/
2https://igamingbusiness.com/flutter-entertainment-completes-merger-with-stars-group/
3https://www.casino.org/news/mgm-ceo-bill-hornbuckle-positive-on-vegas-rebound/
4https://www.bettingusa.com/states/
5https://casino.borgataonline.com/en/blog/is-the-future-of-online-gaming-in-the-cloud/
6https://medium.com/swlh/verifying-documents-through-a-blockchain-system-3d2eb867f88b
7https://www.sporttechie.com/entain-and-verizon-plan-virtual-reality-sports-betting-experiences
8https://research.fb.com/blog/2020/06/holographic-optics-for-thin-and-lightweight-virtual-reality/
9https://www.reuters.com/technology/facebook-revenue-misses-estimates-apples-privacy-rules-bite-2021-10-25/