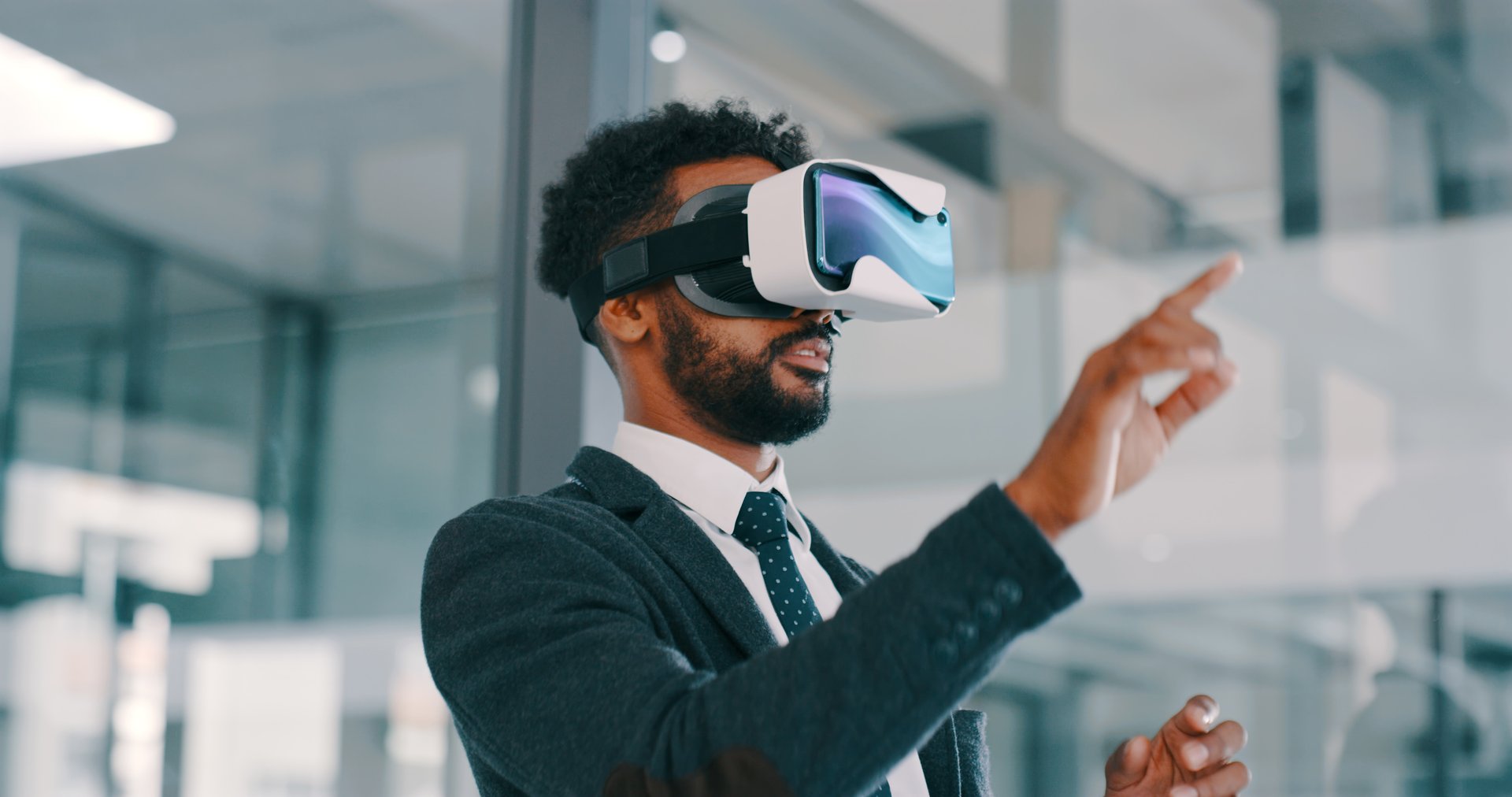 The contents of this article are not intended as a recommendation to buy or sell any securities.
Introduction
As technology continues to develop at a rapid pace and reshape the way we work, live, and communicate, arguably no theme gained more popularity in 2021 than the Metaverse. From 2012 through 2018, there were zero stories on the Bloomberg Terminal that mentioned the term "Metaverse." As seen in the chart below, while interest in the Metaverse began to pick up in early 2021, the number of stories mentioning the term exploded in the second half of the year.
This rapid acceleration was propelled by Facebook changing their name to Meta Platforms in October, reflecting the company's shift in strategy from being a social media company to a leader in the Metaverse. In total, 1,048 stories mentioned the term in 2021 after just six in 2020 and one in 2019.

Source: Bloomberg. Data as of December 31st, 2021. For informational purposes only.
Many publicly-traded companies have concurrently come to recognize the opportunity the Metaverse presents. Data from the U.S. Security and Exchange Commission's EDGAR reveals that the word "metaverse" was mentioned in 265 filings with the SEC in 2021 versus just seven in 2020. A similar trend has taken place with quarterly earnings calls. The Metaverse had over 440 mentions in earnings calls in the third quarter of 2021, over four times more than the previous quarter.
The uptick in mentioning the Metaverse is one thing, but acting on it is another. While major players in the space like Meta, Nvidia, and Roblox are at the forefront, non-traditional players are participating as well. Nike, Walmart, and even CVS and McDonald's have all filed for Metaverse-related trademarks over the last year, highlighting how well-established companies in sectors generally unrelated to technology view the importance of this emerging theme.
What is the Metaverse?
As talk of the Metaverse has made its way through financial circles and pop culture alike, it has left many wondering — what is the Metaverse? Ball Metaverse Research Partners Founder & CEO Matthew Ball defines it as a "quasi-successor state to the mobile internet" which will not replace our current internet, but rather expand upon and transform it. Meta has dubbed it a "set of virtual spaces where you can create and explore with other people who aren't in the same physical space as you."
The term itself stems from Neal Stephenson's 1992 science fiction novel Snow Crash, imagining digital worlds beyond that of our current physical one. As the concept moves from fiction to reality, we can think of the Metaverse as being comprised of countless, persistent virtual worlds that interoperate with one another, alongside the physical world.
The Metaverse will likely take over a decade to realize much of its potential, but the investment community is already analyzing what a fully-realized Metaverse entails. Goldman Sachs and Morgan Stanley have both stated that they believe the Metaverse could be an $8 trillion opportunity, while Ark Invest's Cathie Wood says the Metaverse is a multi trillion-dollar opportunity. In order to reach such lofty addressable market projections, it will take companies like Meta, Nvidia, and many more to build the framework of the Metaverse.
Who is building the Metaverse?
To reach its maximum potential, the Metaverse will not be built by a single entity, but rather be seamlessly constructed by numerous companies. In order to identify who is building the Metaverse, we will examine seven core categories that enable its potential:
Compute
Networking
Virtual Platforms
Interchange Standards
Payments
Content, Assets, and Identity Services
Hardware
Investing in the Metaverse
Compute
"The enablement and supply of computing power to support the Metaverse, supporting such diverse and demanding functions as physics calculation, rendering, data reconciliation and synchronization, artificial intelligence, projection, motion capture and translation." – Matthew Ball
Nvidia (NVDA)
Market Capitalization: $612 billion
Best known for designing graphics processing units (GPUs), Nvidia is a leader in building the Metaverse on several fronts. As it relates to compute, the various GPUs Nvidia produces provide the necessary performance for gamers, design professionals, and even data centers to execute at their best. The company's GeForce RTX cards — designed for gaming — utilize ray tracing and AI technologies to produce powerful performance and cutting-edge features, including high frames per second (FPS), which is crucial to competitive gaming. Nvidia's GeForce cards are among the most popular on the market, with PC Gamer crowning the GeForce RTX 3080 the "best graphics card for PC gaming." The Metaverse will rely heavily on the ability for users to have enough processing power to seamlessly interact with live, virtual environments. GPU and CPU performance have been growing at an exponential rate for several years, a trend that will need to continue for the Metaverse to reach its true potential.
Beyond their role in providing the creators and end users of the Metaverse with computing power, Nvidia's Omniverse is equally as important to the creation of the Metaverse. Omniverse is an "open platform built for virtual collaboration and real-time physically accurate simulation," and is already being used by large companies to streamline processes. For example, BMW is utilizing Omniverse for virtual factory planning while Lockheed Martin uses the platform for wildfire simulation, prediction, and suppression. These are a few ways in which the Metaverse can seamlessly interact with the physical world.
Networking
"The provisioning of persistent, real-time connections, high bandwidth, and decentralized data transmission by backbone providers, the networks, exchange centers, and services that route amongst them, as well as those managing 'last mile' data to consumers." – Matthew Ball
Microsoft (MSFT)
Market Capitalization: $2.2 trillion
Like Nvidia, Microsoft will wear many hats in creating the Metaverse. Networking is vital to the process, as are bandwidth, latency, and reliability. When thinking about this from a data perspective, providers like Microsoft Azure are relied upon for a user's ability to interact with virtual environments via a large amount of cloud-streamed data. Unlike former iterations of the internet where data could be stored on one's personal device, the Metaverse will be so expansive and real-time that streaming data from the cloud will be critical. Microsoft Cloud has been a driver of growth for the company for years, generating revenue of $22.1 billion in the quarter that ended December 31, 2021, growing 32% year-over-year.
Cloud is not the only way Microsoft is participating in the Metaverse. In November of 2021, Microsoft introduced Mesh for Microsoft Teams, a way for workers to connect and collaborate using virtual avatars and immersive spaces. Virtual work using Mesh will allow users to use avatars that can mimic mouth movement without being on camera to meeting participants. Mesh for Teams also can be a way to do virtual daily standup meetings where the walls can serve as digital displays for web browsing, PowerPoint presentations, and more. As the owner of Xbox, Microsoft will be a leader in gaming in the Metaverse. In January of 2022, Microsoft announced its planned acquisition of Activision Blizzard, which the company said will "provide building blocks for the metaverse."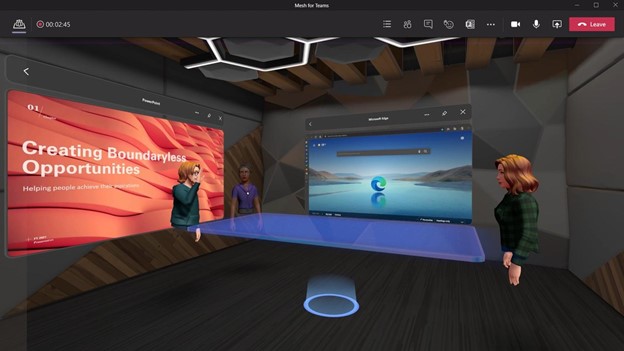 Source: Microsoft
Virtual Platforms
"The development and operation of immersive digital and often three-dimensional simulations, environments, and worlds wherein users and businesses can explore, create, socialize, and participate in a wide variety of experiences (e.g. race a car, paint a painting, attend a class, listen to music), and engage in economic activity. These businesses are differentiated from traditional online experiences and multiplayer video games by the existence of a large ecosystem of developers and content creators which generate the majority of content on and/or collect the majority of revenues built on top of the underlying platform." – Matthew Ball
Roblox (RBLX)
Market Capitalization: $24.4 billion
Virtual platforms are one of the ways in which we can currently interact with the Metaverse, and with 54.7 million daily active users in January of 2022 (up 32% year-over-year), Roblox is one of the most popular virtual platforms worldwide. Roblox is often compared to games like Fortnite and Grand Theft Auto in that it not only allows players to play games online, but also program them. In fact, Roblox goes far beyond just games, and the company uses the term "experiences" to reflect their realization of the Metaverse. In November of 2021, Roblox and Nike collaborated to create NIKELAND, a virtual world inspired by Nike's headquarters where users can play sports and style their avatar with Nike-branded gear.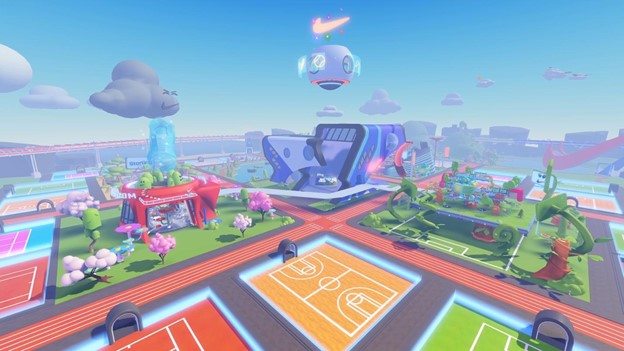 NIKELAND in Roblox. Source: Nike
Originally released on Windows in 2006, Roblox's growth accelerated significantly during the COVID-19 pandemic as kids were home instead of at school each day. Despite difficult year-over-year comparisons, key metrics including revenue and hours engaged continue to grow as CEO David Baszucki notes "Roblox is increasingly an integral part of people's lives." Virtual currencies play a big role in the Metaverse, and Roblox's "Robux" are the way in which users can purchase upgrades for their avatars or buy special abilities. These microtransactions using virtual currency unique to a game have been popularized by Roblox alongside Fortnite's "V-Bucks" and Call of Duty's "Call of Duty Points." A large trend in gaming over the past several years has been the shift to free-to-play games that rely on users purchasing season passes and cosmetic add-ons/bundles to generate revenues. In many ways, the virtual goods economies developed in gaming platforms like Roblox is indicative of the vast potential of a fully-fledged Metaverse.
Interchange Tools & Standards
"The tools, protocols, formats, services, and engines which serve as actual or de facto standards for interoperability, and enable the creation, operation and ongoing improvements to the Metaverse. These standards support activities such as rendering, physics, and AI, as well as asset formats and their import/export from experience to experience, forward compatibility management and updating, tooling, and authoring activities, and information management." – Matthew Ball
Unity Software
Market Capitalization: $25.8 billion
In order for the Metaverse to exist, companies that offer products, solutions, and services that enable interoperability, will play an important role. Founded in 2004, Unity Software is best known for their development of Unity, an engine used to create real-time 3D applications and immersive experiences. Using real-time 3D software, creators can produce virtual worlds and environments that digitally render seamlessly. One of Unity's offerings that will enable the interoperability the Metaverse requires is the Unity Distribution Portal (UDP). UDP allows developers to create one build of an app but distribute and manage it across multiple app stores, removing the need to create versions specific to a marketplace.
With over 1.5 million active creators monthly, Unity is used in everything ranging from games and film production, to the automotive, manufacturing, and construction industries. According to the company, in 2021, 50% of mobile, PC, and console games were made with Unity while 72% of the top 1,000 mobile games were made with Unity. Unity's ability for developers to build once and distribute across numerous platforms alongside its real-time rendering capabilities make it essential to the development of the Metaverse and its virtual, interoperable worlds.
Payments
"The support of digital payment processes, platforms, and operations, which includes fiat on-ramps (a form of digital currency exchange) to pure-play digital currencies and financial services, including cryptocurrencies, such as bitcoin and ether, and other blockchain technologies." – Matthew Ball
PayPal
Market Capitalization: $125.7 billion
In a virtual world where services and products lack physical presence, there is the need for payment platforms that allow for the transfer of money digitally between buyers and sellers. Founded in 1998, PayPal was around long before the Metaverse, but its technology can play a role within the Metaverse, especially as it relates to cryptocurrencies. In its simplest form, cryptocurrency is a form of decentralized, digital money that can be sent and used via the internet.
PayPal and its subsidiary Venmo are known for their ability to let friends send money between one another, but in 2021, PayPal took this one step further, launching Checkout with Crypto. PayPal, alongside Block's (previously known as Square) Cash App adoption of cryptocurrency, reflects the importance of cryptos in the future of finance, especially as it relates to the Metaverse. Everything from NFTs to virtual real estate and customizable gear for avatars in the Metaverse utilize cryptocurrencies, stressing the need for these digital payment providers to not only allow the buying and selling of cryptos, but their transfer as well.
Content, Assets, and Identity Services
"The design/creation, sale, re-sale, storage, secure protection and financial management of digital assets, such as virtual goods and currencies, as connected to user data and identity. This contains all business and services "built on top of" and/or which "service" the Metaverse, and which are not vertically integrated into a virtual platform by the platform owner, including content which is built specifically for the Metaverse, independent of virtual platforms." – Matthew Ball
Coinbase
Market Capitalization: $37.9 billion
If you spent any time on the internet in 2021, you most likely not only heard about the Metaverse, but also NFTs. As the Metaverse comes to fruition, digital assets such as NFTs (non-fungible tokens) that are stored on the blockchain will not only replace but expand upon many real-world collectables. A popular example is NBA Top Shot, which releases video highlights from the NBA as trading cards with a marketplace to buy and sell. At its peak in February 2021, NBA Top Shot generated a monthly volume total of $224 million.
While NBA Top Shot and OpenSea were relatively early to hosting NFT marketplaces, Coinbase is hoping to leverage its over 89 million verified users and $278 billion in assets on the platform for its upcoming product, Coinbase NFT. Coinbase's goal with their NFT marketplace is to make every aspect of NFTs — minting, purchasing, showcasing, discovering, etc. — as simple as possible. Community is at the core of the Metaverse, and NFTs go beyond their surface level asset. A prime example of this is the Bored Apes Yacht Club, a collection of 1000 unique digital collectibles on the Ethereum blockchain. Each Bored Ape's ownership is verifiable on the blockchain and provides membership to an actual club with various features, with your Ape serving as your digital identity. Outside of the assets themselves, NFTs provide content opportunities, and Coinbase is set to be a contributor in all facets.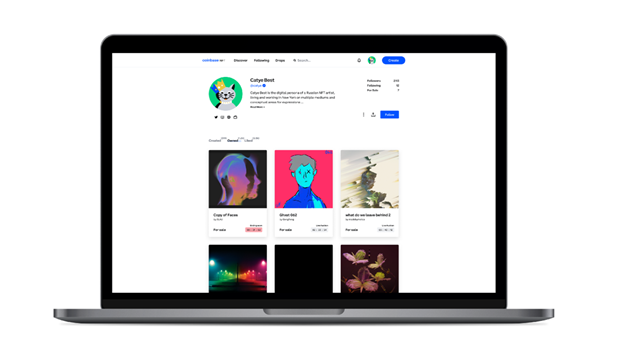 Source: Coinbase
Hardware
"The sale and support of physical technologies and devices used to access, interact with, or develop the Metaverse. This includes, but is not limited to, consumer-facing hardware (such as VR headsets, mobile phones, and haptic gloves) as well as enterprise hardware (such as those used to operate or create virtual or AR-based environments, e.g. industrial cameras, projection and tracking systems, and scanning sensors). This category does not include compute-specific hardware, such as GPU chips and servers, as well as networking-specific hardware, such as fiber optic cabling or wireless chipsets." – Matthew Ball
Meta Platforms, Inc.
Market Capitalization: $554.3 billion
It goes without saying, but when a company changes their entire company's name from Facebook to Meta, they are paving the way for the creation of the Metaverse. As CEO Mark Zuckerberg laid out at Connect 2021, there are many ways in which Meta plans to be involved in the Metaverse, spanning across gaming, fitness, social interaction, and the future of work. At least in the early stages, much of this will be possible via Meta's Quest 2, a virtual reality system that gives access to games, live concerts, workouts, and more. One of the greatest challenges AR/VR hardware presents in experiencing the Metaverse is the balance between a system that operationally is stunning yet doesn't inhibit one's physical world by being overly burdensome (i.e., bulky, ugly, etc.).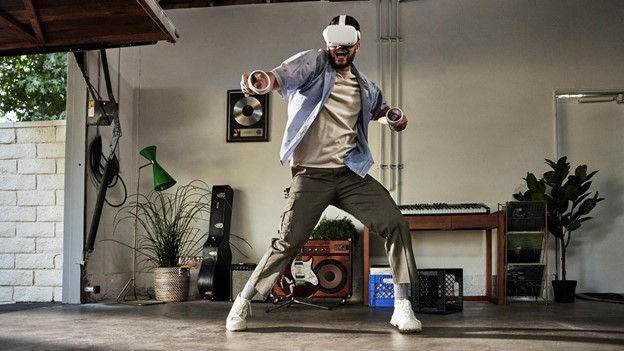 Source: Meta Quest
Meta is going far beyond physical devices in its goal of building out the Metaverse. In the third quarter of 2021, the company announced that it planned to spend $10 billion on its Metaverse division Reality Labs during the year, with the expectation of increasing their investments over the next several years. In the digital space, Meta is building Horizon Workrooms, a transformative new way to work in the same virtual room remotely through VR. Features such as avatars, spatial audio, and virtual desks and whiteboards deliver an immersive work experience that the traditional work from home model that merely utilizes text chat and video conferencing lacks. This is just one way in which Meta is utilizing its virtual reality hardware to create online social experiences. Mark Zuckerberg's vision to go from being viewed as a social media company to a Metaverse company began even before their name change in October of 2021, and only time will tell how their investments in the theme transcend daily lives for years to come.
Private Companies in the Metaverse
While large public companies like Meta Platforms and Nvidia are at the forefront of building the Metaverse, it is important to recognize private companies are involved as well. Epic Games is the privately held video game and software developer/publisher behind the hit game Fortnite. Though video games themselves do not fully comprise the Metaverse, the next generation of games, including Fortnite, give us a glimpse of gaming in the Metaverse through online interactions via virtual worlds with customizable avatars and digital currencies.
The game became wildly popular soon after its release, setting records on Twitch in 2018 when streamer Ninja teamed up to play a game with rapper Drake. Fortnite has also been a pioneer of live events in the Metaverse, including a Travis Scott concert which drew a record 12.3 million live viewers. Epic Games Founder & CEO Tim Sweeney recognizes the opportunity the Metaverse presents and his company's role in building it, securing a $1 billion funding round in April of 2021 specifically aimed at supporting their long-term vision for the Metaverse. In addition to their games, Epic's Unreal Engine is transformative in creating not just video games, but all forms of entertainment that are synonymous with real life.
Conclusion
For a concept so early in its development, companies are beginning to build for the Metaverse in their respective segments at a rapid pace. Just as the Metaverse itself will be a collection of interoperable virtual worlds, these companies are working hand in hand to create the computing power, payment infrastructure, and hardware capabilities that are needed to make it a reality. In many ways, what we imagine the Metaverse will be today is likely only the tip of the iceberg of what its end state may be.
The companies highlighted above are just a few of many that recognize this new paradigm, and as technology continues to develop, we will see many new entrants both in the public and private markets. With ideas so transformative as the Metaverse, it takes true visionaries to see the concept through to its fullest potential. Mark Zuckerberg has done this with Meta by completely shifting the focus of his company to being a Metaverse company in lieu of just a social media company. Nvidia's Founder & CEO Jensen Huang also sees the massive opportunity in the Metaverse, going so far as to say that it "is going to be a new economy larger than our current economy." If 2021 is any indicator of the growth possibilities the Metaverse presents, it will be an incredible investment opportunity that completely reshapes the way in which humanity interacts with one another.