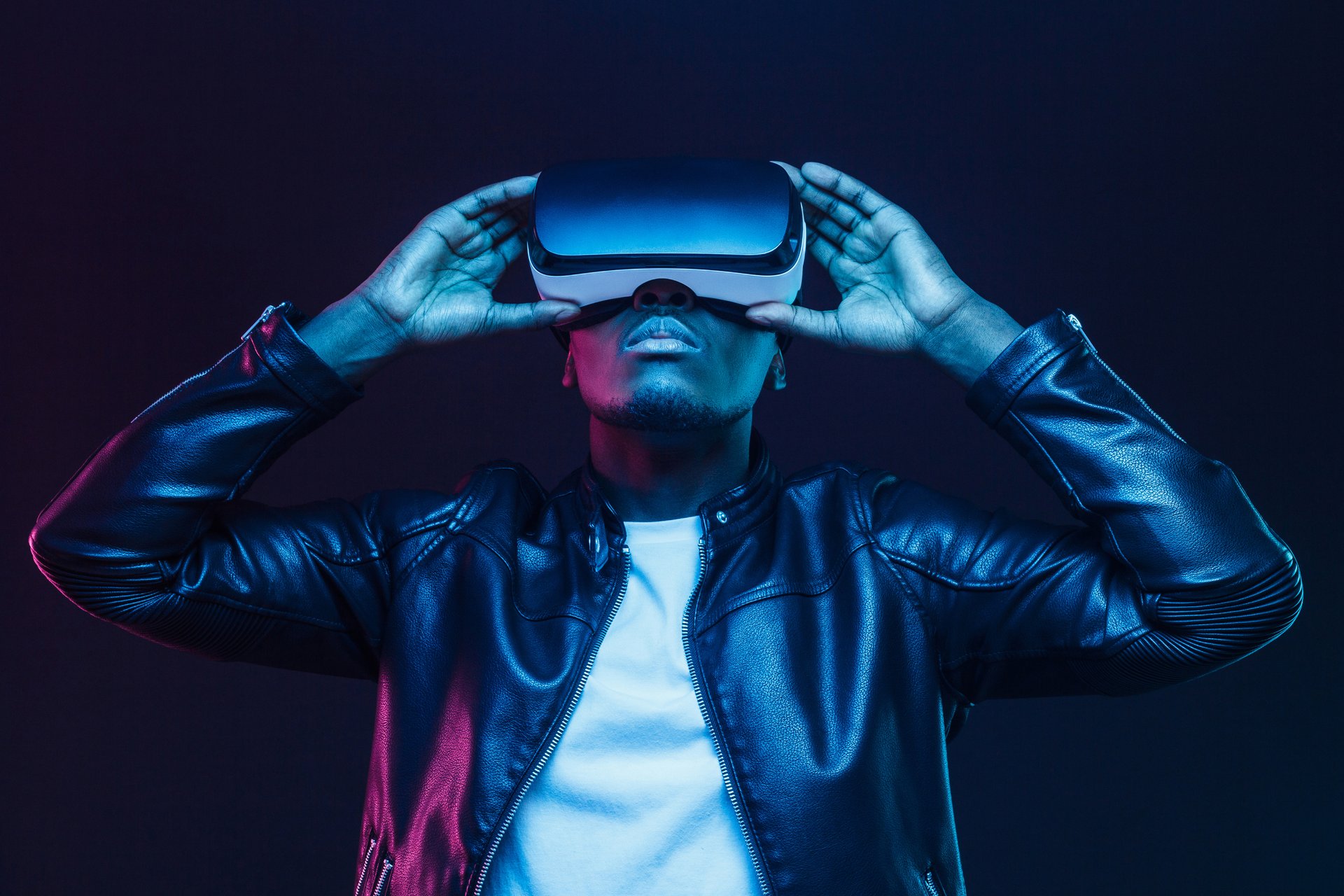 How to Invest in the Metaverse: The Complete Beginners Guide

The Metaverse remains one of the most significant ongoing technology transformations, promising to usher in the next era of the digital economy and reshaping how we work, interact and play. We believe that the Metaverse represents a multi-trillion economic transformation, and our analysis shows that its economic impact could reach $10.7 trillion over the next decade.
Source: World Economic Forum, IMF, Roundhill Investments
Note: CAGR = cumulative annualized growth rate
Note: Substantial industry growth does not guarantee positive investment returns and may lead to significant volatility.
The term Metaverse is increasingly used and heard online by companies, academics, and influencers. It's hailed as the next big thing, the great idea that has the potential to change how we live our lives and interact with technology.

Finding a definition of the Metaverse can be difficult. This is because the Metaverse is still evolving and changing, with significant players developing ideas and projects that will likely play a key role in its shape.

So, what exactly is the Metaverse, what might it offer investors, and is there an easy way to invest in its growth?

In this guide, we'll explore what the Metaverse is and the opportunities it provides for investors.
What Is the Metaverse?
The Metaverse blurs the dividing lines between online and offline experiences. It is an emerging digital space that uses virtual and augmented reality to create immersive online experiences.

This means, in practice, that people will be able to access 3D immersive spaces such as online stores, music venues, libraries, sporting events and theaters wherever they are using a virtual or augmented reality headset. It means you'll be able to try on new clothes, be in the front row at concerts or relax with a cocktail on a Caribbean Island without leaving the comfort of your own home.

The Metaverse takes the immediacy and accessibility created by the internet and gives it an immersive dimension. It can be considered the successor to the current internet, and as interoperability develops, it has the potential to build and support a growing economy.

The most basic three features of the Metaverse will be:
A sense of immersion.
Real-time interactivity.
User agency.
Ultimately, the Metaverse will include:
The ability for thousands of people to simultaneously interact.
A vast range of use cases, not just gaming.
Devices and platforms that are completely interoperable.
This basic framework creates huge potential for all kinds of uses. Crucially, economics will be a crucial driver of the development of the Metaverse, with established companies and new players developing products and services that serve users' interests.


Why Invest in the Metaverse?
The Metaverse has the potential to transform the way we live, work, shop, access services we need and enjoy leisure time. Currently, the Metaverse is much like the internet in the 1990s or smartphones in the early 2000s. We understand it's likely to be vast and transformative, but we're unsure exactly how and over what timescale.

We believe this means there is a window of opportunity for investors to get in on the first floor of something predicted to become seismic in terms of influence. Internet companies are striving to provide the platform and hardware that will make the Metaverse possible. Many are looking to make up for the missed opportunities that accompanied the growth of smartphones, where manufacturers could control both the hardware and the operating software. The Metaverse may not be widely used until the second half of the decade, but we believe the opportunities for investors are already here.
"I can't overstate how much of a breakthrough this is."

Microsoft CEO – Satya Nadella, Microsoft Ignite 2021
While high-profile corporate investors such as Facebook/Meta generate the headlines, there are increasing opportunities for ordinary investors to secure their share in this rapidly developing market.

While the technology and concept may seem new, those leading its development are heavily invested in ensuring it lives up to its early promise. Over the coming years, the Metaverse will likely move from something on the fringes of broader public awareness to something much more central. People who invested during its early development stage are likely to see significant returns.

Just what is the economic potential of the Metaverse in the medium to long term?
Metaverse Market Size & Economic Potential
In 2021, the digital economy represented 15% of global GDP, according to estimates from the World Economic Forum and IMF. It's predicted that the Metaverse will be among the key catalysts driving the deeper intermeshing of digital businesses into the global economy. This could result in 10 percentage points being added to global GDP.

If the World Economic Forum's long-term annual growth rate of 9.4%, above the IMF's estimate for long-term world GDP growth of 4.9%, is correct, it will reach $43 trillion by 2033. This represents an incredible 24.9% of global GDP.

Within this, the Metaverse could account for 25% of the digital economy. This translates as an economic impact of $10.7 trillion.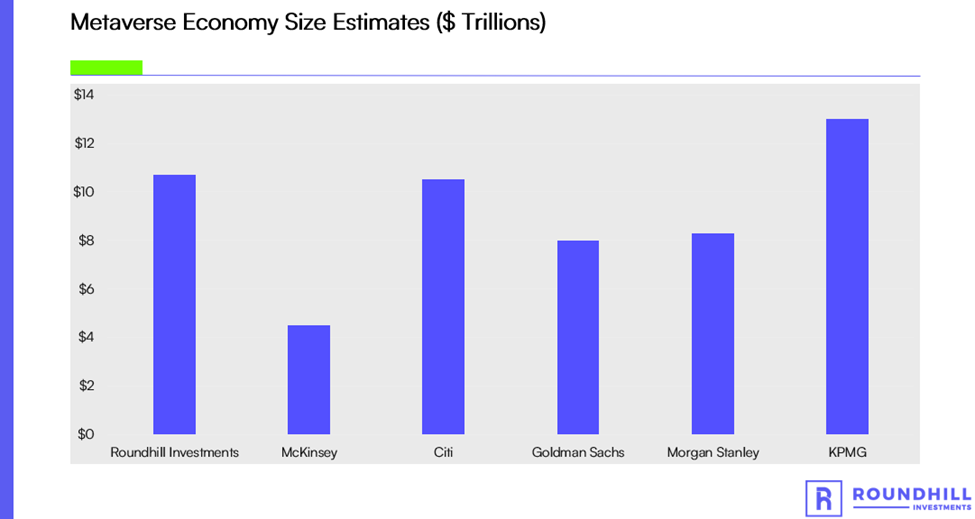 Source: McKinsey, Citigroup, Goldman Sachs, Morgan Stanley, KPMG, Roundhill Investments
Note: Forecasts are inherently limited and should not be relied upon when making investment decisions. There is no guarantee the sector will experience projected growth. In addition, there is no guarantee it will translate to positive fund performance.
Is the Metaverse hype or reality?
The Metaverse has been discussed as a likely possibility for a couple of decades, but prior to 2020, it was little more than an occasional footnote in company transcripts. What changed that was Facebook's changing of its name to Meta, with businesses of all shapes and sizes suddenly sitting up and taking notice. Around the same time, Roblox, the popular gaming platform that has been positioning itself as a leader in the Metaverse, was listed on the New York Stock Exchange, ending its first trading session with a $38 billion market cap.

Public awareness of the Metaverse blossomed at this time, leading to soaring expectations and a rush of investment. Since then, the situation has calmed down, with an accompanying drawdown in expectations and valuations of companies working in the Metaverse.

All of this can make it difficult for the average investor to understand the real prospects of the Metaverse. Dramatic economic events in recent history, such as the Dot.Com bubble of the early noughties, have left many people wary of falling victim to hype.

In reality, the situation with the Metaverse is different. While there is likely to be continued volatility for some time, with some companies failing to live up to their early promise, we believe the overall positive trajectory looks clear.
What are the long-term opportunities?
Over the longer term, companies will likely continue investing in the core technologies, protocols and platforms underpinning the Metaverse. This is expected to continue the progress towards the multi-trillion-dollar transformation that is being predicted, but the pace is now likely to be slower.

This progress could conversely place Metaverse investment on a sounder footing, allowing for steady, sustained growth over time and reducing the degree of volatility.

If you're considering investing in the Metaverse, being willing to remain invested for the medium to long term is essential. While it may be possible to maximize short-term returns through volatility, this is likely to be an investment space that ultimately rewards long-term commitment.
What are the risks?
As with any investment, there can be risks associated with Metaverse investment. The companies investing in the Metaverse rely heavily on technology, which comes with significant research and development costs. Alongside this are substantial capital requirements, products and services becoming obsolete, as well as evolving government regulations. Factor into that competition, particularly from overseas companies with lower production costs, and several factors can lead to volatility.

For that reason, investor research into companies operating in the Metaverse space must be as thorough as possible. This is the kind of detailed research that fund managers will typically conduct before investing in any company.
How to Invest in the Metaverse?
The Metaverse will likely provide a proliferating range of investment opportunities over the coming years. Negotiating these opportunities and understanding which may be the most appropriate for you is key to success.

According to AXA Investment Managers, four sectors could present long-term investment opportunities:
Gaming
Gaming is where the Metaverse began and continues to grow. The number of virtual and augmented reality headsets used in gaming is expected to grow from four million in 2021 to 42 million by 2025.
Socializing
The online world plays an increasingly important role when it comes to socializing. The Metaverse will create more opportunities for people of all ages to connect in immersive ways.
Work
The Metaverse will support the moves towards remote, home and hybrid working patterns. It will offer new ways to collaborate online, recreating some aspects of the in-person working experience.
Enabling
Enablers are the companies that will provide the technology, network infrastructure, components and services that will allow the Metaverse to function. As well as suppliers of semiconductors, this will also include digital payment companies and cyber security businesses.
Different types of metaverse investment

For the individual investor, there are three current ways in which you can invest in the Metaverse:


Stocks
A simple and immediate way to invest in the Metaverse is by purchasing stocks in individual companies such as Meta and Roblox. Established technology companies popular with smaller investors, such as Microsoft and Apple, also invest heavily in the Metaverse. Emerging names such as 3D software developer, Unity, and content delivery network Cloudflare are also proving popular.

While backing a winner or winners could ultimately be lucrative, the volatility and unpredictability of the evolving Metaverse does mean that some companies may fail to live up to their initial promises. In some cases, companies may make bad investment and development decisions that lead to them going out of business. Therefore, any investor looking to buy stocks in companies operating in the developing Metaverse should carefully consider a range of factors such as profitability, long-term plans, and key personnel.
ETFs
Exchange Traded Funds (ETFs) allow investors to buy a selection of stocks or bonds at once. This allows smaller investors to gain exposure to a range of stocks for instant diversification.

Funds are managed by fund managers(s) who will select stocks based on a range of criteria, putting together a portfolio that may be subject to change over time, with some stocks being sold and others added. Other ETFs will track an index and will not be actively managed. The latter are generally cheaper for investors to purchase but offer no potential to outperform the market.

The Roundhill Ball Metaverse ETF is designed to provide investors with diverse exposure to a range of globally listed active companies across the Metaverse. The fund currently has over 40 holdings in Metaverse Stocks, including big names popular with investors such as Apple, Meta and Roblox, alongside companies such as Taiwan Semiconductor Manufacturing and Cloudflare.

Virtual Real Estate
Real estate will frequently feature in investment portfolios. The Metaverse allows investors to invest in land and property that exists in a digital world. As with real-world property, virtual real estate is in limited supply, meaning its value can increase over time. As well as owning the virtual land, you can also 'develop' that land, creating income-generating properties or virtual venues that charge an admission fee.
Can I buy shares in the Metaverse?
It's possible to purchase shares directly in companies that operate in the Metaverse through a broker, or you can invest in a diversified range of Metaverse companies through an ETF such as the Roundhill Ball Metaverse ETF.
What is the future of the Metaverse?
Over the coming years, the Metaverse will likely move from something on the fringes of public awareness to becoming central. Large technology companies are investing significant amounts in building the Metaverse, and new players are constantly developing creative ideas.

One significant release is Apple's introduction of spatial computing in the form of Apple Vision Pro, a revolutionary spatial computer that seamlessly blends digital content with the physical world while allowing users to stay present and connected to others.

The potential of the Metaverse to build on the ubiquity of the internet to create new opportunities to work, shop and socialize is huge. There is still some uncertainty about what this will look like, but the direction of travel is clear.

The convergence of Virtual Reality, Augmented Reality, Spatial Computing, AI, and Blockchain creates a powerful dynamic driving the Metaverse forward. People may soon apply for jobs, work, meet with friends and even 'travel' via the Metaverse. Businesses and governments are likely to use the capabilities of the Metaverse to share information and provide services.

Why invest in Roundhill Ball Metaverse ETF?
Roundhill believes the Metaverse will become the successor of the current internet and will build an experience that spans the virtual and 'real' world.

The potential of the Metaverse to create growth and transform society is vast. Companies developing the technology and services that will support the development of the Metaverse, and those that will ultimately provide Metaverse experiences to the public, are likely to become key drivers of global economic growth.

This represents a golden opportunity for investors to secure their stake in this success.

Of course, due diligence is required. Volatility and unpredictability mean that any investment needs to be carefully researched and considered.

Investing in an ETF allows ordinary investors to access the research knowledge and deep market understanding of a fund management team working in the field.

The Roundhill Ball Metaverse ETF (METV) is one of the first specialist ETFs in this field. With over 40 current holdings, METV consists of companies actively involved in the Metaverse, including computing, networking, virtual platforms, hardware, digital assets, and payments. Traded on the New York Stock Exchange, METV is available on several brokerage platforms.

For more information about the Roundhill Ball Metaverse ETF, please see the fund's investor page.
Glossary of Key Terms
Augmented Reality:

Virtual, interactive objects and experiences enhance the real world via the use of a headset.


Blockchain: A system in which transactions are recorded and ownership transferred and established via computer systems linked in a peer-to-peer network.


Cryptocurrency: A digital currency in which transactions take place and are verified through a decentralized digital system rather than a centralized authority.


Interoperability: The ability of different computer systems to exchange information and communicate together. They can take and use the information and instructions they receive from different computer systems.


Metaverse: This digital universe comprises interconnected 3D spaces within which people can communicate, shop, work, share information and enjoy leisure time. The Metaverse will be accessed through virtual reality headsets.


Mixed Reality: The seamless fusion of the virtual and real worlds using elements of virtual and augmented reality. Users can interact with real-world objects while accessing virtual worlds, and virtual objects can interact with real-world objects.


Virtual Land: Virtual land is the digital terrain on which your avatar can move and interact within the virtual ecosystem.


Virtual Reality: This immersive computer-generated environment has digital scenes and objects that appear 'real'. The user will access these spaces through a headset that allows them to operate within a digital world.