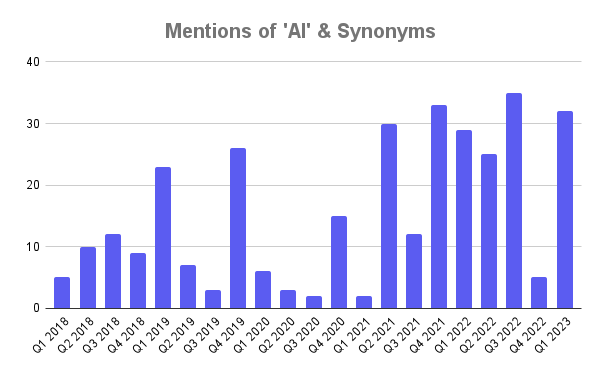 ChatGPT, Generative AI and Video Games - the Next Big Thing or the Next Big Fad?

ChatGPT and generative artificial intelligence (AI) represent one of the next big technology trends that could define the next decade and the future path of technology. The market is in the midst of a massive hype cycle, but early signs suggest these tools could prove powerful for a multitude of industries and use-cases. Once the hype dies down and companies develop enterprise-grade tools, we expect them to fully take advantage of these burgeoning technologies.
For video game companies, these tools present a lot of opportunities including expediting the process of art prototyping, level and world design and character creation (I'm simplifying, game developers don't @ me). And with these opportunities comes a key question: are generative AI/Large Language Model (LLM) tools like ChatGPT, Stable Diffusion and Midjourney going to massively reduce the cost structure of games companies? We think no and we actually think these tools will further fragment the gaming industry. Let's dive in…
AI Not a New Thing for Video Games Companies
Before we dive into generative AI tools, which are very new and exciting, it's important to note that video game companies have been using AI tools for many years for various functions. For them, generative AI represents the next evolution in a toolset with which they have years of experience.
For example, Ubisoft used AI in 2020's Watch Dogs Legion to make every non-playable character (NPC) an actual playable one with its "Play as Anyone" features. You can read more about that here. AI has also been used by game makers for procedural content generation, graphics improvement, voice interactions with NPCs and game testing.
Aside from just the games they sell and the technologies they develop, we can see these years of experience in their earnings calls too. In the following chart, we see how many times games companies in the NASDAQ CTA Global Video Games Software Gross Total Return Index mentioned AI and select synonymous terms in earnings call over the last five years: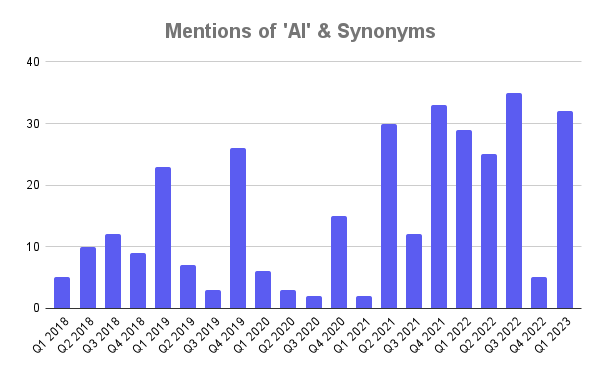 Source: Bloomberg, February 15, 2023
Note: Includes terms A.I., AI/ML, artificial intelligence, artificially intelligent, ChatGPT, Chatgpt, Deep Learning, Generative AI, Machine Intelligence, Machine Learning, ML, Natural Language Processing, Neural Network, Neural Networks and NLP
Companies have been discussing various iterations of AI on and off for years now. But again, the new part is generative AI, and that is evident in transcript mentions. Generative AI was only mentioned for the first time last quarter - 24 mentions - but picked up to 98 already this quarter. And as of the day of writing this, there are still six companies in the index universe left to report who may drive that number even higher.
Generative AI - Margin Boom or Table Stakes?
What investors and analysts are trying to figure out is what the long-term impacts of generative AI will have on the industry. Some are calling for these new tools to lower the development costs for games and increase the margin profile of the industry. Some see these tools just as table stakes that will raise the bar for everyone.
As JPMorgan's China Internet team wrote:
"We believe the development of Generative AI technologies (or AIGC, such as ChatGPT or text-to-image/video) is positive for the China online game and broader digital entertainment industry in the long run, as it: 1) reduces R&D and content spend, as it could shorten development time for digital content generation (e.g. online game, video, etc.), 2) increases user-generated content supply via lowering entry barriers for amateur content providers, and 3) enables more realistic entertainment/game experiences, such as gamebot and digital human."
Strauss Zelnick, the CEO of Take-Two Interactive, disagrees. On the company's fiscal 3Q23 earnings call (for the period ending December, 2023), he said:
"I'm really excited about what we're seeing right now with ChatGPT and other leaps forward in artificial intelligence and machine learning and I do think that we will be and others will be creating tools that will enhance our development and probably reduce some of the costs for what we have to do today.
But I don't think you're going to see it have an effect on the overall cost structure of the business because I think it will just raise the bar. I think anytime you make things easier, we are going to want to do more and our teams want to do more…
We are ushering in a very exciting era of new tools and they're going to allow our teams and our competitors teams to do really interesting things more efficiently."
Strauss is historically one of the most grounded leaders in the industry and has a reputation for being skeptical - and eventually proven right - of technologies such as cloud gaming that didn't live up to their initial hype. It's clear that even generative AI is winning over the skeptics and proving that it can become a valuable tool for every gaming company.
We tend to lean more towards Strauss's camp, in that generative AI will become table stakes for every game developer and the best teams will use these to increase efficiency and invest more in other parts of the development process, raising the quality bar both for what development teams expect from themselves and what gamers expect from game makers.
Take for example a start-up such as Procedural Worlds that has a product called Gaia that can help developers with massive world-building. It can spin up virtual world landscapes in minutes, a process that previously could take an army of developers and artists a lot longer to complete. Now, game makers can focus on investing more time into a story or new features to make their game even better and still have these massive, open-world experiences that consumers have come to demand.
Where to Next?
It's entirely clear that generative AI is the next big technology hype cycle. Although it has really promising potential in gaming, it's going to be some time before game makers figure out the best way to utilize these technologies, embed them in their workflows and figure out the best way to re-allocate resources once they figure out how much they can save with generative AI.
The fourth quarter of 2022 showed that the amount of time and money users spend in games is consolidating into the biggest blockbuster titles that support large online virtual worlds and multiplayer experiences. Generative AI may further this trend, given the larger companies' ability to invest in AI talent and tools. They also possess troves of data from years of interactions within their large online games to train AI models.
The industry is turning a corner after a difficult 2022 and growth lies ahead as we get into the back half of 2023. But innovation has been a driver of the industry's growth for multiple decades and generative AI has the potential to continue that trend.
Disclaimer: The information contained in this newsletter is for informational purposes only and does not constitute financial, investment, tax or legal advice. The information expressed herein reflects the opinion of Roundhill Investments ("Roundhill") on the date of production and are subject to change at any time without notice due to various factors, including changing market conditions. Where data is presented that is prepared by third parties, such information will be cited, and these sources have been deemed to be reliable. Roundhill is separate and unaffiliated from any third parties listed herein and is not responsible for their products, services, policies or their content. All investments are subject to varying degrees of risk, including the risk of the loss of capital, and there can be no assurance that the future performance of any specific company, strategy or product referenced directly or indirectly in this newsletter will be profitable, perform equally to any corresponding indicated historical performance level(s), or be suitable for your portfolio. Past performance is not an indicator of future results.