Generative AI Venture Capital Flood to Fuel Nvidia, AI Hardware Investment

As venture capital (VC) flows into generative artificial intelligence (generative AI or GAI)1 startups, where is that money going to be spent? Aside from hiring data scientists and machine learning experts to build and implement large language models, we believe the bulk of the funding is going to be spent on generative AI hardware, fueling demand for chips and systems from Nvidia and peers.

Generative AI Funding Surge
VC funding for generative AI startups surged in the first quarter and may continue at a rapid clip given announced but not-yet-closed deals and new funds raised explicitly focused on GAI. VC funding for GAI companies surged to $1.7 billion in Q1 2023, more than doubling both sequentially and year-over-year, according to Pitchbook data.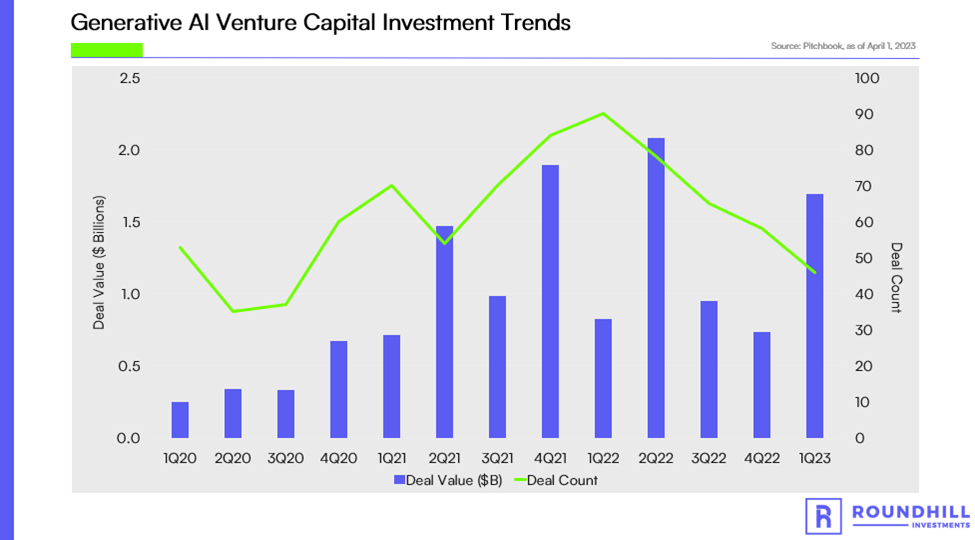 Source: Pitchbook, as of April 1, 2023
This surge in VC investment didn't include the $10 billion investment announced by Microsoft into OpenAI as that deal hadn't yet closed. And it doesn't include the $450 million that Anthropic raised from investors including Google and Spark Capital in May, per a Reuters report. These deals suggest a further acceleration in growth in VC investment in GAI startups in Q2 2023.
Where is This Money Being Spent?
Although some of this investment will go to hiring more data scientists and machine learning experts, we believe the bulk of this fundraising will flow to investments in infrastructure for these companies to train and implement generative AI technologies built on large language models. And Nvidia continues to win the bulk of these deals, with an 80% market share for AI chips, according to Omdia.
Including the $10 billion investment by Microsoft into OpenAI, the $450 million for Anthropic, other announced but not yet closed deals tracked by Pitchbook and the Q1 2023 capital raised, there's nearly $13 billion of dry powder that is set to be deployed. Even if these companies hire 1,000 more people combined at an average salary of $300,000 to $500,000, that still only eats up $300 million to $500 million of the raised capital, leaving significant firepower for infrastructure investments.
The cost of the recently launched Nvidia DGX H100 AI server, purpose-built for massive AI workloads, is around $270,000, according to Semianalysis. Even with bulk purchase discounts that are common in the technology hardware industry and after headcount additions, they could still purchase nearly 50,000 DGX H100 servers with the remaining capital. And with each of these containing eight graphics processing units (GPUs) per server, that's nearly 400,000 GPUs.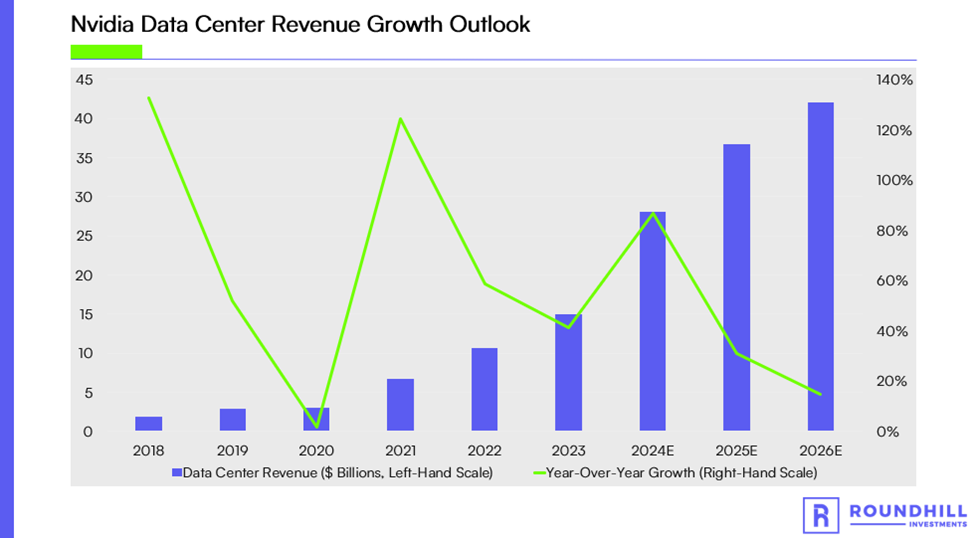 Source: Company Filings, Bloomberg, as of May 31, 2023
How to Invest in This Potential Investment Surge
The Roundhill Generative AI & Technology ETF is the world's first ETF designed to provide specific exposure to generative AI. The Fund is an actively managed ETF that invests in global equity securities of exchange-traded companies that are driving the development of generative AI tools and technologies. For information on the fund, including access to a full prospectus, the fund's holdings and how to invest, visit https://www.roundhillinvestments.com/etf/chat/.
Investors should consider the investment objectives, risk, charges and expenses carefully before investing. For a prospectus or summary prospectus with this and other information about Roundhill ETFs please call 1-855-561-5728 or visit the website at www.roundhillinvestments.com/etf/. Read the prospectus or summary prospectus carefully before investing.
Artificial Intelligence Company Risk. Companies involved in, or exposed to, artificial intelligence related businesses may have limited product lines, markets, financial resources or personnel. These companies face intense competition and potentially rapid product obsolescence, and many depend significantly on retaining and growing the consumer base of their respective products and services.
Technology Sector Risk. The Fund will invest substantially in companies in the information technology sector, and therefore the performance of the Fund could be negatively impacted by events affecting this sector. Market or economic factors impacting technology companies and companies that rely heavily on technological advances could have a significant effect on the value of the Fund's investments. The value of stocks of information technology companies and companies that rely heavily on technology is particularly vulnerable to rapid changes in technology product cycles, rapid product obsolescence, government regulation and competition, both domestically and internationally, including competition from foreign competitors with lower production costs.
New Fund Risk. The Fund is a recently organized management investment company with no operating history. As a result, prospective investors do not have a track record or history on which to base their investment decisions. Small-Capitalization Investing. The securities of small-capitalization companies may be more vulnerable to adverse issuer, market, political, or economic developments than securities of large- or mid-capitalization companies. The securities of small capitalization companies generally trade in lower volumes and are subject to greater and more unpredictable price changes than large- or mid-capitalization stocks or the stock market as a whole.
Micro-Capitalization Investing. Micro-capitalization companies often have limited product lines, narrower markets for their goods and/or services and more limited managerial and financial resources than larger, more established companies, including companies which are considered small- or mid-capitalization.
Concentration Risk. The Fund will be concentrated in securities of issuers having their principal business activities in the technology group of industries. To the extent that the Fund concentrates in a group of industries, it will be subject to the risk that economic, political, or other conditions that have a negative effect on that group of industries will negatively impact them to a greater extent than if its assets were invested in a wider variety of industries.
The CHAT ETF is distributed by Foreside Fund Services, LLC
¹Generative artificial intelligence (generative AI or GAI) is a type of artificial intelligence that is designed to create new content, such as images, videos, or music. Unlike traditional AI, which is focused on recognizing and analyzing existing data, generative AI is focused on creating new data. This has the potential to revolutionize many industries, from entertainment and media to healthcare and education.