How to Invest in Generative AI's Potential $7 Trillion Transformation? Introducing CHAT

Generative Artificial Intelligence (GAI)¹ is potentially shaping up to be the next big disruptive technology for many years to come. We believe that GAI represents a multi-trillion dollar economic disruption that is poised to impact nearly every corner of the global economy. We see a path to enterprise GAI applications alone becoming a $120 billion market in a decade while consumer applications drive additional growth opportunities. The Roundhill Generative AI & Technology ETF (NYSE ARCA ticker CHAT) is the only ETF focused on GAI and provides investors direct access to this burgeoning opportunity.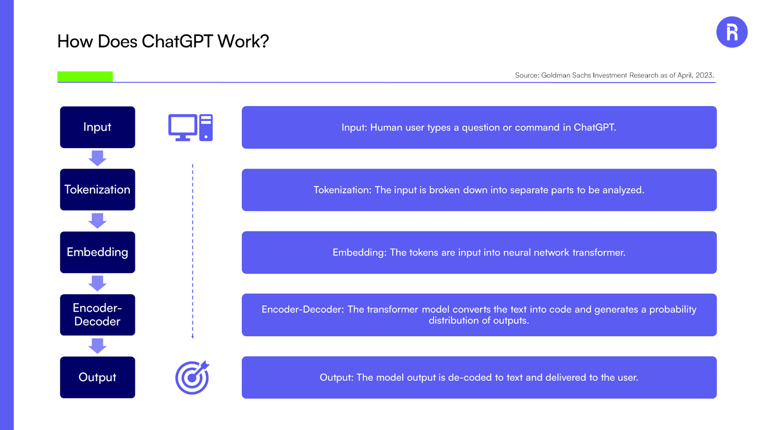 Source: Goldman Sachs, Roundhill Investments

---
How Big Will Generative AI Be?
Economic Impact: GAI represents a potential multi-trillion dollar economic disruption over the next decade, according to Goldman Sachs, whose analysts estimate that the technology will create $7 trillion of economic value in the period, or 7.3% of global GDP. This growth would be driven by GAI technologies automating significant portions of the global economy, leading to a sharp rise in labor productivity. The Goldman economics team estimates that two-thirds of current jobs are subject to some form of automation and that GAI could substitute one-quarter of current work, or the equivalent of 300 million full time jobs globally.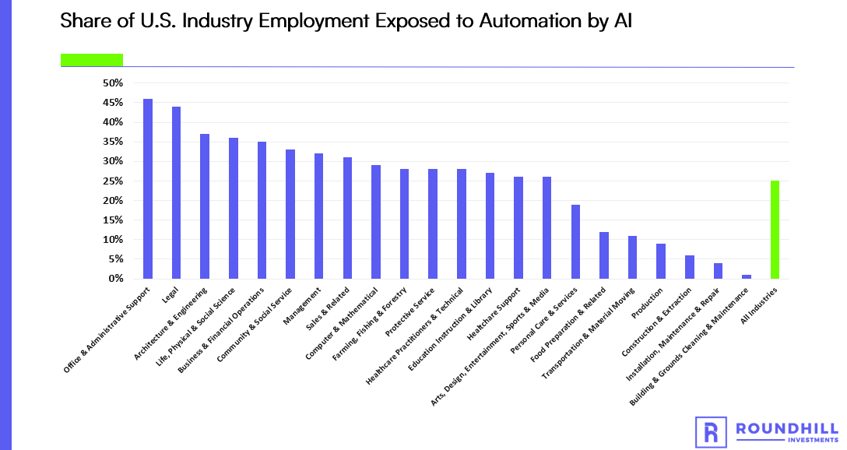 Source: Goldman Sachs Global Investment Research, March 26, 2023
Enterprise Software Impact: We believe that GAI enterprise applications could rise to 50% of software spend per employee globally and that 10% of global workers would subscribe to GAI applications. Given these inputs, this scenario yields 2033 GAI enterprise application subscription revenue of $120.8 billion.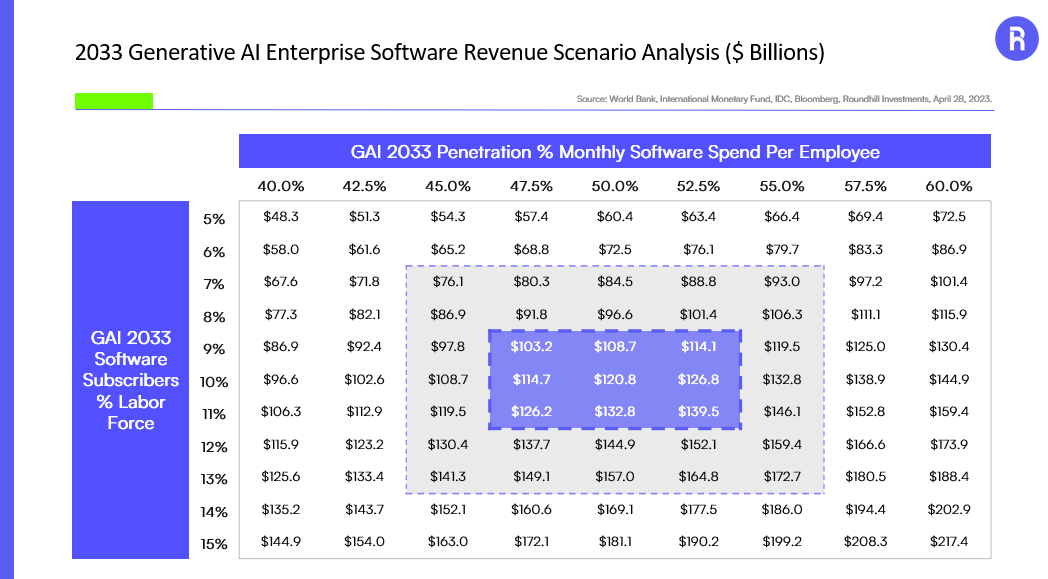 Source: World Bank, International Monetary Fund, IDC, Bloomberg, Roundhill Investments, April 28, 2023
Consumer Impact: The direct revenue impact of GAI on consumer applications is a bit harder to estimate, as we do not expect consumer applications to directly monetize from GAI technologies. Rather, we expect GAI tools to be embedded into existing applications and therefore won't directly be monetized.
One area of consumer-facing applications that we believe we can reasonably estimate the revenue from GAI is online search engines. Search leader Google and challengers such as Microsoft's Bing are rapidly rolling out GAI-powered search to provide a more sophisticated and responsive search experience.
The search advertising market generated $231 billion of revenue in 2021 and is forecast to grow at a 9.9% annual growth rate through 2027 to over $400 billion, according to Magna Global. If this growth rate continues longer-term, it suggests a 2033 market size of $655 billion of search advertising revenue. If 50% of search is GAI-powered in 2033, that would mean that GAI search alone is generating over $325 billion of annual advertising revenue.
But other markets are difficult to estimate. For example, Roblox is planning to enable GAI so that creators can build experiences and items using just text inputs without needing to code. Podcasters such as Spotify are also planning to use GAI to create new content without human input. But assessing how much of the revenue from these products is directly related to GAI is difficult, especially at this early stage of the industry's development.
---
How Can ETF Investors Express Views on Generative AI?
Until now, there haven't been ETFs specifically focused on GAI. Existing AI ETFs are leveraged to other forms of AI such as machine learning or robotic process and industrial automation. Others use AI to drive portfolio construction. Well that is no longer the case…
We are pleased to introduce the Roundhill Generative AI & Technology ETF, the first and only ETF focused explicitly on generative AI. The Fund is an actively managed ETF that invests in global equity securities of exchange-traded companies that are driving the development of generative AI tools and technologies. For information on the fund, including access to a full prospectus, the fund's holdings and how to invest, visit https://www.roundhillinvestments.com/etf/chat/
Investors should consider the investment objectives, risk, charges and expenses carefully before investing. For a prospectus or summary prospectus with this and other information about Roundhill ETFs please call 1-855-561-5728 or visit the website at www.roundhillinvestments.com/etf/. Read the prospectus or summary prospectus carefully before investing.
Artificial Intelligence Company Risk. Companies involved in, or exposed to, artificial intelligence related businesses may have limited product lines, markets, financial resources or personnel. These companies face intense competition and potentially rapid product obsolescence, and many depend significantly on retaining and growing the consumer base of their respective products and services.
Technology Sector Risk. The Fund will invest substantially in companies in the information technology sector, and therefore the performance of the Fund could be negatively impacted by events affecting this sector. Market or economic factors impacting technology companies and companies that rely heavily on technological advances could have a significant effect on the value of the Fund's investments. The value of stocks of information technology companies and companies that rely heavily on technology is particularly vulnerable to rapid changes in technology product cycles, rapid product obsolescence, government regulation and competition, both domestically and internationally, including competition from foreign competitors with lower production costs.
New Fund Risk. The Fund is a recently organized management investment company with no operating history. As a result, prospective investors do not have a track record or history on which to base their investment decisions. Small-Capitalization Investing. The securities of small-capitalization companies may be more vulnerable to adverse issuer, market, political, or economic developments than securities of large- or mid-capitalization companies. The securities of small capitalization companies generally trade in lower volumes and are subject to greater and more unpredictable price changes than large- or mid-capitalization stocks or the stock market as a whole.
Micro-Capitalization Investing. Micro-capitalization companies often have limited product lines, narrower markets for their goods and/or services and more limited managerial and financial resources than larger, more established companies, including companies which are considered small- or mid-capitalization.
Concentration Risk. The Fund will be concentrated in securities of issuers having their principal business activities in the technology group of industries. To the extent that the Fund concentrates in a group of industries, it will be subject to the risk that economic, political, or other conditions that have a negative effect on that group of industries will negatively impact them to a greater extent than if its assets were invested in a wider variety of industries.
The CHAT ETF is distributed by Foreside Fund Services, LLC
¹Generative artificial intelligence (generative AI or GAI) is a type of artificial intelligence that is designed to create new content, such as images, videos, or music. Unlike traditional AI, which is focused on recognizing and analyzing existing data, generative AI is focused on creating new data. This has the potential to revolutionize many industries, from entertainment and media to healthcare and education.