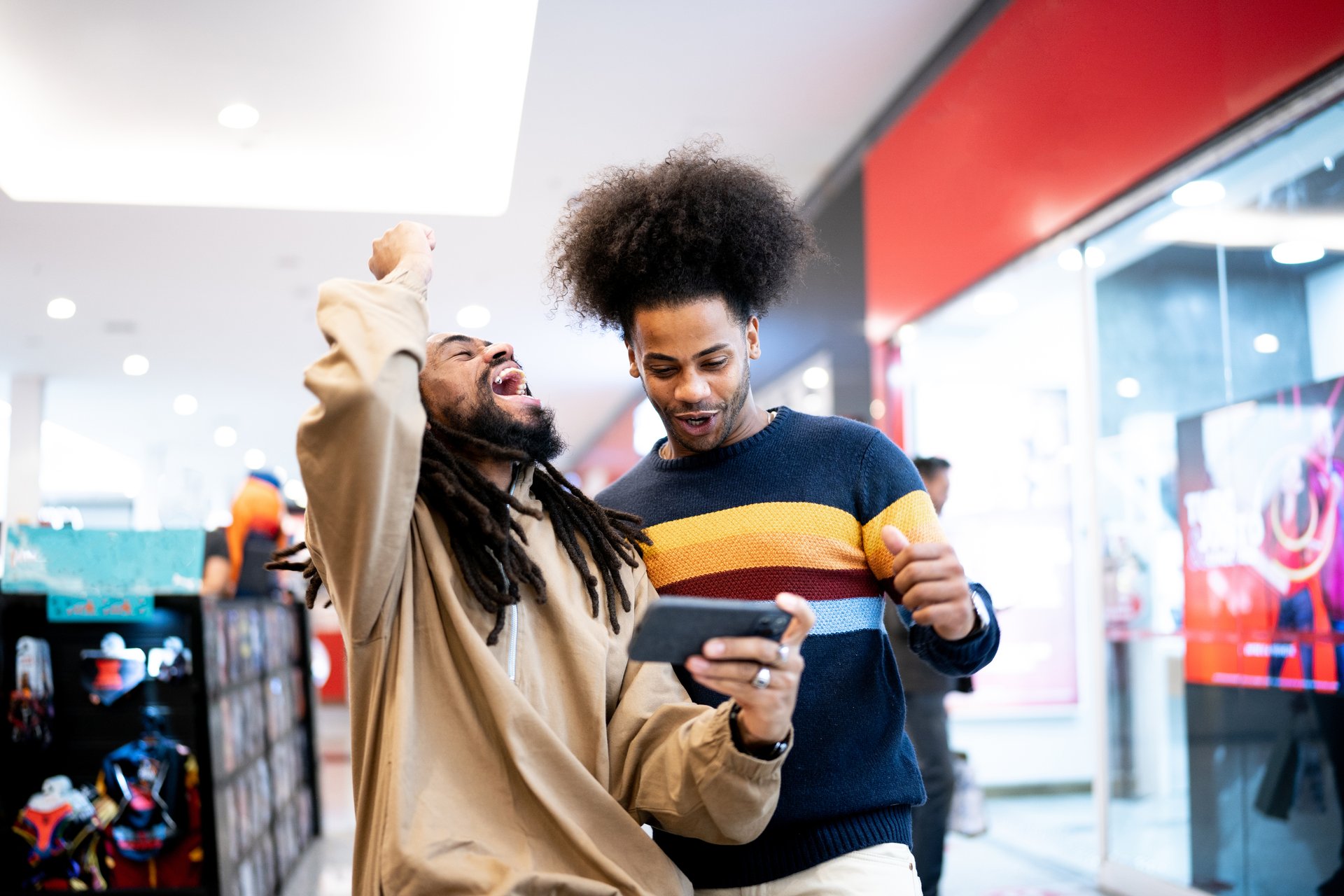 Mobile – The Future of Gaming

Introduction
The gaming industry is far and away the largest entertainment industry by revenue globally. Since the launch of GTA V and GTA Online in 2013, the Grand Theft Auto franchise has amassed $7.68 billion through June 30th, 2022 for parent company Take-Two Interactive.1 By comparison, the highest grossing film worldwide is 2009's Avatar with $2.92 billion, excluding home video sales. These are both staggering sums, and while the size of the gaming market has usurped film, there are significant changes going on within gaming alongside the proliferation of smartphones and tablets.
In fact, Tencent Games' mobile title Honor of Kings and its international adaptation Arena of Valor have outgrossed GTA by nearly double, despite being released more than two years later. GTA's total gross since 2013 would not even rank in the top five when compared to the most popular mobile games. A confluence of factors, including better hardware, faster bandwidth, and lower prices, have led to mobile's dominance over traditional gaming mediums, which is expected to continue throughout this decade.
Advent of the iPhone
Mobile as an established medium for gaming is still relatively young. Apple's iPhone, which was introduced in 2007, saw the smartphone form factor shift from physical keypads to maximum screen real estate. Prior to the smartphone revolution, games for cellphones were primitive and relied on the keypad for basic commands.2
The iPhone also introduced multi-touch technology which allowed for more than one gesture to take place simultaneously, which would pave the way for more complex games. The iOS App Store, which came a year later in 2008, ushered in the "app economy" by allowing developers to bring games and other applications to a mobile storefront for wireless download.
That year also marked the launch of the iPhone 3G, eponymously named after its 3G wireless capabilities. This cellular standard not only made wireless downloads feasible, but allowed developers to push updates "over-the-air" to improve their games. This was similar to the seventh generation of consoles which could also push out patches for games, allowing for bugs to be fixed and new content to be imported. In October 2008, the Google Play store launched for Android-based devices and in October 2010, the Windows Phone launched with its own app store developed by Microsoft.
Arguably the most important year for mobile gaming came in 2009, when in-app purchases (microtransactions) were introduced for iOS. Some games would release with a handful of levels, beckoning users to pay a fee to unlock the rest of the game. Others utilized microtransactions to remove advertisements from the game which was otherwise free-to-play. A third model, which was popularized by King's puzzle game Candy Crush Saga in 2012, gave users the option to pay money to purchase extra lives if they exhausted the five they were allotted. All three of these models still exist, though the latter, which is known as the "freemium" model, is what turned mobile gaming into a multi-billion dollar industry.
Growth in Asia
Over 90% of the world's three billion gamers play on mobile devices, compared to 30% for consoles and 47% for PC.3 The Asia-Pacific region led by China is a key part of this story. Android-based smartphones from regional manufacturers have become the gaming tool of choice for Asia's 1.6 billion gamers as domestic vendors like Xiaomi and Oppo sell powerful smartphones for a fraction of the price of a new console. Furthermore, Chinese netizens already spend significant time on mobile, utilizing "super-apps" such as WeChat and AliPay. On WeChat alone there are three million "mini-apps," which maximize the utility of users' phones.4 Super-apps are growing in other emerging countries as well, such as Careem in the Middle East and Paytm in India.
In addition to cheap hardware, Asia's improving internet infrastructure has contributed to mobile's growth. Internet connectivity and data center giant Equinix attributes this growth to peering infrastructure improvements and increasing numbers of subsea cables.5 On the peering infrastructure side, Equinix notes that the region historically routed internet traffic to servers in far away countries like the U.S. and Canada, causing a "significant latency issue for individuals and businesses when accessing the internet." This has changed as Asia's digital economy has matured, resulting in more than half of Asian bandwidth being retained in the region. Subsea cable systems are connecting Asian hubs to each other, to Europe, and to the Americas. Equinix notes a record number of global subsea projects are planned, including one that will connect Singapore, Japan, Guam, the Philippines, Taiwan and Indonesia.
Sizing the Market
According to Newzoo's 2021 Global Games Market Report, mobile gaming revenues grew 7.3% year-over-year from 2020, a year which already featured difficult comparables due to the lockdown environment.6 The two other major video game categories of console and PC fell -6.6% and -0.8% from the previous year, respectively, partially owing to supply chain shortages. In total, the $93.2 billion generated by mobile in 2021 was 52% of the $180.3 billion video game market. This performance is driven by consumer spending within mobile applications, as well as advertising via mobile ad networks like those offered by Unity and Google. While final statistics for 2022 are not out yet, Apple's IDFA changes, which limit advertisers' ability to track users, appear to have softened advertising revenues temporarily.
Mobile Gaming Was the Largest and Fastest Growing Segment in 2021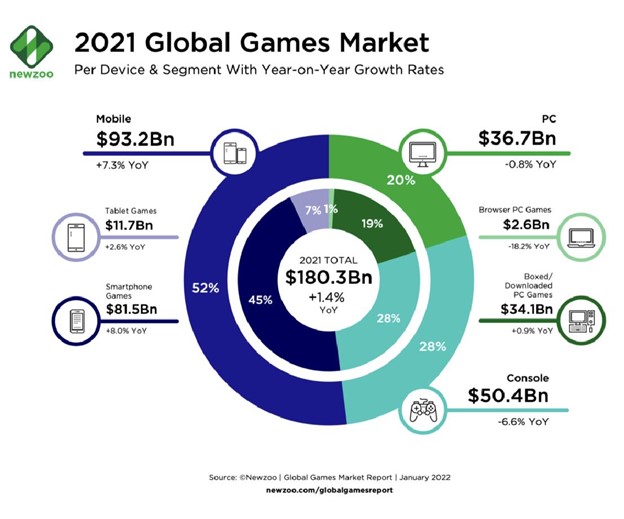 Source: Newzoo Global Games Market Report, January 2022.
Microtransactions and Ads
Most of the top grossing titles on the iOS and Google Play app stores are free to download, but feature microtransactions in some form. In some games, real money can be used to accelerate certain tasks which would otherwise require the player to wait hours or even days to accomplish. Others give players the ability to buy in-game currency like "coins" or "gems" to unlock exclusive content. These games may offer this currency to free players as well, but in limited quantities that require in-app purchases for substantive progress to be made.
The advertising model is often utilized alongside microtransactions, but the two have unique revenue streams. Advertising relies on impressions and clicks, which allow games to be monetized without players spending anything. While ads can just live in the foreground, interactive advertising has become popular to increase the time players view advertisements in the game. For example, speeding up a task, which in the previous example would be through an in-app purchase, could be done by viewing a 30-second advertisement, served through Unity's native ad service. There are many examples of creative ad integration within mobile games, which has allowed developers to make money off price sensitive consumers.
Investing in Mobile Gaming via the NERD ETF
As of September 30th, the Roundhill Video Games ETF (NERD) held 15.6% of its assets in pure-play mobile gaming companies. This includes companies such as Netmarble, South Korea's largest mobile game developer, Colopol, a Japanese mobile game publisher, and IGG, a Singapore based developer and publisher of mobile games.
In addition to companies explicitly focused on smartphones and tablets, most of the largest video game companies have devoted substantial resources to the medium. For example, Take-Two Interactive, which is an S&P 500 constituent, purchased mobile developer Zynga in January 2022 for $12.7 billion, the second largest gaming deal of all time. In aggregate, the NERD ETF offers significant exposure to the growth of mobile gaming, including the following three example portfolio companies:
Netmarble Corporation (KRX: 251270) — Netmarble is the publisher of some of the most popular mobile video games in South Korea. The company holds the publishing rights in Korea to Arena of Valor, the international version of Honor of Kings, which is the highest grossing mobile game in history. Other popular titles include BTS World, winner of "Mobile Game of the Year" in 2019 at the Golden Joystick Awards, and Marvel Future Revolution, an action RPG based on the popular Marvel IP.
Electronic Arts (NASDAQ: EA) — EA made two sizable mobile gaming acquisitions in 2021, expanding its mobile reach with dedicated development studios. In February of that year, the company purchased Glu Mobile, a prolific developer of mobile games with over $400 million in annual revenue. Then in June, EA bought Playdemic Studios from WarnerMedia for $1.4 billion following the divestiture of gaming assets after the merger with Discovery. EA's mobile subsidiary Industrial Toys, which it acquired in 2018, is currently working on Battlefield Mobile, the first installment in EA's popular first-person shooter franchise for smartphones and tablets.
Krafton (KRX: 259960)— Krafton's landmark battle-royale title PUBG: Battlegrounds was initially launched for consoles and PC, but has seen its most success on mobile. PUBG Mobile, a free to play version of the game for Android and iOS, has grossed over $8 billion since its 2018 launch.7 This is nearly twice the game's gross on other platforms. Furthermore, PUBG Mobile has become a popular esport, with the game's 2021 Global Championship offering a $6 million prize pool.8
What's Next?
Looking ahead, mobile should continue to be a focus area for the largest video game companies who may seek to capitalize on the fast growing segment. Given the decline in gaming valuations in 2022, smaller mobile developers may also prove to be attractive acquisition targets for the largest and best-capitalized operators in the space. While overall gaming revenue is expected to grown with a low-single digit CAGR through 2025, mobile may be a bright spot and grow faster than the overall market.
---
1https://www.tweaktown.com/news/87904/grand-theft-auto-earnings-at-7-68-billion-since-gta-launch/index.html
2https://blogs.windows.com/devices/2013/01/16/10-things-you-didnt-know-about-mobile-gaming-2/
3https://newzoo.com/insights/articles/the-games-markets-bright-future-player-numbers-will-soar-past-3-billion-towards-2024-as-yearly-revenues-exceed-200-billion
4https://www.theverge.com/22738395/social-media-super-app-facebook-wechat-shopping
5https://blog.equinix.com/blog/2022/08/24/3-trends-leading-to-a-new-digital-silk-road-in-asia-pacific/
6https://newzoo.com/insights/articles/the-games-market-in-2021-the-year-in-numbers-esports-cloud-gaming
7https://sensortower.com/blog/pubg-mobile-8-billion-revenue
8https://www.oneesports.gg/gaming/biggest-mobile-esports-prize-pool/