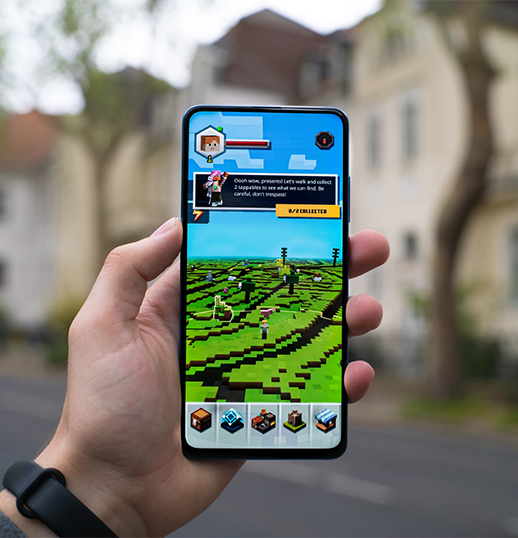 The Most Transformative Acquisitions in Gaming History

The Most Transformative Acquisitions in Gaming History
by Mario Stefanidis / Updated March 30, 2021
The contents of this article are not intended as a recommendation to buy or sell any securities.
The largest gaming companies today have risen to the top due to decades of organic growth and transformative mergers and acquisitions. Balance sheets have gotten larger, and access to capital markets has gotten easier, giving these corporations more dry powder to execute deals. However, on the larger scale, mergers and acquisitions in the video games industry are a phenomenon of only the last two decades. This includes the last year and a half, which has already seen six acquisitions with deal values in excess of $1 billion; for comparison, the 2010s had five such acquisitions. Total investment in 2020 soared to $13.2 billion, up a whopping 77% from 2019.1
This is shaping up to be an incredible decade for gaming M&A, led by low interest rates, the rise of mobile, and the entry of millions of new players due to the lockdown environment. Mobile in particular is allowing gamers in less developed markets to access high quality titles on par with their Western counterparts. Conglomerates like Embracer Group and Enad Global 7, both based out of Sweden, and Chinese giant Tencent are buying developers and publishers across the entire industry. SPACs are also vying to take video game companies to market, as the number of private companies proportionate to those publicly listed has swelled. Another relatively new innovation is the direct listing, where a company goes public by selling existing shares, mostly from insiders, rather than issuing new ones through an investment bank. Roblox (RBLX) recently directly listed onto NYSE on March 10th, and saw its shares rise 8.5% on the first day of trading.
Figure 1: Revenues in gaming globally have nearly tripled since 2012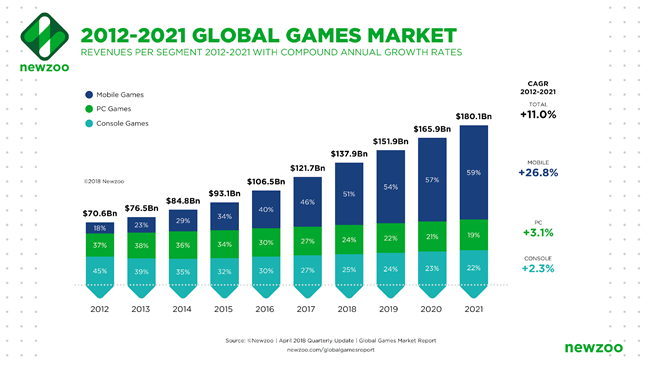 Source: Newzoo, as of April 2018.
---
1Forbes, February 2021. https://www.forbes.com/sites/dbloom/2021/02/04/video-game-sector-scores-record-132-billion-in-2020-investments-ma/?sh=4767f9e35fbe
To understand the trajectory of the industry, below I will outline five of the most significant and transformative acquisitions in video gaming history. These are not necessarily the largest transactions by size, as some sizable purchases ended up being mismanaged and had little synergy with the parent company. Furthermore, very recent transactions are not included in the list given that their impact has yet to be fully realized. These mergers and acquisitions have already paid for themselves multiple times over, and in many cases changed the trajectory of the resulting entity.
5. Namco Merges with Bandai in Mixed Cash & Stock Deal
Year: 2005 | Ticker: 7832 JP
In a merger of equals, Namco announced that they were to merge with Bandai in 2005, creating a Japanese gaming conglomerate called "Namco Bandai". Namco officially purchased Bandai for $1.7 billion, but 57% of the holding company went to Bandai, and 43% went to Namco. The combined revenue for the company was $4.34 billion for the full fiscal year ending 2005, creating the third largest video games publisher in Japan, behind Nintendo and Sony.2
Just off the cash paid alone, this was by far the largest transaction in video gaming history to date, surpassing the $375 million Microsoft paid for Rare in 2002. As the two companies also had various other assets in areas like anime and toys, the decision was made in 2006 to create a subsidiary combining the video game operations of both, known as "Namco Bandai Games". Note that in 2014, the branding for both the holding company and video game subsidiary changed to "Bandai Namco" and "Bandai Namco Entertainment" respectively.
---
2Gamespot, December 2005. https://www.gamespot.com/articles/bandai-namco-to-merge/1100-6123385/
Headquartered in Tokyo, Bandai Namco Entertainment is responsible for some of the best-selling and highest grossing video games franchises to date. Pac-Man, originally developed as an arcade game by Namco in 1980, is now available on every console including mobile, and has nearly one hundred titles across genres like platforming, racing, and the traditional arcade style. The Tekken series of fighting games is now one of the top esports globally and has sold 49 million units across over a dozen platforms and consoles. Other notable franchises developed or published by Bandai Namco include Ace Combat, Dark Souls, Dragon Ball, Soulcalibur, and Katamari.
The merger between Bandai and Namco paved the way for the large-scale M&A the industry would experience in the late 2000s and 2010s. The deal value, solely in cash paid, still ranks as eighth-largest all time and is the only transaction from the 2000s to be in the top 10. The company continues to develop and publish new IP, including the much-anticipated Elden Ring, a collaborative effort between Hidetaka Miyazaki of FromSoftware and Game of Thrones author George R. R. Martin. Furthermore, many franchises that were originally intended for the Japanese audience have now crossed over into the West, greatly expanding the addressable market in the face of a challenging demographic situation in Japan.
4. Amazon Buys Twitch in $970 million All-Cash Transaction
Year: 2014 | Ticker: AMZN
In 2007, Justin.tv was launched by co-founders Justin Kan and Emmett Shear. The streaming site came from humble beginnings, with Justin wearing a webcam attached to his hat and "lifestreaming" audio and video 24/7. Justin would frequently interact with his viewers via a chat system affixed to the stream. That summer, the site became a platform for other lifecasters, who could choose which parts of their life to show, and had the decision on whether to interact with their audience. Over the next few years, the website added forums, categories for broadcasting (including Gaming), and enhanced the chat feature.
Justin.tv's Gaming section grew so rapidly that it was spun off as TwitchTV in 2011. The number of employees steadily grew, and by 2013 there were over 100 people employed at Twitch's San Francisco headquarters.3 Esports became particularly popular on Twitch, and the site quickly became the most popular esports streaming site by a wide margin. This growth attracted large suitors, and in 2014 it seemed likely that Google would close a deal through its YouTube subsidiary. Fearing antitrust regulation however, the deal fell through and Amazon acquired Twitch for $970 million. This was the second largest acquisition for Amazon behind its 2009 purchase of Zappos, and it gave Twitch the capital and resources it needed to become a household name.
Justin.tv closed in 2013, and Twitch now has a variety of categories similar to its predecessor. Esports continues to be a key focus, but the live/IRL category launched in 2017 (known as "Just Chatting") is now the most popular section of the website. Other non-gaming content such as music, pro sports, and online gambling has proved popular as well. Amazon's primary integration into the site is via its Prime subscription service; Prime subscribers can subscribe to one Twitch channel per month as part of their subscription, which gives perks such as custom emotes and ad-free viewing. For regular subscriptions, Twitch keeps about half of the $5 monthly price, though this split is usually lower for larger streamers with deals. Twitch also derives a significant amount of its revenue via advertisements, and income from ads that are run on Twitch partners' streams are shared with those channels.
Figure 2: Twitch has grown across every metric since launching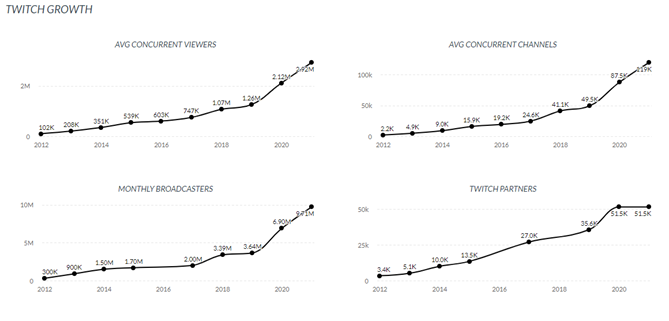 Source: TwitchTracker, as of March 2021.
---
3Forbes, December 2013. https://www.forbes.com/sites/davidewalt/2013/11/13/the-espn-of-video-games
Amazon's acquisition of Twitch gave the company the premier asset in video game and esports streaming. Average concurrent viewers site-wide have ballooned, growing at a 40% CAGR from 2012 to 2020. This includes the near doubling of viewership from 2019 to 2020, in part due to the pandemic-induced lockdown. Esports viewership has been bolstered by new titles like Valorant and Call of Duty: Warzone, along with the continued development of games including League of Legends, PUBG, CS:GO, and DotA 2. Largely due to Twitch, global esports viewership was around 459 million in 2020, composed of both esports enthusiasts and occasional viewers (just like traditional sports).4 Amazon continues to find ways to integrate Twitch with its broader business, including Prime Gaming offers, which give subscribers in-game items within various partnered titles across consoles.
---
4Roundhill Investments, Newzoo, September 2020. https://www.roundhillinvestments.com/research/esports/esports-viewership-vs-sports
3. Microsoft Acquires Minecraft Creator Mojang for $2.5 billion Cash
Year: 2014 | Ticker: MSFT
The sale of Swedish developer Mojang to Microsoft in 2014 was one of the most out of left field transactions of the decade. Markus Persson, founder of Mojang, tweeted in June of that year that his stake of the company was for sale, which comprised most of the shares outstanding. Minecraft was the sole game developed by the company at the time and was one of the fastest-growing indie games ever, with 50 million copies sold in just three years. Praised for its open world, procedurally generated environments, and seamless multiplayer, the game appealed to multiple demographics across the globe. Persson however never expected this kind of growth, and as a programmer at heart, wanted to move on to the next project. This attracted serious interest from Activision Blizzard and EA, but a superior offer from Microsoft, which had previously collaborated with Mojang, ultimately prevailed.
Since the acquisition, a significant amount of content has been added to the game. Large updates keep the player base coming back for more, increasing time spent within Minecraft's expanse. While the game's popularity has ebbed and flowed since its launch, the rise of Twitch and streaming has brought the game to new heights. Some of the most popular personalities on Twitch solely stream Minecraft and attract tens of thousands of viewers daily to their channels. The game is available on every major console and mobile store, but the most popular version is still the Java Edition on Windows, Linux, and macOS. The game has sold over 200 million paid copies across these systems and has been downloaded over 400 million times in China via a localized free version.5
Microsoft has likely recouped their investment from gross sales alone, but has unlocked another monetization route via the Minecraft Marketplace, which launched in 2017. By partnering with creators and sharing in the revenues, Microsoft has sold adventure maps, mini games, skin packs, and texture packs via a premium currency known as Minecoins. These in-game features run anywhere from $1 to $10, and creators receive around 70% of the revenue.6 The store is available on the Windows 10 and Pocket Editions of the game.
---
5Business of Apps, March 2021. https://www.businessofapps.com/data/minecraft-statistics/
6Minecraft Forum, April 2017. https://www.minecraftforum.net/news/60574-marketplace-questions-answered
Figure 3: The Marketplace is a source of recurring revenue within Minecraft for Microsoft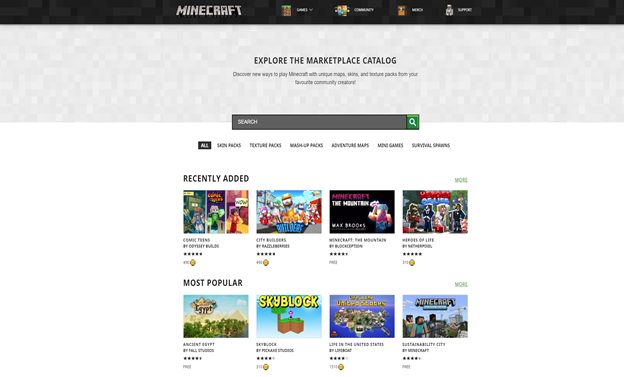 Source: Minecraft.net, as of March 2021.
While Minecraft is still the key title in the franchise, there have been several spinoffs since the acquisition. Minecraft: Story Mode is an episodic story-based game licensed by Telltale Games, with 13 episodes released between 2015 and 2017. Minecraft Earth is an augmented reality game using the phone camera of Android and iOS devices. Resources pop up and are overlaid in the real world, integrating physical objects from the player's actual surroundings. Minecraft Dungeons, a procedurally generated dungeon crawler, is the latest title in the franchise and was released in 2020.
2. Tencent Acquires 93% Stake in Riot Games in Private Cash Transaction
Year: 2011 | Ticker: 700 HK
Tencent's investments within the video game market started with a bang, after the Chinese conglomerate acquired 92.8% of League of Legends developer Riot Games in 2011. While the terms of the deal are undisclosed due to Riot's private status, Bloomberg reported it as more than $350 million.7 Before this transaction, most of Tencent's revenue came from its QQ messaging service, including growth from licensing casual games to be added to QQ as well. This extension into gaming has greatly benefited Tencent, which has now become one of the largest gaming conglomerates worldwide, and the largest in China by a wide margin.
---
7Bloomberg, February 2011. https://www.bloomberg.com/news/articles/2011-02-04/tencent-said-to-be-near-deal-to-buy-riot-games-for-more-than-350-million
League of Legends is a free-to-play multiplayer online battle arena (MOBA) game released in 2009 for Windows. The game was heavily influenced by the original DotA which was released in 2003 and is now a Valve property. Two teams of five "champions'' fight for control of three lanes in a top-down map, dotted by structures. By killing minions, players gain experience and gold and increase their character's strength, which allows them to progressively become more powerful than their opponent and win by overtaking their base. The game is the world's largest esport, and attracts an extremely wide following on streaming services globally like Twitch, Huya, Douyu, and AfreecaTV. The top competitive teams have followings in their own right, and have built up brands and sponsorships similar to traditional sports teams. From a commercial perspective, League of Legends is amongst the most successful games ever. League is perennially amongst the highest-grossing games globally, and in 2020, eleven years after the title's initial launch, the game generated an estimated $1.75 billion in sales.
Figure 4: Many of the top esports organizations globally field League of Legends teams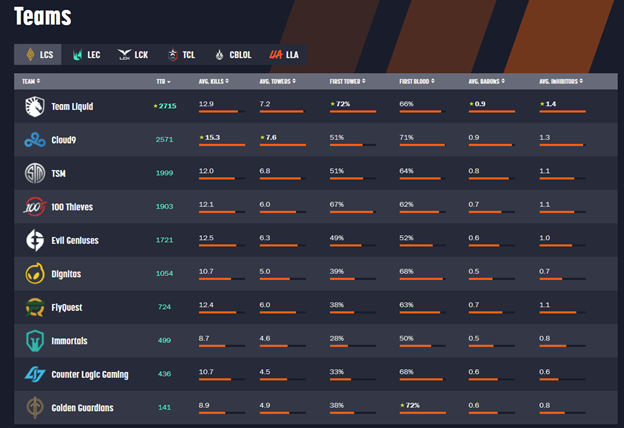 Source: TrackLoL.com, John Armstrong, as of March 2021.
Tencent's vast resources have given Riot the tools they needed to transform League into a household name. Most large tournaments are held in person, often in sold out arenas where spectators can watch the action live. These tournaments are marked by their high production value and sophisticated commentary and livecasting. The 2020 League of Legends World Championship was held in Shanghai during September and October, and the Grand Finals had a live audience of over 6,000 people (who were required to socially distance). In addition, the Finals hit a peak viewership of nearly 46 million viewers, with the preliminary matches seeing a 61% increase in viewership over 2019. 8
Capitalizing off League's success, Riot began a closed beta of their next esports title Valorant in April 2020. Valorant is a first person shooter similar to Counter Strike in its gunplay, but has the twist of having unique characters with different abilities. Beta access keys were made available to large Twitch streamers, and additional keys could be obtained from random drops while watching streams. This led to millions of concurrent viewers on Twitch for Valorant during the Beta, and resulted in an extremely successful release in June of that year. In addition to small tournaments hosted independently and by partnered organizations, Riot is sponsoring the Valorant Champions Tour, which is taking place in every major region except China where Valorant remains unreleased. Many organizations with League of Legends teams have assembled squads for Valorant as well.
1. Take-Two Interactive Acquires BMG Interactive in All-Stock Arrangement
Year: 1998 | Ticker: TTWO
The most transformational and influential transaction on this list also happens to be the oldest, occurring three decades ago, in 1998. Take-Two Interactive was founded in 1993 by Ryan Brant, who wanted to get into the relatively young business of developing and publishing video games. The company had a few early hits, and gained a license to publish its games on Sony's new PlayStation line of consoles in 1995. Within three years, Take-Two had about $10 million in annual revenue, and was looking to expand.9
The first acquisition made by the company was for Illinois developer Mission Studios in 1996, known for its flight simulator games, for about $2 million in a combined cash, stock, debt and royalty deal.10 Quickly realizing that more capital was needed for larger acquisitions, without compromising the earnings power of the company by doling out more equity or royalties, Take-Two went public via IPO in 1997 and raised $10.5 million.
Take-Two acquired a number of distributors and developers using the proceeds, but made their biggest and still most important acquisition to date in March 1998, when they purchased dormant video game publishing house BMG Interactive for $14.2 million in preferred convertible stock. BMG Interactive had just published Grand Theft Auto, which received mixed reviews at the time, but was notable for the controversy it generated over its use of violence. In December of that year, a restructuring was initiated; key employees were taken from BMG, and a new label within Take-Two called Rockstar Games was created to publish more games like it.
The following year, GTA's developer DMA Design was acquired for $11 million in cash, which it was able to procure due to the financial success of the game, which had sold over 1.5 million copies. DMA Design was then rebranded as Rockstar North, the first of now nine developer subsidiaries under the Rockstar umbrella. With this new corporate structure in place and the GTA IP, the runway was set up for Take-Two's explosive growth.
---
8TheGamer, December 2020. https://www.thegamer.com/league-of-legends-worlds-final-peaked-46-million-viewers/
9Funding Universe, May 2006. http://www.fundinguniverse.com/company-histories/take-two-interactive-software-inc-history/
10Take-Two Interactive IR, April 2007. https://ir.take2games.com/node/18831/html
Sequels Grand Theft Auto 2 and III were published in 1999 and 2001 respectively, as was Grand Theft Auto: Vice City in 2002. By 2003, revenues reached $1 billion annually, up nearly 100 times in 5 years.11 Over the next few years, Take-Two made numerous acquisitions across developers and publishers, notably buying 2K Games in 2005 which is now one of its two major labels.
GTA IV was a landmark open-world action-adventure game released in 2008 to critical acclaim, and defined the PS3 and Xbox 360. The game grossed $500 million in its first week, smashing the record for fastest selling game of all time. GTA V was released in 2013 and garnered the same acclaim as its predecessor, and is the second best selling game ever with 140 million units sold across platforms. Unlike GTA IV however, which had limited multiplayer capabilities, GTA V became known for GTA Online, an online experience set in the same world with up to 30 players competing and cooperating within the open world and on numerous missions. The chart below illustrates Take-Two's revenues since their IPO, with a notable upward trend following the launch of GTA V in Fiscal Year 2014.
Figure 5: Take-Two's annual revenues have grown significantly since GTA V's launch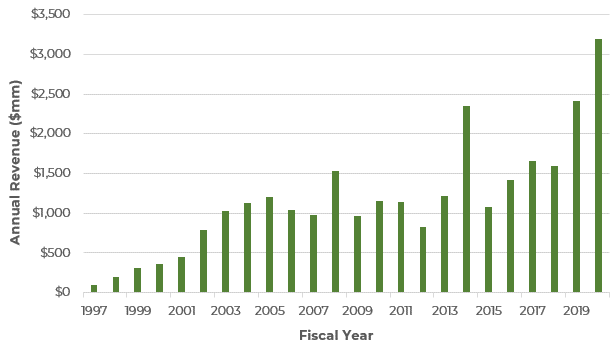 Source: Bloomberg, Roundhill Investments, as of FY 2021.
---
11https://archive.fortune.com/magazines/fortune/fortune_archive/2005/08/22/8270037/index.htm
While it's difficult to explain just how transformative GTA Online has been, it paved the way for Gaming as a Service, where games are constantly updated and supported over a long span. As a result, the game has been released on a record three generations of consoles. Unlike previous titles in the series, GTA V has not received any downloadable content since its launch, while the online portion of the game is updated regularly with new items, environments, and game modes. Players can either earn in-game currency by playing the game and completing tasks, or by purchasing "shark cards" for real money which provide the same currency. This has provided Take-Two with a recurring revenue stream, eliminating some of the cyclicality surrounding game launches (a problem highlighted by the recent release of Cyberpunk 2077 by CD Projekt).
The model has been emulated by numerous games, including Take-Two's own Red Dead Redemption 2, which was published by 2K. Most premium titles today now feature in-game microtransactions, and many employ the same ongoing support model. On the monthly charts, GTA V is still one of the top grossing premium titles eight years later. In fact, each month in 2020 had more players than any other month since launch, according to the company.12
What Could Have Been…
Year: 2008 | Ticker: EA
EA made an unsolicited bid on February 15, 2008 to purchase the entirety of Take-Two Interactive at $25 a share, or approximately $1.9 billion in total. Despite representing a 50% premium to the company's stock price at the time, it was rejected by management who believed the company was undervalued at 18 times forward earnings. EA responded by upping their bid by just $1 to $26 on February 19, with an ultimatum that the offer would expire three days later. By September 14th, talks between the two parties ended entirely, and Take-Two's stock price retreated significantly, also in part due to the recession.
The company's market capitalization would stay below the proposed purchase price until 2014, when shares were catapulted after the launch of GTA V and the rise of the service-based gaming model. Today Take-Two has a market cap of $20.4 billion, nearly half that of EA, and controls some of the most successful game franchises in the world.
Figure 6: Take-Two's market cap since EA's takeover bid in 2008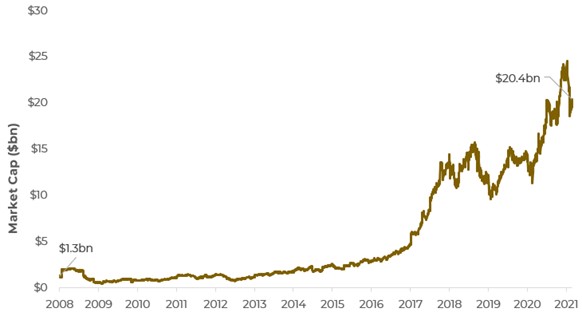 Source: Bloomberg, Roundhill Investments, as of 3/30/2021.
---
12IGN, February 2021. https://www.ign.com/articles/gta-5-online-best-sales-year-140-million-copies
Information on Mentioned Completed Acquisitions
| | | | | | |
| --- | --- | --- | --- | --- | --- |
| Acquirer | Target | Year | Country | Deal Size ($mm) | Current Market Cap ($bn) |
| Namco | Bandai | 2005 | Japan | $1,700* | $15.8 |
| Amazon | Twitch | 2014 | United States | $970 | $1,539 |
| Microsoft | Mojang | 2014 | United States | $2,500 | $1,749 |
| Tencent | Riot Games | 2011 | China | $350** | $750.2 |
| Take-Two Interactive | BMG Interactive | 1998 | United States | $14 | $20.3 |
* While Namco formally acquired Bandai, this deal involved the creation of a holding company combining the stock of both entities.
** Estimate due to private nature of the transaction.