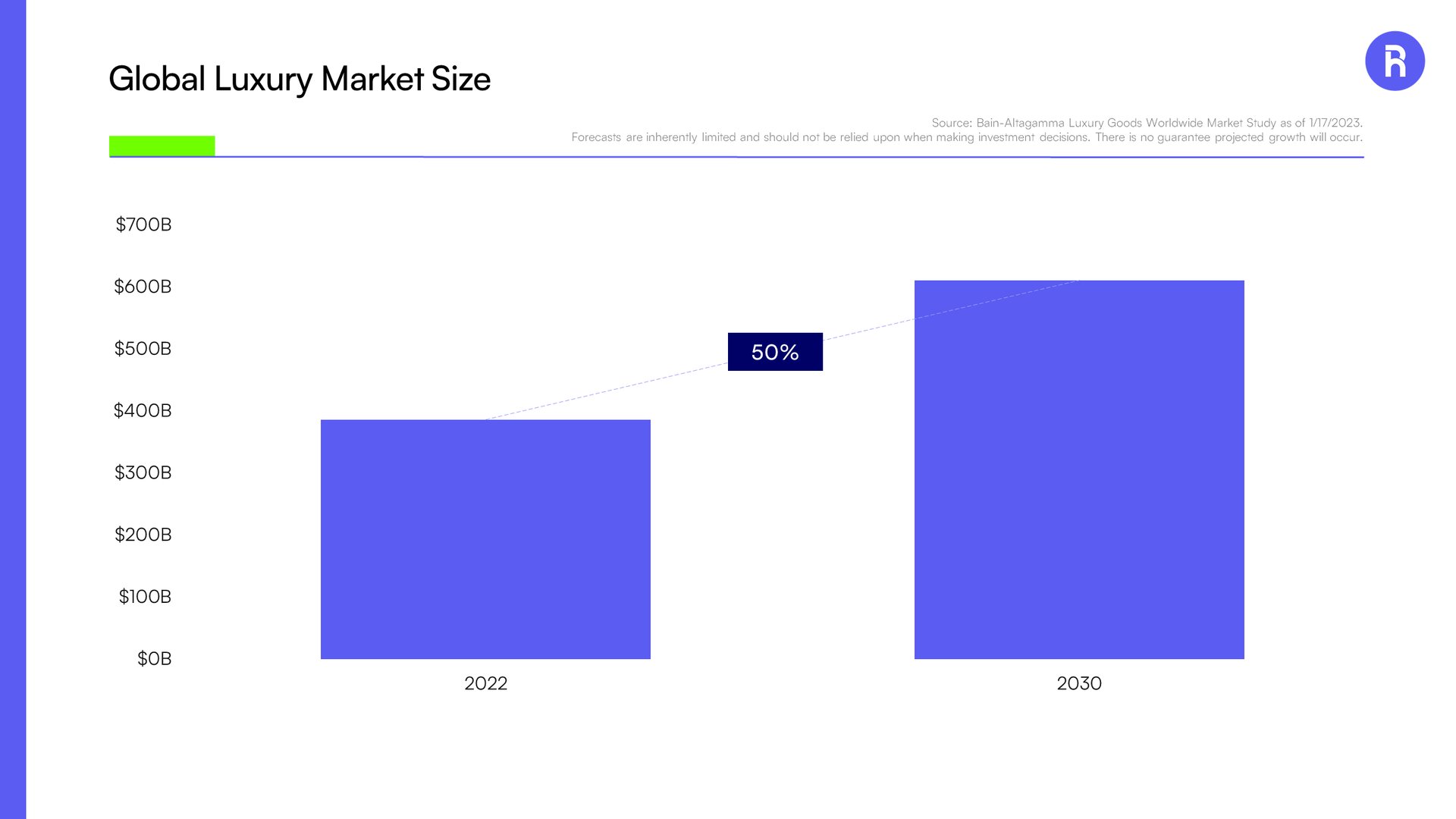 Introducing LUXX: A Guide to the Global Luxury Market

Why is the Luxury Sector Luxurious?
According to Bain & Company, the global luxury market size is forecast to eclipse $600 billion in 2030, a 50% increase from 2022.1
Generation Y, Z, and Alpha (i.e., people born between 2010 and 2025) are expected to be key growth drivers for the expected $600 billion global luxury market, with their spending set to grow three times faster than other generations. By 2030, these younger generations are expected to account for one-third of the overall market.
Meanwhile, technological advancements are expected to contribute an additional $65 billion to $130 billion in sales. Advances in technology that are driving this shift include; collectibles and NFTs, the monetization of virtual communities, brand-related media content such as movies and art, brands creating second hand marketplaces for luxury goods, high-end luxury travel and hospitality, virtual stores, and digital shopping assistants.
In other words, luxury in 2023 isn't just fancy handbags and fast cars.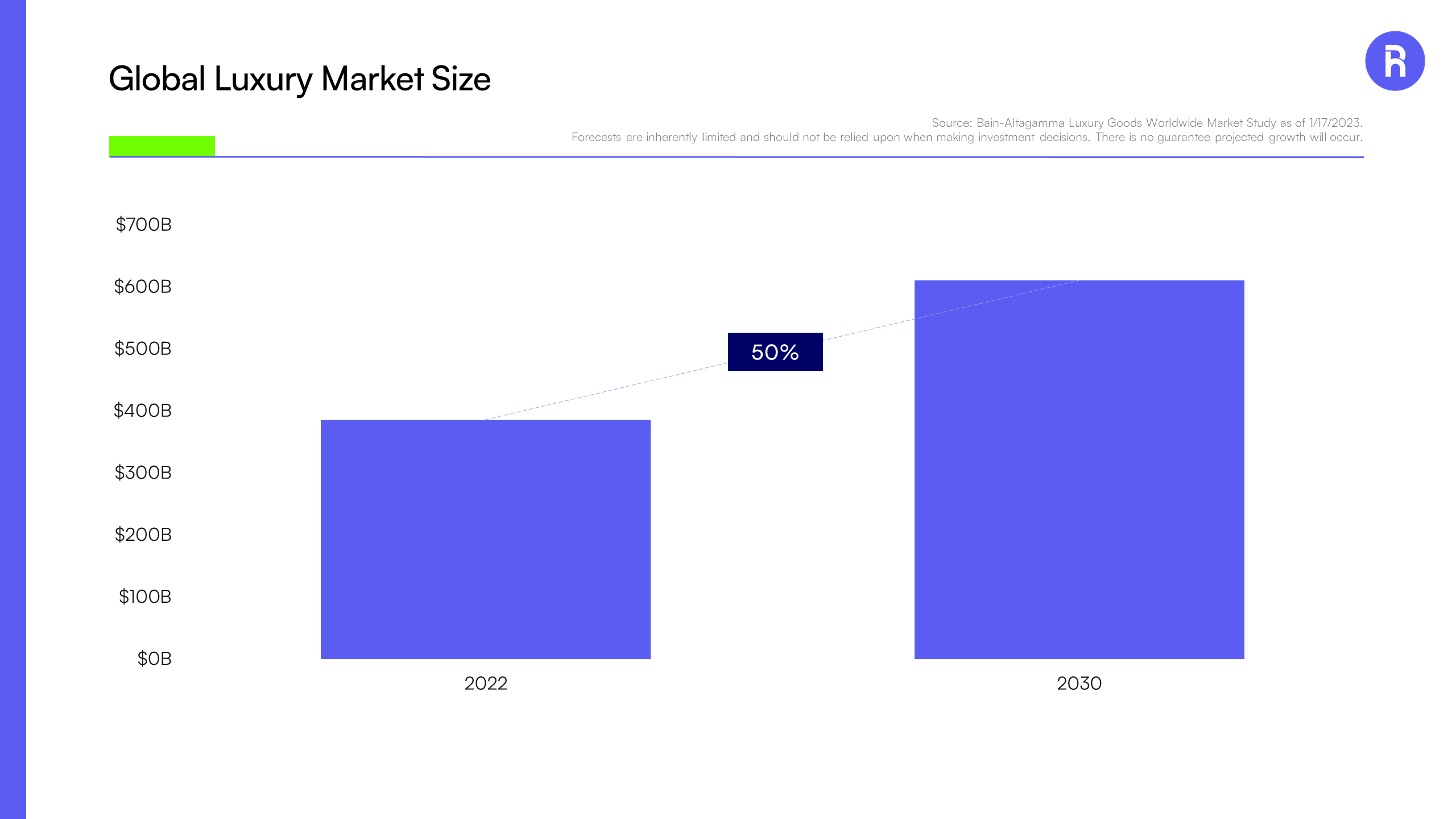 Source: Bain-Altagamma Luxury Goods Worldwide Market Study as of 1/17/2023. Note: Forecasts are inherently limited and should not be relied upon when making investment decisions. There is no guarantee projected growth will occur.
Luxury companies like LVMH, Kering, Hermes, and Richemont have shown remarkable resilience during market downturns, such as during the Great Recession when their share prices recovered swifter than the broader market.

Over the last ten years, the S&P® Global Luxury Index has generated robust total returns of 10.36% annualized. In our view, this long-term performance further illustrates the strength of luxury brands, achieved via superior pricing power and free cash flow generation. In fact, the Luxury Index has outperformed the broader market over all common time periods.

Source: S&P Dow Jones Indices, as of July 31, 2023. Past performance is not a guarantee of future results. The S&P Global Luxury Index is comprised of 80 of the largest publicly-traded companies engaged in the production or distribution of luxury goods or the provision of luxury services that meet specific investibility requirements.
How is Luxury Defined?
Since luxury may mean different things to different people, one may be wondering how luxury is defined and what types of companies are considered luxury.
Luxury represents goods and services that go beyond fulfilling basic needs. They are often considered discretionary rather than essential, commanding a premium price due to their brand reputation, craftsmanship, innovation, and the exceptional experience they provide.
Global luxury companies tend to have exposure to a global consumer base bringing diversification in demand for these products across economies cycles of individual countries.
The largest industry exposures in the Roundhill S&P® Global Luxury ETF are apparel makers and auto manufacturers.
Companies in the Apparel, Accessories and Luxury Goods Sub-Industry account for over 40% of the fund. This includes many well-known luxury goods brand owners such as Richemont, LVMH, Hermes and Kering.
Within automobiles, the fund has exposure to auto manufacturers including Mercedes-Benz, Ferrari and Tesla as well as BMW, Porsche and Aston Martin. Combined with the Apparel, Accessories and Luxury Goods GICS Sub-Industry, these two groups account for over 60% of fund holdings.
LUXX also has the following exposures to various additional GICS sub-industries, including:
Hotels, Resorts & Cruise Lines: 10%
Distillers and Vintners: 9%
Personal Products (which includes cosmetics): 6%
Footwear: 5%
Casinos & Gaming: 4%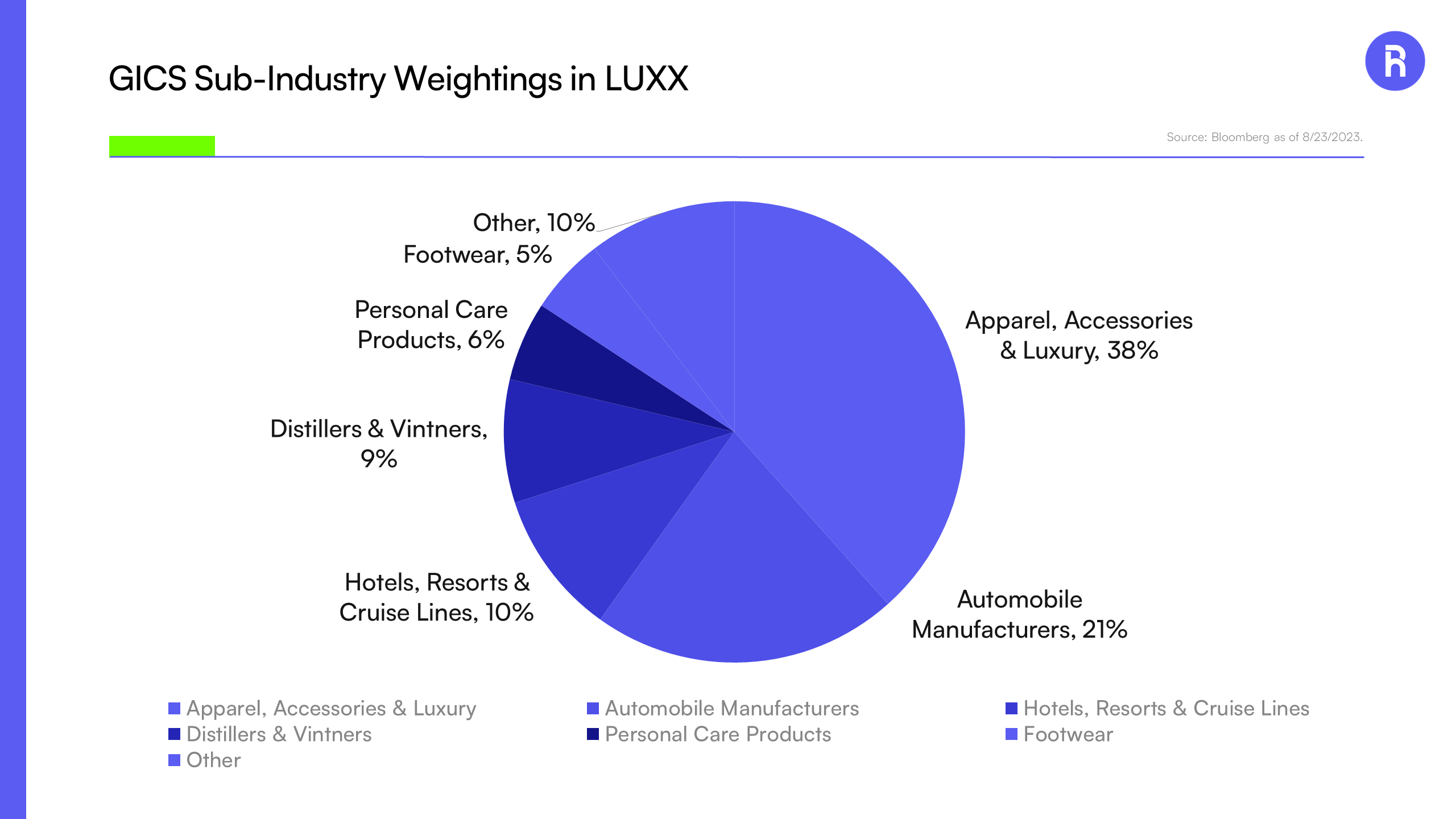 Source: Bloomberg as of 8/23/2023.
What Are the Top Holdings in the LUXX ETF?
While European investors have been able to invest in an ETF tracking the leading luxury index for more than a decade, U.S. investors finally have the opportunity to invest alongside with the launch of LUXX, the Roundhill S&P® Global Luxury ETF.
As of launch, the ten-largest holdings in the LUXX ETF at launch are as follows: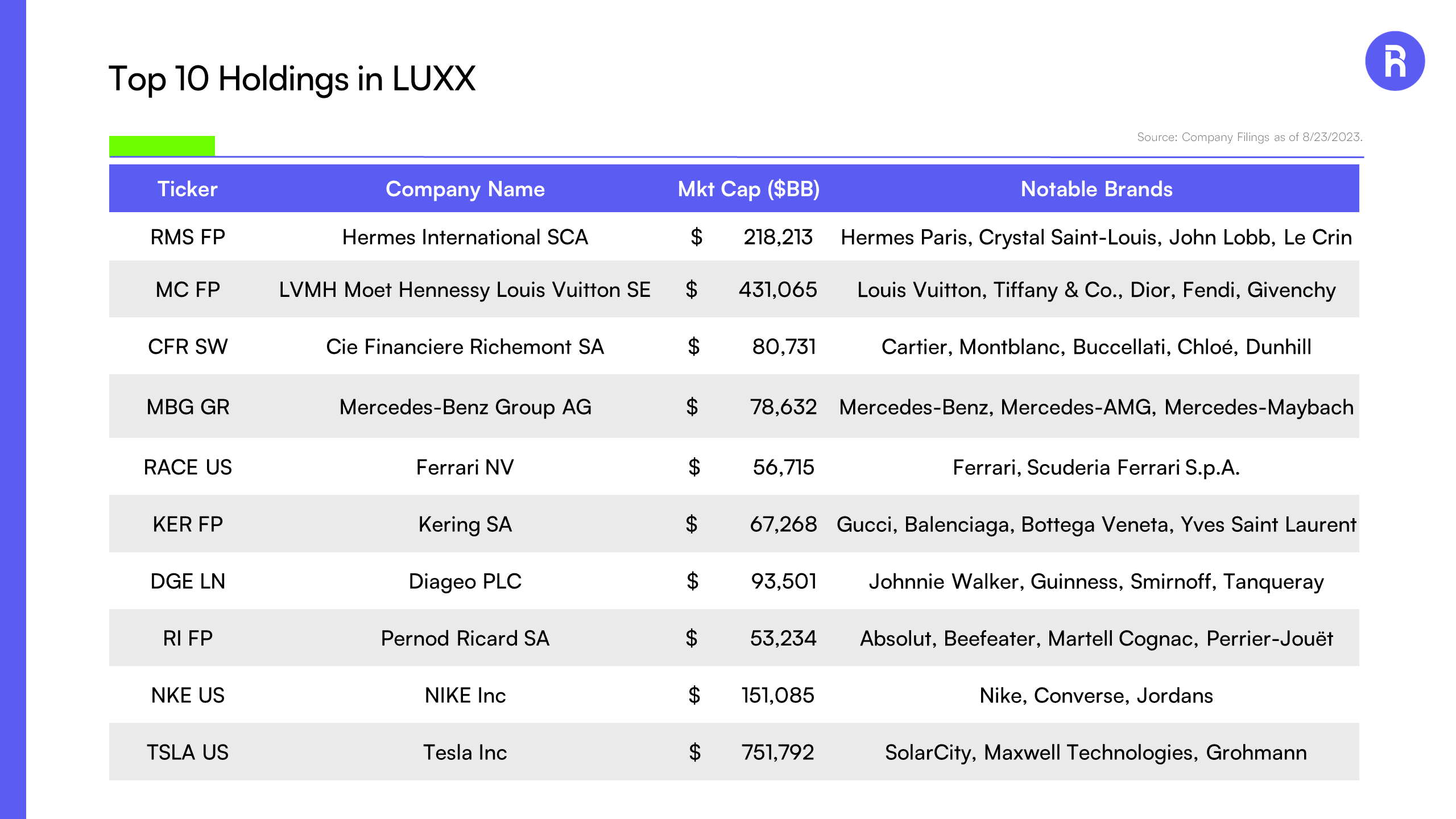 Source: Bloomberg as of 8/23/2023. Holdings subject to change.
To learn more about the fund holdings, you can find more information here. For more information on the fund and how to invest, please visit https://www.roundhillinvestments.com/etf/luxx/
Investors should consider the investment objectives, risk, charges and expenses carefully before investing. For a prospectus or summary prospectus with this and other information about the LUXX ETF please call 1-877-220-7649 or visit the website at https://www.roundhillinvestments.com/etf/luxx/ Read the prospectus or summary prospectus carefully before investing.
Investing involves risk, including possible loss of principal. Luxury companies face intense competition, both domestically and internationally, may have products that face rapid obsolescence, and are heavily dependent on the protection of patent and intellectual property rights. Such factors may adversely affect the profitability and value of luxury goods companies. Investments made in small and mid-capitalization companies may be more volatile and less liquid due to limited resources or product lines and more sensitive to economic factors. Fund investments will be concentrated in an industry or group of industries, and the value of Fund shares may risk and fall more than diversified funds. Foreign investing involves social and political instability, market illiquidity, exchange-rate fluctuation, high volatility and limited regulation risks. Emerging markets may be more volatile and less liquid than more developed markets and therefore may involve greater risks. Depository Receipts involve risks similar to those associated investments in foreign securities, but may not provide a return that corresponds precisely with that of the underlying shares. The fund is passively managed and attempts to mirror the composition and performance of the S&P Global Luxury Index. The Fund's returns may not match due to expenses incurred by the Fund or lack of precise correlation with the index. Please see the prospectus for details of these and other risks.
Roundhill Financial Inc. serves as the investment advisor. The Funds are distributed by Foreside Fund Services, LLC which is not affiliated with Roundhill Financial Inc., U.S. Bank, or any of their affiliates.
The "S&P® Global Luxury Index " is a product of S&P Dow Jones Indices LLC or its affiliates ("SPDJI"), and has been licensed for use by Roundhill Investments Inc. S&P® is a registered trademark of Standard & Poor's Financial Services LLC ("S&P"); Dow Jones® is a registered trademark of Dow Jones Trademark Holdings LLC ("Dow Jones"); and these trademarks have been licensed for use by SPDJI and sublicensed for certain purposes by Roundhill Investments Inc. The Roundhill S&P® Global Luxury ETF is not sponsored, endorsed, sold or promoted by SPDJI, Dow Jones, S&P, their respective affiliates, and none of such parties make any representation regarding the advisability of investing in such product(s) nor do they have any liability for any errors, omissions, or interruptions of the S&P® Global Luxury Index.
1 Bain & Co. (January 17, 2023). Renaissance in Uncertainty: Luxury Builds on Its Rebound.
2 Annualized total return of the S&P Global Luxury Index (Net Total Return).