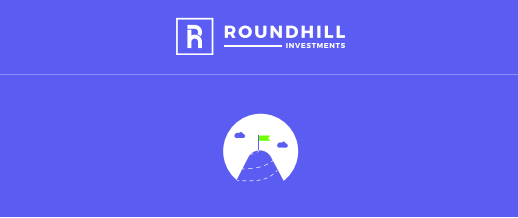 Dividend Monarchs – 50+ Years of Consecutive Dividend Increases

Dividend Monarchs, sometimes referred to as Dividend Kings, refers to the small group of stocks that have grown their dividends per share for 50 or more consecutive years. This latest evolution builds upon the successful history of previous dividend growth funds, such as those targeting Dividend Aristocrats (25+ years of dividend growth).

We launched the Roundhill Dividend Monarchs ETF (NYSE Arca: KNGS) as the first ever U.S. ETF to target this elite group.

As of November 2nd, 2023, the top holdings of the KNGS ETF were as follows: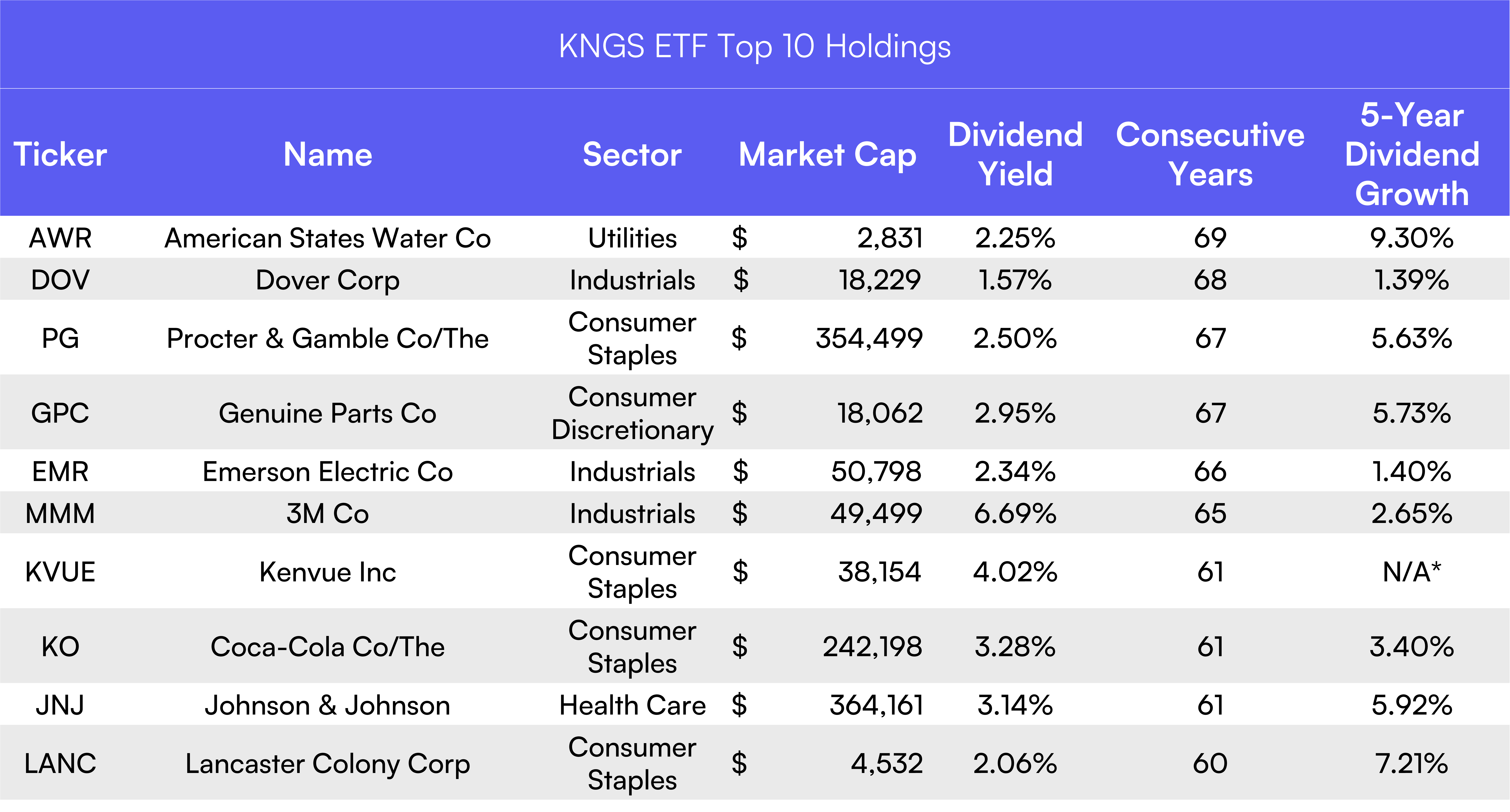 Source: Bloomberg, Motley Fool, Company Filings
*Kenvue was spun out of JNJ in 2023
Past performance is not indicative of future results. For the most recent fund holdings, please click here. The dividend yields above are not indicative of what the fund may earn.
There are currently 36 Dividend Monarchs in the KNGS ETF. On average, these companies have increased their dividends for 56 straight years. American States Water Company maintains the longest dividend growth streak of the group at a remarkable 69 years, dating all the way back to 1954.

Over the past five years, the Dividend Monarchs have averaged dividend growth of 6.2%, led by Lowe's at 19.3%.

Finally, the Dividend Monarchs currently yield an average of 3.1%. Leggett & Platt offers the highest current dividend yield, at 8.0%.

For more information and the most recent fund performance, please visit: https://www.roundhillinvestments.com/etf/kngs/
Risk Disclosure:

Investors should consider the investment objectives, risk, charges and expenses carefully before investing. For a prospectus or summary prospectus with this and other information about the KNGS ETF please call 1-877-220-7649 or visit the website at https:// www.roundhillinvestments.com/etf/kngs/. Read the prospectus or summary prospectus carefully before investing.

Investing involves risk, including possible loss of principal. Investing in dividend-paying stocks involves the risk that such stocks may fall out of favor with investors and underperform the broader market. Companies that issue dividend-paying stocks are not required to pay or continue paying dividends on such stocks. It is possible that issuers of the stocks held by the Fund will not declare dividends in the future or will reduce or eliminate the payment of dividends (including reducing or eliminating anticipated accelerations or increases in the payment of dividends) in the future. Investments made in small and mid-capitalization companies may be more volatile and less liquid due to limited resources or product lines and more sensitive to economic factors. Fund investments will be concentrated in an industry or group of industries, and the value of Fund shares may risk and fall more than diversified funds. Foreign investing involves social and political instability, market illiquidity, exchange-rate fluctuation, high volatility and limited regulation risks. Emerging markets may be more volatile and less liquid than more developed markets and therefore may involve greater risks. Depository Receipts involve risks similar to those associated investments in foreign securities, but may not provide a return that corresponds precisely with that of the underlying shares. Please see the prospectus for details of these and other risks. The fund is passively managed and attempts to mirror the composition and performance of the S&P Dividend Monarchs Index. The Fund's returns may not match due to expenses incurred by the Fund or lack of precise correlation with the index.
Roundhill Financial Inc. serves as the investment advisor. The Funds are distributed by Foreside Fund Services, LLC which is not affiliated with Roundhill Financial Inc., U.S. Bank, or any of their affiliates.

The S&P Dividend Monarchs Index is a product of S&P Dow Jones Indices LLC or its affiliates ("S&P DJI") and has been licensed for use by Roundhill Investments Inc. S&P®, S&P 500®, Dividend Aristocrats® and Dividend Monarchs™ are trademarks of Standard & Poor's Financial Services LLC ("S&P"); Dow Jones® is a registered trademark of Dow Jones Trademark Holdings LLC ("Dow Jones") and has been licensed for use by S&P Dow Jones Indices; and these trademarks have been licensed for use by S&P DJI and sublicensed for certain purposes by Roundhill Investments Inc. The Roundhill S&P Dividend Monarchs ETF is not sponsored, endorsed, sold or promoted by S&P DJI, Dow Jones, S&P, their respective affiliates, and none of such parties make any representation regarding the advisability of investing in such product(s) nor do they have any liability for any errors, omissions, or interruptions of the S&P Dividend Monarchs Index.